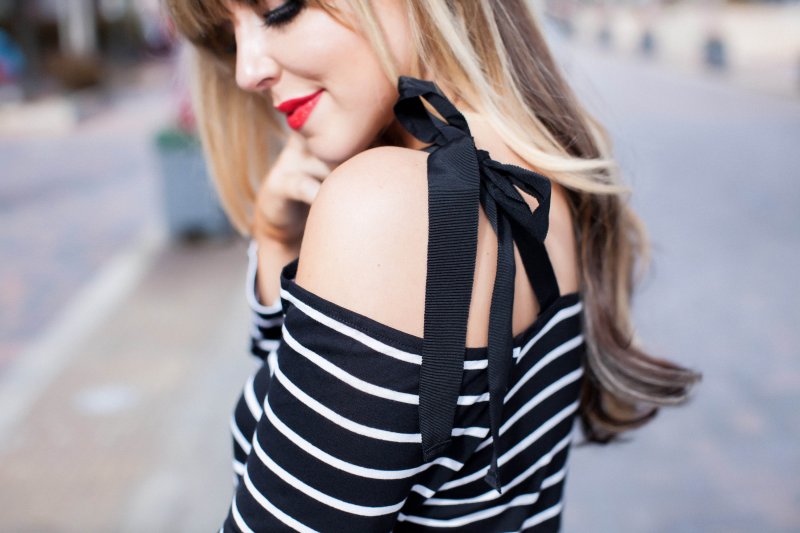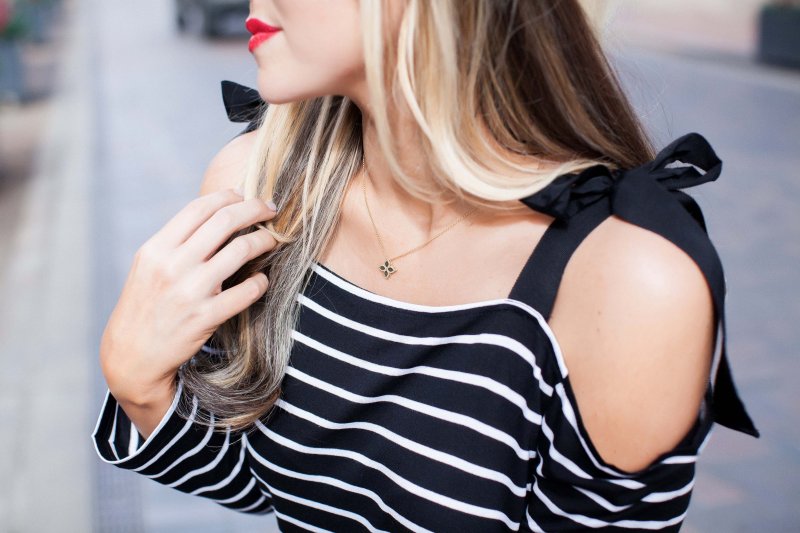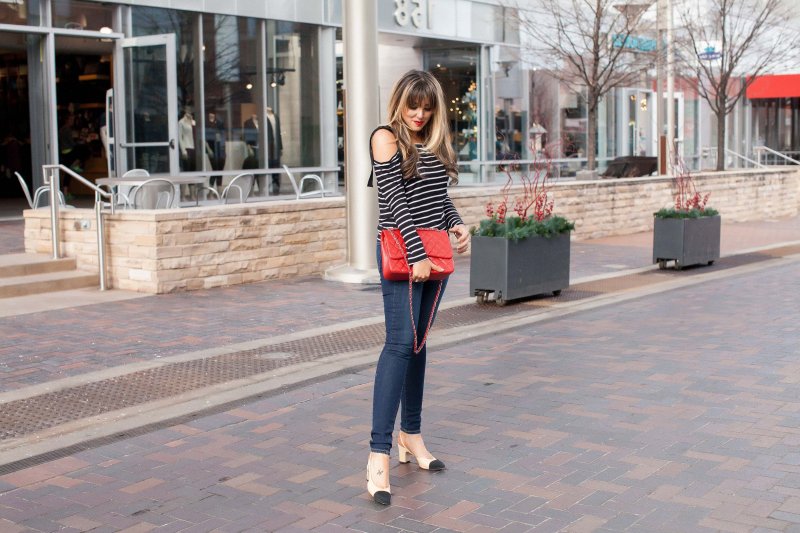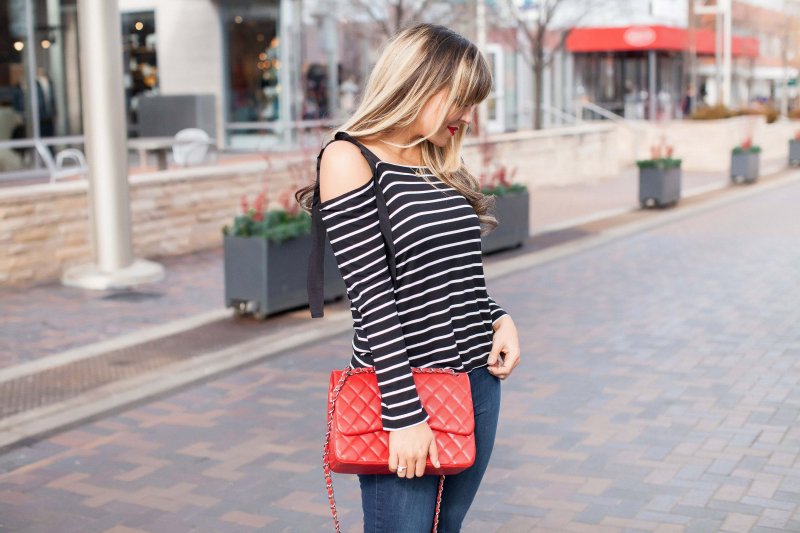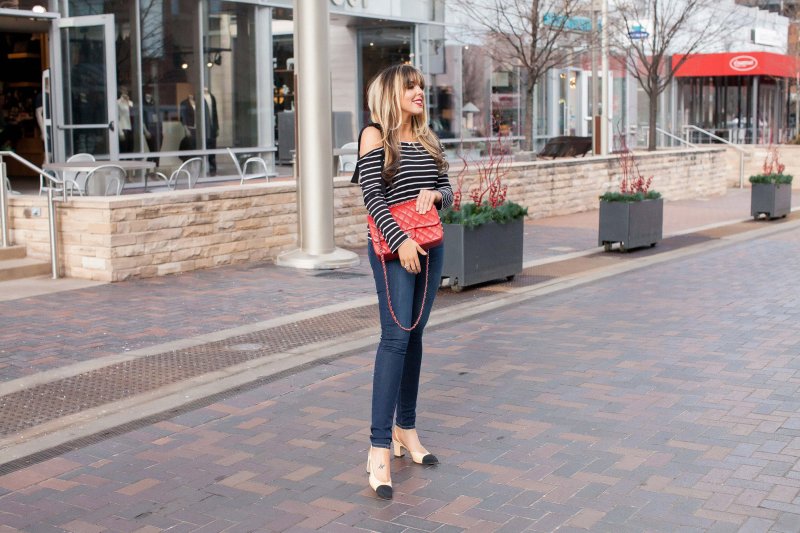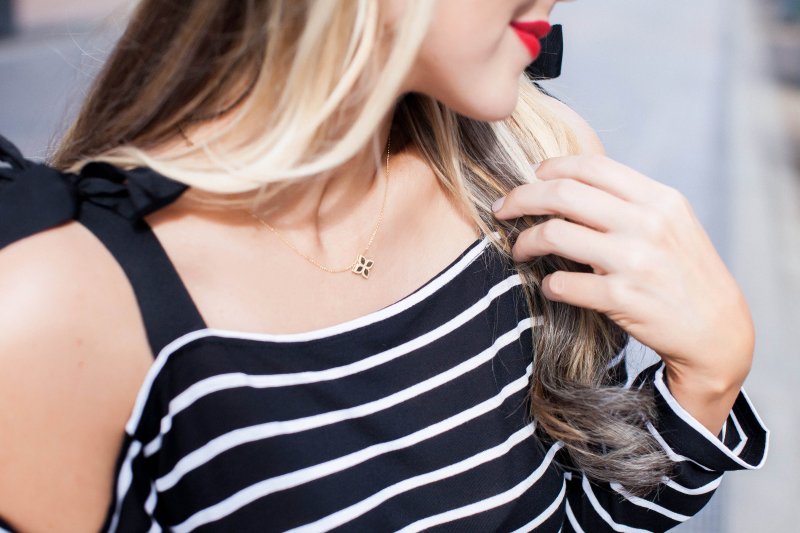 Red Lip Look.  Necklace.  Striped Top.  Jeans.  Jeans – Same Style, Different Color.  Similar Bag.  Similar Shoes.
Borsheims Fine Jewelry and Gifts.  Roberto Coin Jewelry.  Valentine's Day Gift Ideas.
Blowout, Lashes, Tan, Nails c/o Glamour Bar Denver (Mention My Blog for $50 Off Lash Application)
Growing up, I would often hear my mother talk about a jewelry store she loved called Borsheims. She would mention their attention to detail, exceptional customer service, and giant space full of jewels. Borsheims also happens to be where my father purchased my mother's wedding ring and occasional gifts, so it is a name I associated with special celebrations in our home.

Flash forward to my freshman year at Creighton University when I was a fashion-obsessed girl studying Psychology and Legal Studies in Omaha, Nebraska. I still remember the first time I walked into the Borsheims store; I can feel how special I felt when the sales associates smiled at me and gently guided me around the glittering cases. My sorority sweatshirt was no doubt a dead giveaway that I didn't have any money to spend, but they never treated me any differently than their best customers. That kindness and attention is something that stuck with me for years to come. Sometimes after a bad breakup or a particularly rough final exam, I would find myself driving toward Borsheims. I would hide my puffy eyes with sunglasses and soothe my wounds with a hot tea as I gazed at their beautiful jewelry.

After I began working, I returned to Borsheims to buy gifts for my friends' weddings and birthdays. And occasionally, I would even reward myself by adding a small piece of jewelry to my collection. I think that's probably what I love most about Borsheims; the fact they have something for almost any budget and price point. If you're shopping for a Valentine's Day or anniversary gift, I highly suggest their curated love collection. With many pieces under $200, you're sure to find something really special.

I recently added the beautiful gold necklace I'm wearing in these photos to my collection. It's from Borsheims Roberto Coin collection and it's called the Medium Princess Flower Pendant. The chain is so beautifully crafted, it sparkles in the sunlight. And the flower petals are so perfectly polished that they appear almost mirror-like. If you're looking to add a "forever piece" to your collection, I love this necklace as an option because it adds a luxe, chic feel to everything I've paired it with; even the most simple white blouse or black dress become something really special when I wear this necklace.

My sweet husband proposed to me with a ring from Borsheims and I will never forget that day. Since then, we've added two sparkly bands on either side of the ring and we are currently celebrating our two year anniversary this week. Borsheims has played a major role in my life and our love story and I hope you will fall in love with them just as much as I have.

Stay tuned this weekend… Because a very special Valentine's Day giveaway is coming your way, courtesy of Borsheims. I can't wait to share the Borsheims brand with all of you, and whoever wins will be a lucky girl indeed!