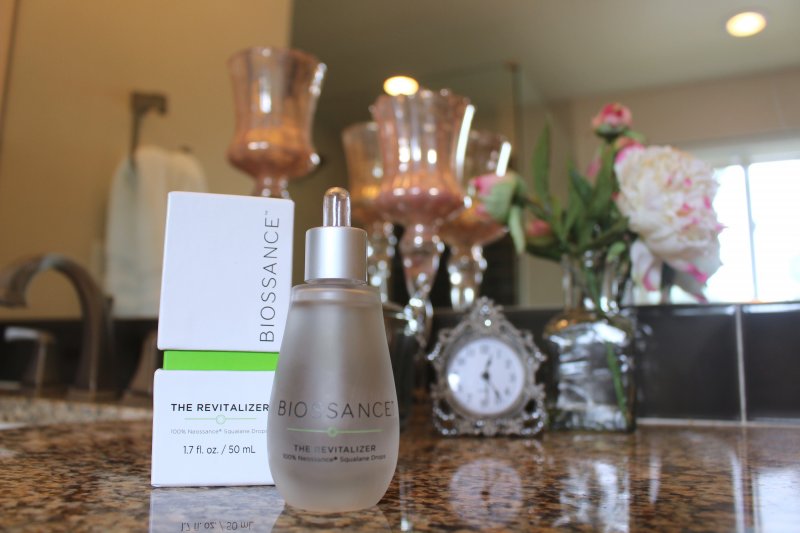 When first presented with the idea of a liquid (that reminded me of an oil) being used as a moisturizer on my combination skin, I assumed the worst… Breakouts, pimples, and clogged pores. But I was so very wrong. After I stopped to admire the beautiful packaging and well-made bottle of Biossance, I gathered a small amount of the clear, odorless product in the dropper and released a few silky drops onto my hand. The liquid glided over my skin and easily absorbed, better than any moisturizer I've tried. My skin looked glowing and hydrated. After a minute or two I could feel that the product had completely absorbed into my skin.
I was hooked. I began applying a few drops of Biossance every night to my face, neck, and chest. I would use a few extra droplets to concentrate on my eye area and lips. By morning, the product had soaked into my Colorado-parched skin and left it looking refreshed and bright. I incorporated a tiny drop of Biossance into my morning skincare routine as well.
After a facial and a mild peel Biossance helped to heal my irritated, flaking skin. Its hydrating qualities nourished my skin and brought it back to life post-treatment. Fine lines I had noticed on my forehead and around my eyes appeared less visible. I don't even notice them anymore.
Biossance is a plant-derived version of the emollient squalane that is found naturally in our bodies. It is designed to imitate the way our bodies moisturize themselves naturally. When you use Biossance, you'll notice there's no color or smell… The product feels natural and clean.
I'm so excited about my discovery, I couldn't wait to tell you. You can use Biossance on your face, neck, chest, and hands. I even take out a few drops and apply to my hands and lips throughout the day to re-hydrate. Let me know if you've tried this product. I'd love to hear what you think!!