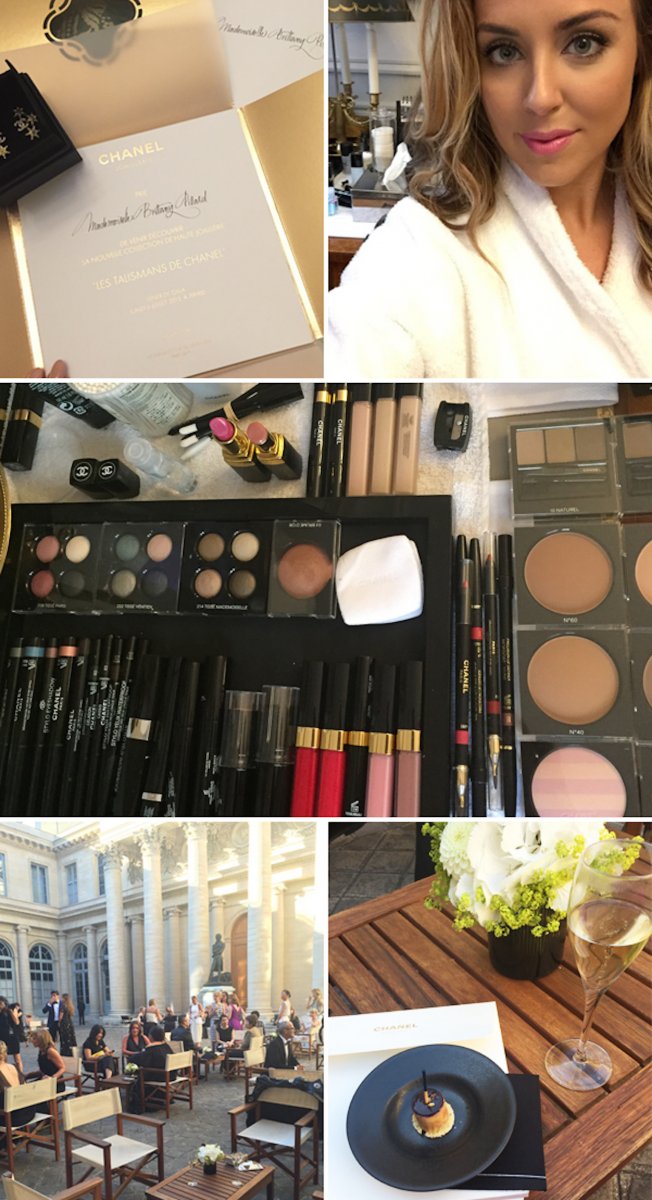 Chanel sent hair and makeup for my mom and I to have a bit of pampering before the black-tie dinner gala that evening. (Total pinch-me princess moment!!) I'm always a bit hesitant about getting my hair and makeup done since I usually prefer to do it myself, but I enjoyed a little primping with my mother and was happy with the outcome… Especially my makeup. The end result was glowy, bronzy, and luminous without feeling heavy. International makeup artist Cate P Beauty was kind enough to list all the products she used on me so you can recreate the look on your own. All products are by Chanel.
Perfection Lumière Velvet Foundation – No. 30 and 50
Correcteur Perfection Concealer – No. 20
Les Beiges Healthy Glow Sheer Colour Stick – No. 20
Joues Contraste Powder Blush – No. 3
Les 4 Ombres Quadra Eyeshadow – No. 226
Stylo Yeux Waterproof Eyeliner – No. 10
Le Volume de Chanel Waterproof Mascara – No. 10
Rouge Coco Hydrating Lip Colour – No. 448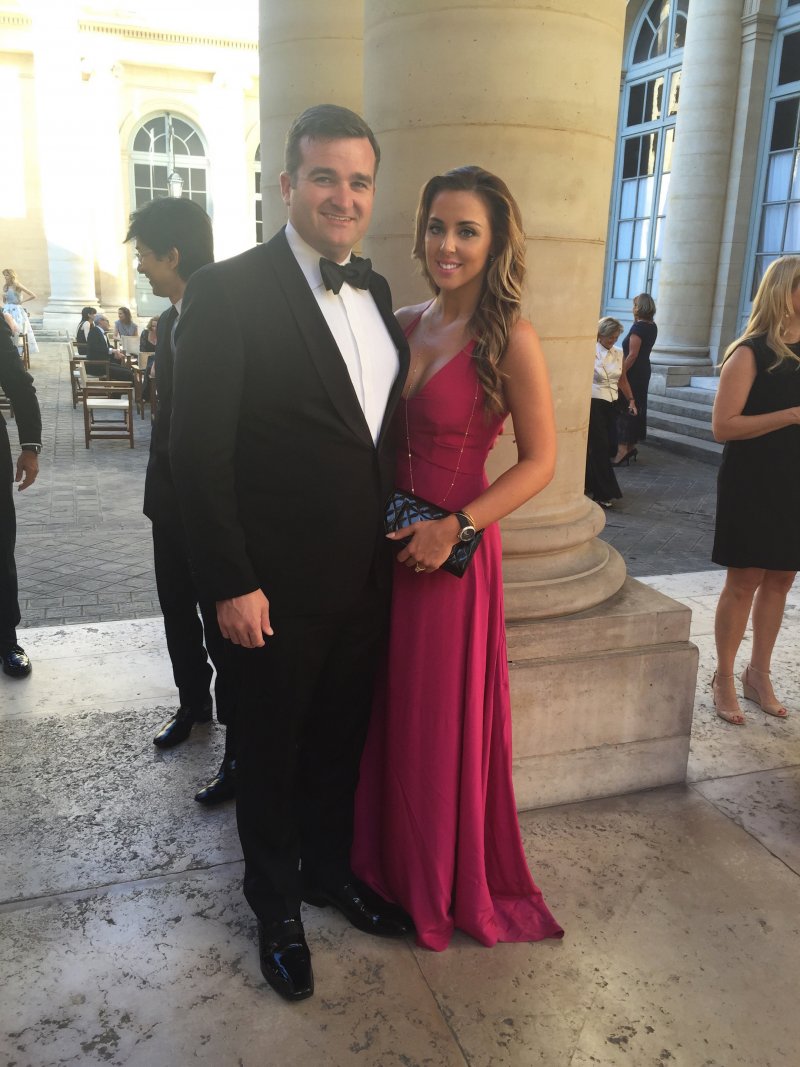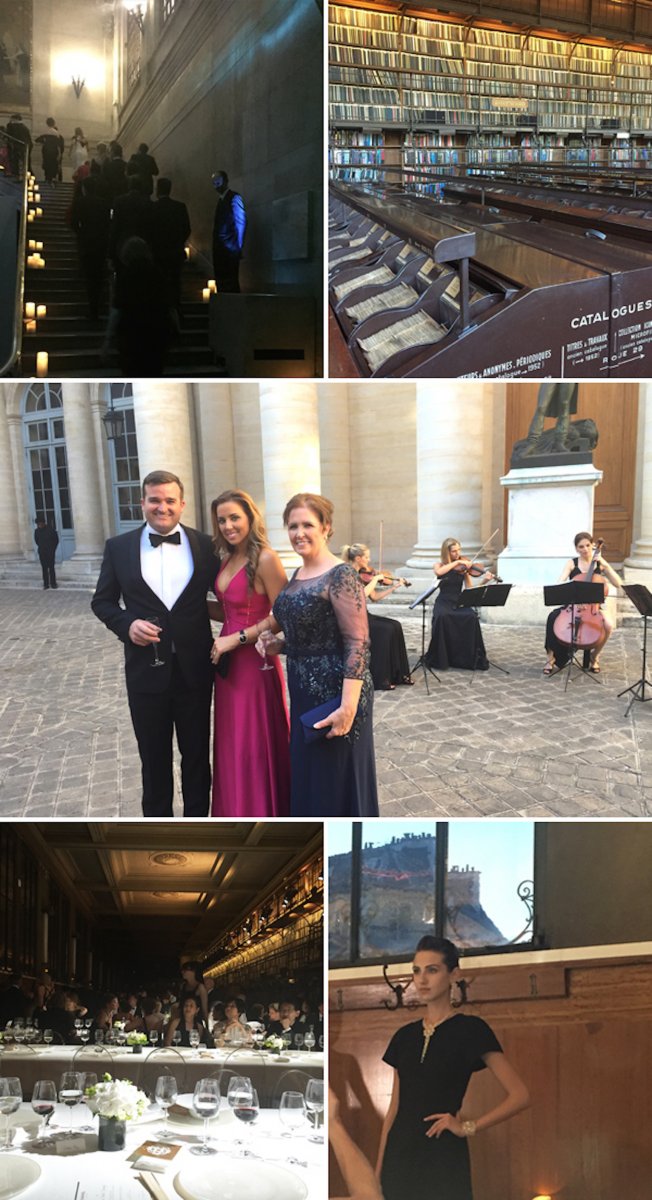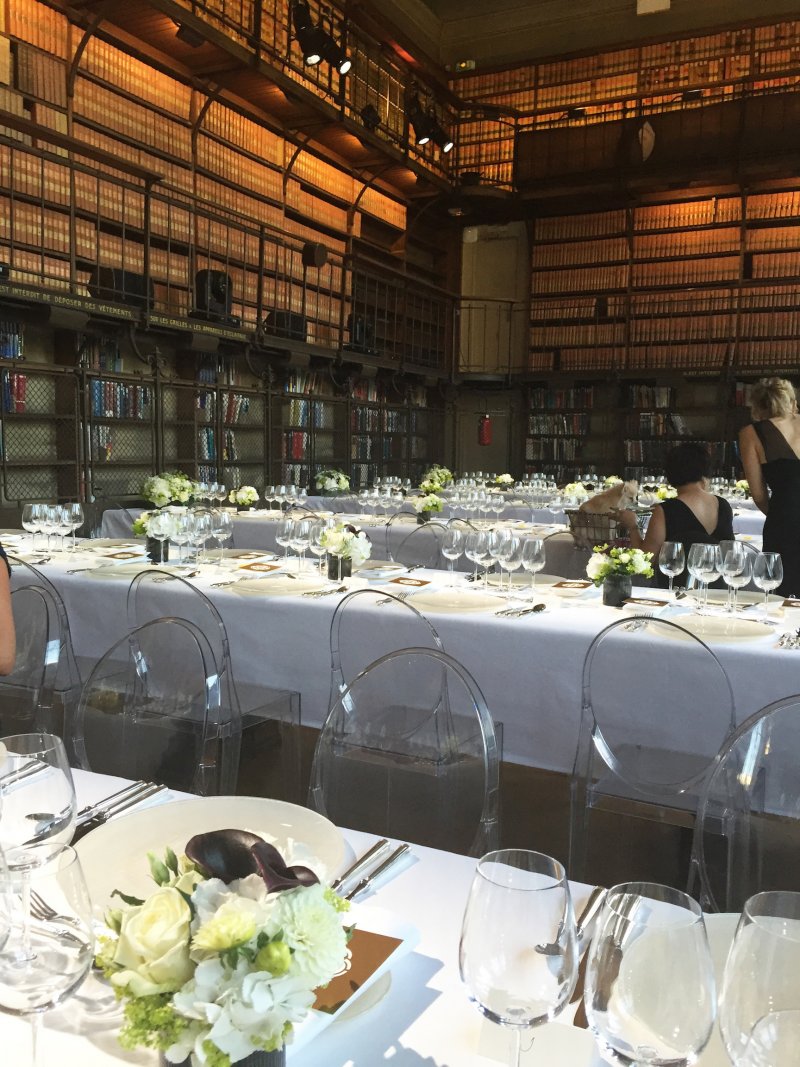 We were taken back to École de Médecine where we had seen the official presentation of Chanel's latest High Jewellery collection in the morning. As the sun began to set, the shadows in the courtyard dramatically illuminated the intricate 18th century stone carvings. The Parisian evening air went a bit hazy and romantic as the string quartet's music filled the stone space with sound.
We often hear people our age complaining about formal attire for weddings or charity functions, but John and I always appreciate the chance to dress formally. Living in casual Colorado the chances are few and far between, but we seize them happily when they arrive. I love wearing my jeans and boots, but there's something about a long evening gown that makes me sit up a bit taller and feel so incredibly feminine. John wore a Theory tux and I wore a silk dress by Narciso Rodriguez. I carried my black patent Chanel travel wallet and wore my crystal wedding heels.
One accessory I left at the hotel? My camera. You'll have to excuse the iPhone photos, but we wanted to experience this evening without hauling around my large camera. Chanel was so kind about my photo-taking at every other activity, I didn't want to push my luck at an evening event.
As the cocktail party came to an end, we were ushered through the interior of the building to a large set of stone stairs lined with flickering candles on either side. As we wound our way up the darkened staircase we could feel an energy of anticipation in the air. Everyone wanted to know what was coming next; where we were headed.
We reached the top of the stairs and were guided into a cavernous old library… Imagine Belle's beautiful library mixed with a little Hogwarts darkness. Shelves and shelves of old medical books books, sliding metal ladders, ancient study lamps and tables. I was in heaven. As we walked toward our table I couldn't help but just stare around at the space and take it all in. I adore libraries and this one was incredible.
Sitting at our table were a mix of people from the fashion industry, international celebrities, Chanel customers, and Chanel employees. John was seated next to the Director of Haute Couture and I was across from the Master Perfumer. We both felt so honored to be sitting with this group of people and we found them to be warm, intelligent, and intriguing conversationalists. It's silly that so many often paint the fashion industry to be shallow or inconsequential. The people we spoke with during dinner were businesspeople who seemed to truly enjoy and appreciate the fine artistry behind the brand as well. Part of me felt frustrated I couldn't get up and talk to everyone; that I didn't have more time to pick their brains and ask them questions. I was just so incredibly happy to be there and to be present with such great people.
Throughout dinner magicians visited each table, walking up and down the aisles and passing little spheres of magic light between them. They would pull pieces of the new Haute Joaillerie collection from behind a guest's chair or underneath a table. This little performance showcased the jewels in a fun, playful way and made us all excited to see them again.
Soon, impeccably-dressed and slightly sullen-looking models bedecked with the new Chanel jewelry collection began to strut down the walkway at the end of the tables to pumping music. (See my Instagram video.) Perfectly in sync and on cue, they pranced down the small aisles between the tables, diamonds glittering at their necks and wrists. Each time they returned to their spots at the end of the tables before gracefully switching to the next table, brilliant white spotlights would shine on their neck and chests. These spot lights were like a jolt of electricity to the diamonds each model was wearing. As the spotlights hit their target, rainbows of sparkles would come alive from the new Chanel jewelry dangling from the models' ears and fastened about the models' necks. The entire room 'oohed' and 'ahhed' each time the spot lights beamed on. We were like mesmerized fireflies, unable to look away. Another breathtaking presentation by Chanel.
As people mixed and mingled back downstairs, guests were given the opportunity to try on the Haute Joaillerie collection one more time. The sleek private rooms were still in place, waiting with crisp champagne.