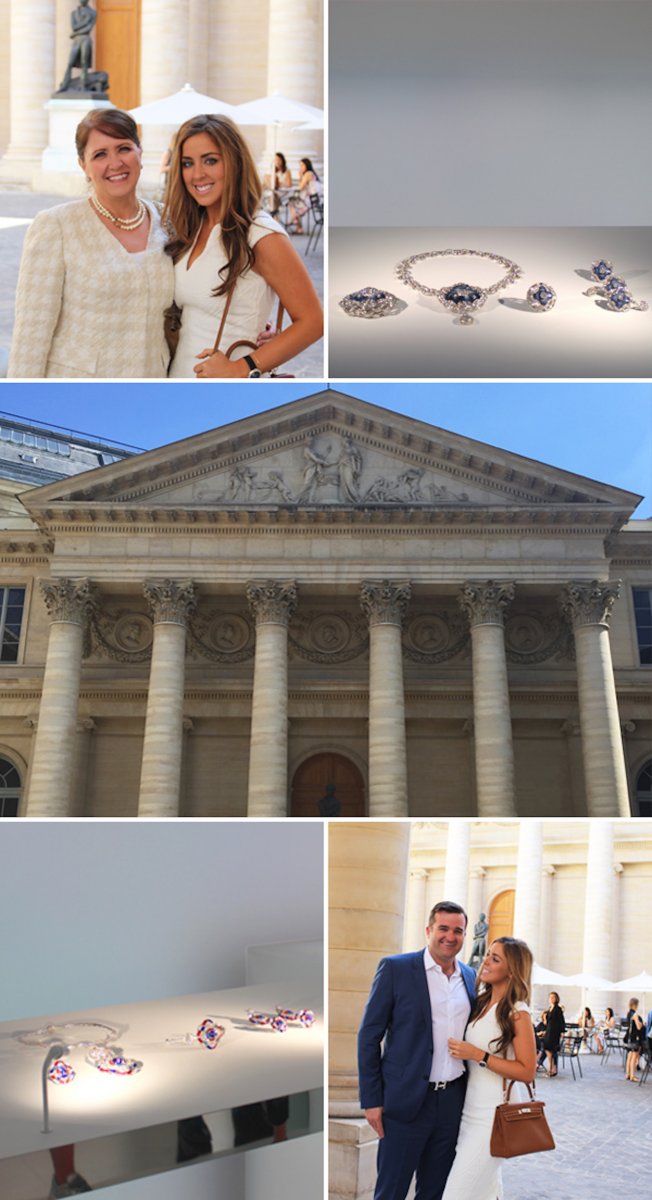 We had just enough time for a coffee before a car came to whisk us away to the presentation of Chanel's newest High Jewelry collection, Les Talismans de Chanel, at Ecole de Médecine in Paris. We entered the sprawling stone courtyard of the medical school and museum and anxiously awaited our entrance to the presentation. Security guards stood watch and Chanel employees bustled about… Excitement was alive in the air. The release of High Jewelry collections now coincides with the release of the Haute Couture collections at Paris Haute Couture Week twice a year. These collections celebrate the artistry of Chanel… There are no limits as there are in Ready-to-Wear and designers can fully challenge and exercise their creativity without concern for price restrictions or mass marketing considerations. What emerges from these uninhibited creative collaborations are true pieces of art.
Ever the flawless presenter, Chanel had scheduled each presentation so that crowds or lines were prevented. Each guest was able to experience the presentation nearly privately, allowing them the opportunity to take in the artistry of each jewelry set at their own pace.  Called Les Talismans de Chanel, the collection takes inspiration from the treasured pieces Mademoiselle Chanel kept close to her for luck and protection throughout her life.  If you're curious about these pieces, see my previous Les Talismans post about our guided jewelry gallery tour.
The High Jewelry presentation was laid out in the form of a maze; rooms for presentation joined together by twisting, turning mirrored paths. The first room we encountered instantly chilled our skin with its cold temperature and icy, white feel. Sparkling diamond jewels were presented on stark white displays, their brightly colored enamelwork standing out like intricate paint perfectly splattered onto fresh, white snow.  The effect was cool, untouched perfection.
Winding through another set of labyrinthine paths, we came upon the second room. Warmer than the previous room, the second room was surrounded by mirrors and white spaces that were covered by projected digital images. The entire room alternated between daytime and nighttime. Beautiful jewels rested on a curving display table, lit from underneath with brilliant lights that set the jewels on fire. The jewels glowed warm and vibrant as the projections painted red, orange, and yellow across the room and the sun passed overhead. We could hear the sunny sounds gently changing into more soft, lulling ones as the sky enveloping us became a nighttime lavender-blue. Responding to the arrival of night, the glow from the jewels seemed to sparkle like starlight.  With the most subtle change in surroundings, Chanel allowed their guests to experience the incredible power of their jewels.  Fiery during the daytime… Enchanting at night.
We tore ourselves from this mesmerizing display of light, followed down another maze path, and entered the third room. Stoic statues and busts of knowing, ancient faces surrounded us and lights shone against the endless stone columns towering above us. Contrasting with the somber stone interior, brilliant white diamonds in breathtaking statement jewelry designs blazed in their settings. This room was a reflection of the Chanel brand itself… Classic, timeless design infused with new energy and life.
Another short path led us to the last room in the presentation. White diamonds, pearls, and stones of pink and purple were brought to life by the stunning projections surrounding the room. A sparkling cityscape would slowly morph into a dazzling view of the cosmos – and back again.  The music in this room was particularly intriguing – soothing, yet slightly ominous. The projections and the eerie music made me think of all the natural mysteries involved… Incredible jewels that come from deep within the ground, beautiful pearls created inside sea creatures, and a sparkling city within a vast universe of time and space. This room was hauntingly beautiful; my favorite of the entire presentation.
Upon exiting the presentation we ascended up a large staircase near a beautiful sculpture, everything bathed in the light of yet another digital projection.  This time, the entire room was cast with shades of blue and green, the colors moving over the ancient stone like water. It was as if we were arising up out of the water; we were waking up from a beautiful dream. We reached a sunlit seating area and were escorted to a private room where we were able to try on pieces from the collection.
Mom and I were like little girls playing dress up, with breathtaking diamonds scattered around our wrists and across our décolletages. After gazing at Chanel's beautiful creations far too long for our own good, we hopped back into the car with our Chanel host and were taken to lunch at a charming little restaurant overlooking the Seine. Open since 1766, Lapérouse has perfected fine Parisian dining. Sipping rosé with a breeze blowing in through the open windows and crusty French bread on my plate… I couldn't have been happier. We discussed the new collection and its creativity and craftsmanship… Would this give us any hints as to the designs we would see at the Haute Couture show? Stay tuned…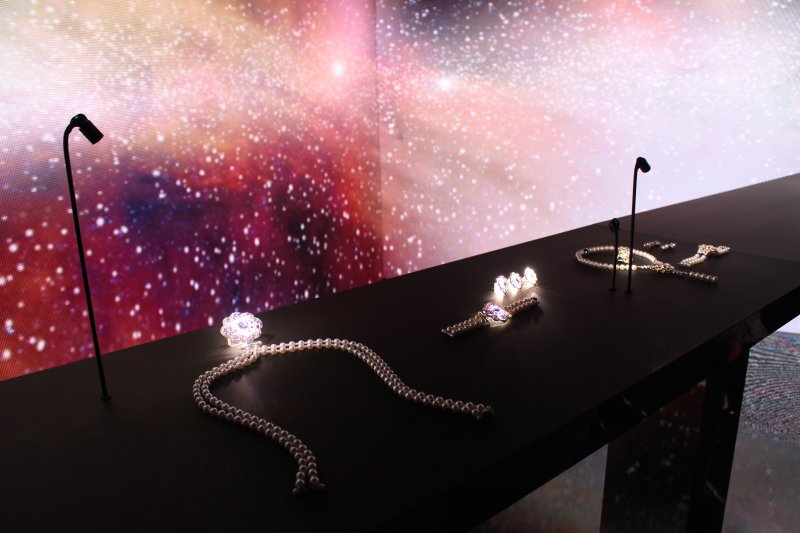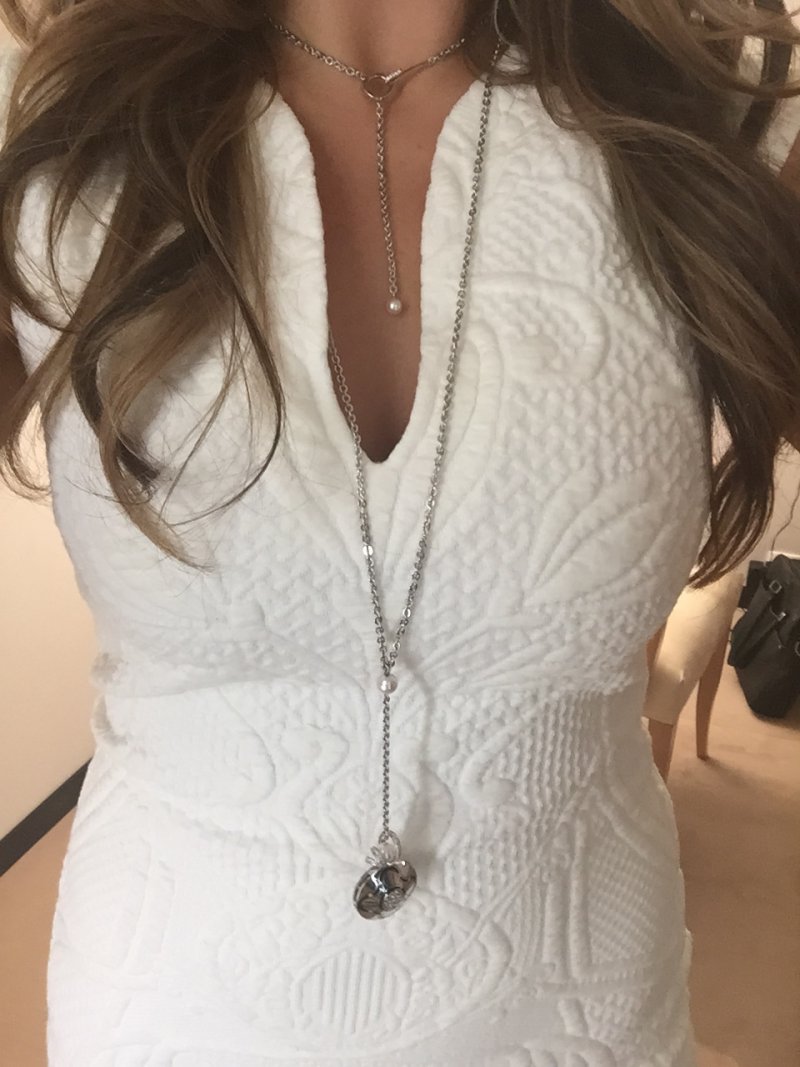 Outfit Details:  This dress is the most comfortable, flattering thing I wore on my Paris trip. I had great luck with the items I shopped before my trip and have been re-wearing everything since I returned, but this was my favorite piece I bought. For the Les Talismans de Chanel presentation I paired it with my Hermès Kelly bag and Hèrmes Oran flats, both in the "Gold" color… I've added lookalike options to the slide down below. I switched them out for heels and a clutch for dinner one evening; trust me, this dress will quickly become one of your favorites.