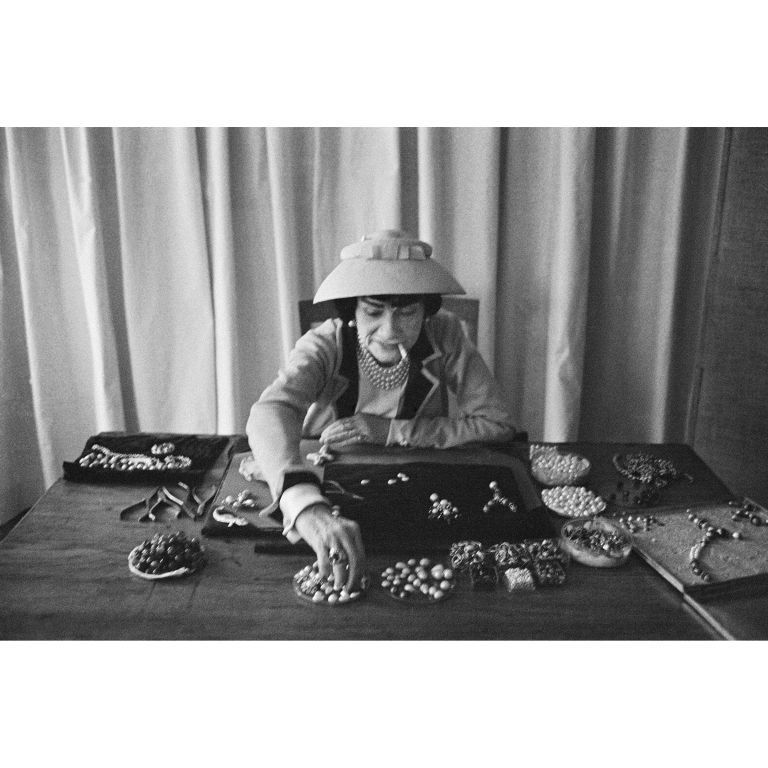 After tea at Le Meurice and a little primping, we were off to dinner with our Chanel host.  La Fermette Marbeuf is a little treasure off Avenue George V with a perfect view of the Eiffel Tower. Stepping into this little restaurant on the corner is like stepping back in time to Paris's Belle Epoque. Soft, dreamy lighting and gentle colors provide the perfect appetizer before you enter the dining room housed in a spectacularly painted Art Nouveau glass conservatory. This glass veranda, belonging to a hotel at the time of WW2, was boarded over to protect it from destruction by the ruthless Nazis. Forgotten behind the false wall, this beautiful piece of art was only unveiled in 1978 when the restaurant attempted to expand and discovered the hidden room. It was like dining in a perfectly preserved piece of art.
Over dinner we discussed many things, but had a nice conversation about the stories and complexities of Mademoiselle Chanel. Known as "Coco" to most of us, Gabrielle Chanel gained her nickname from singing "Who Has Seen Coco?" to the officers in a cabaret. Still others suggest this "Coco" came from the French word cocotte or "kept woman", a nod to Gabrielle's position as a young mistress. Regardless of its origin, Chanel told those around her that "Coco" was a nickname from her father and the rest is history… "Coco Chanel" was here to stay and would become a name known the world over.
I've long admired Chanel for her strength, independence, and innovation at a time when it was nearly unheard of for women to be making such advancements. Gabrielle Chanel brought women out of strict corsets designed to create a pleasing silhouette for men and brought them into a world of chic style, comfort, and functionality. She blurred the lines between classes, putting high society women in simple hats and black dresses and creating extravagant costume jewelry available to a wider range of customers. Balking against tradition, Chanel insisted on dressing and living her life the way she wanted. She came from a life of poverty and worked hard until the day she died to create a life she had craved since her humble beginnings.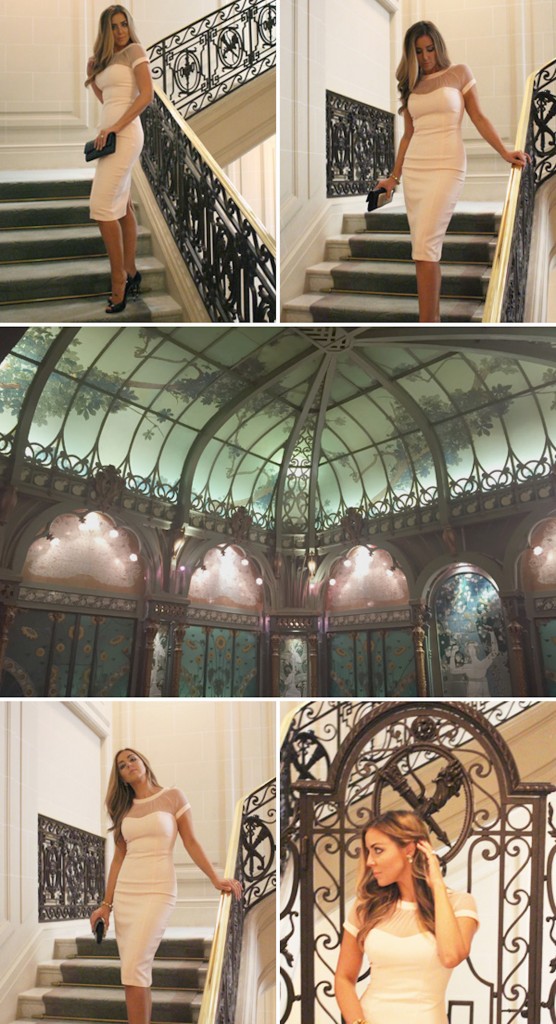 In the comments below, tell me about a woman you admire. Is she a modern woman or someone who paved the way before her time? Maybe a relative? Have you found a way to take a lesson from the woman you look up to and apply it to your everyday life? Lately I've been reminding myself to focus on my dreams and work endlessly at making them happen… It's all too easy to get caught up in what others want. What Would Coco Do, right?

Outfit Details:  As soon as I saw this dress I knew I had to have it for the Chanel events. Feminine and classic, it can stand out on its own without many accessories added. I'm thinking about adding the black version to my closet as well. I just can't get enough of the elegant sheer neckline. I was excited to wear my iridescent yellow, green, and gold clustered 1950's earrings and matching bracelet I found in a little vintage shop years ago. I carried my patent leather Chanel travel wallet and paired it with my new Chanel pumps with pearls in the heels.