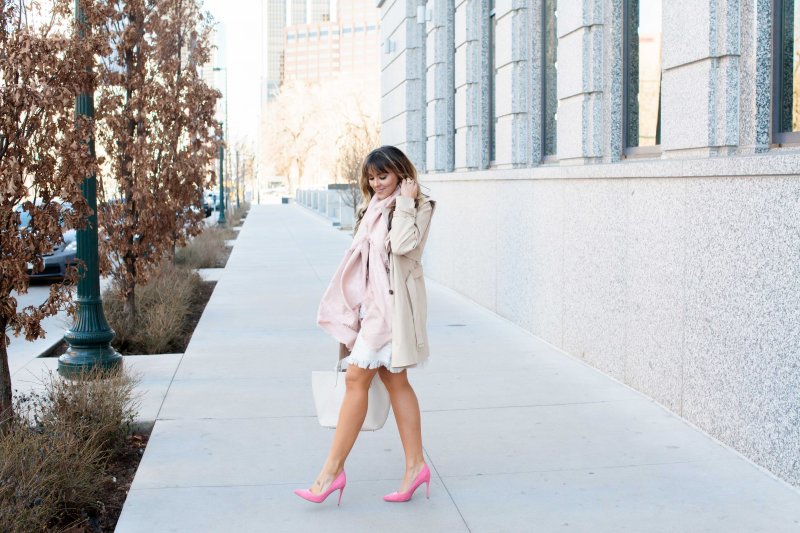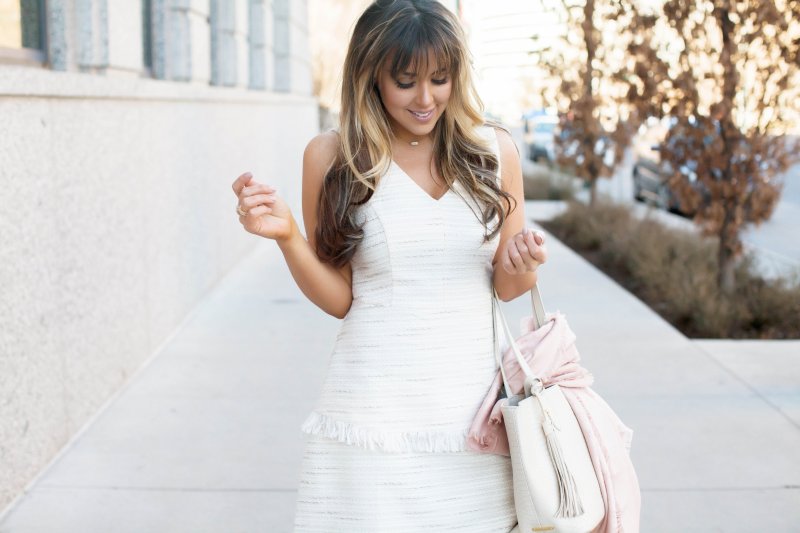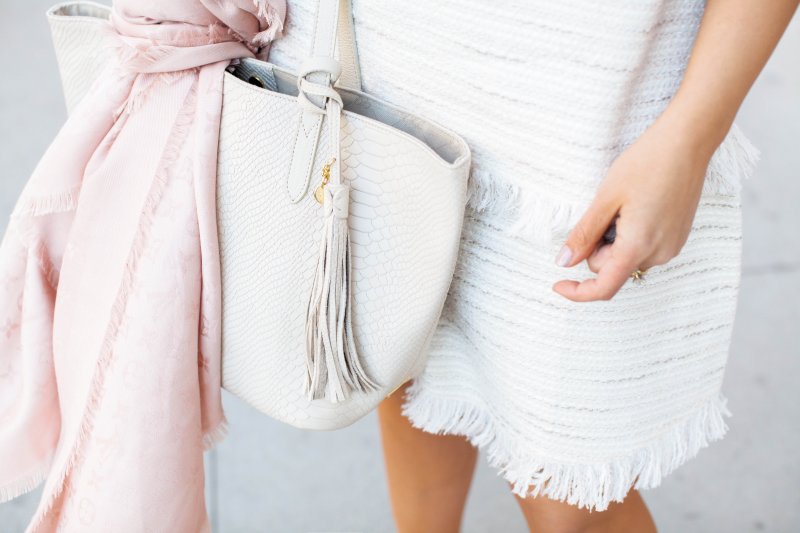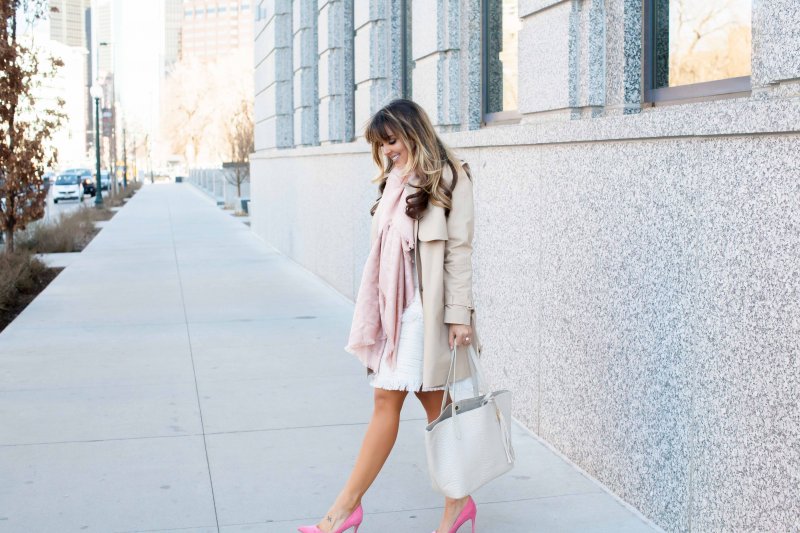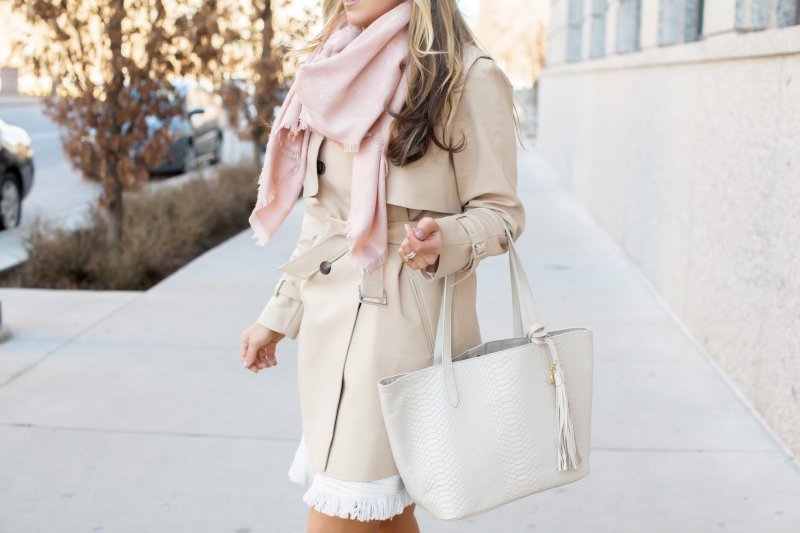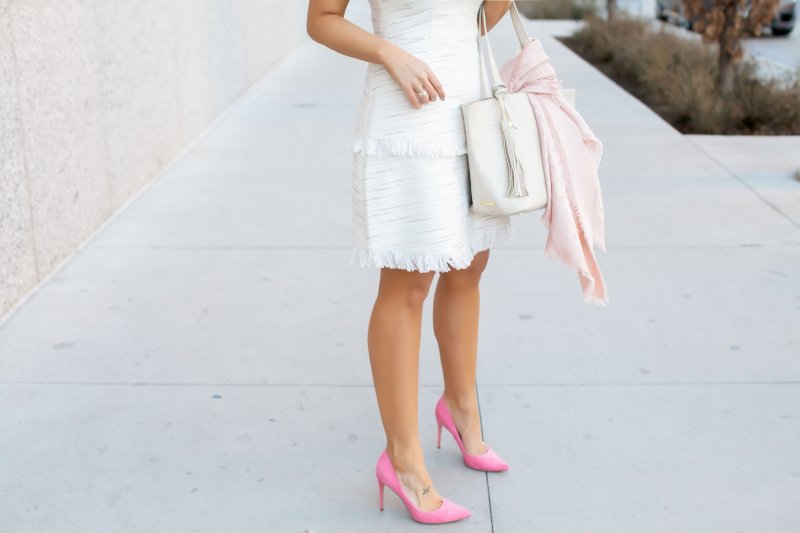 Similar Trench.  Trench – Same Style, Three Other Color Options.  Tweed Dress.  Tote Bag.  Bag Tassel.  Heels – Same Brand, Similar Color.  Louis Vuitton Scarf – Similar Scarf Here.
Blowdry, Lashes, Tan, Nails c/o Glamour Bar Denver (Mention My Blog for $50 Off Lash Application)
The spring weather has been hot and cold here in Denver; one minute the sun is shining warm and bright and the next it's cloudy and cold. The only solution is to be prepared for any type of weather by dressing in coordinated layers.
If you've been looking at my most recent content, you probably have noticed that I'm quite obsessed with my short trench coat. I wear it constantly! Last week I spilled something on it and now it needs to visit the dry cleaner's but I'm dreading taking it in because it means I'll be forced to part with it for a few days. I am that attached. Since mine is sold out, I've linked a trench that's nearly identical in style and color. But I've also linked the same style that now comes in three other color options.
I layered my trench over this incredibly chic tweed dress and added an ivory tote bag (matching tassel here), beautiful blush scarf, and pink suede heels.
Keeping everything in the same soft ivory and blush color family ensures my look flows together and still looks polished even when I need to add or remove layers.
In this look, I've incorporated textured leather, silk, tweed, and suede. Mixing in lots of textures prevents my outfit from appearing dull.
When in doubt, bring a big scarf like mine that can double as a wrap or can even be tucked around a bag's handles for a bit of color.
Fit Details:  Trench runs true to size; if in between measurements, order one size down. Dress runs a bit bit; go one size down from your usual. Heels run true to size.