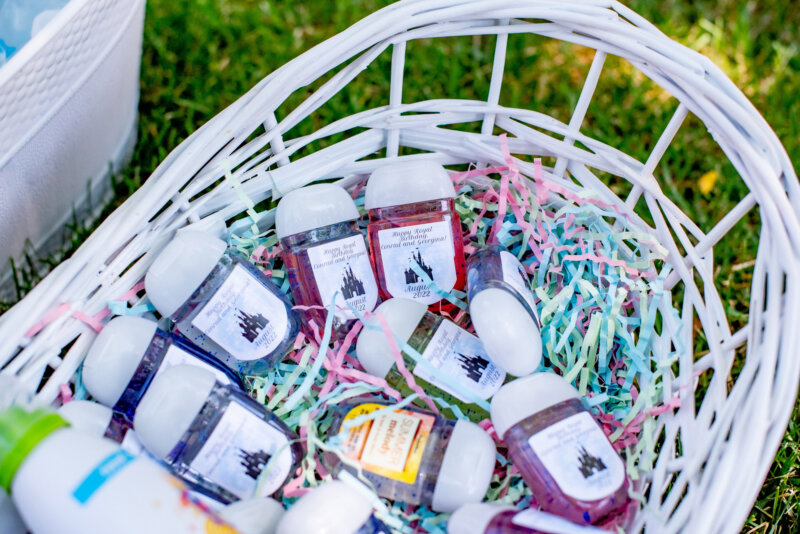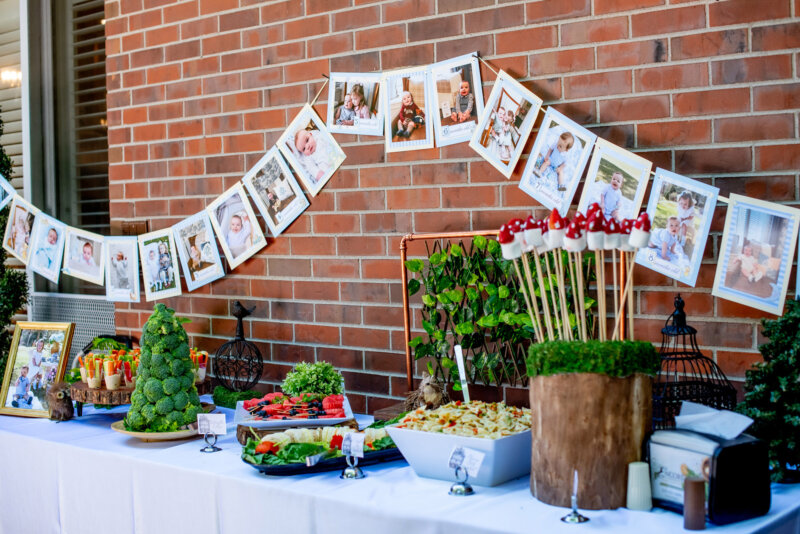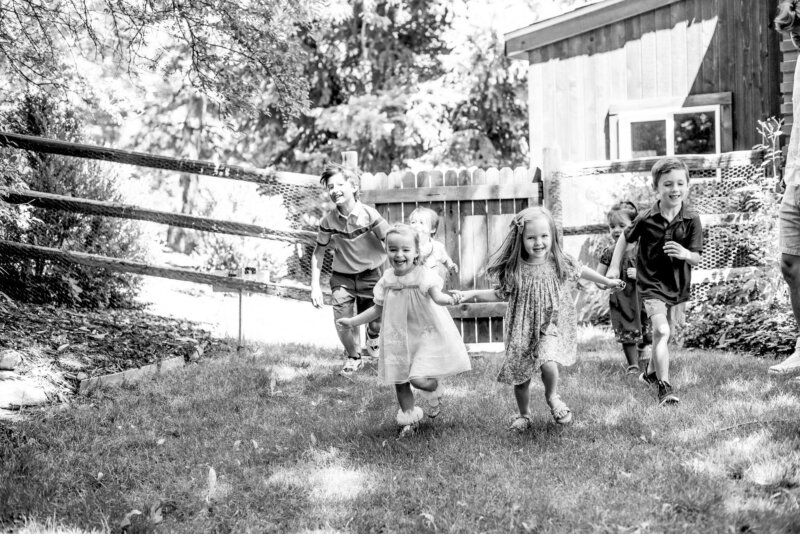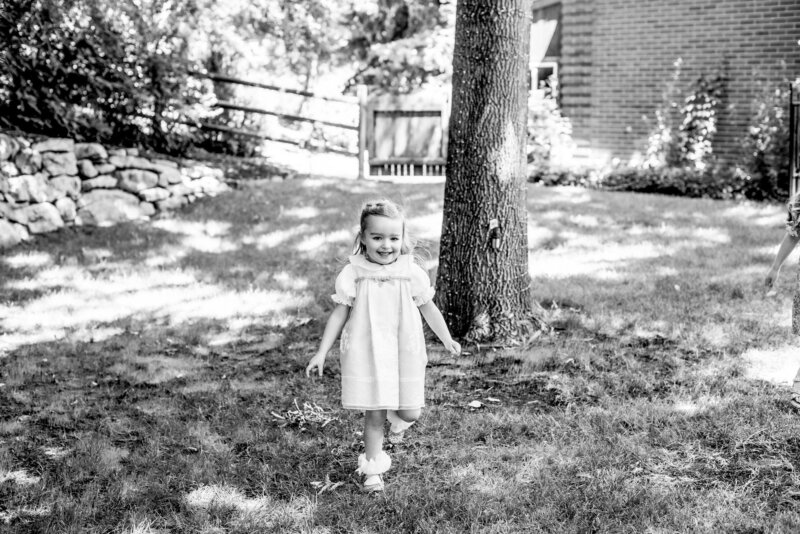 All Images By Lindsay B. Photography.
Vendors: Newberry Brothers Floral & Decor. Butler Rents Tables, Chairs, Archways. Fun Balloons Balloon Garland. Sparkles Bakery Cake and Cookies. Kodiak Ranch/Blue Moon Carriage Rides. Wishing Star Farm Unicorns. Teddy Bear Mobile Stuffy Station. Princess Ever After Cinderella (Performer Payton).
Outfits: Gigi's Dress by Fleurisse (Call For Inventory). Gigi's Pearl Hair Barrette. Gigi's Fluffy Socks. Gigi's Gold Sparkly Shoes. Conrad's Birthday Outfit. Conrad's Blue Knee Socks. Conrad's T-Strap Shoes. First Birthday Crown. Striped Velvet-Trimmed Bloomers.
Paper Goods/Decor: Single Birthday Invitation. Double Birthday Invitation. Castle Return Address Stickers. Enchanted Castle Party Signs. Welcome Sign Easel. Gold Sign Frames. Castle Hand Sanitizer Labels. White Metal Tub for Water Bottles. First Birthday High Chair Banner. Thank You Tags. Knights and Dragons Wrapping Paper. Princesses and Unicorns Wrapping Paper.
Tablescape: Gold-Trimmed Plastic Cups, Gold-Trimmed Plastic Plates, Rolled Flatware. Plastic Champagne Flutes. Plastic Castle Cups. Pastel Striped Snack Cups. Castle Napkins.
Party Favors: Princess Favor Boxes. Knight Favor Boxes. Knight Hats. Foam Knight Swords. Princess Hats (my mom added tulle and trim). Princess Wands. My mom and Georgina chose the goodies from Razzle Toys in Greenwood Village.
I've looked forward to planning Georgie's birthdays for three years now… And this year was even more special because with little brother Conrad's first birthday just a week later I knew I wanted to host a double birthday for the two of them! Seeing these little ones and their friends get so excited and enjoy each magical surprise brings me indescribable joy. I know someday they'll prefer to go on a vacation or will be away, celebrating with their friends. So I'm making the most of these special, themed birthdays at home and soaking in each squeal as they see their cake for the first time, their eyes wide as they watch Cinderella walk in to their party.
Georgina loves princesses and unicorns, so the fairytale theme came to us quite naturally. And with the addition of knights with dragons to slay, it could be appropriate and enjoyable for both genders. My mom is the ultimate party planner, so after deciding on a theme (we've already come up with next year's theme too!) the two of us got to work planning out each magical detail for our little princess and knight in shining armor.
Guests began the party with carriage rides around the neighborhood… And unicorns decked out with flowers and glitter to brush and ride around the front yard. There was even a "stuffy shop" (owned by a former teacher) where little ones could make their own magical unicorn, pastel kitty, or fearsome dinosaurs and dragons and take them home in a castle box. At our dress-up station, knights could don a helmet and brandish a foam sword and princesses could choose a shimmering hat and wand.
With so many little ones running around, I highly suggest having a little "essentials area" near the entrance of your party… I kept a white metal tub stocked with small water bottles, plus sunscreen and hand sanitizer – custom labels here. A pack (or individual packs) of wipes might come in handy as well.
Fun Balloons created a whimsical pastel balloon garland, flanked by knights in shining armor from Newberry Brothers to welcome guests to the backyard where the rest of the party was taking place. Newberry Brothers also created a stunning floral arch for Cinderella's appearance, which doubled as a photo opportunity for families. (I loved it so much, I asked them to leave it up for a few extra days!) Cinderella arrived after lunch, singing to our littlest guests, painting their faces, and making magical glittery wishes over each child. I can't recommend her enough… She was so magical, all the mamas were tearing up as she sang "A Dream is a Wish Your Heart Makes".
The children's tables (ask for mini white chivari chairs to get this look) were set up in front of a cardboard castle large enough to play in with boxwood panels and the children's initials in flowers on either side. My mom placed castle-shaped party favor boxes at each child's place… Pink princess castles for the girls and medieval gray castles for the boys. She and Georgina went to Razzle Toys in Greenwood Village to choose the party favors inside. For ease, this year I ordered a set of cups + plates + rolled flatware and I was really happy with it… I hate the idea of disposable tableware, but with little ones running around it seems to be the safest and best option for cleanup. I loved these little pastel paper snack cups we set at each spot, filled with goldfish crackers… We have been using them for easy snack holders here at home as well.
Newberry Brothers came up with the idea of placing magical fairytale creatures up in the trees above the children's table. There was even a dragon swooping down from the trees! It was fun for the little ones to spot them. They also set up a little fairy tent for our smallest guests to play with a little extra sun protection, which was a popular place! I've never seen that at another party before and I thought it was a great idea.
I'm afraid I cannot recommend or share our caterer for the party. The servers were fantastic and kept both the goldfish crackers and rosé flowing, but we did not have enough food. That has never happened to me at a party… As you can probably tell, I'm a girl that appreciates food and bev! I would much rather have extra so guests hanging out after the party have a little something to munch on. It was an embarrassing incident and we ended up needing to quickly order pizzas for everyone. In the scheme of things, it's not a big deal but it definitely made me reconsider using this particular caterer again.
On the bright side, our cake and decorated sugar cookies were delicious! I usually go through Suga Me Sweet, but she was out on vacation and recommended Sparkles Bakery, who designed Georgie and Conrad's adorable castle cake complete with a beautiful princess, unicorn, knight in shining armor, and a fearsome dragon. She also made Conrad's smash cake and created fairytale-themed sugar cookies for guests to take home.
I made a Reel for Georgina and Conrad's fairytale double birthday party – you can watch it here! What a magical day. I have looked at these photos over and over, reliving it! Someday when our children have grown and moved away, I'll think back on these memories and cherish the days when Georgie was a beautiful princess, riding a glittery unicorn and twirling around her birthday party in sparkly gold shoes… And Conrad was a fearsome knight on a magical carriage ride around our neighborhood, brandishing his foam sword but covered in blue frosting. May God bless these babies with long, happy lives.