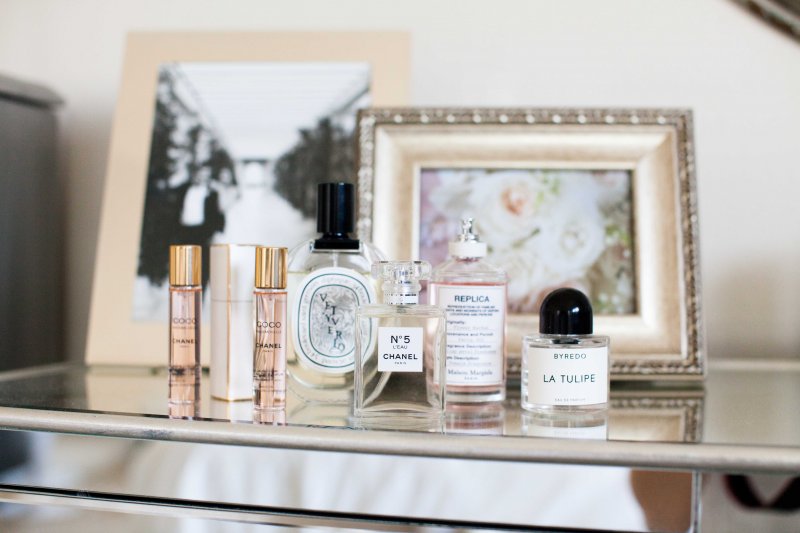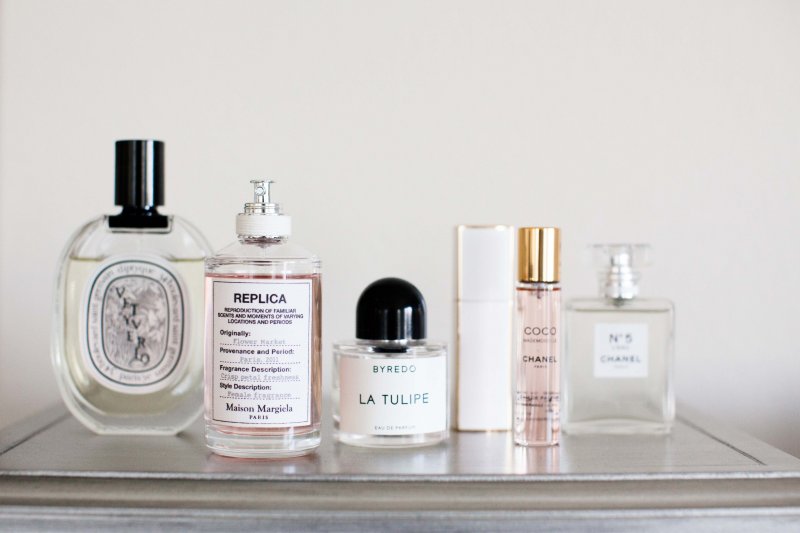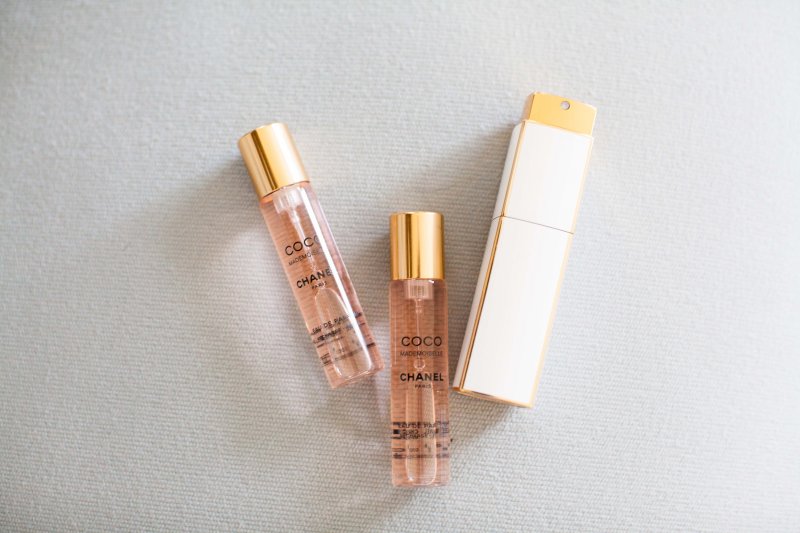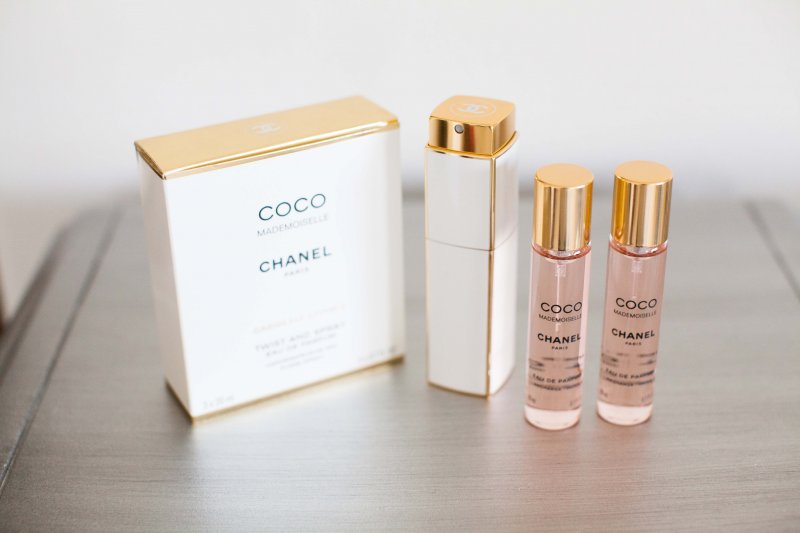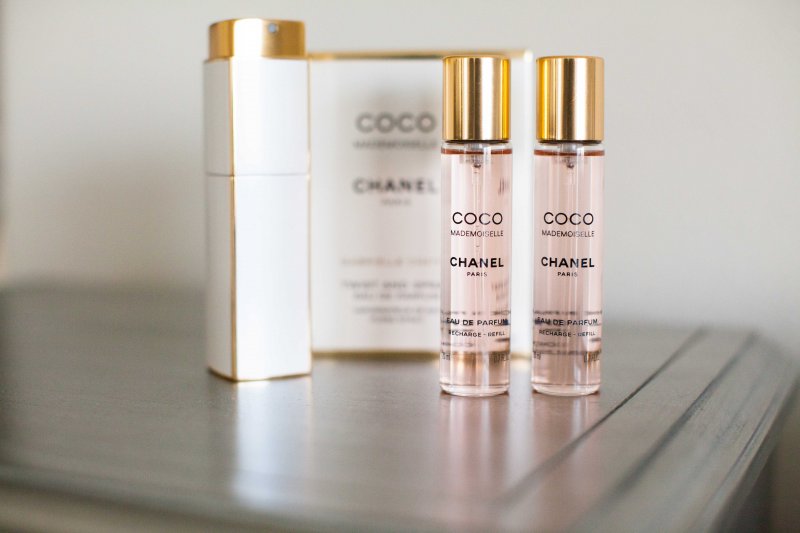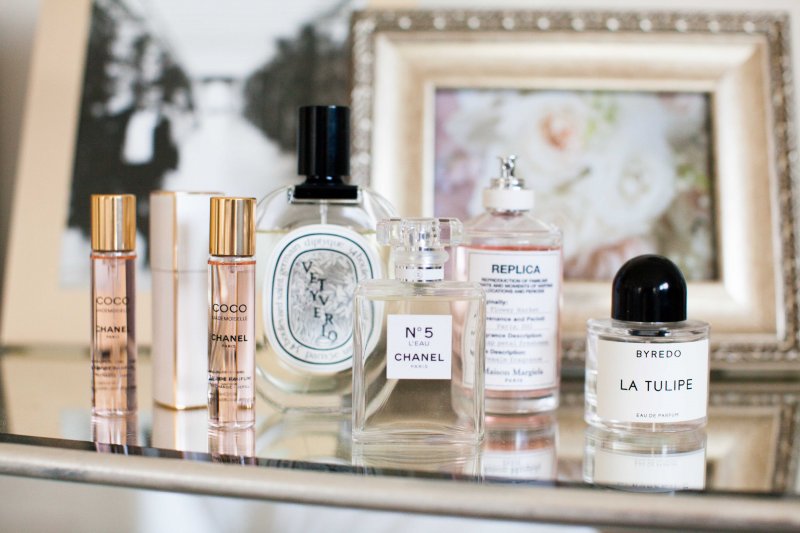 Chanel Coco Mademoiselle.  Diptyque Vetyverio.  Chanel No. 5 L'Eau.  Maison Margiela Replica Flower Market.  Byredo La Tulipe.
Chanel Coco Mademoiselle
This is the fragrance I receive compliments on the most, so I was happy when I found it in this convenient travel spray. Twist the top and the atomizer appears. The travel spray comes filled with one 0.7 oz. vial of perfume and two additional refill vials. Plus, the travel bottle looks insanely chic when you pull it out of your tote or handbag to apply.
Coco Mademoiselle is my go-to fragrance when I want to feel sexy and feminine all day long. It's a creamy-floral; one that doesn't smell directly of flowers but is an indescribable blend of luxurious, sophisticated notes. And it's incredibly long-lasting; if I spray this in my hair, I often catch a hint of it the next day. I wear this when I want to feel strong, powerful, and feminine; it's no wonder the fragrance's namesake is Coco Chanel.
Notes:  Bergamot, Orange Blossom, Mimosa, Jasmine, Turkish Rose, Ylang-Ylang, Tonka Bean, Patchouli, Vetiver, White Musks.
Diptyque Vetyverio
This woody-floral is a beautiful, unisex scent. The blend of fresh, woody vetiver with unexpected, exotic florals creates a fragrance that feels worldly, sexy, and intoxicating. Whenever I wear this, I picture a hidden, secret garden tucked away in wet, woody forest somewhere.
Notes:  Italian Mandarin, Floridian Grapefruit, Indonesian Nutmeg, Egyptian Geranium, Madagascan Ylang-Ylang, Turkish Rose, French Carrot Seed, Vetiver, Virginia Cedar, White Musk.
Chanel No. 5 L'Eau
The intense and powerful Chanel No. 5's fresher, younger sister. Chanel No. 5 L'Eau is a clean, modern take on the original fragrance that took the world by storm. It's crisp and cool with just a hint of sexy jasmine. Whenever I put this on, it makes me think of stepping out of a hot evening shower and into cool, white, cotton sheets. Odd description, I know… But I know you can imagine it!
Notes:  Lemon, Mandarin, Orange, Neroli, Aldehydes, Rose, Ylang-Ylang, Jasmine, Cedar, White Musk. 
Maison Margiela Replica Flower Market
The Replica fragrances are designed to invoke specific memories and moments in time. It's no surprise this beautiful, crisp floral was created to smell like a Parisian flower market. Each time I spray this perfume, I think of fresh flowers surrounded by greenery, wet petals on the paths between the flower carts, and just-snapped green stems. Flower Market is a fresh-floral fragrance, perfect for spring and summer.
Notes:  Green Leaves, Freesia, Egyptian Jasmine, Jasmine Sambac, Tuberose, Rose de Mai, Peach, Cedar, Oakmoss.
Byredo La Tulipe
This scent is so pure; I recently described it for one of my friends, telling her it's like smelling the pure essence of tulip. No unnecessary scents here – just crisp, delicate tulip and nothing else. But don't underestimate its delicate nature for dullness. When I spritz this, I imagine stepping out into a dewy, early morning garden and cutting a basket full of fresh tulips. The fragrance is undeniably feminine and fresh.
Notes:  Freesia, Cyclamen, Rhubarb, Pink Tulip, Vetiver, Green Leaves.