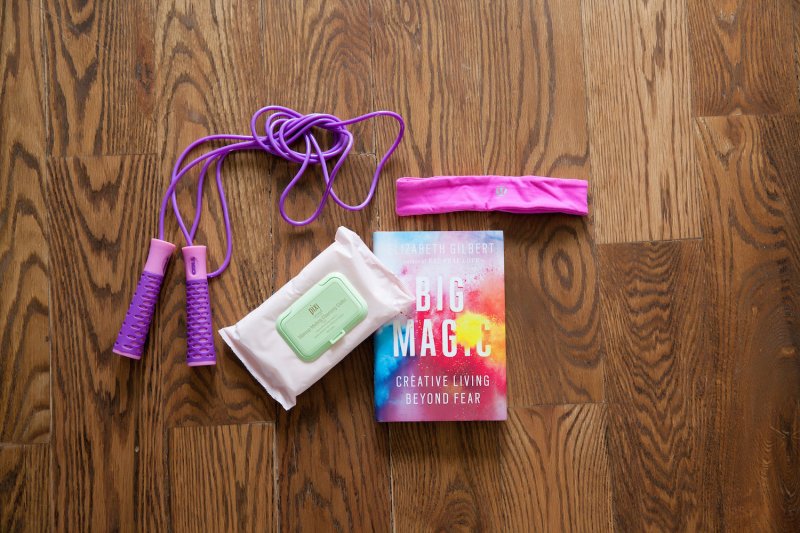 Jump Rope.  Makeup Wipes.  Hair Band – (Currently Loving This One).  Book.
I'm a person who functions best with frequent doses of fitness. I find it helps clear my head, releases tension, and balances my body and mind. In college and law school, I relied on my gym time to rid stress, keep me motivated, and get me through those years of studying and late nights. Once I got into a routine I became really dedicated and made it a habit to be at the gym every other day and took time on the weekends to walk with my friends and my dogs when the weather was nice.
That being said, it's easy to fall out of a routine and once you're comfortable not working out, it becomes more and more difficult to be willing to put in the time and frankly, pain, at the beginning to get back into a healthy workout schedule. I definitely let that happen and the main culprit for me has been travel.
After our wedding, we had a whirlwind spring and summer… All good things of course, but it definitely changed up my regular schedule. Six weddings in six months, Paris Haute Couture Week, Rome for a wedding and family time, and New York Fashion Week in the fall. In between those, J and I made weekend trips for events or to help family on the ranch. The "bad guy" isn't necessarily traveling, but indulging in delicious food and wine from the area, resorting to airport dining and fast food while traveling, and lack of access to usual fitness routines or equipment.
But… In the past two weeks, I've been making more of an effort to get my butt in the gym and eat healthfully while I'm at home. And I've made a commitment to a plan that will allow me to work out wherever I am, whether it be an exciting vacation or just a weekend trip to the ranch. These are also great suggestions for people who don't have the budget or access to a gym membership. Perhaps we can hold each other accountable? And I'd love to hear your advice and suggestions on this issue as well!
#1 – – Sightseeing
While I was interning in Switzerland, I found that jogging (even though I'm not a runner) was an efficient way to see and explore so many beautiful areas around Lake Geneva. I packed a little backpack, my headphones, and my iPod with a great playlist and went off to snap some photos and get in a sweat session with the most incredible views.
My advice is to look up areas you'd like to visit, search online for running paths with the best views and the best plans for a long, scenic walk in the area. Once you have a few ideas, write them down and plan around your schedule and fitness level and goals. Invite your travel companion to join… It's much easier when you're not alone. Ask your hotel what areas to avoid to be safe.
When I was studying in New York City for a summer, I definitely indulged in the local food and wine with one of my best friends who was happy to show me around all the best foodie spots. But… I ended up losing nearly 10 pounds during my stay because I walked everywhere and would make a point to take lengthy walks to see tourist destinations, shopping spots, and meet friends at restaurants and cafes around the city.
#2 – – Hotel Fitness Center
If the weather is crummy or you're unsure of the area in which you're staying, there are still options for you. I always check if the hotel has on-site or off-site gym access. Some hotels offer free daily access to gyms nearby.
Sometimes it's a great opportunity to try out a new piece of equipment, switch up your gym routine, or even just get a different view. I find that variety spices up my routine and keeps me motivated. The best hotel gym I've found? The Breakers resort in Palm Beach. Cardio wasn't quite so bad when looking out over the blue waves of the Atlantic Ocean. Okay so most hotel gyms aren't quite so appealing, but it's definitely worth it to check in and inquire about your options.
#3 – – Portable Equipment 
If you're staying with a friend, your hotel doesn't have a gym, or you're just not into the equipment there, bring your own. With something like this super cute jump rope from TKO, you can easily pack your entire workout with you. Run stairs in the stairwell and jump rope on the landings. When you get back to your room do sit-ups, push-ups, planks, wall sits, and tricep dips with a chair in your room. Workout complete.
When I travel with my dad for short trips, he often forces me to fit everything in a carry-on suitcase. (This is great for business trips too – I should do a packing guide for small bags!) The best part about packing portable equipment you can use in your room is it negates the need for workout clothes. Throw in a sports bra and work out in your undies! I know it sounds crazy, but fitness clothes and sneakers can really consume valuable suitcase space.
#4 – – Tone It Up
One of my favorite things to do on-the-go is a workout from ToneItUp.com. The trainers, Karena and Katrina, are the cutest duo and end up feeling more like your friends than bootcamp instructors. They make the workouts motivating and fun. Some workouts are photo tutorials you can even print out before you travel and some workouts are video tutorials you can watch while you get your sweat on. They even have the workouts divided by the area you want to target, so you can combine one of their cardio routines with a booty workout for a routine perfectly suited to your goals.
**I was sent the TKO jump rope for review, but I'm loving their yoga mat with sling too!