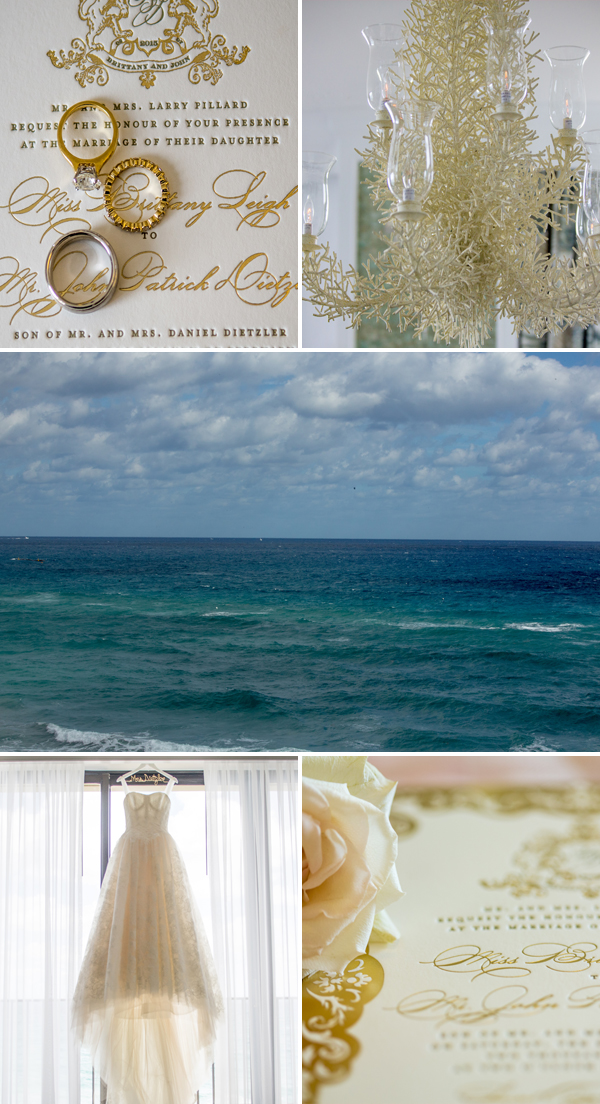 Due to our busy schedule and the demands of J's job, we missed out on a lot of the traditional wedding planning activities together.  Completing our registry, wine tasting, food tasting, cake tasting, choosing the tuxedos, and meeting with the venue and church were all things I did with the help of my mom and MIL.  Those women deserve gold stars for being my stand-in groom most of the year!  I am so thankful they were willing to help me so much.
I picked out two photos to send framed to our moms for Mother's Day, but other than that they've been sitting here waiting for us to have the time to review them!  J and I sat down for three hours this weekend and so far we've gotten through 1/3 of our photos (and then he fell asleep).  But… I insisted that I be able to post this little section of photos for you since I'm so behind!
After the rehearsal dinner the night before, I spent some time with J… We looked out over the ocean together on the balcony in my bridal suite.  We went downstairs and practiced our first dance in his suite.  Were we really going to do this?  Were we going to take this crazy leap together?  Eloping began to sound fantastic around 12 AM.
I went to my room, called J, text my girlfriends, and I finally fell asleep about 3 AM.
I woke up at 6 AM and felt so happy… Until I saw my face in the mirror.  My midnight nerves had gotten the best of my skin and I was broken out and red.  As I showered I tried to stay calm… But the tears came.  My poor skin looked as irritated and angry as I felt.  When my makeup team arrived at 7 AM, I was in tears and my hair (extensions included) was still dripping wet.
I had planned for my "personal attendant" to come and take photos on my personal camera and my iPhone throughout the day.  But honestly, the idea of one more person in the suite seemed more stressful than helpful.  These little things are easy ways you can cut stress out of your day without even realizing it… I just went with however I felt that day and it seemed to really help keep things calm.
Although professional makeup artists can be pricey, I felt it was worth it to make sure my bridesmaids and I all had a similar look for photos and makeup that would last all day and into the night.  I wanted to give them a pampered beauty experience that morning and it was so fun to watch them be transformed into glamazons!  My mother and aunt joined us, and it really was a great experience for me to get to see them made up as they usually don't wear much makeup.  Everyone looked stunning.
I knew I wanted my hair half up and out of my face for photos.  The smallest amount of wind can send hair across my face and I didn't want to hassle with it during photos.  I almost always curl my hair and I wanted soft, romantic curls for my wedding day.  I trusted a Florida hairstylist to know how to deal with humidity, even in the mild February temperatures.
My makeup artist used an airbrush foundation to get the soft, flawless look she and her team created for everyone.  On me, she created a dramatic eye look with neutral colors, sweeping black liner, and individually applied false lashes.  Pink cheeks and a rose lip gave the look a romantic feel.
I will do a separate video and post about what I wore for my wedding day and all the details.  For now, I'll just tell you about the MOB and the bridesmaids.
I asked the bridesmaids how they wanted their hair and we all thought updos might look best since most of my hair would be down.  One of the bridesmaids chose a look that morning and we went with it!  It was a low updo with volume at the top and a sideswept side.  They had soft makeup with smoky eyes accented with shades of pink and purple and a pink-nude lip.
My bouquet was in the same white and pale pink color palette as my bridesmaids.  I wanted lots of beautiful, romantic roses with delicate white feathers giving the bouquet a soft texture.  My bouquet was accented with Lily of the Valley – one of my favorite flowers and one my maternal grandmother loved as well.  It also happens to be J's fraternity flower, so I thought it was a beautiful way to incorporate him into my bouquet.
Suddenly everything went from 20 MPH to 100.  Our photographer, who had been shooting details quietly in the back bedroom of the suite with her assistants, came into the main room and began to direct us.  Soon, staff from The Breakers swept in to take away our brunch tables.
Please click on the Wedding tab above to see all wedding posts.