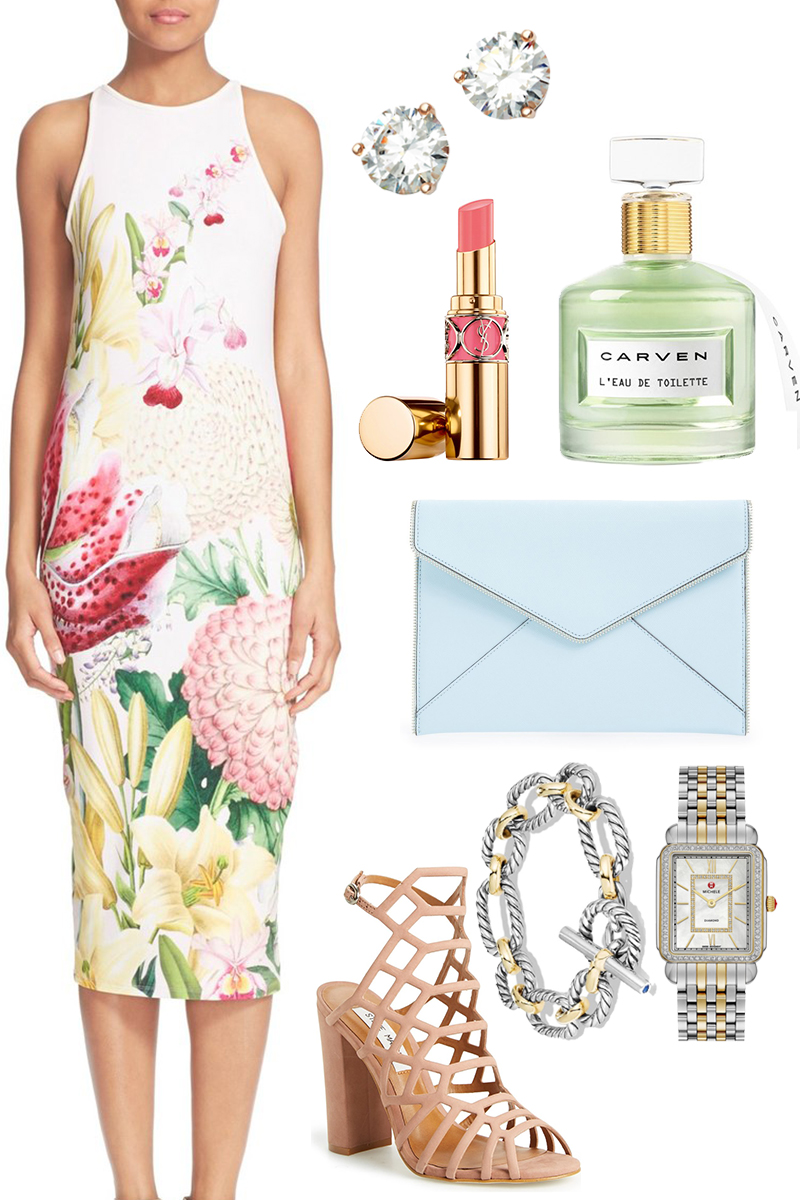 Dress.  Clutch.  Shoes.  Earrings.  Link Bracelet.  Watch.  Lipstick.  Perfume.
Tips for Graduation Outfits:
Stick to classic pieces. You'll be taking photos with your family and friends that you'll have forever; classic styles and colors are timeless and will still look beautiful framed on your shelf for years to come. The dress I styled above plays with a little color and fun straps, but maintains a classic shape and style overall.
Dress more conservatively than usual. Not only will your relatives be present, but you'll be interacting with many teachers, professors, and staff from your school. Now is not the time to see how far you can push the envelope! Plus, walking up on stage can provide unflattering photo angles if you're not careful. The dress I styled comes below the knee and is more fitted, so it won't catch the wind if your graduation is outside.
Wear straight silhouettes. Graduation robes aren't the most flattering piece of attire you'll wear in your lifetime. If you're concerned about looking shapeless in photos, be sure to wear a straight silhouette to add as little volume as possible. Remember it shouldn't be skin-tight, it just shouldn't have a full skirt.
Wear comfortable shoes. Take this one with a grain of salt… You know I love my heels, so I don't mean to walk the stage in your Birkenstocks but you need to wear something a little stable and secure. Graduation days often come with a lot of walking… Large auditoriums, outdoor venues, and tricky stairs/stages to receive your diploma. I feel most comfortable in wedges or block heels like the ones I've styled with this outfit. I also made sure the shoes have straps across the front to make you feel a bit more secure when walking up stairs.
Accessorize with simple jewelry. You don't want hefty statement jewelry to detract from your face in graduation day photos. You are the star of the day, so be sure you shine! I kept this look simple with classic studs. These are cubic zirconia and great quality… I wore them for years before J gave me diamond earrings as a wedding gift. I also added two items I think would make beautiful graduation gifts or investment pieces. The watch is such a classic piece with versatile two-toned metals, and I just love the Art Deco details on it. The bracelet is a perfect layering piece but makes a statement on its own; and its two-toned design ensures that it can be worn with everything.
Above all, if you're a graduate, congratulations… You've worked hard and accomplished something great. You should feel proud and honored, and know that I'm cheering you on! Take in each and every moment of your graduation day; my graduation days are some of my best memories. Shine bright, babes! I bet they can see your happiness coming a mile away.