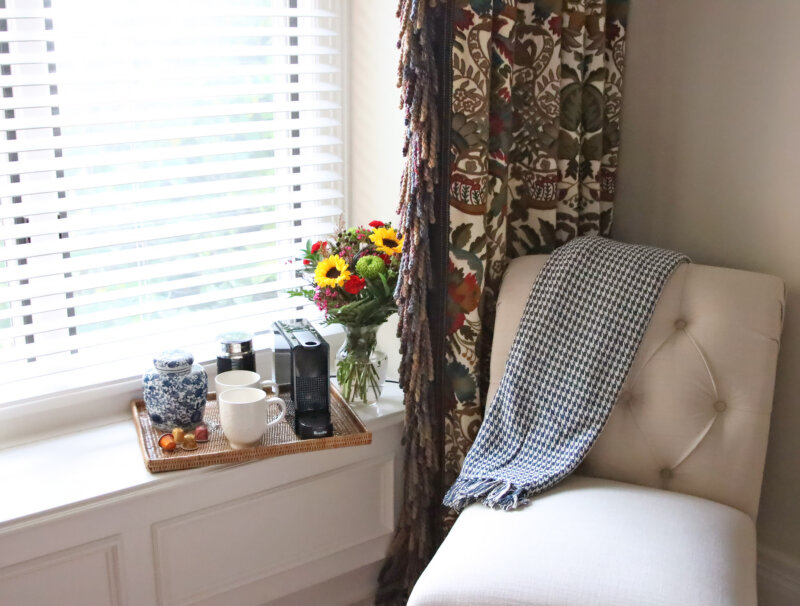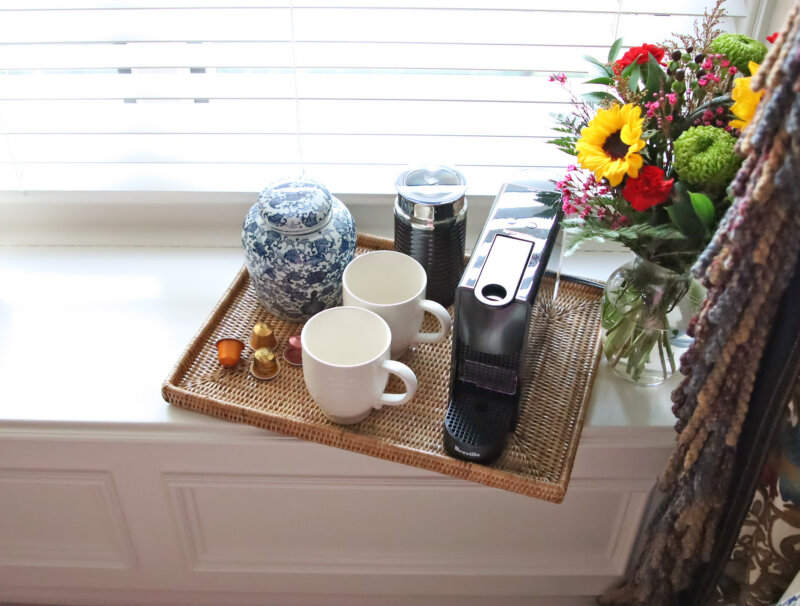 Houndstooth Throw. Coffee Maker + Frother. Set of Mugs. Blue and White Ginger Jar. Rattan Tray.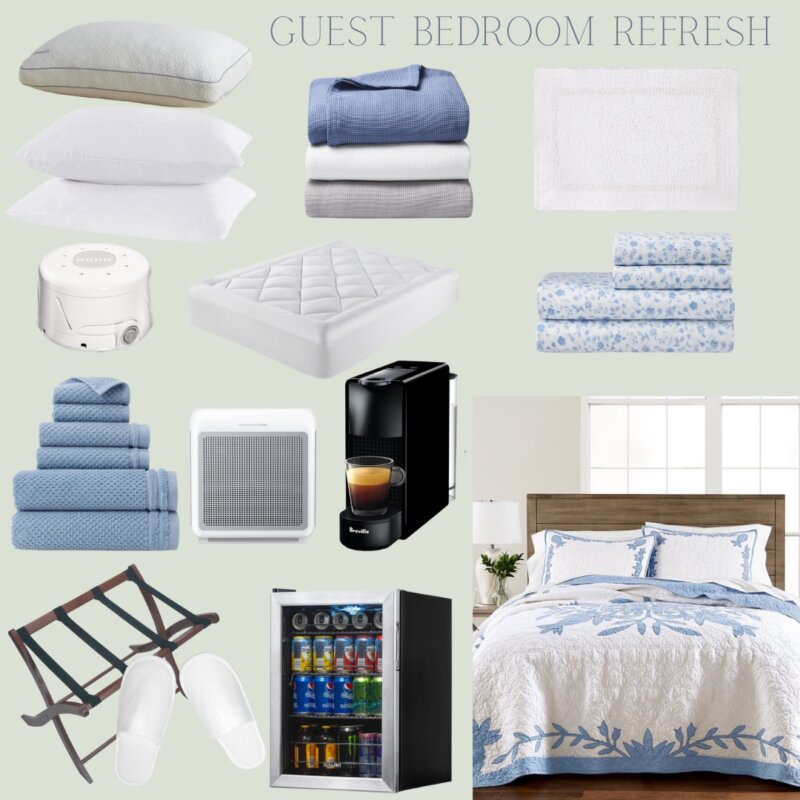 This Post is a Paid Partnership with Walmart.
Memory Foam Pillows. Pillow Protectors. Waffle Blanket. Bathroom Rug. Sound Machine. Mattress Pad. Blue and White Sheet Set. Blue Bath Towels. Air Purifier. Coffee Machine. Blue and White Quilt Set. Luggage Rack. Guest Slippers. Beverage Fridge.
As we enter the holiday season, many of us are preparing for friends or family to visit. So it's a great time to take a peek at your guest bedroom spaces and make updates that will ensure your guests feel cozy and comfortable during their stay. Below are some of my best tips for creating a guest bedroom oasis… The only danger is whether or not they'll want to leave!
Any of these items would make great gifts for the homebody in your life. Someone moving into a new home, someone in the process of finishing out rooms, or even someone you're staying with during the holidays. (You can see the houndstooth throw blanket and coffee station I added to our own guest room above – they would make such a cute, cozy holiday gift!) Take a peek at even more home gifts from Walmart here. I have been ordering from them for our home products often recently… I love the selection for home products and children's toys on their site, the fast two-day shipping available for most products, and the ability to pick certain items up the same day from my local store.
Luggage Rack
One of the worst things you can do as a guest is to roll your suitcase through multiple airports and streets, then straight onto the bed where you're staying. I washed wheel marks off my bedding a few times before finally investing in a luggage rack. It's more hygienic and it's also easier for guests to access their belongings.
Mattress Pad
Adds a layer of softness to your guest bed and a provides an extra layer for hygiene. I like having a couple mattress pads to easily change out with my guest sheets.
Fresh Sheets
Soft sheets in clean white or a soothing blue and white print are my favorite. I keep a couple guest sheet sets, ready to switch out when I need. Launder them right before guests arrive so they smell fresh. And for an extra special touch, iron them to make them feel silky-smooth when your guests turn in for the night. (Your guests will ask you where your sheets are from… But the secret is simply ironing them!)
New Pillows
They say pillows should be washed every six months and replaced every one to two years. A fresh, plump pillow is key to getting a good night's sleep and preventing neck and back pain. (And while you're at it, don't forget to update your own as well!)
Pillow Protectors
These are brilliant. They're waterproof and keep pillows clean, which is essential when multiple people are using them over time. Keep a few sets on hand so you can easily wash them and switch them out with your sheets.
Waffle Blanket
Most people are either the type that love lots of bedding and sleep with a duvet or comforter… Or the type that prefer sheets and one light blanket. Waffle blankets are perfect for the latter, but will make the former feel nice and cozy too. The waffle blanket is an essential piece of guest bedding.
Guest Slippers
I like to place a fresh pair of these disposable slippers at the side of the bed for guests to wear while they stay at our house. We are typically shoe-free in our house (I think a lot of people have started doing this since the pandemic) so offering guests slippers can make them more comfortable – or at least keep their feet warm while they pad around your house.
Coffee Maker
If you have the space, get a coffee maker for your guest bedroom. Place a couple of mugs, sweetener or creamer, and a breakfast bar on a tray and your guest can take their time getting ready and enjoy their first cup of coffee in peace while they get ready.
Beverage Fridge
If you have an outlet in your guest bedroom closet, tuck one of these inside and keep it stocked with water, juice, and cold brew. Your guest will appreciate having a cold bottle of water before bed or if they wake up during the night. Or a cold-pressed juice while they get ready in the morning.
You can keep coffee creamer or almond milk here for your guest's coffee as well. The "Aeroccino" milk frother in this coffee machine set is fantastic and makes the fluffiest foam.
Fresh Bathroom Rugs
Another often overlooked piece in a guest room. I prefer white so I can bleach out spilled makeup or coffee if necessary. Wash and dry them just before your guest arrives so they're nice and fluffy.
Sound Machine
After living in a city with nighttime noises like sirens and dogs barking, sleeping in the country felt too quiet. Everyone has different preferences when it comes to sleep and a sound machine can make your guest feel more comfortable. Not only that, but it can help drown out other household sounds in case your little ones wake up early or you have laundry going down the hall.
Air Purifier
Helps to keep your guest room clean and relieves allergies. We have a shedding dog and I'm always sympathetic to guests with allergies because I'm allergic too… It can be miserable if you're not used to it, but these air purifiers really do work. When I run ours, I find that my eyes don't burn like they used to before we got an air purifier in our home.
My Guest Coffee Station:

Guest Bedroom Refresh: