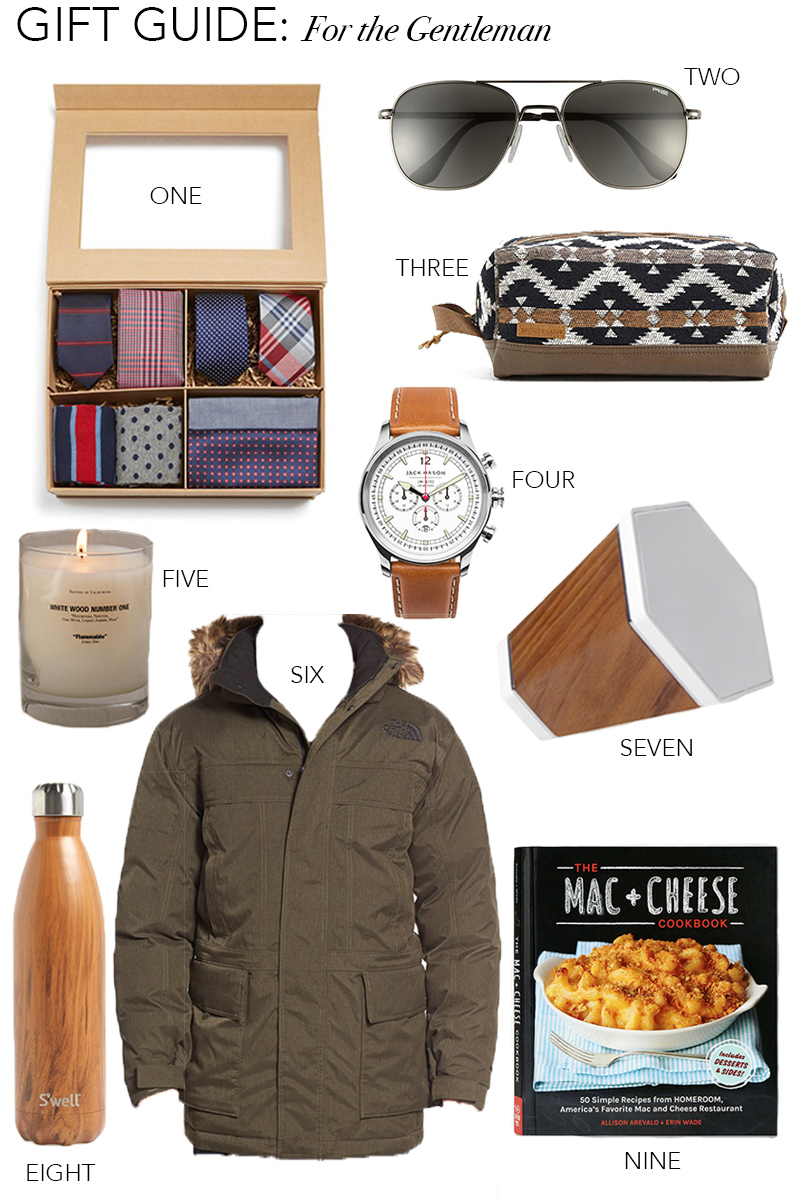 ONE: Coordinating Sock & Tie Set.  TWO: Classic Aviators.  THREE: Dopp Kit.  FOUR: Watch.  FIVE: Wood-Scented Candle.  SIX: Waterproof Coat.  SEVEN: Bluetooth Speaker.  EIGHT: Teakwood Water Bottle.  NINE: Mac & Cheese Cookbook.
The most difficult people to shop for on my Christmas list are always the guys… My dad, my uncle, my husband, my father-in-law, and my brother-in-laws. And it's not like these guys don't have hobbies or passions to give me ideas; some like hunting, some enjoy fishing, and some are really into photography. The problem actually seems to worsen the better my gift recipient has become at what they love to do; they have all the gear, are well-versed in their pastime, and their coveted accessories become more expensive.
My solution is to steer clear of tricky hobbies and sports (aside from the occasional gift card) and focus instead on items with well-made, handsome functionality. I've curated a gift guide with items just about any guy in your life will appreciate and love. A warm, waterproof coat ready for the winter months. A sexy, wood-and-ash scented candle for his office. A masculine and eco-friendly water bottle. Just to name a few.
Click any of the links under the gift guide to shop the items. And be sure to scroll through the photos down below. I've compiled all my favorite gift ideas and stocking stuffers for guys… Including items not pictured in my gift guide above! Click on the arrows to scroll through and when you find something you like, simply click to shop!