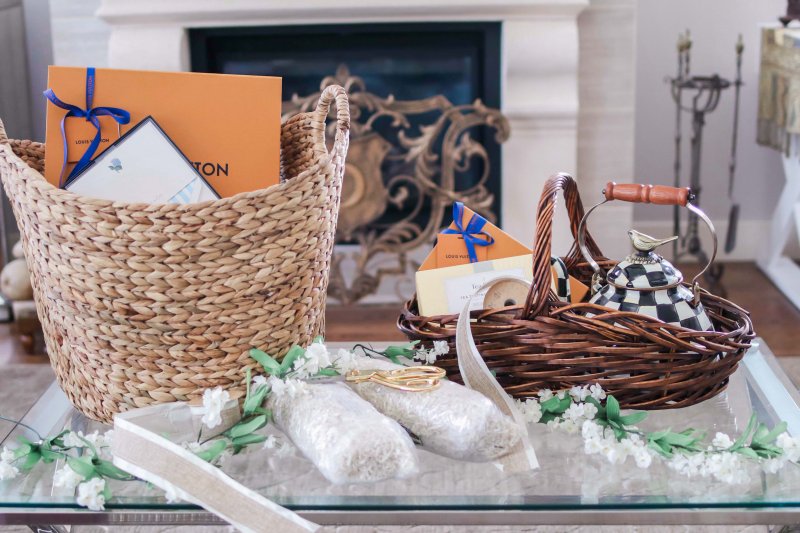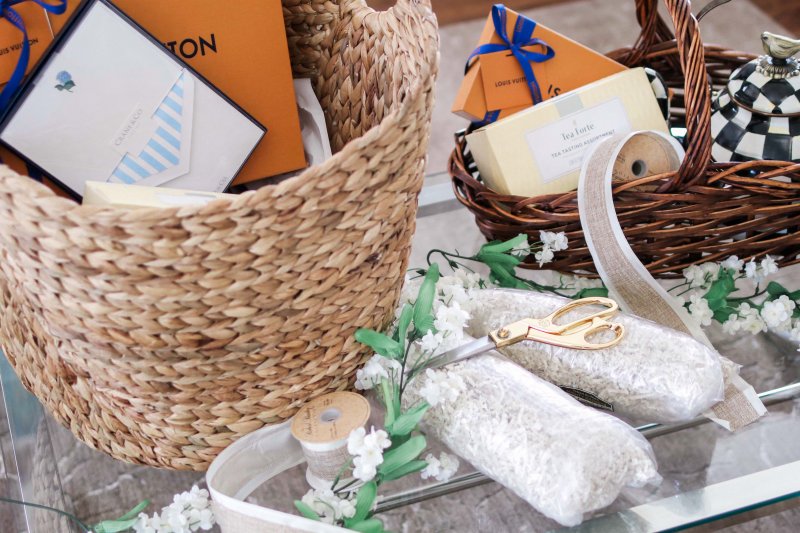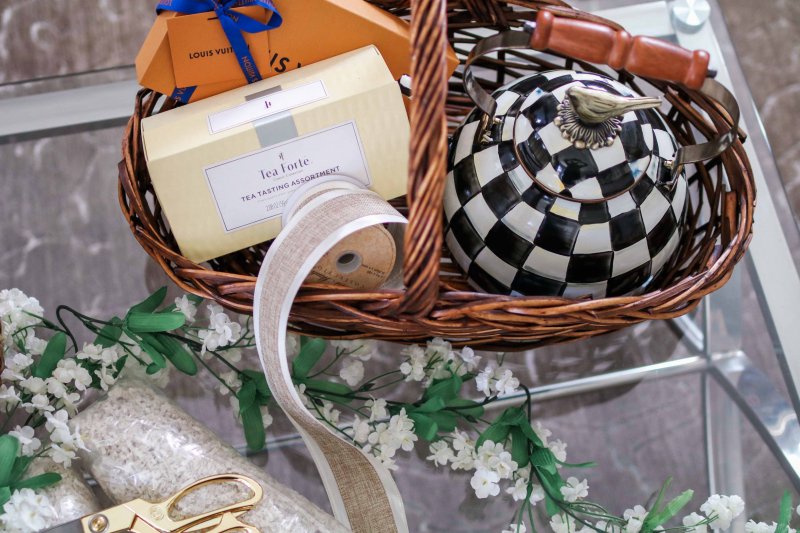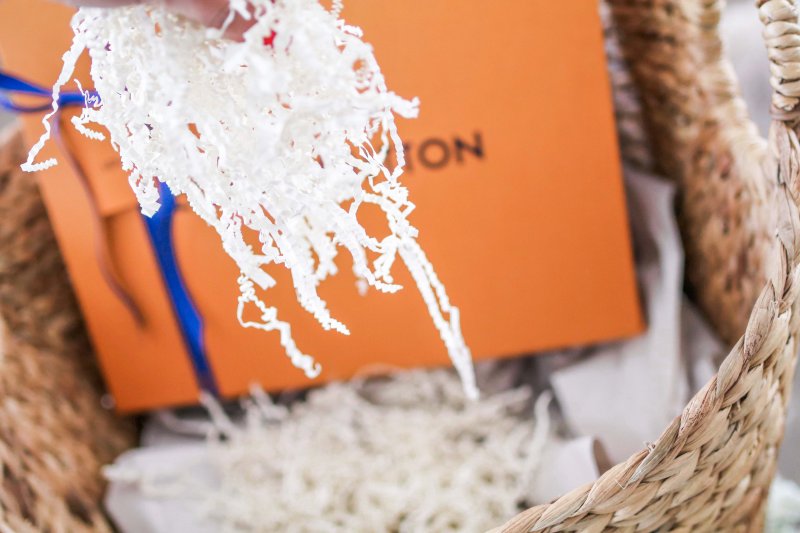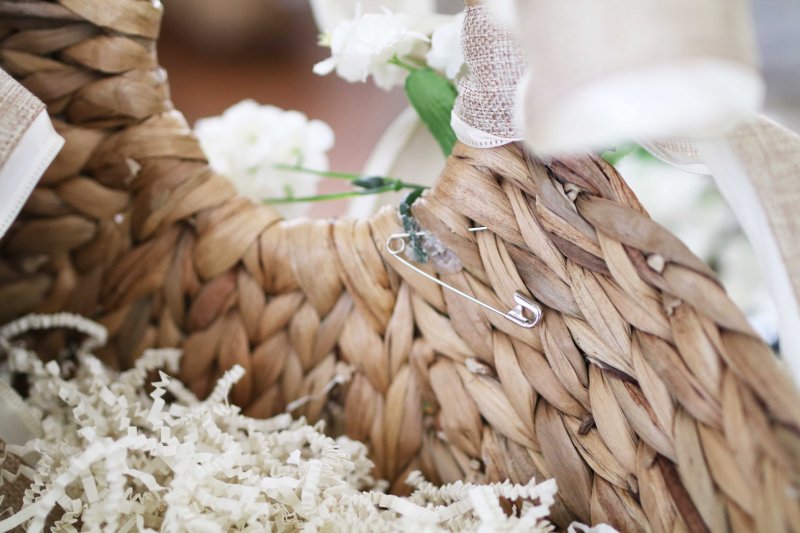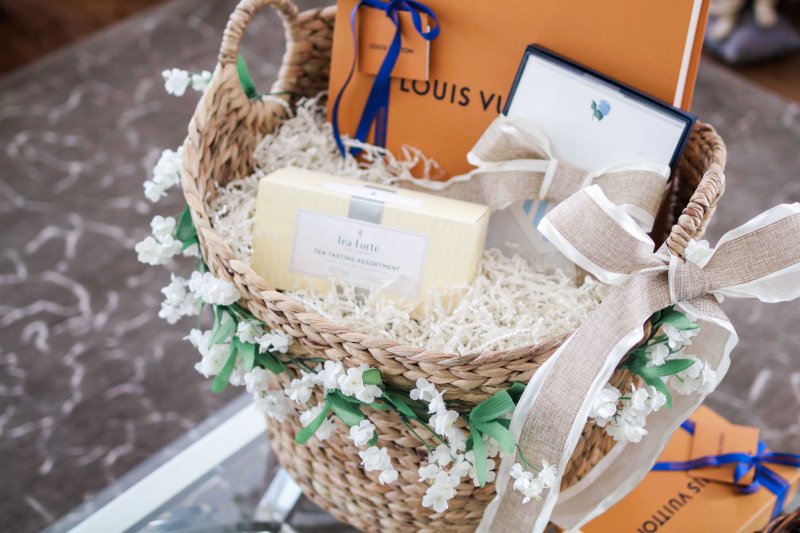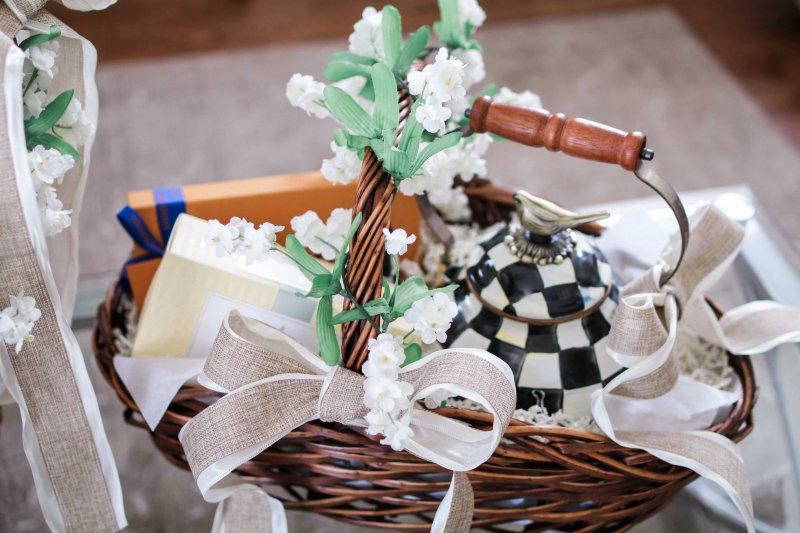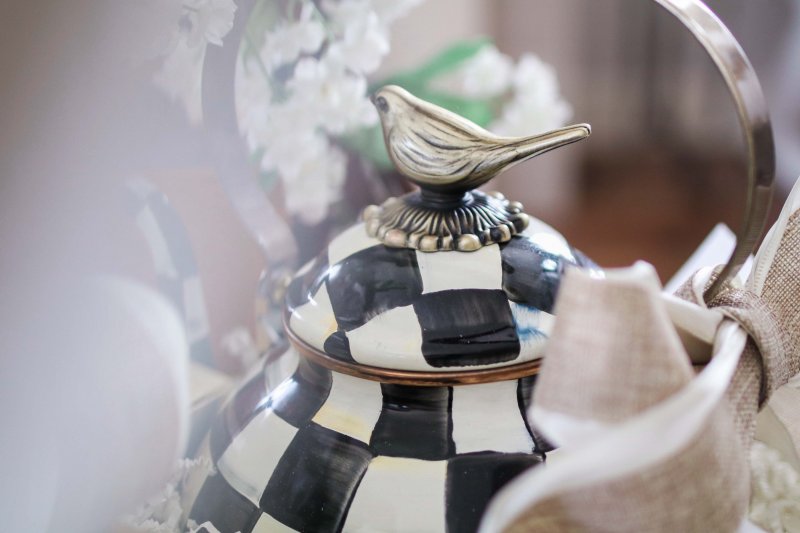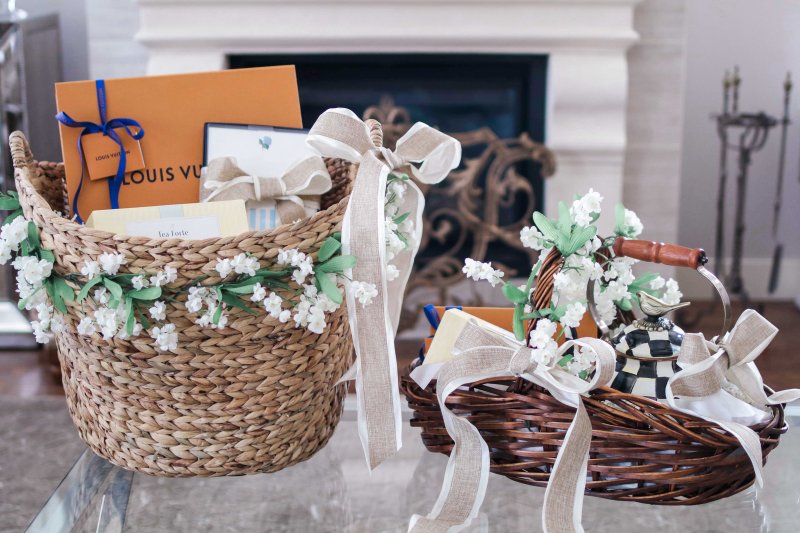 Large Basket.  Small Basket.  Small Basket on Amazon Prime.  Paper Grass.  Wired Ribbon.  Similar Flower Garland.
Tea Kettle:  Mackenzie-Childs.  Favorite Tea:  Tea Forte.
With one mother's birthday this month and Mother's Day arriving in just a couple of weeks, I wanted to put together something special for the leading ladies in our lives. I had an idea of a basket with beautiful flowers and charming ribbon, so I just went to work searching for the perfect pieces and I got started on these pretty little baskets. They turned out just how I had hoped and they were so easy to put together, I wanted to share with you in case you needed a little Mother's Day inspo. These baskets will make any gift look more beautiful and impressive; just fill it with a few of your mama's favorite things.
Need some gift suggestions? Take a peek at my Mother's Day Gift Ideas post.
Step One:  Fill Your Basket
I found the smaller, darker basket at Hobby Lobby; it was the largest of a set of three and I'm 90% sure it's from this set I found online. (I also like the shape and color of this basket style at Hobby Lobby.) And if you're concerned about shipping time, this is a beautiful basket available on Amazon Prime. For my mother-in-law's gift, I had to find a basket with handles that allowed for the taller box, so I chose this one on Amazon. It arrived and was so beautiful – well made and the perfect size for stashing throws, guest towels, or pillows. I'm contemplating reordering one for myself!
If your basket is larger, you may want to stuff the bottom before scattering your paper grass on top. I stuffed the larger basket with packing paper at the bottom because I wanted the gifts inside to peek out the top. Then just add the paper grass, pulling the strands apart as you go for a fuller, more fluffy look. Before you add the last of the paper grass, tuck in your gifts and then place the remainder of the grass around them.
Step Two:  Attach Garland and Ribbon
Since Spring makes us think of sweet baby animals, sunshine, and flowers popping up everywhere, the flower garland is an integral part of this gift basket. I wasn't able to find the exact version I used on Hobby Lobby's website, but I was able to find a similar version available on Amazon Prime. I cut my garland in half and used one half on each basket.
My hot glue gun is my best friend when it comes to projects like this. I placed a little ball of hot glue and held the end of the garland down until the glue dried. Then I used a safety pin to secure the garland into the basket. If your section of garland is long enough, you'll be able to weave it into a hole in the basket and place a bit of hot glue to secure.
You'll want wired ribbon specifically because it looks really beautiful in bow form and can be shaped however you want. I loved this ribbon because the ivory satin trim balances out the rustic feel of the burlap. Tie a bow around the handle and maybe a bow or two on the gifts inside… And your beautiful basket is ready to be gifted!