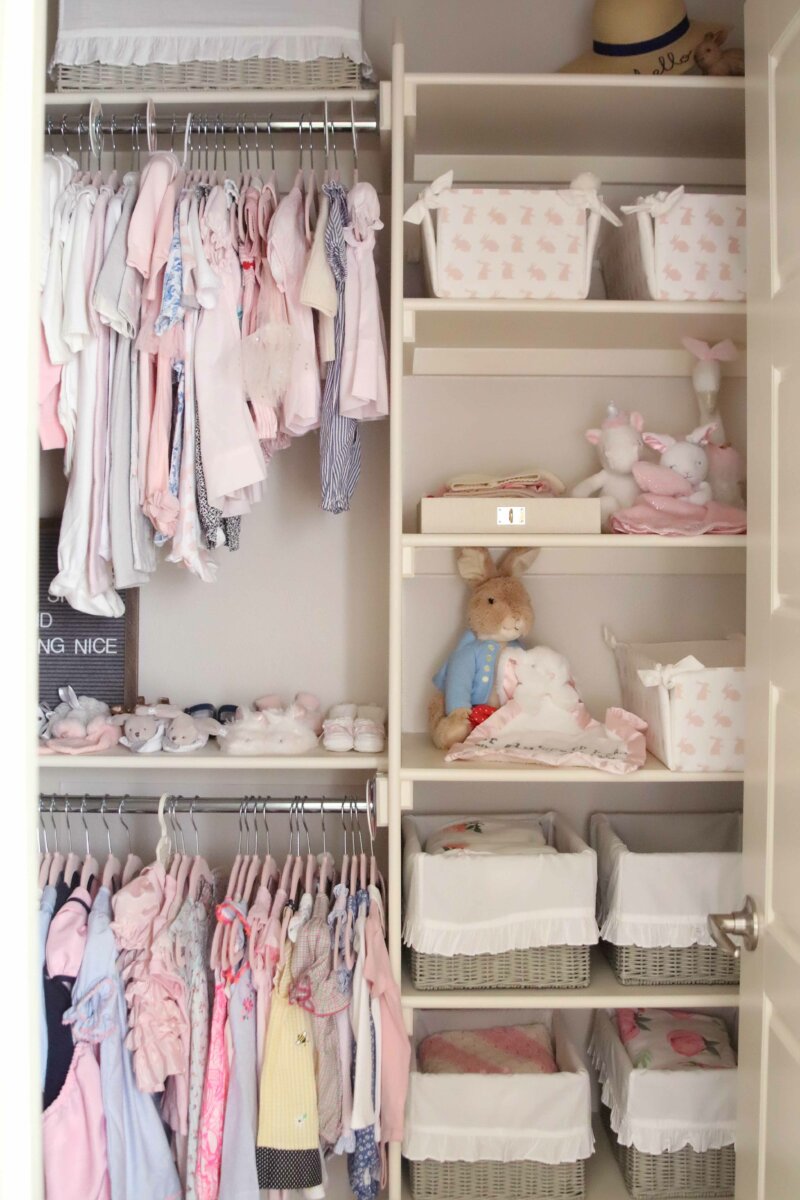 Decor Elements: 12″ White Hat Stand. Pink Bow Holder. Gray Letter Board.
Hanging Racks: Pink Velvet Hangers. Floral Puffy Hangers. Baby Closet Dividers.
Storage Bins: Bunny Print Canvas Storage Caddy. Bunny Print Canvas Hamper. Rutherford Storage Baskets in 'Whitewashed Natural' with White Ruffled Cotton Storage Liners.
Once I found out I was going to have a little girl, my mom and I couldn't resist starting on her little closet. I think, for any lover of fashion, there is just something special about seeing a tiny human in little dresses and miniature shoes. I would be lying if I said I hadn't been hoping to dress a daughter of my own for most of my life. So between my mom and some of the sweetest friends, Bunny's closet took shape and suddenly I was swimming in tiny smocked dresses and mini mary janes. But as I've learned with my own closet, organization is important and often has to be adjusted as you figure out what you actually use and what you don't. So this is my little Bunny's closet after a bit of tweaking, but before we actually discover what works best to keep her things in order. Excuse the rough lighting in here – I think was this was the most difficult area of our house I've ever photographed.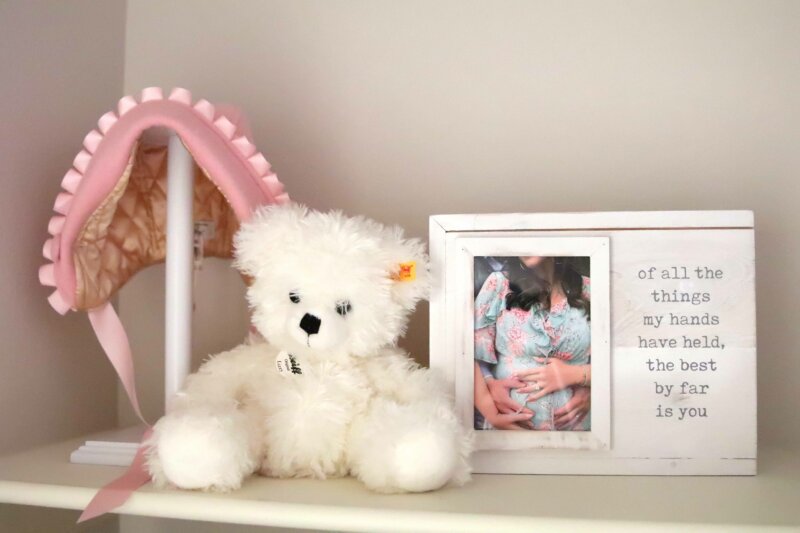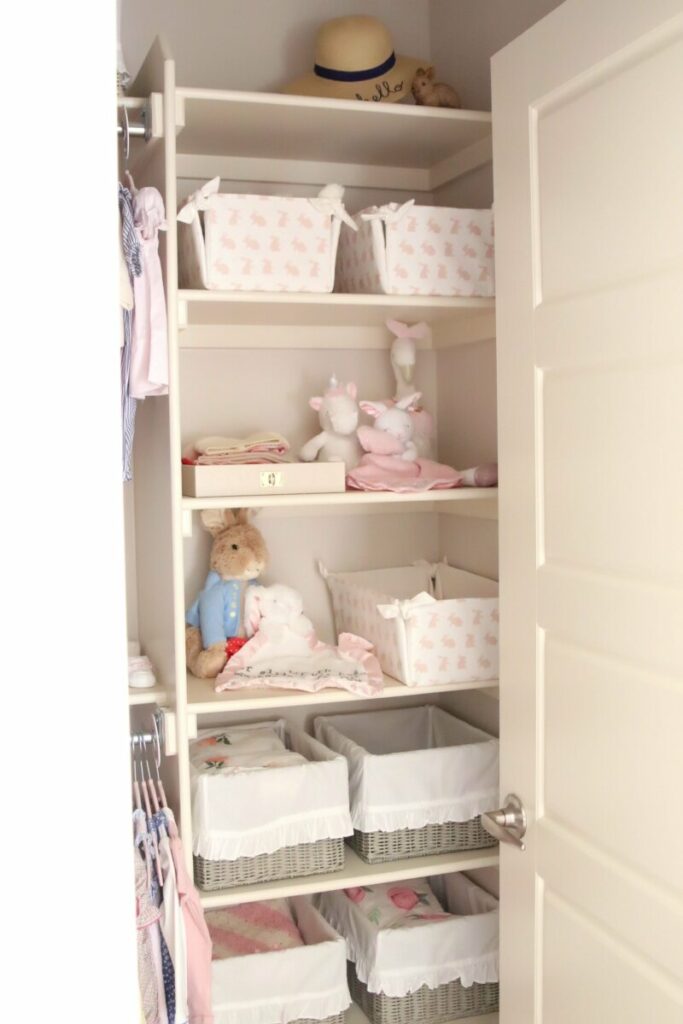 Top Shelf
Two of the large Rutherford Storage Baskets in 'Whitewashed Natural' with White Ruffled Cotton Storage Liners. One empty to slowly add clothing my baby grows out of before boxing it away in our storage room. And one with her 6 months and up shoe collection. (We've been out of control, I know. First baby… Give me a pass this time.) One thing I will say about these baskets is they're not what I would call 'whitewashed' at all; my mom's decorator was in town installing the nursery recently and mentioned that she considers them grey with a soft sage green tint. This happened to work well for us since I've incorporated a lot of green in the nursery, but take note if you're expecting them to arrive white or cream.
I've found that the top shelf of a closet works especially well for decor items. I've tucked a little embroidered sun hat and a wooden bunny rabbit in a corner. And on the opposite side I've placed a photo box from a sweet friend with a teddy bear my husband gave me while we were dating and a pink hat from Rachel Riley on a hat stand.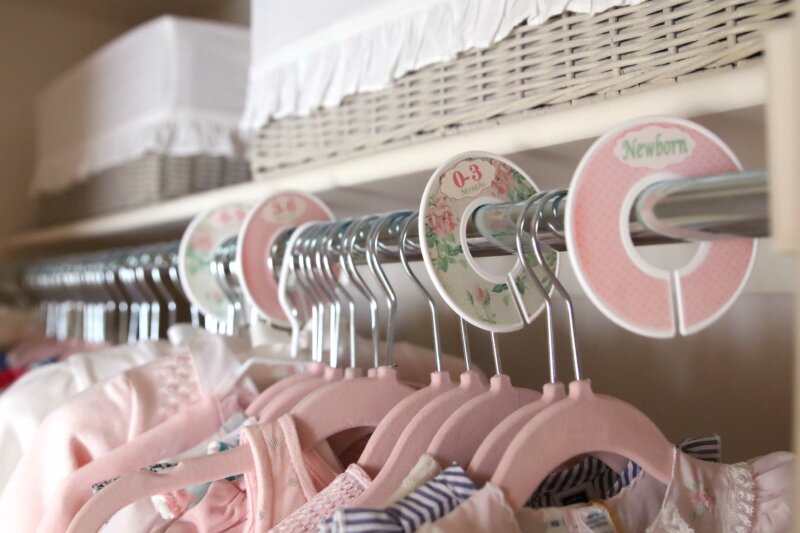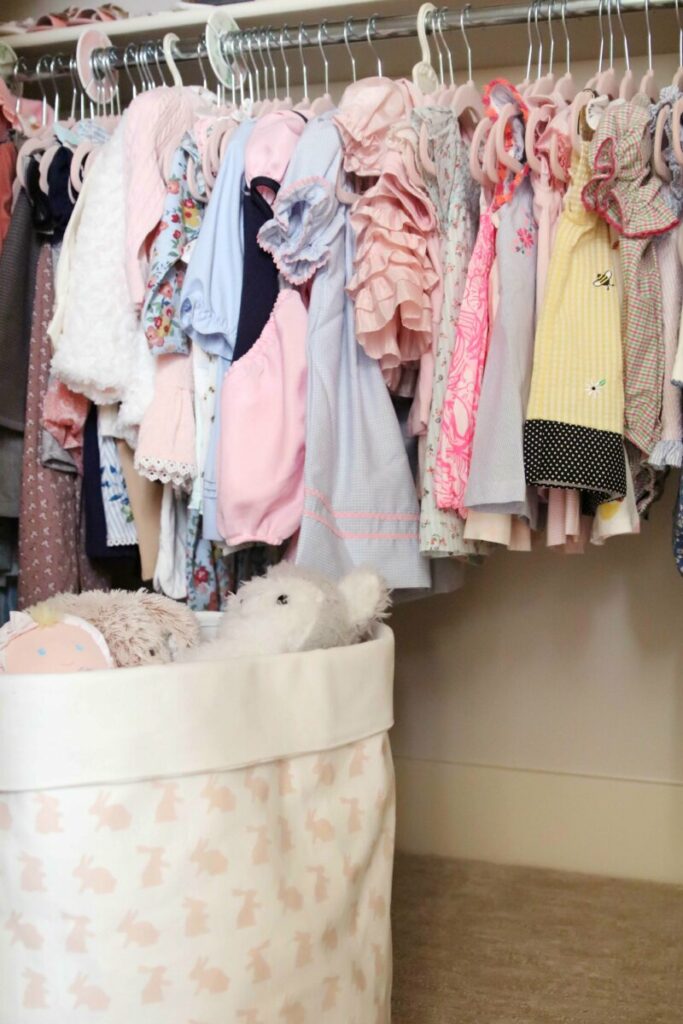 Hanging Racks
I decided to keep the baby's more casual onesies, pajamas, and socks we will be using often in her changing table/dresser. But I've hung everything else in her closet, organized from Newborn to 6 with these pretty closet dividers. (Nice that they come in a variety of sizing options too.) I used a mix of pink velvet hangers and puffy floral print hangers for knit or delicate items but I did keep in a few rogue Bunnies by the Bay hangers because they are too darling to throw out!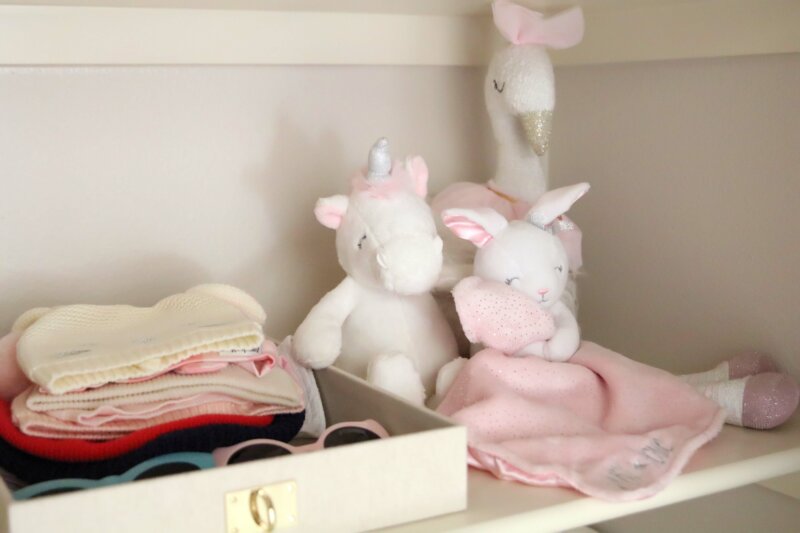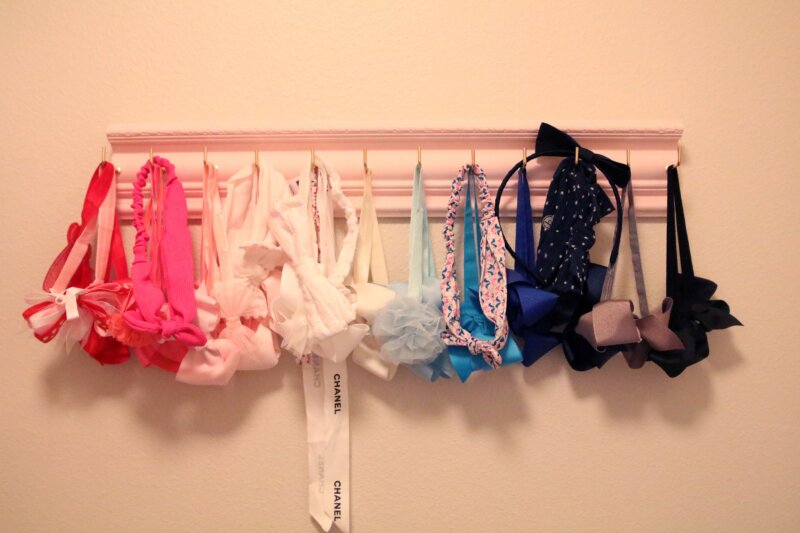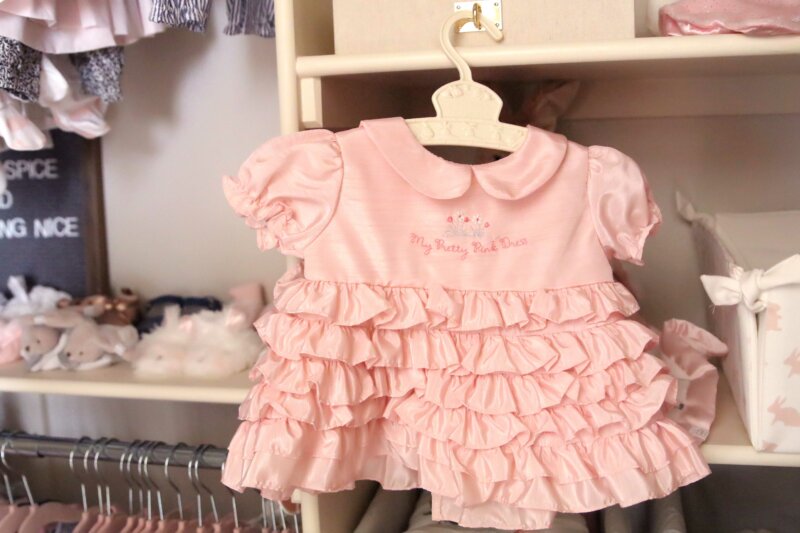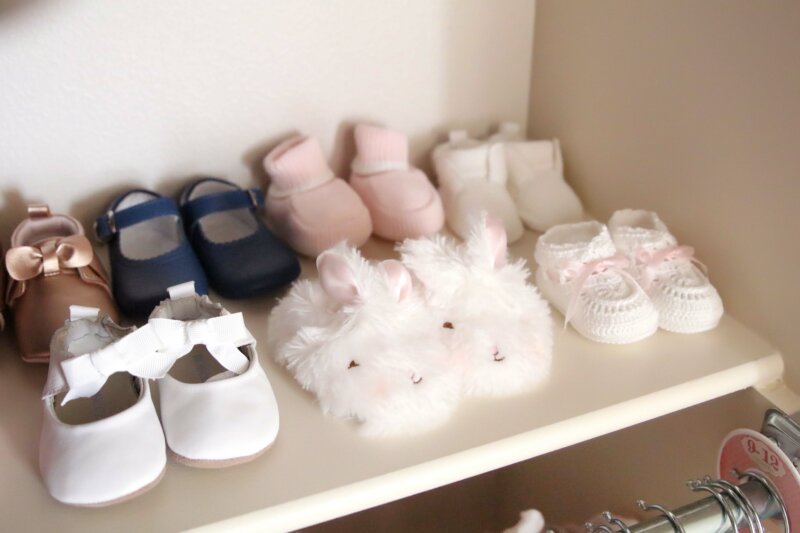 Shelves + Wall + Floor
I used to store my art supplies, gift bags, and wrapping paper in this closet and these shelves were one of my favorite features. They happen to be just as great for storing our little one's things. I used the Bunny Print Canvas Storage Caddies and small Rutherford Storage Baskets in 'Whitewashed Natural' with White Ruffled Cotton Storage Liners to organize extra teethers and pacifiers, bibs, and swaddle blankets. I placed her little sunglasses and hats in an old jewelry tray so I can see them at a glance and lined her mini shoes up on the shelf under her clothing.
We hung this pink wooden rack to hold her headbands and bows.
And I added this Bunny Print Canvas Hamper to hold the stuffed animals I am passing down to her. We've decided to make an extra bedroom into a playroom to help contain all the larger toys and plastic things little ones seem to accumulate, so I'm thinking of moving this hamper to that room as she gets a bit older.