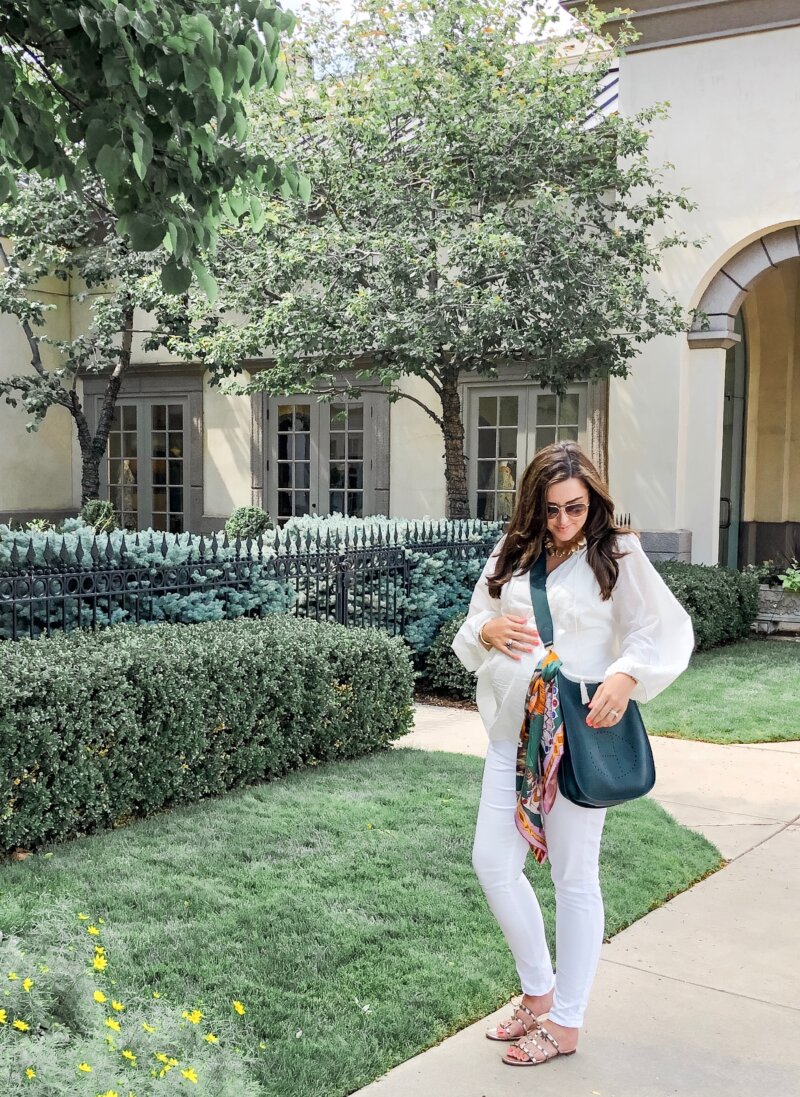 I'd say about 75% of my pregnancy wardrobe consisted of non-maternity pieces. (I've shared my favorites in this post: Best Non-Maternity Clothing for Pregnancy.) But there were some times when non-maternity clothing just didn't work – tops were too short and jeans were too tight around the stomach. I wanted to write a post to share my favorite maternity clothing, so my pregnant readers could combine both posts to help them curate their perfect maternity wardrobe.
A few of my favorite maternity brands: Hatch, Ingrid & Isabel, Isabella Oliver, Rachel Pally, tops by A Pea in the Pod, jeans by 1822 Denim and AG Jeans.
Undergarments
While I was able to find a few non-maternity undergarments that worked well during pregnancy, I think it's worth the investment to have a few maternity options especially during the last few months and for postpartum. I've linked my personal favorites in the slide down below, but if you focus on soft and stretchy options, you can't go wrong.
I would also recommend getting a maternity slip to prevent stretch mark creams and oils from getting onto your clothes during the day. And for the same reason, I invested in some comfy nightgowns to wear at night. As my pregnancy went on, I began to use more oil to prevent stretch marks and it was difficult to prevent these products from staining my pajamas. It's worth it to have a couple of maternity nightgowns you can wear throughout your pregnancy and toss after you give birth or stop nursing.

                
                


                    
                    
                


            
Activewear
Maternity activewear is another must-have during pregnancy. I found most of my workout tops too short during pregnancy and most of my workout pants had too much compression on my bump. I lived in this workout tank and my favorite maternity workout leggings. I often topped both with this long, cozy hooded sweatshirt.
I had a lot of pelvic pain starting about halfway through my pregnancy and it became more difficult to do the things I loved like gardening and going on walks with the dogs. I started taking pool classes and just going for walks back and forth across the pool or kicking with a kick board and it was a lifesaver for me. I recommend investing in a nice maternity swimsuit – it will make you feel comfortable and you won't be tugging at it while you swim.

                
                


                    
                    
                


            
Maternity Tanks + Tops
As I mentioned in my Non-Maternity Clothing post, the main problem I had with non-maternity tanks and tops during pregnancy wasn't the width, it was the length. I recommend investing in a selection of basic maternity tanks and tees for this reason. You can wear them alone or layer them under shorter non-maternity tops if you need.

                
                


                    
                    
                


            
Maternity Jeans
I started showing early – at about three months. I could wear my more stretchy and looser-fitting jeans in the first few months, but soon they became too tight on my bump to feel comfortable and I needed to invest in some great maternity jeans. If I were to rank the maternity pieces I think everyone should have, jeans would come in at number one. I wore mine all the time. I've linked my favorites in the slide below. I recommend ordering true to size, but if you're in between sizes go with the larger because by the end of the pregnancy you'll be a bit more swollen and usually end up carrying some weight other places than just your bump. I'm planning on wearing mine after I give birth while my bump is going down.

                
                


                    
                    
                


            
Body-Con Dresses
It's strange, but while pregnant I've loved wearing more fitted dresses. I thought I would want to hide my larger shape, but I've felt really feminine during this pregnancy and I think showcasing the new bump can be so beautiful on women. If you're pregnant, I urge you to try just one body-con dress and see how you feel. I think you'll be surprised! I always received the most compliments when I was wearing a fitted dress during my pregnancy. Body-con dresses are not only beautiful during pregnancy, they are really comfortable as well. This is another item I'm planning on wearing post-pregnancy as my bump goes down; maybe with a cardigan on top as the weather cools down.