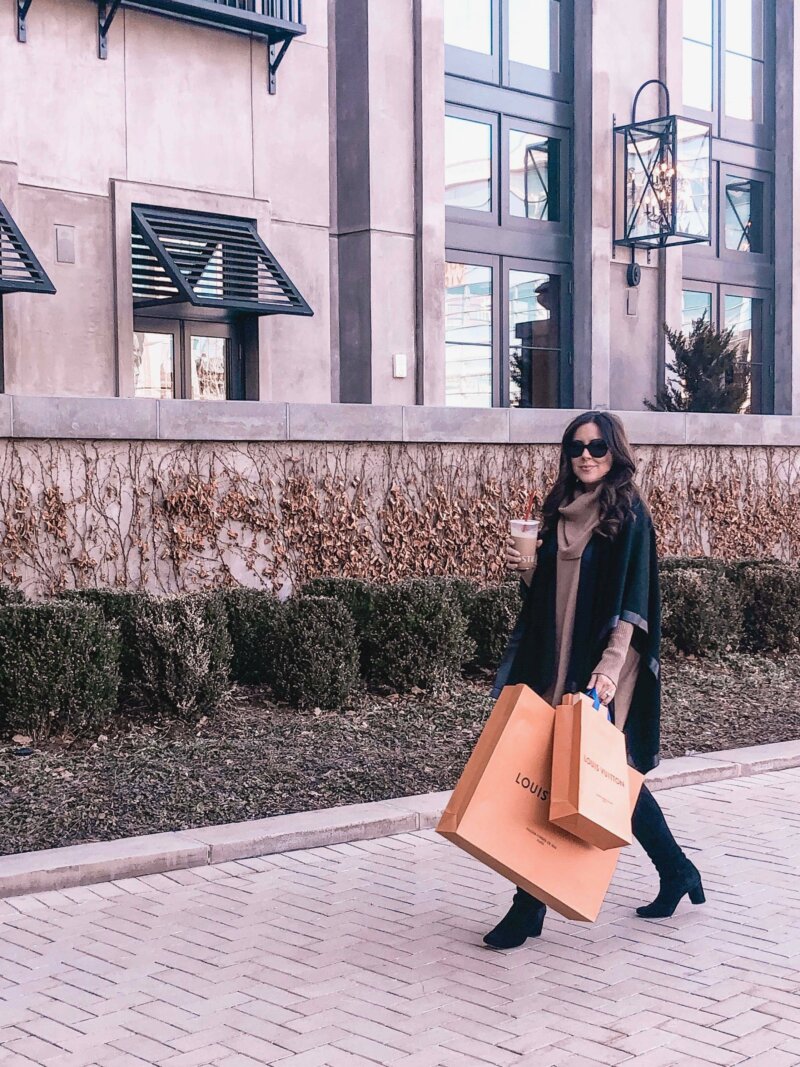 I'm 35 weeks pregnant this week. In a way, I can't believe it; I vividly remember being around 6 or 8 weeks and thinking this pregnancy would take an eternity! But it hasn't and somehow I'm sitting here, wondering how soon I'll get to meet this little girl of mine.
One topic I knew I wanted to share was how to wear non-maternity pieces throughout your pregnancy. When my mom and I went looking for maternity pieces the first time, I was horrified by the selection… Pajama-like materials that were sheer and flimsy. (Can you imagine a worse time in life for people to view your entire backside through your dress than while pregnant?!) While I have found some great maternity brands and pieces I'll share in another post, I knew I didn't want to splurge on a full wardrobe of items I'd never wear again or at least not for another few years.
Keep in mind as you read this post, I'm not a tiny person – I'm nearly 5'8″ and was at my heavier weight fluctuation when I became pregnant – so I'm proof that you can wear non-maternity pieces through eight or nine months pregnant without being a size 0. You just need to know what to look for.
When I first began showing, dressing my new body was tough. I had been an hourglass shape for so long, all my clothes had been chosen to accentuate my waist. Once our baby girl was growing and I was quickly losing my waist, I had nothing from my wardrobe to wear! So I set to work experimenting with different styles and brands to curate a new selection of clothing which I keep on a rolling rack to make getting ready easy each morning. Keep in mind, I'll be giving birth this summer so these pieces are mostly for warm weather. But focus on the basic essentials and the overall silhouettes I mention and you'll be able to translate some of these looks for winter as well. These are the tried-and-true pieces I've found… Follow my maternity hashtags #tcgbump and #tcgbaby for more.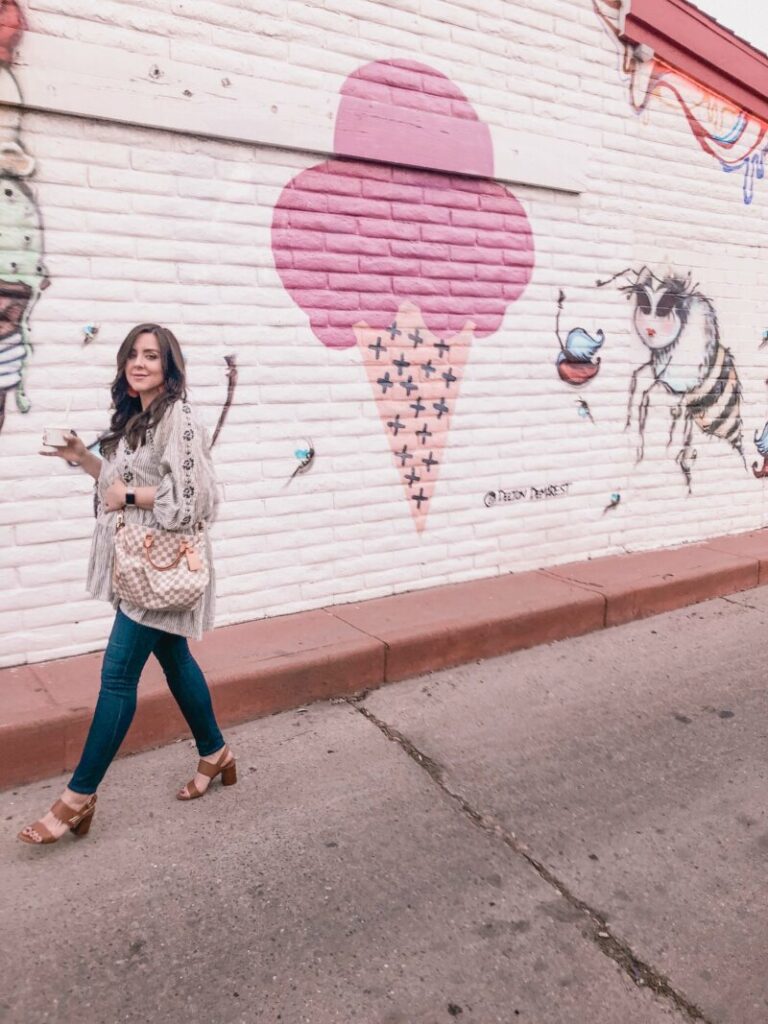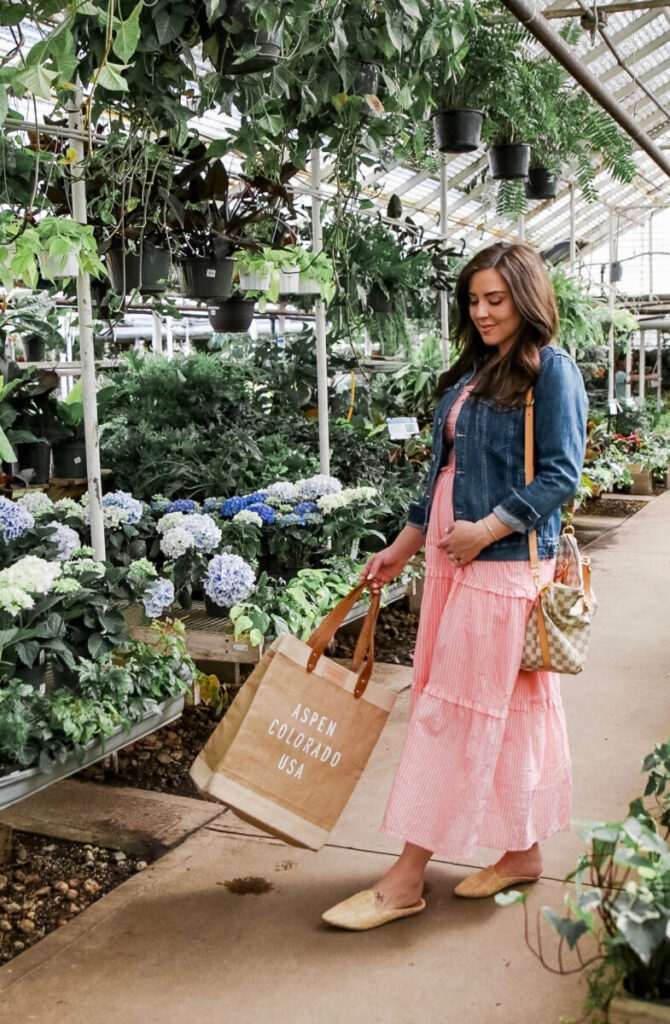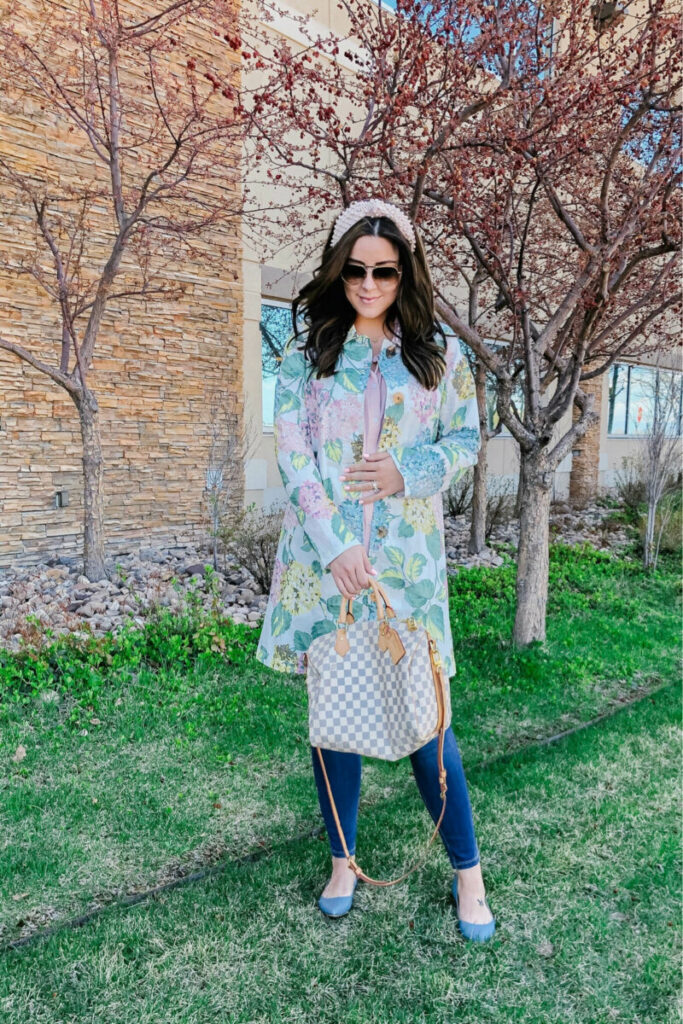 Basic Essentials…
Something I didn't think about before pregnancy were which undergarments would fit me! Of course, there are maternity undergarments which I'll cover in another blog post, but I wanted to share three non-maternity styles that I've been able to wear throughout my pregnancy so far.
Soft, Stretchy Bra
The Spanx Bra-llelujah Bralette was a favorite of mine even before pregnancy. I was checking out at Nordstrom one day and the woman ahead of me was buying four of these, telling the salesclerk she was getting rid of all her other bras. I had to try. And was immediately hooked! I was growing so quickly during my first trimester I did have to go up a size, but luckily the larger size still fits at 35 weeks. Note: This bra is currently on sale for $31.90 from $48 during the Nordstrom Anniversary Sale. If you're looking for more sale favorites, take a peek at my Nordstrom Anniversary Sale blog post.
Low, Stretchy Undies
The Low-Rise Hanky Panky Undies were another pre-pregnancy favorite of mine. They're soft and stretchy – perfect for wearing under loungewear or while sleeping. And I've found that during pregnancy, they just stretch with your body and are low enough to sit right under your bump. Note: This underwear style is currently on sale for $16.90 from $22 during the Nordstrom Anniversary Sale. If you're looking for more sale favorites, take a peek at my Nordstrom Anniversary Sale blog post.
Soft, Stretchy Leggings
I have to credit my husband for this discovery. Apparently I was one of ten people on Earth who hadn't tried the Lululemon Align Pants yet and he read an article by a woman who said these leggings were her most-worn pregnancy item. They're super soft without excessive compression and somehow continue to stretch with my growing bump (our baby girl is now over 6 pounds!) without making me feel restricted or uncomfortable. I went up a size from my usual and they fit perfectly. If you're taller like me and it bothers you to have anything resting on your bump, you can just push the Align Pants below your bump or go for a pair of maternity leggings in your last couple of months. My favorite maternity version are the Zella Mamasana Leggings, which go up over the bump and have slightly more compression than the non-maternity Lululemon version. I ordered a pair a size larger for my last month of pregnancy and then my regular size for wearing postpartum. Note: The Zella leggings are currently on sale for $42.90 from $65 during the Nordstrom Anniversary Sale. If you're looking for more sale favorites, take a peek at my Nordstrom Anniversary Sale blog post.
Nude Stretchy Slip
I've had this Free People Tea Length Seamless Slip for years now. I like wearing it with fabrics that are a bit sheer or with dresses that are cut a bit low. But I've found myself wearing it all the time while pregnant. It prevents that dreaded Princess Diana silhouette-in-the-sun moment and it smooths everything while wearing clingy fabrics. Another bonus? It protects your clothing from all the creams and oils we slather our bellies in to prevent stretch marks!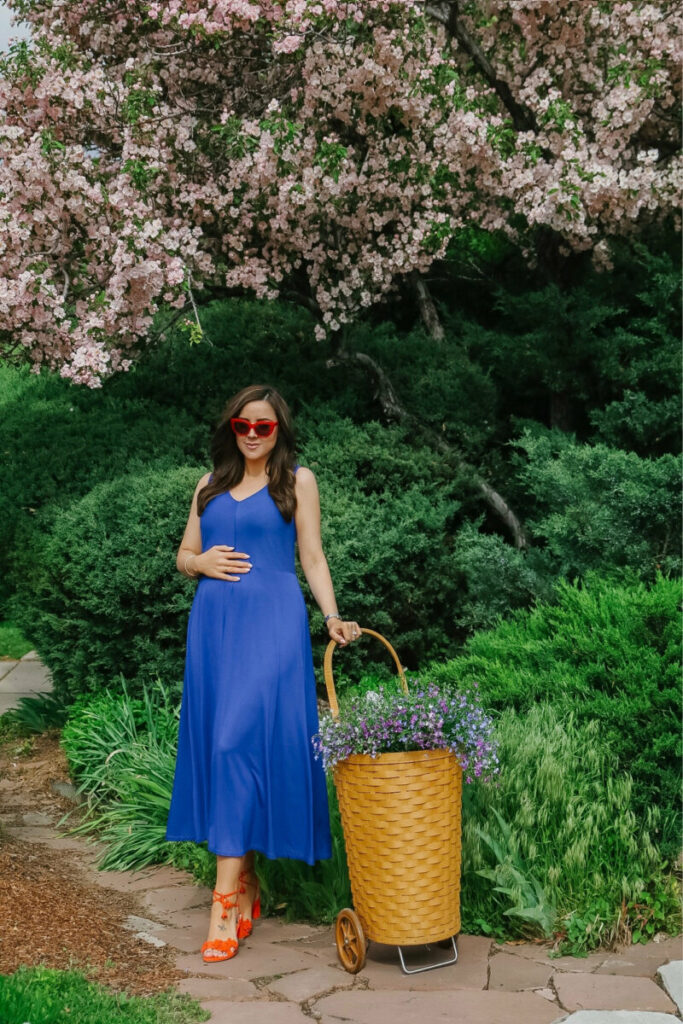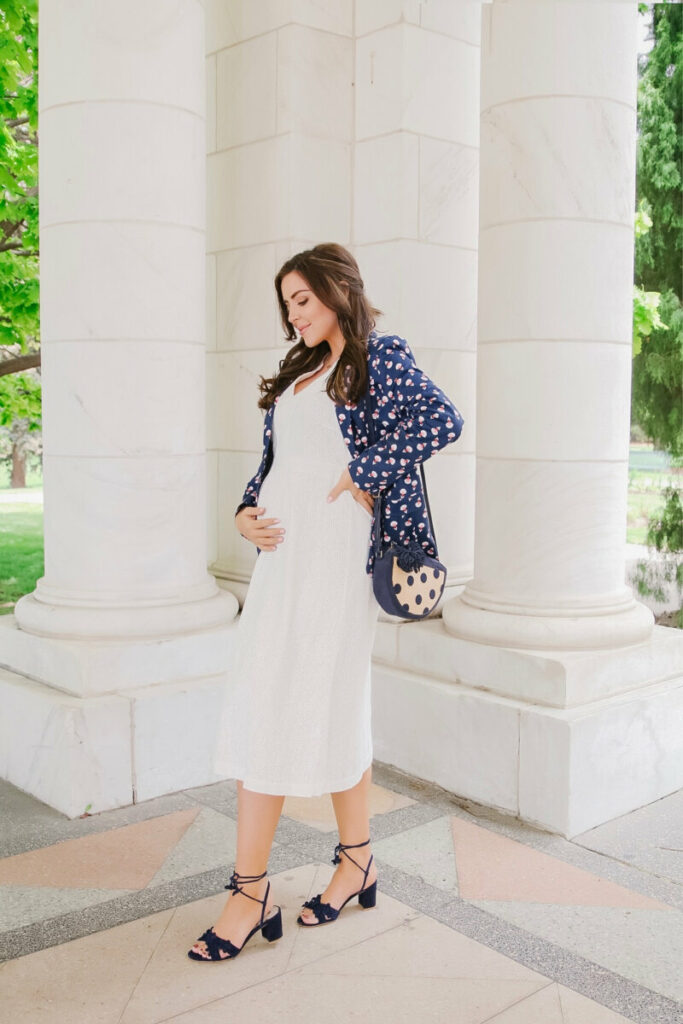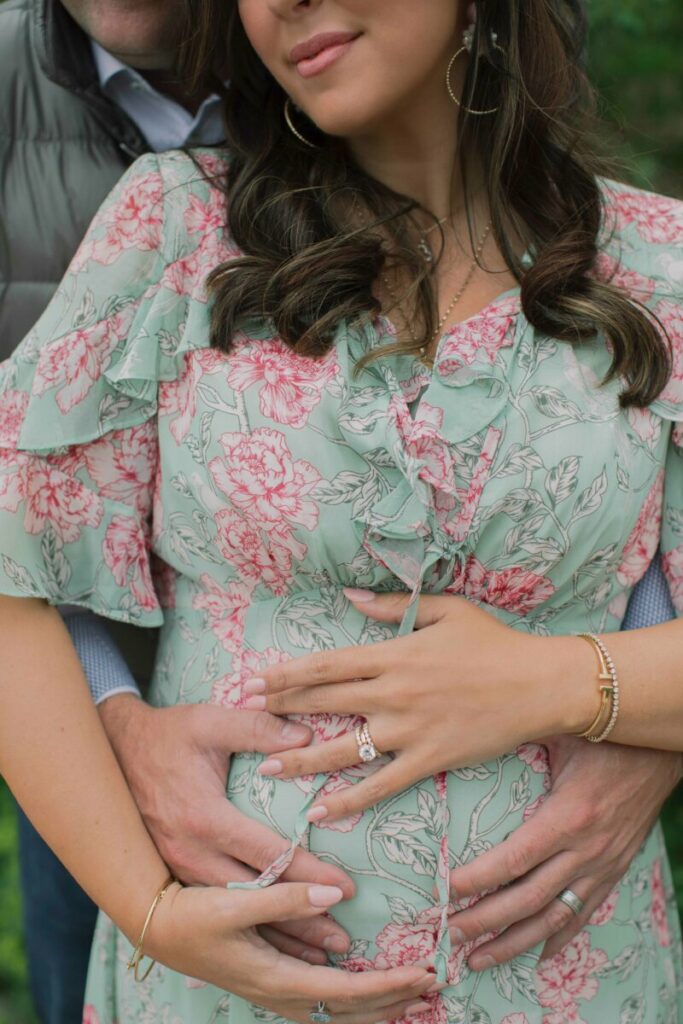 Styles To Look For…
Long, Flowy Tunics
Little did I know one of the most challenging parts of finding non-maternity tops that work during pregnancy would be the length! A top can't just be billowy and flowy… It has to have enough length to cover your bump. I find that loose tunic styles work best, especially if you're taller. Plus, they look great with leggings and skinny maternity jeans. I'm planning on wearing lots of these loose tunics for postpartum and beyond as well. I've usually only gone up one size (or at least the larger of the two sizes I usually order) in tops during pregnancy.
Among my favorites? The Emerson Fry Bardot Top and Nili Lotan tops like this Embroidered Peasant Top and Embroidered Cotton Top – both currently on sale. Any tops by Free People have been bump-friendly – try this lace-trimmed Kiss Kiss Tunic or the cottony-soft Tangerine Tee. And I lived in the Farmhouse Pottery Linen Tunics my first seven months!

Tent Dresses
For lack of a better term, 'tent dresses' have been my favorite during pregnancy. They're roomy and comfortable and fit the bump the full nine months. And after your bump is gone, you can continue to wear these dresses (they look amazing with straw hats and chic leather sandals) or belt them for a more figure-flattering look. I typically go up one to two sizes in these dresses.
I've had great luck finding wallet-friendly options at Zara like this Khaki Wrinkled Look Dress and this Ruffled Linen Dress. And at Target like this V-Neck Shift Midi Dress.
In the mid-priced range, I've been wearing this Emerson Fry Caftan everywhere to the pool with a straw visor to shopping and lunch with a chic straw bag and flat leather sandals. They have an interior tie that ties right under the bust to give a more flattering silhouette – I get so many compliments each time I wear mine! And I haven't stopped wearing this J.Crew Striped Tiered Poplin Dress (all-white solid version here) with slide sandals.
On the higher end, I have become obsessed with The Row. Their loose, billowy dresses are perfect for pregnancy and beyond. One day, I was feeling really pregnant and uncomfortable having been up for a few nights in a row with heartburn… And I splurged on a dress from The Row. It's ended up being the dress I wear the very most and it looks great paired with silk scarves and linen jackets. I plan on belting it after my bump goes down and continuing to wear it.

Body-Con Dresses
I was surprised by how much I love fitted dresses while pregnant. I would typically shy away from fitted dresses like this pre-pregnancy even when I was feeling skinny or fit, but for some reason I love seeing the curves of my bump in body-con tops and dresses. Body-con pieces make me feel really feminine and I think they can be quite flattering on pregnant mamas! The ones I'm wearing are mostly old ones I've had in my closet for years, but I took a peek online and have found some I think would be perfect.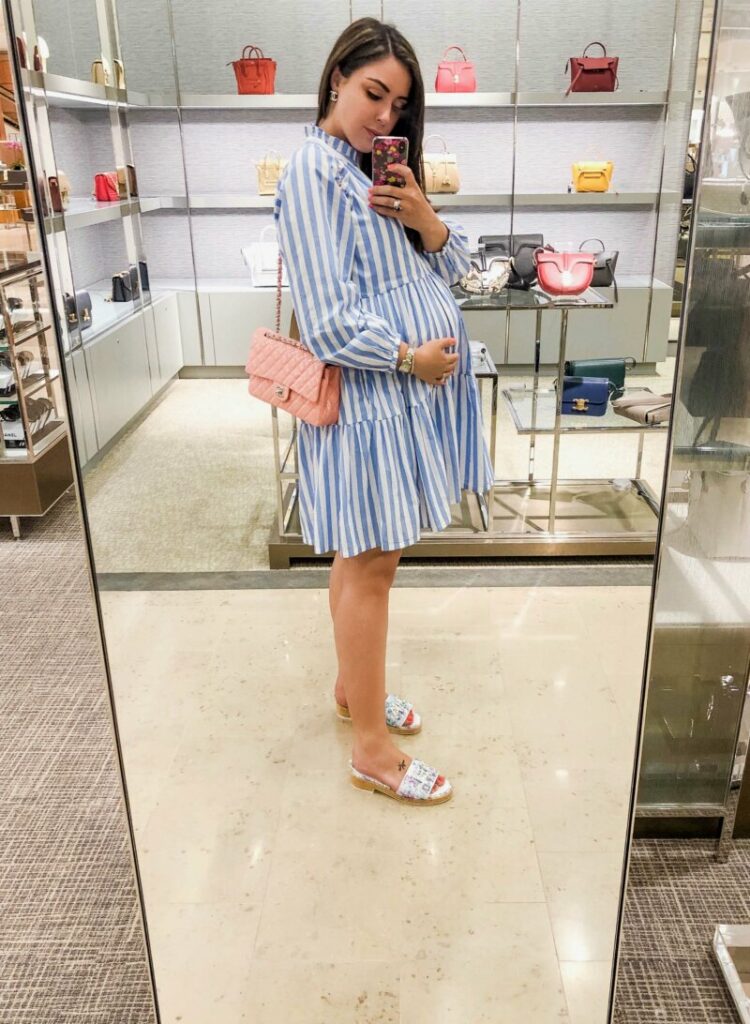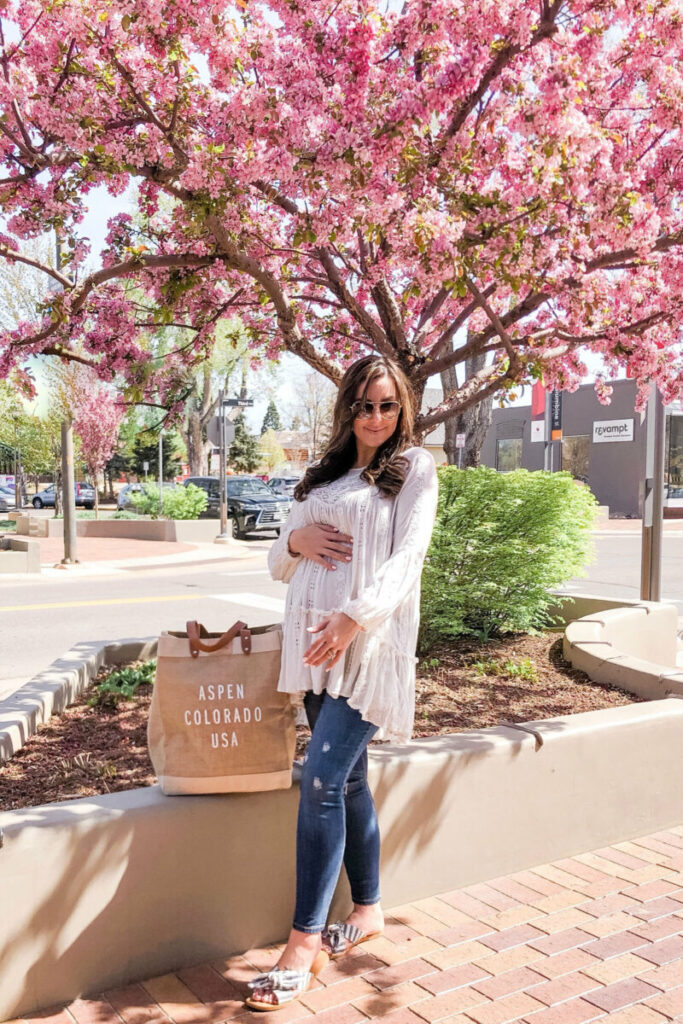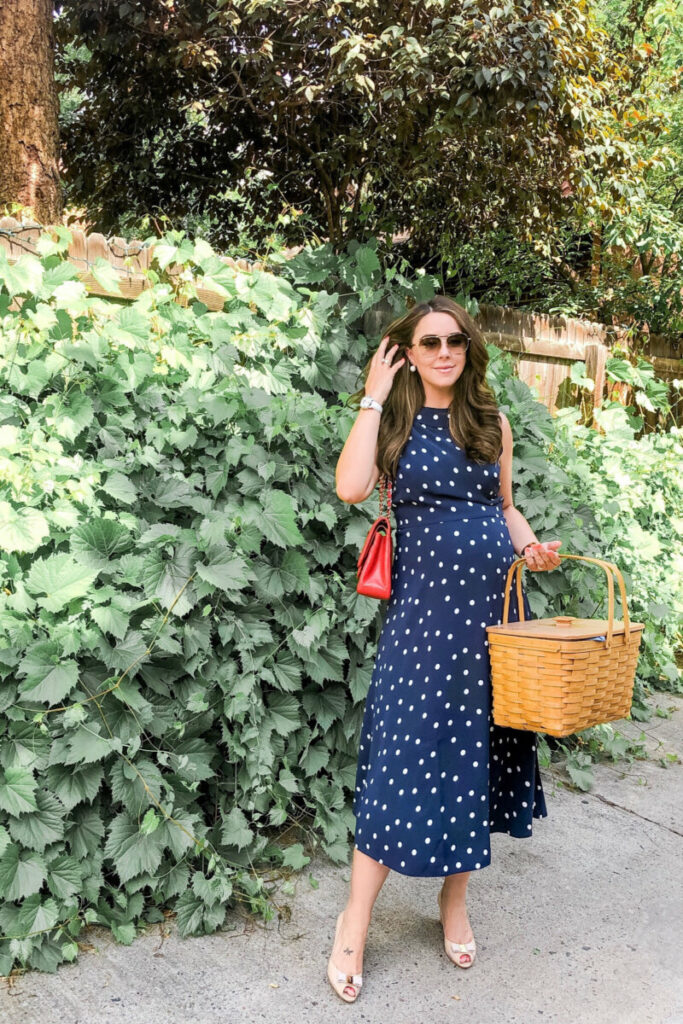 Favorite Brands and Pieces…
Lastly, I wanted to point out a couple of brands I have ordered from again and again during my pregnancy. The first being Gal Meets Glam whose large selection of empire waisted, flowy dresses are accommodating to bumps of every size! I even chose a Gal Meets Glam dress for my baby shower. I usually went up two sizes in Gal Meets Glam to give me a bit of extra room. Another favorite brand of mine is Boden whose British styles are equally classic and quirky.