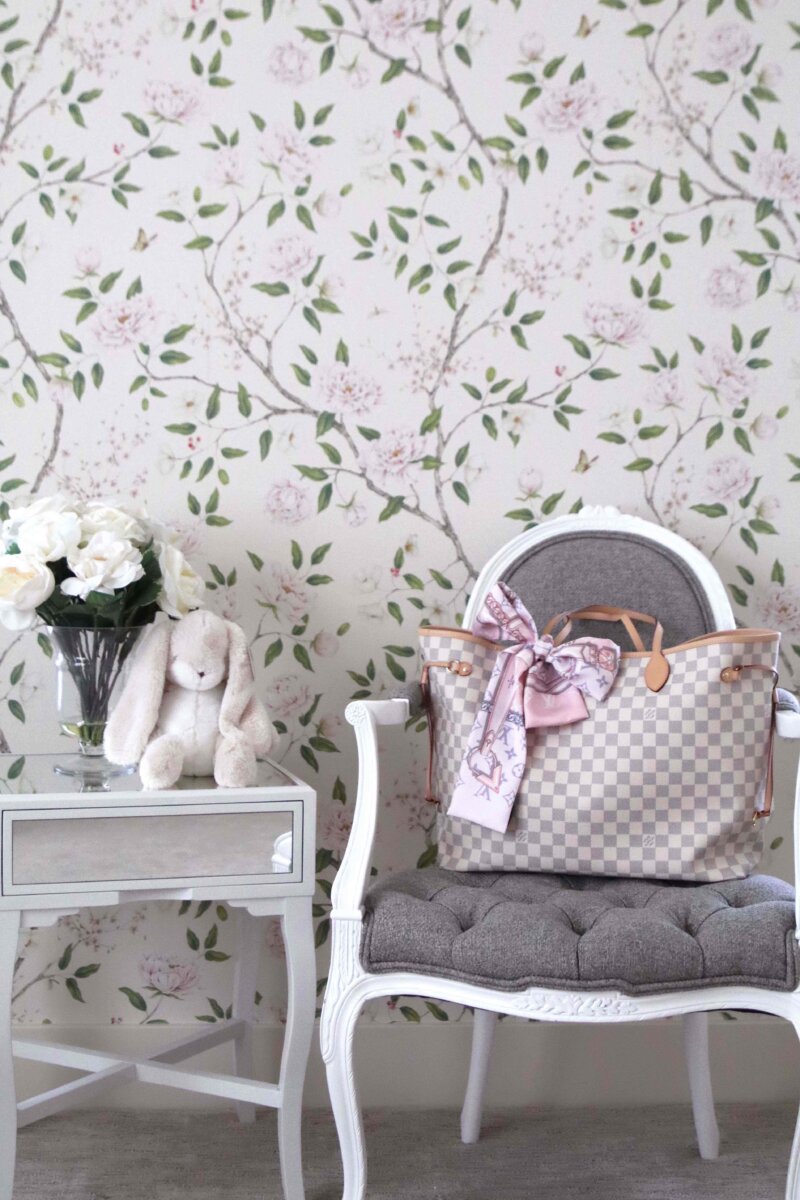 I've always been an over-packer and my tote bag is no exception. I generally have one large tote bag for everyday use to carry on errands or while traveling, then I move a few essentials to various smaller bags if I want a different look throughout the week or during my trip. My family loves to tease me about my "luggage" I pack around with me, but the truth is there have been so many times someone needs something I carry with me and I can imagine this will continue once our little one joins our family. I'm just one of those people that doesn't like to be walking around with a stain on my top after lunch or messy hands after a coffee spill or I touch a dirty door handle. It drives me crazy and I can't think about anything else until I take care of it.
In this post I'm sharing the diaper bag I chose, the diaper bag essentials I've packed inside, the tote organization tools I've discovered and used over the years, and all the extra essentials I carry in my bag (and I have packed in my car!) and find myself reaching for all the time. What's wrong with a little excess when it makes life a bit more comfortable?!
My Diaper Bag
I fell in love with the Louis Vuitton brand in high school when Newlyweds was on TV and Jessica Simpson was carrying around her Murakami white Speedy bag. I usually treated these bags very delicately and brought them out only on special occasions, but it wasn't until law school I realized what workhorses LV bags actually are. I had about 50 lbs of books I needed for all my law classes which I packed into a large utilitarian backpack along with my laptop, but I found myself needing easy access to pens/highlighters, a bottle of water, a few snacks for the day, and a sweater for cool classrooms. The Louis Vuitton Odeon GM (you can see me wearing it in an IG photo here) became my new everyday bag and trust me when I say I put it through its paces! Exploding ink pens, spilled Crystal Light water bottles, and even an extra 2-3 books tucked into it throughout the day… It held it all in a convenient crossbody style without looking worse for wear.
My mom offered to treat me to a new diaper bag as a birthday gift this year. John and I had already purchased a personalized Louis Vuitton Neverfull GM in Classic Monogram the previous year and I had been carrying it nearly every day and stuffed to the top on all our trips, so it was an easy choice for me. I would have the Neverfull GM in Damier Azur for spring and summer (Rose Ballerine interior – I am having a girl, after all) and the Neverfull GM in Classic Monogram for fall and winter. This is a tote that I can use as both my purse and diaper bag. I feel confident in the durability because of my experiences with Louis Vuitton over the years and I feel sure of its ability to function as both a diaper bag and purse because I've been using my older Neverfull to function as both a carryon and purse on our international trips, packed full with souvenirs, my laptop, DSLR camera, and plenty of travel books. I'm nearly 5'8″ and I think the GM size looks appropriate on me (wearing it in IG photos here, here, here, and here) but I do occasionally pull in the sides when I have less in it for a smaller look.
Note: If you don't like the way the untreated pale leather straps patina on the Monogram and Damier Azur color options, I would suggest the Damier Ebene version which has pre-treated leather trim that won't show water spots or oil from your hands over time. I think the red interior of this version is a super cute touch as well.
The downside I hear about the Neverfull is that "everyone has one", which is completely true. I see at least three of these bags every time I head to the grocery store or shopping mall. But… People do not buy these bags as fashion statements or to be unique anyway. They are gorgeous bags, but I would never tell someone to buy a Neverfull if they want to be extra edgy or push the fashion envelope. That's not the point. Women buy them because they can accommodate anything they need to carry and consistently stand the tests of time and use as I've mentioned above. The straps and Neverfull bags themselves are actually tested by LV, filled with heavy weight, and slammed to the ground over and over again; you can rest assured this is a bag that will hold up to the strains of every day use.
One of the best parts about a Neverfull tote is how easily it can be dressed up. I added a Louis Vuitton Key Pouch to mine to keep dirty coins from staining or weighing down my wallet. (It also makes paying parking meters fast and easy if you live in a city.) And I tied on the Louis Silk Monogram Confidential Bandeau in Pink to the front for an extra girly touch.
Pre-Loved Louis Vuitton Odeon GM (Retired Style)

Pre-Loved Louis Vuitton Neverfull GM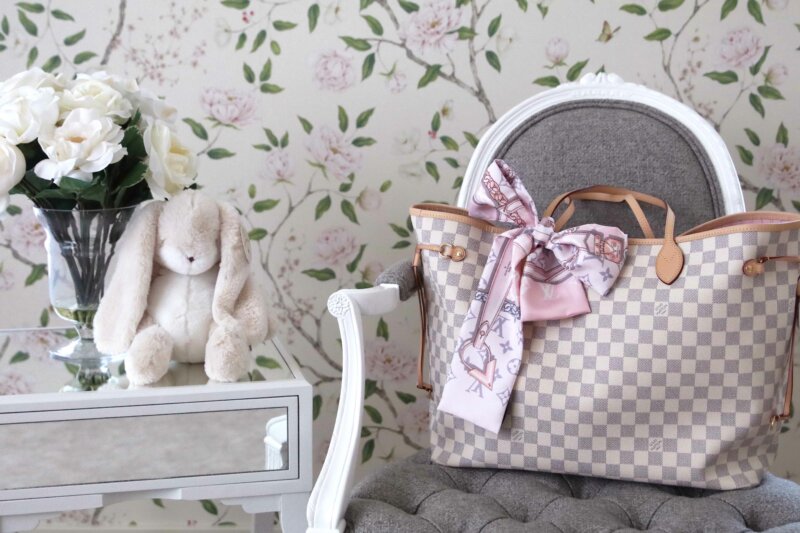 Best Tote Organization Tools
So we know totes are great at being workhorses and holding everything we need, but they have a tendency to become black holes for all our things if there's no system of organization involved. Yes, an organizer will add to the weight of your bag. But if you're like me and carry a lot of things you'll appreciate having everything in its place. I have several of these options and keep them on a shelf in my closet. I switch them out depending on my needs, the bag, and where I'm going.
If you're looking for an organizer specifically designed to make your tote into a diaper bag, check out the ToteSavvy insert. I have the ToteSavvy Original Organizer in Blush for my Neverfull GMs; the organizer has eleven total pockets including an insulated pocket, key clasp, and washable changing mat. I like the handles that allow me to easily move the insert from bag to bag and the fact that my baby's diaper essentials will only take up about half of the pockets, leaving room for my own things as well. I would personally use this whether I was using it in a diaper bag or not and would simply take out the changing mat.
If you want to go another route you can try a felt organizer that will help keep the shape of your bag and organize your things, but doesn't include extras you don't need like an insulated pocket or changing mat. I like the lightweight material of these organizers and the variety of sizes in case you need to free up a bit of room in your bag for larger items like a cosmetic bag or a camera or laptop. I have this felt organizer as well as this version with a zippered middle compartment but I can't say that one is better than the other; I think you should pick based on the pockets and compartments you like. I've also heard so much about the Samorga bag organizers and just ordered one for my Birkin 35, but haven't received it yet to compare. If you want the best of all bag organizers? Take a peek at the handmade-in-France, Alcantara beauties by 7 Rue Paradis; they take the cake for the ultimate in luxury bag inserts!
Already organized with lots of little pouches for your things? You might only need a flat bag shaper insert to keep the bottom of your tote bag firm and flat so things don't tumble to the bottom and middle of the bag. I find I use this often with my Speedy 30.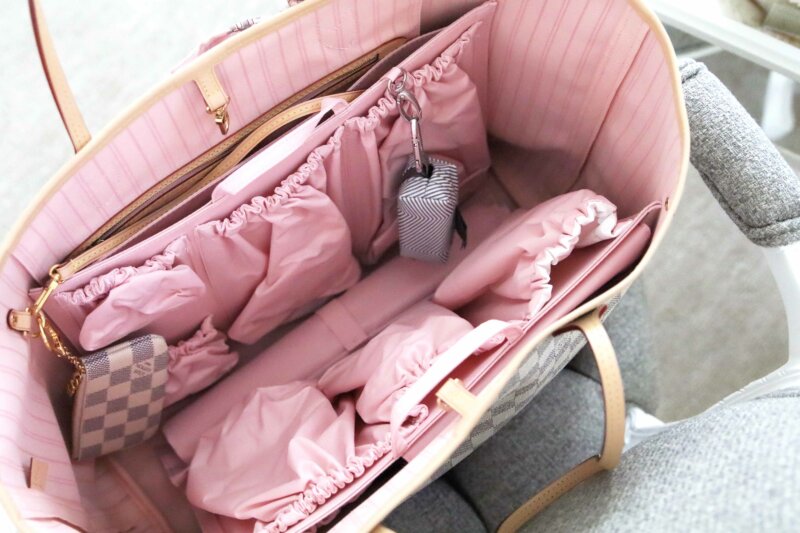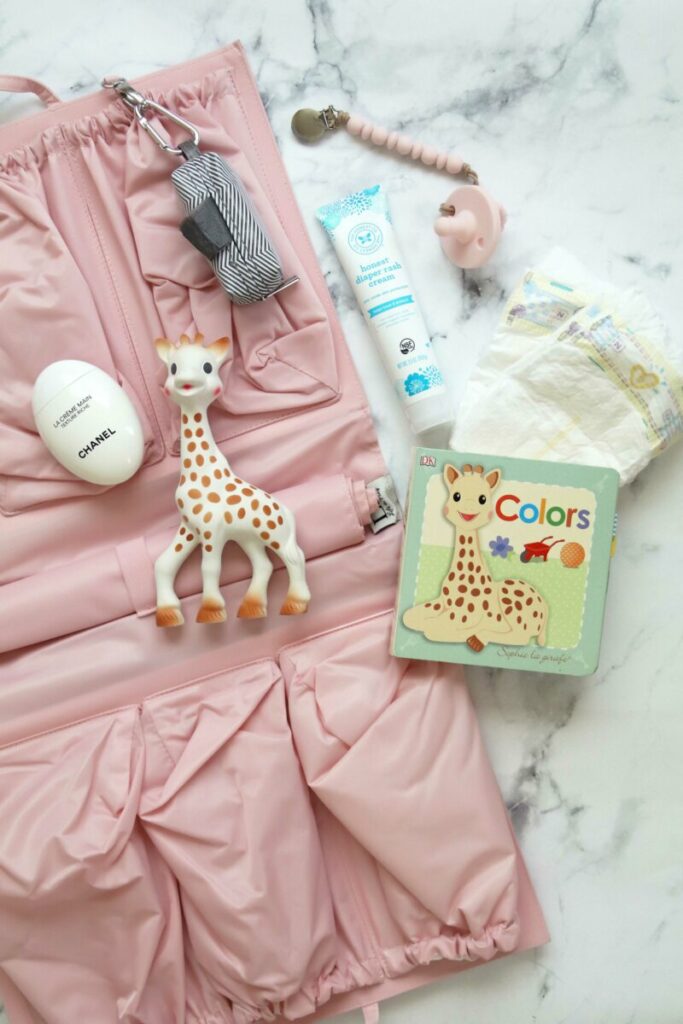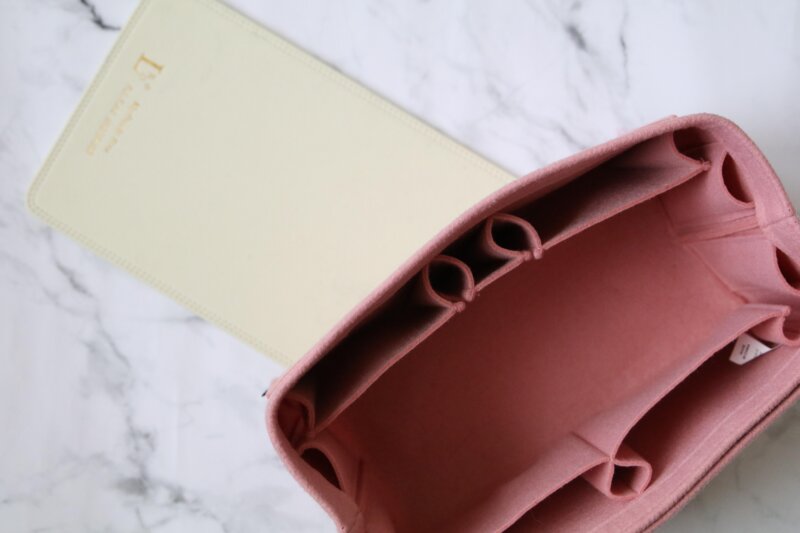 Diaper Bag Essentials
Since I haven't started using my diaper bag for baby purposes yet, I don't feel I can share too many opinions about what one needs and what one doesn't in a diaper bag. Instead, I'm going to include what's already packed in my diaper bag ready to go and I can give a more in-depth review later. One thing I did focus on was having plenty of these little disposable diaper sacks, doggy-bag-like "baby bags", and sealed wet-dry bags. I may not be changing my girl's diapers yet, but I have seen enough to know that if I want my bag's interior to stay 'Rose Ballerine', I need to protect it from disasters that will happen along the way!
I did include a shot of my portable changing pad we are planning on keeping in the trunk of my car. A friend suggested doing this in case my husband doesn't want to carry the diaper bag with him constantly; he can either dash out to the car or toss this portable changing pad (stocked with diapers and wipes) into the bottom of the stroller. I thought it sounded like a great idea – we'll see how it works.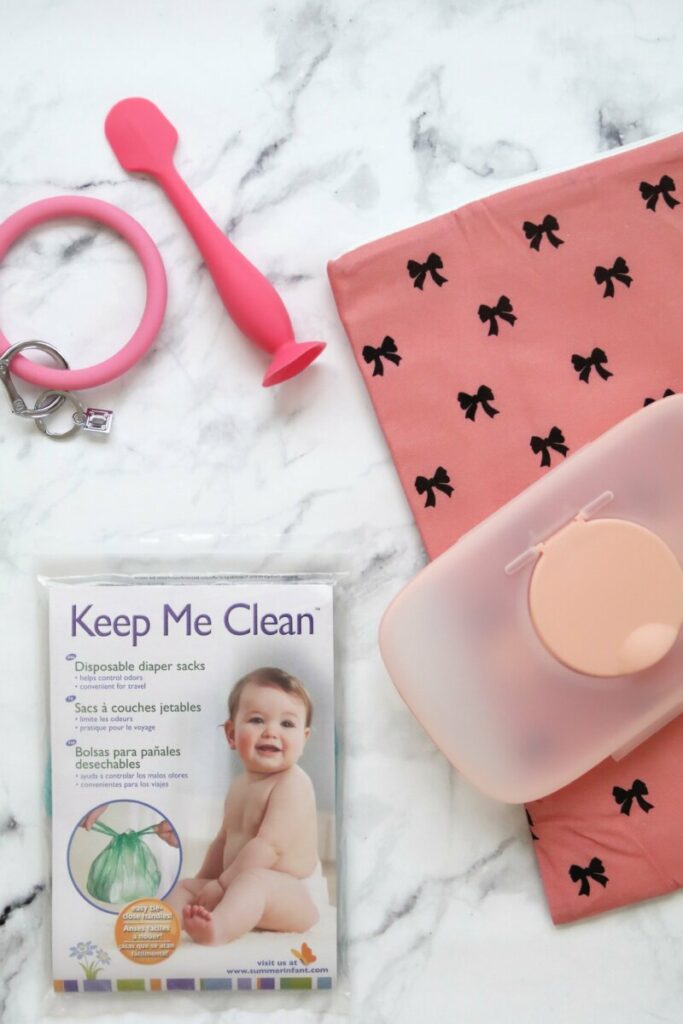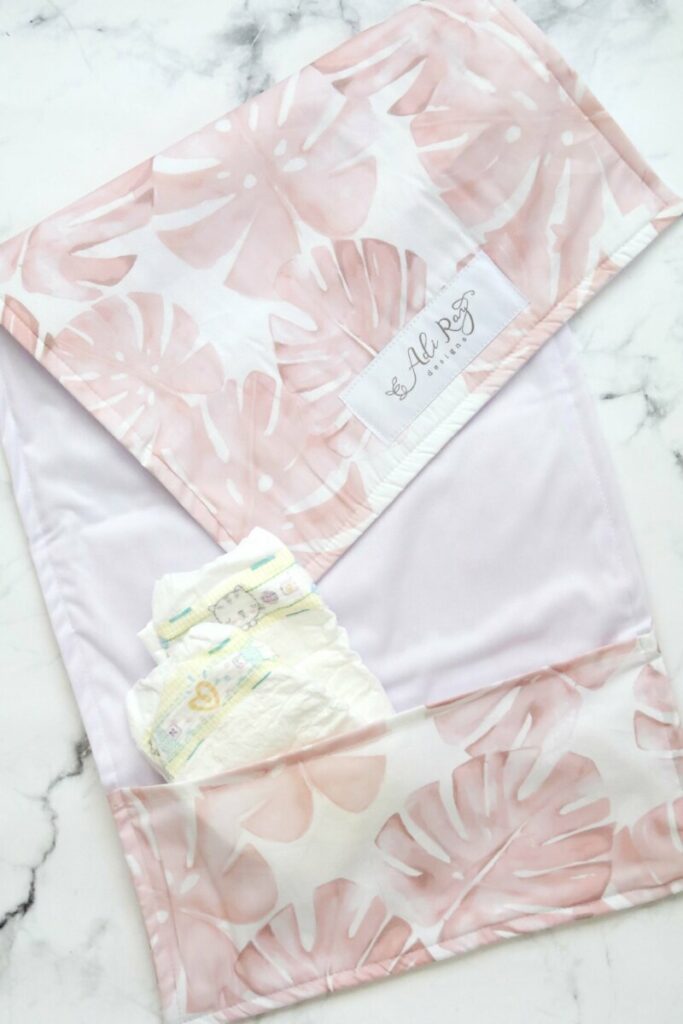 Excessive Things You Probably "Need"
My husband is always amazed by the things I pull out of my "Mary Poppins Bag". Need a wet cloth for your hands? Lens wipe for smudgy glasses or a smeared camera lens? Headache medicine? A hook to hang your purse? I have you covered! He's learned to depend on my bag of tricks so much, he turns to me when he needs something and looks so disappointed if I'm carrying a small bag without all my usual essentials in it. Whether I'm just out for a day of errands or we're traveling in another country, I rely on these items being at arm's length.
The key to these items not weighing down your bag too much is to buy them in individually wrapped packages and stash them together in a small pouch or pocket until you need them. I've included all my must-have bag essentials in the slide below. Is it excessive? Sure, but you know what feels really great? Being able to pull out whatever you need whenever you need it. It's the little comforts like this that make a difference… And make carrying a big tote bag 100% worth it.