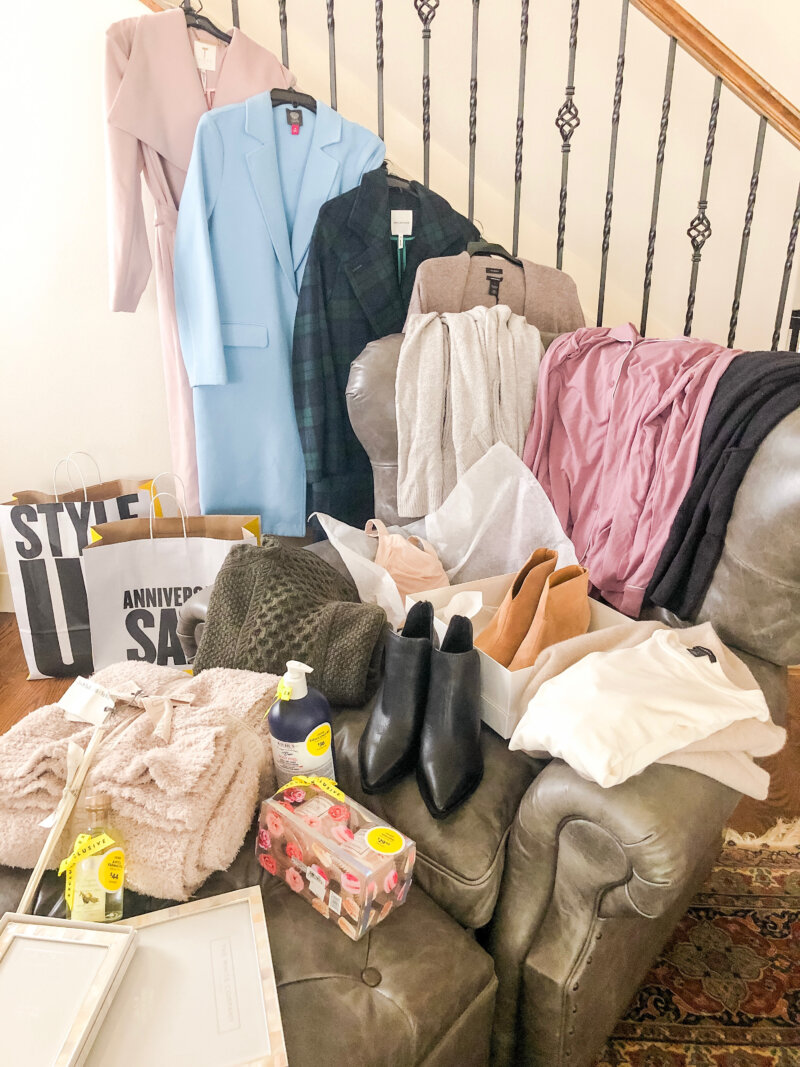 The Nordstrom Anniversary Sale (fondly known as the #NSale) is probably my favorite sale of the year. I'm a fall + winter girl, so when the July sun is searing down here in Denver there's nothing that makes me happier than seeing the new fall sweaters, cozy coats, and chic boots. I use this sale both to stock up on essentials and basics like tees, underwear, and beauty products and to have a little fun with some new pieces for fall.
It's obvious everyone else loves this sale just as much as I do. To reward its most loyal customers, Nordstrom opens up the sale a bit early to Icon and Ambassador status customers. Then it opens the sale up to any Nordstrom cardholder (if you're a Nordstrom debit card holder like me, you still get access even though they only do the credit card now) and next week anyone will be able to shop the sale online. Items will sell out during the Early Access portion – I tried on the last pair of boots in the store yesterday. So if you have your eye on something, sign up for a card and shop when you can.
Early Access Icons + Ambassadors: Can shop in store July 9th and 10th and online starting Thursday, July 11th at 12:30 PM ET.
Early Access Nordstrom Cardholders: Can shop in store or online starting Friday, July 12th at 12:30 PM ET.
Nordstrom Anniversary Sale: Can shop in store or online starting Friday, July 19th through Sunday, August 4th. Prices go back up Monday, August 5th.
Home + Gifts
When I first heard about the Barefoot Dreams blankets, I wasn't sure what everyone was raving about – how could it be so great? One blanket later and I'm a forever fan. These blankets (they now make loungewear too) are buttery-soft and come out of the wash looking like new. Since being pregnant, I never sleep without mine tucked underneath my bump or between my knees. This Barefoot Dreams Blanket in Stone was my first purchase during this year's #NSale; I'm planning on bringing it to the hospital with me for a little extra comfort post delivery.
I'm not sure exactly what's been going on with the silver picture frames in our bedroom turning an odd shade of pink, but even my best silver polish won't improve it. I saw these gorgeous Mother of Pearl Picture Frames at the Nordstrom Anniversary Sale and I snapped them up right away. They're the perfect blend of sleek and feminine and will go perfectly with the soft, serene colors in our bedroom. And they'll replace the frames that have gone a strange tint!
I like to keep home fragrances like candles and oil diffuser reeds on hand for last-minute gifts. I stock up on these goodies and then stash them in my "gift cabinet". Any time I need a birthday or hostess gift I can choose something from the cabinet and be on my way. A few of my favorites I came across during the sale? Antica Farmacista, Voluspa, and Anthropologie.
I couldn't help but take note of the beautiful blue and white pottery pieces and Missoni Towels in this year's sale. We have been trying to make room in our house for the little lady's arrival, but if we had the space I would snap up that beautiful blue and white pottery in a heartbeat! And I think the Missoni towels would look so gorgeous in a sleek, modern or minimal home.

Beauty
My favorite section to browse during the Nordstrom Anniversary Sale is definitely the beauty section. This year I spotted a lot of my favorite beauty products and skincare gadgets; if you haven't tried these items, I suggest you do. And if you're looking to gift the beauty lover in your life, stock up now!
Dermaflash Set: Takes the place of dermaplaning with a facialist. Removes peach fuzz and the top layer of dead skin to help skincare products absorb better and makeup lay smoothly on skin!
BeautyBio GloPRO Microneedling Set: Brings professional microneedling to your home. I love this set because it includes the GloPRO, body attachment, and skincare products. It's a great value and you'll love the way your skin looks once you start using this and helping your skin build collagen naturally! Skincare products also reach deeper layers of your skin.
La Mer The Moisturizing Soft Cream: If you've been following me for a bit, you've probably heard me mention the skin allergies I've struggled with the past few years. This nourishing cream has truly healed my skin and keeps it hydrated even through harsh, dry Colorado weather. It's pricey, but this jar will last you well over a year. And the changes I've seen in my skin are definitely worth it.
Anastasia Beverly Hills Brow Duo: This is the brow pencil I use every day. I love the tiny little tip and the realistic brushstrokes it creates. After I fill my brows in I use the spoolie on the other end to blend the color. This set also comes with a clear brow gel.
Charlotte Tilbury Pillow Talk Lip Set: This is my most-used lip liner lately; I love how plump it makes my lips appear! And this set includes the matching lipstick and lip gloss as well
Supergoop! SPF 45 Setting Powder: My favorite SPF powder is on sale during the Nordstrom Anniversary Sale! I love dusting this over makeup or a cc cream and knowing my skin is protected; I even carry it in my bag to touch up throughout the day. The brush portion is magnetic, so you can pop it off to wash it and keep it clean.
Simplehuman Round Sensor Mirror: If you don't have one of these, you need to invest in this right now. This item is a game changer. The first time I charged it and turned it on I spent an hour tweezing and picking at my skin because I realized I had missed so much using a regular mirror! It's a lifesaver when applying makeup too. If you have the counter space, I would splurge for the Pro Wide View Version. It makes a great gift – I gave my mom one for Christmas last year.
NuFace Facial Toning Device: This product lifts and tones skin with frequency. I haven't been using it while pregnant and I miss it so much! It really does tone and tighten skin, especially around the neck and jawline.
My beauty shelves are well-stocked at the moment, but I did pick up this giant Kiehl's Body Fuel pump for my husband's bathroom. And I've been eyeing this Clé de Peau Beauté Eye Set. If you're prone to clogged pores like me, this Dr. Dennis Gross Facial Steamer I've been contemplating would be a great investment. Trying to hold myself back, but indulging in #treatyourself while pregnant is just too easy to do!

Cozy Pieces
While I love putting together fun looks and getting dressed up, I managed to stay quite realistic during the #NSale and invested in items I really need and use currently, as well as pieces I see myself wearing in the next few months as a first-time mom to a newborn baby! First on my list was my favorite bra during pregnancy – the Spanx Bra-llelujah Bra – which has been a complete lifesaver! And to go along with it, a few new pairs of Hanky Panky Low-Rise Undies which have managed to stretch right along with my bump and are still the most comfortable option for me to wear at 8 months pregnant.
I mentioned these Nordstrom Lingerie Moonlight Pajamas when I listed a few of my first trimester favorites in my Pregnancy Journey blog post. They were my favorite pajamas before pregnancy and some of my favorite pajamas to gift to good friends. Putting them on at the end of the day is like giving yourself a hug! I grabbed two new sets in Purple Shake and Grey Pearl to bring to the hospital with me. You can go with your smaller size because these run roomy, but I love wearing oversized pajamas so I go with my usual size and have been able to wear them throughout my pregnancy!
Speaking of Barefoot Dreams, I decided to treat myself (see? I told you – blaming it on pregnancy) to two new cardigans. These are the coziest cardigans you'll ever own and look equally great with a tank and leggings, over a pair of pajamas, or paired with a simple tee and jeans. I plan on wearing these often once the little lady arrives because they're equal parts versatile, soft, and washable. I chose the Barefoot Dreams Circle Cardigan in Pewter Pearl and the Barefoot Dreams Long Cardigan in Black.
If you need a fresh pair of leggings, I suggest the Zella High Waist Live-In Leggings. They are my favorites for their flattering fit, easy-to-wash fabric, and all-day comfort. I have even given these to good friends as a gift!
To help with my allergies and keep our house clean, we don't allow shoes in the house. Instead, I have a pair of slippers I wear inside the house and it seems I'm always needing a new pair! I love gifting cozy new slippers to my mom and aunt at Christmas as well. These Ugg Scuff Slippers are cozy and hold up well to every day wear. Definitely worth snapping a pair up while they're on sale!
Update: Added this soft beige TopShop Lounge Sweatshirt and matching TopShop Joggers to my cart! I thought this would be a cute set for after I have baby girl and need something easy and comfy to throw on! I also added this Flora Nikrooz Pajama Set in Lavender to my cart – they are not in the #NSale, but I thought they would look so cute with the Barefoot Dreams Circle Cardigan in Pewter Pearl.

Clothing
Most years, I find myself stocking up on lots of clothing during the Nordstrom Anniversary Sale. I replace basics that were stained or damaged during the last year and often invest in the staple pieces of my fall wardrobe. Basic tees and knits (like this ribbed long-sleeve), cozy fall sweaters, and denim jeans are some of my favorite things to purchase during this sale.
This year I focused on sweaters and, to my surprise, coats. They were some really gorgeous coats in this sale and I ended up choosing three of them.
Update: I also added this Ribbed Henley Midi Dress in Navy to my cart last night. I can't speak to the size or material since it hasn't shipped yet, but I thought it would look so cute with my Halogen Wool and Cashmere Long Cardigan and Vince Booties I got from the sale.
Sweaters
Halogen Wool and Cashmere Long Cardigan: I bought this in the Heather Tan Cobblestone color, which is a really flattering warm beige. These are the kinds of cardigans I pair with everything come fall and winter. They are great for everyday. I took my usual size.
Vince Cable Wool and Cashmere Sweater: I cannot resist a chunky fishermen's style sweater and this gorgeous Heather Forest version is no exception. If you don't have a cable knit sweater like this, I would choose the cream Marzipan color because it will go with everything. But if you're always building your sweater collection like me, go for the gorgeous green! I took my usual size.
Nordstrom Funnel Neck Cashmere Sweater: I love these beautiful cashmere sweaters and pair them with leggings in the fall and winter. When we went on our trip to the U.K. last fall, I even wore this over a silk cami and shorts pj set. So chic! This one is gorgeous too. These run roomy, but I take my usual size since I'm a bit taller and love the oversized fit with leggings and skinny jeans.
Coats
Ted Baker Wide Collar Brushed Wrap Coat: I saw this coat in the beautiful Dusty Pink color and my heart melted! I love this color and I could imagine toting my baby girl around this winter in our matching pink. The fabric is so soft and the wrap fit is flattering. Ted Baker has different sizing (1-5) but if you look at the size guide it runs true to size!
Vince Camuto Lightweight Long Coat: Oh my gosh, this color. It's the most perfect sky blue and I couldn't resist. This coat is unlined, which makes it nice for fall days and layering. I noticed the website suggests going down a size, but I found the smaller size a bit narrow through my shoulders so I took my usual size.
Avec Les Filles Double Face Wool Coat: This soft wool blend is beautiful and I couldn't resist the classic Black Watch plaid color option. I went down a size in this coat.
This colorful tweed Halogen Shawl Collar Blazer also made the cut. I plan on styling it with a Chanel brooch, skinny jeans, and a great pair of boots.
If you don't currently own a Barbour jacket, I would take a peek at the Barbour Quilted Jacket in the Nordstrom Anniversary Sale. I've owned one of my Barbour coats since I was eight years old – they really do last forever! My favorite color option is the Navy.
I had my eye on the Pendleton Wool Blend Riding Coat and Pendleton Water Resistant Field Coat in the #NSale catalog. I wasn't able to find either of these in store, but I'm still debating on ordering one of them to see if I like it as much as I think I will!


Shoes + Accessories
Ohhh how the shoe department gets me into trouble! During the #NSale there are so many great options, it's tough to know where to start.
This year, I really tried to focus on shoe styles I've purchased before during the sale and ended up wearing constantly. There are always a couple of pairs of booties I buy during the Nordstrom Anniversary Sale that I end up wearing all the time – for years! This year, I bought these Vince Booties in Cognac Suede and these Vince Camuto Booties in Black Leather. The Vince Camuto booties are a tad higher and the line is a bit slimmer through the foot. They both run true to size.
Update: Just ordered the Vince Camuto Booties in the Tortilla Suede color. These booties go with everything and it's what I end up wearing the most throughout the fall and winter. I typically pair booties like this with a sweater or cardigan and jeans!

Baby
So many cute baby things! I'll let you browse for your baby and gender, but I just wanted to share what I have my eye on for baby girl in case you're having one too! If you're in Denver, a lot of these items are not in store, so its best to shop online for the littles in my opinion.