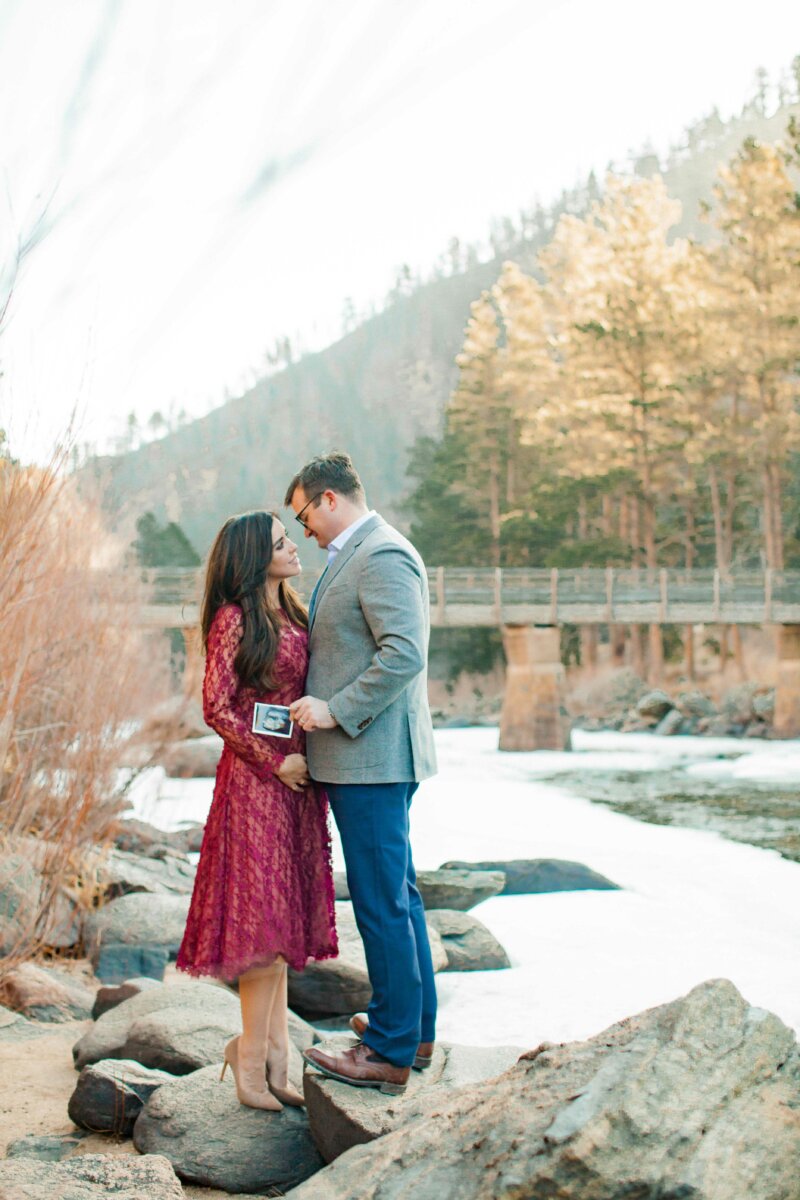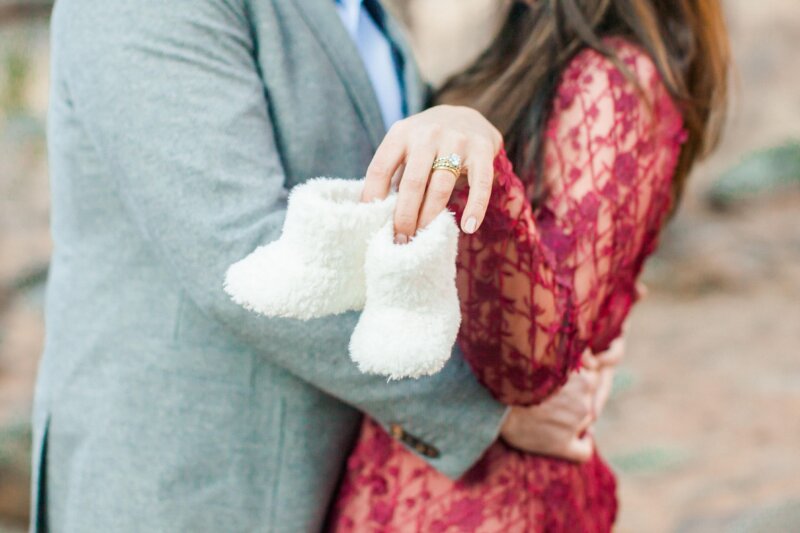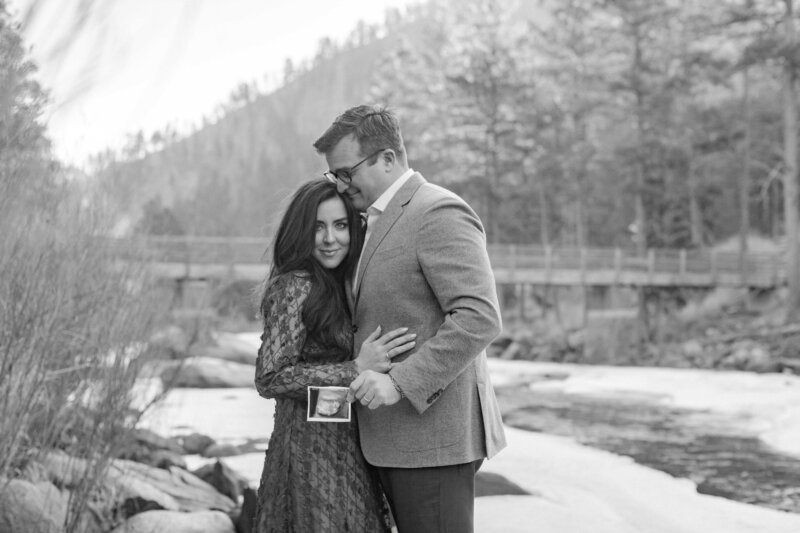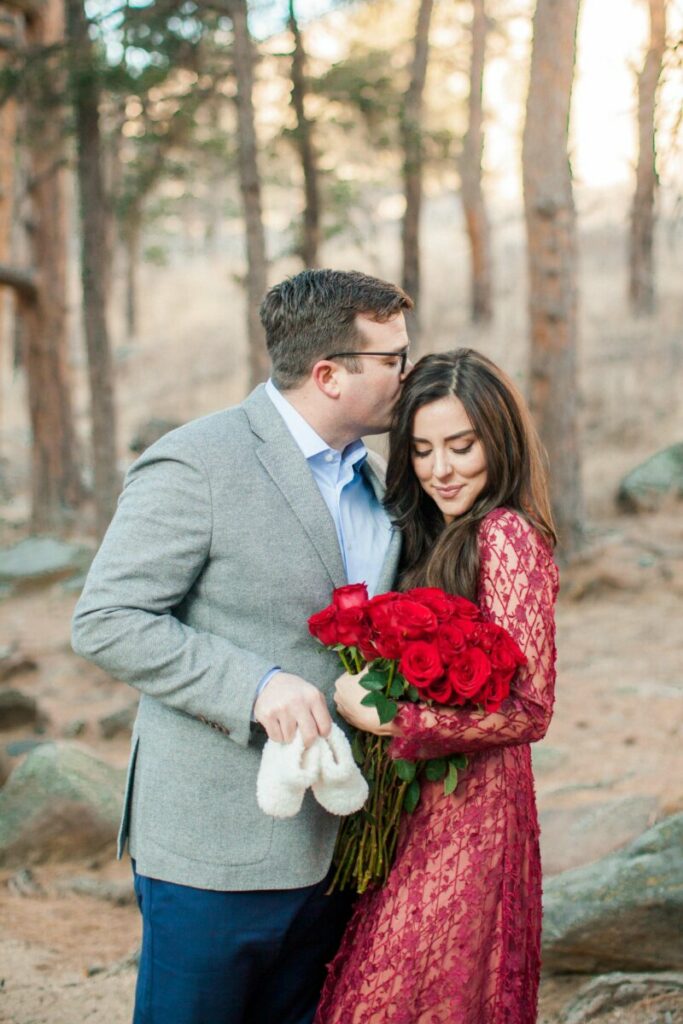 Red Midi Dress. Fuzzy Baby Booties. Nude Pumps.
Photos by Miranda L. Sober Photography
My Story
Before you get married, well-meaning people in your life will ask you some terrifying questions, such as, "Are you sure you're ready to get married?" and "Are you sure this person is the one you can spend forever with?" These questions are ridiculous, of course, because no first-time bride or groom can possibly know the answer… In fact, they are impossible questions no matter how many times you've been married! We have feelings so sure we would bet almost anything on them. I knew I wanted to spend all my life moments with John. I couldn't imagine life without him and I knew I loved him more than I'd ever loved anyone else.
But that truly certain, confident, assured feeling in marriage comes later after you've been there for one another over and over again and have begun to understand one another as only those in a marriage can. When you're up at 3 AM with food poisoning. When you're doubting yourself or your decisions. When you're staring at what seems like an insurmountable challenge and you feel that person's hand reach for your own. And sometimes that feeling shows up in the simplest of ways.
Last summer, John and I rolled up our Midwest-raised sleeves and launched into a landscaping renovation. We spent quite a few weekends under the unrelenting Colorado sun, covered in dirt, finishing this project together. Together we pulled up and removed a dumpster's worth of mulch and landscaping fabric, spread over 8 tons of river rock by hand, installed a sprinkler system, laid sod, and planted too many flowers and trees to count. I remember being drenched in sweat, my muscles aching, but looking over at John and thinking I could do – would do – anything with him by my side. Knee-deep churning fresh soil as it started to rain, I realized we were quite literally in the trenches together. And that's the kind of partners we try to be for each other every day.
When I think about the journey that led me to becoming a mother I can't help but feel emotional. My parents have always told me that things in life happen for a reason and I believe it. My husband moved in just a few doors down from me, we officially met one another in law school, were placed in the same law school section and were in most of the same classes, began dating as we finished our law school experience together, I eventually moved to Denver for John, and we decided to begin our lives together as husband and wife. I had always known I wanted to be a mother… And John had mentioned wanting to start a family soon. But above all, we wanted it to happen when we were truly ready. We finished some projects, went on a few adventures, and were blessed very quickly with a baby.
How I Found Out
As I mentioned above, no one truly knows when they are ready for life's major moments and the same is true for starting a family. I prayed for guidance and asked God to send me a sign to let me know when we were ready for this big step in our lives. That sign showed up in the form of 'PREGNANT' on a pregnancy test about a month later. We conceived our baby in the place where my ancestors lived. My great grandmother left Wales in the 1900's and after the dishes were done each night, would look up at the stars and cry thinking of her home. I remember watching the sun set over the wild, romantic Bracelet Bay in Swansea where she lived, holding onto John, and understanding why Wales meant so much to her. I didn't know it yet, but I was sharing that moment with my little babe.
We came home from our trip to England and Wales in December and I noticed some odd symptoms, like feeling queasy and suddenly possessing a near-superhuman sense of smell. I couldn't stand restaurants or crowded areas because of the various food scents and even the scent of strangers' perfumes and the laundry detergent on their clothes would make me sick. I took a test and discovered I was pregnant! We told our family members very early because we were so excited we just couldn't wait.
I didn't know how long it would take me to get pregnant or if I even could, so I feel grateful to become pregnant easily because I know just how many women struggle with infertility. And this is the reason I chose to stay off social media while I was dealing with 24/7 nausea, morning sickness, migraines, and fatigue in December and January. I'll be honest, it was overwhelming and after a few weeks I began to feel a bit down and sad from the constant sickness. But at the same time, I know how incredibly blessed I am to carry this baby and I didn't want to get on social media and complain about those special early days of my pregnancy. Instead, I tried to allow myself rest and comfort. I stayed in bed, drank my ginger tea, lived on toast and English muffins, and watched all the Downton Abbey seasons over again.
Things That Helped Me
I have received questions about my pregnancy journey and I know so many women get stressed about their own process to become pregnant, so I wanted to share the things that helped me in the hopes that it may help some of you.
First off, I highly recommend taking a Natural Family Planning (NFP) class or reading an NFP book to learn more about your body and your natural fertility cycle. We took one of these courses prior to our marriage and it has really helped us. In fact, we used NFP for 2.5 years before we were ready to have children and once we switched the "timing" we were pregnant within that very month. Obviously many other factors affect fertility, but I wanted to share this in case it helps any of you. I personally don't like the way artificial hormones affect my mood and I believe this 100% natural form of birth control helped us conceive when we wanted.
There are lots of ways to track your cycle and symptoms via NFP, but I simply began with cycle tracking and found it worked for us. The tracking app I like best is called Flo because of its accuracy and ease of use. You can even use this app through your pregnancy!
I also wanted to share the optional Counsyl Family Prep Genetic Carrier Screen I took toward the beginning of our marriage. I wanted to be certain we were being responsible in conceiving our own children and this genetic screening scans to see if you are a carrier for over five hundred diseases and disorders. Only if you are a carrier for one of the diseases or disorders does your partner also need to take the test. It really gave me peace of mind, especially considering the amount of tests we have to undergo during pregnancy!
The Family Prep screening is different from the Non-Invasive Prenatal Testing (NIPT) you can take during your first trimester. The NIPT is also done via blood but tests the fetus's risk of developing abnormalities versus your risk of passing them on to the baby. If you decide to do the NIPT, you can also find out your baby's gender at around twelve weeks, which is a bonus! Once we got those results back and I knew our baby was doing alright I felt so much better.
The question of what helped me during the first trimester is a bit more difficult to answer. I was really sick and found that while ginger tea and ginger candies helped slightly, there was really nothing that prevented my sickness. I recommend drinking plenty of water and eating often – I ate about every 2-3 hours to keep dry heaves at bay (sorry for the TMI) and enjoyed cold fruit, icy smoothies, and breakfast foods like toast, oatmeal, waffles, and cereal. I found that allowing myself caffeine (okayed by my doctor) in the form of morning coffee and a hot herbal tea at night helped as well. I lived in these soft pajamas and cozy slippers and slept as often as I could since my nights were usually disrupted. I would watch soothing shows like Downton Abbey and Gilmore Girls while I rested. And my sister-in-law saved my life by recommending these prenatal vitamins that have been the only ones that don't make me sick! Because I was living off carbs my first trimester and am prone to stretch marks, I knew I needed to start using something to hydrate my skin ASAP. I've found this stretch mark cream is a nice one and moisturizes without feeling greasy. My mom recently treated me to a huge pregnancy body pillow and I swear it's the best thing ever; I feel completely cradled when I sleep and it helps to support my back.
John was such a great support over the first few months when I was really sick and continues to be today. I truly could not have done this with anyone else by my side. My mom flew in at the end of my first trimester for my twelve-week ultrasound and to help me begin to prepare the house for our little one's arrival; she kept me calm through the first trimester roller coaster! She just came for another visit this week, including my twenty-week ultrasound. I love being able to share this journey with her, listen to her advice, and have her help preparing for our little one's arrival!