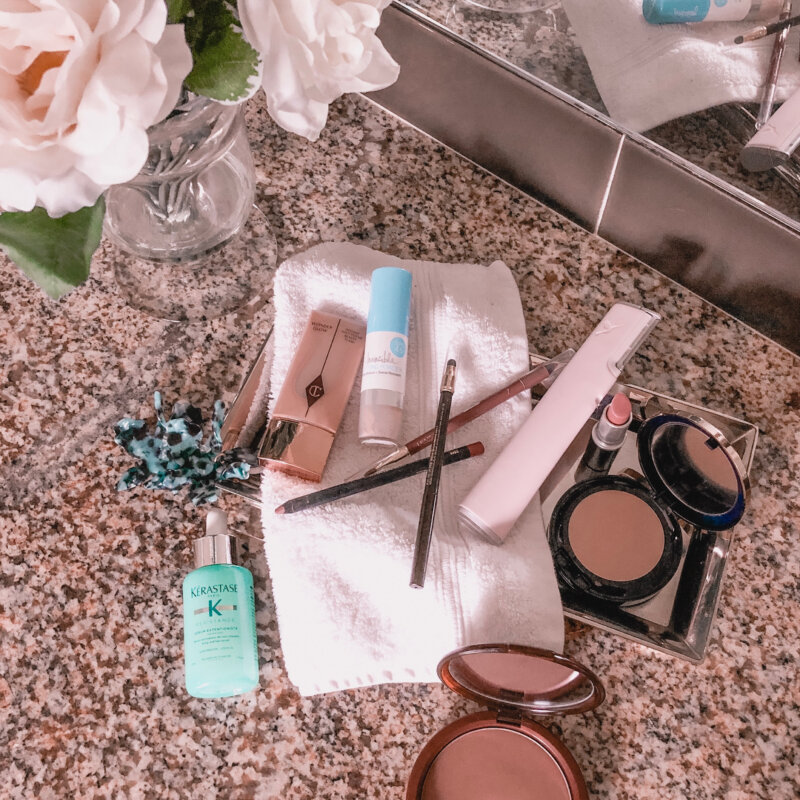 1. Kérastase Serum Extentioniste
I wore tape-in hair extensions off and on ever since I got them for our engagement photos in 2014. For the most part, I loved them. Especially when taking blog photos. My natural hair is fairly thick, but has a silky-fine texture, so it can be hard to make it look voluminous in photos and keep the style all day. Extensions can add volume, length, and hold curl for days.
The downside of hair extensions? They add a substantial amount of time to your getting-ready time. And over time (and the severity of this depends on the skill of your stylist) a little damage will be done to your natural hair as you take out and move up your extensions every 6-8 weeks. One day I wasn't feeling well and I realized I just wasn't up to blowdrying my hair for forty-five minutes. I wanted something more low maintenance and natural with a baby on the way.
So we took the extensions out (keeping a few in the sides so I didn't panic!) and my stylist suggested this scalp and hair serum to help heal my hair. I just apply one or two droppers to my hair after shampooing and towel drying. I think it will take time to see a difference, but the serum is supposed to strengthen and reinforce the hair follicles so hair grows longer and stronger.
2. Dermaflash Facial Exfoliating Device
I used to get a dermaplaning service done with my facials. For around $100, a facialist uses a medical grade razor to remove the top layer of dead skin and peach fuzz from the skin. It's a popular service and everyone is talking about this new exfoliation trend because it helps your skincare absorb better and makeup apply more smoothly. Skin feels like butter after!
But those services add up and now there's a device that allows you the same experience from the comfort and convenience of your own home once or twice a week! Just cleanse and dry your skin, hold skin taut, and use light strokes of the Dermaflash at an angle to start removing dead skin and hair. Once you try this you won't be able to go without it!
3. Charlotte Tilbury Wonderglow Face Primer
If there's one thing I haven't experienced this pregnancy, it's a "pregnancy glow". My skin has been breaking out like crazy and it's from a mixture of pregnancy hormones and not being able to take 3/5 of my allergy medications during pregnancy. It's disappointing since I feel I just sorted my skin out!
But people keep telling me I'm glowing and I'm certain it's because of this primer I've been using. It has a beautiful, luminous glow without looking sparkly or shimmery. It literally adds a natural glow to skin!
4. Estée Lauder Double Wear Matte Powder Foundation
I like to keep a small powder compact in my purse for when I need a makeup touchup throughout the day or if I'm out without makeup and just want to add a bit before running errands or meeting someone for coffee. I recently tried carrying a really light, translucent powder and I felt naked! I really prefer having a more medium coverage foundation that's buildable and can cover my dark circles if necessary!
This one is silky and mattifying. I like to apply it with the sponge for more coverage and a retractable travel brush for light, all-over coverage. I wear the color 2N1 Desert Beige.
5. Estée Lauder Bronze Goddess Powder in Medium
My skin tone is neutral/peach with both pink and yellow undertones. When I have a spray tan I can get away with wearing bronzers that have a bit warmer tone to them. But when I don't, most bronzers look orange on my skin.
I discovered this bronzer randomly and was pleasantly surprised by its neutral tones; it gives me a natural looking glow with just enough shimmer. It lends a beautiful beach vacation tan to any makeup look.
6. Supergoop! Invincible Setting Powder SPF 45
I am religious about using SPF here in sunny Colorado! And I've found one of the easiest ways for me to consistently apply my sunscreen is to have it in a powder-brush form. I previously used the Colorescience Sunforgettable Brush-On Sunscreen SPF 50 in Medium which I loved but the only frustrating part happened when I attempted to clean the brush with the Colorescience Brush Cleaner. It became clogged and I could no longer apply the rest of the powder.
This brush-on sunscreen has a magnetic brush head that can be completely removed for cleaning. The downside is the brush head can move or slide off if you press too hard. But… Since this version is less than half the price of the Colorescience version, I was happy to use a little extra care when applying it. Both versions are physical sunscreen only; I always break out when I use chemical sunscreens so this is something important I always look for when choosing an SPF! I wear the shade Light, but would need to use Light-Medium when wearing a sunless tanner or with a little summer color.
7. Lancôme Eye Liner in "Chocolat"
I switched from black eye liner to this rich chocolate some time last year and it's all I've worn since. It looks softer than black liner, but still gives a smoky look and brings out light eyes beautifully. I like using the smudger on the end as well.
8. Lancôme Lip Liner in "Natural"
I recently discovered this lip pencil and I love the beautiful mauve-rose shade. It has a creamy consistency and the color is slightly more mauve/cool toned than the liner below. I like switching out between them both depending on the day and my mood! And I find I do actually use the brush end for blending out the line.
9. MAC Lip Liner in "Soar"
This lip liner is slightly more matte and more of a warm-toned neutral rose than the liner above. This has been my go-to lip pencil for years and I always get compliments on it when I wear it. It looks gorgeous with the lipstick listed below; both are featured in my "lip look" mini look book in the sidebar of my website this week.
10. MAC Lipstick in "Angel"
In my opinion, this is the perfect natural-pink lipstick and I've been using it for years! The "frost" formula doesn't look shimmery, but is really creamy and flattering on the lips. I always get compliments on this lip color and it never fails to make me look feminine whenever I swipe it on. This lipstick is featured along with the lip pencil above in my "lip look" mini look book in the sidebar of my website this week.