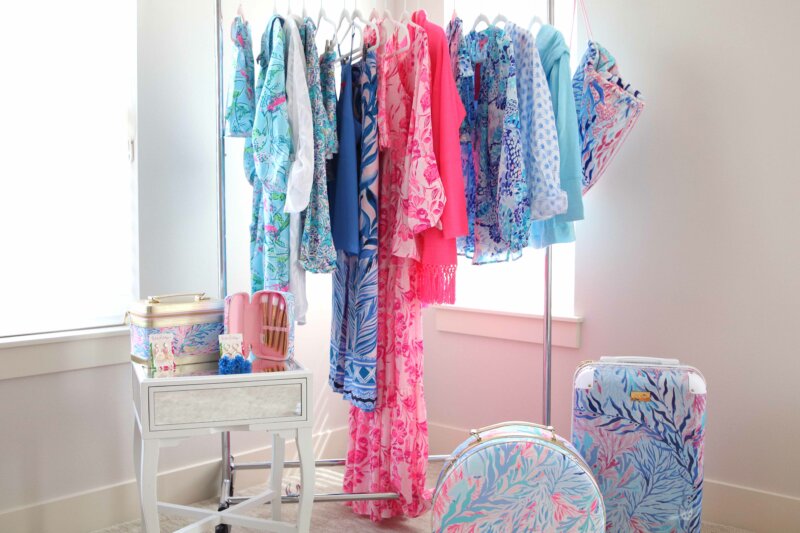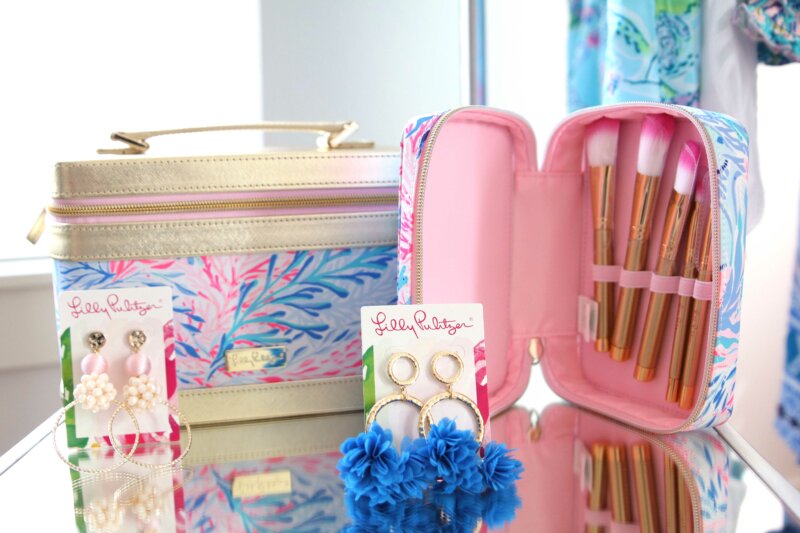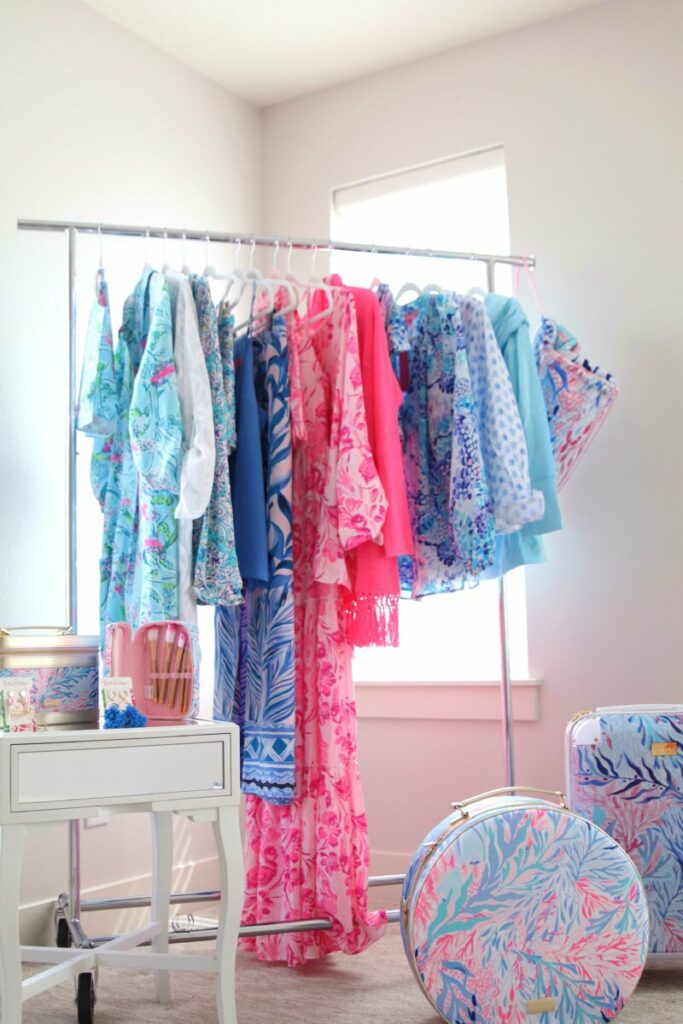 For Grandma: White Shirtdress Coverup. Pink Tie-Sleeve Top. Blue Silk Elsa Top. Blue + White Sea Turtle Print Shirt.
For Mom: Turquoise Tunic Dress. White Shirtdress Coverup. Pink Maxi Dress. Pink Fringe Hem Cardigan. Blue Silk Elsa Top. Blue + White Sea Turtle Print Shirt.
For Baby: Baby Shift Dress. (Turquoise Dress – Girls' Version). Pink Bubble Dress. (Pink Dress – Girls' Version). Baby Polo Dress. (Polo Dress – Girls' Version).
Lounge: Pajama Top. Pajama Shorts. Blue Racerback Tank. Blush + Blue Palazzo Pants. Off-Shoulder Pullover.
Accessories: Blush + Pearl Earrings. Blue Flower Earrings.
I still remember the first time I saw Lilly Pulitzer's signature bright prints in the wild, so to speak. My parents and I were vacationing in Palm Beach and I saw a mother wearing a whimsical print that matched her children. I grew up between Iowa and London, neither of which are known for their tropical colors, so to see these bright patterns popping against swaying palm trees and a crashing turquoise ocean in the background was something special to me.
I used to save all my Lilly pieces for beach vacations or summer trips. But I've since realized the colors make me happy, so now I've embraced wearing them wherever and whenever! My best tip is to focus on one bright piece mixed with neutrals like white or tan if you're nervous. I think you'll find, as I have, that Lilly pieces are often in forgiving fabrics that can go anywhere – to lunch, to the beach, chasing after kiddos – and you'll end up wearing them more often than you think.
Lilly is often offering gifts-with-purchase promotions (they're currently offering an adorable wicker wine basket with two wine glasses) and I can't resist them. My mom thought it would be fun to have a few matching sets of spring + summer pieces we could wear with the babe eventually, so we placed an order for some Lilly brights that came with some cute Lilly gifts. (At this point, we were on our second week spent clearing out the baby's nursery and felt we deserved a little perk!)
We have a lot to get done in the next few months, so we aren't planning any travel until after the baby arrives. I am so looking forward to our first vacation as a little family!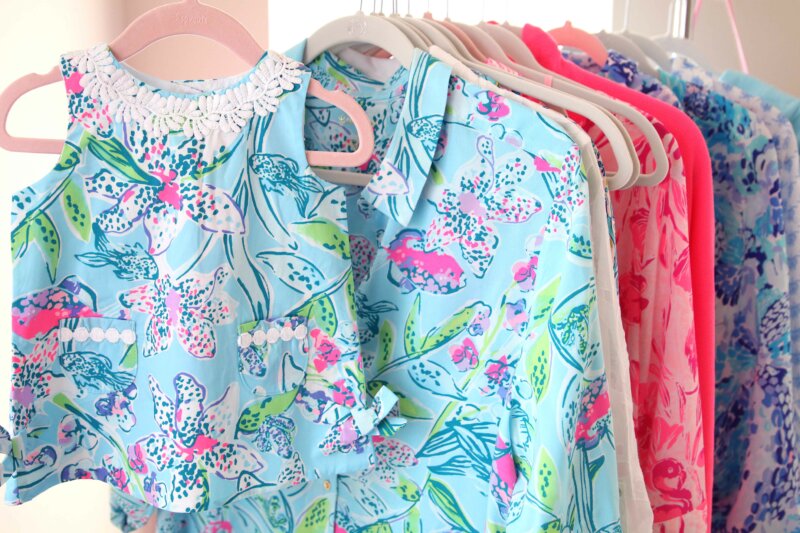 Turquoise
I'll be honest, we basically coordinated all our pieces with that of the little babe; she'll be the trendsetter of our little fam! When I saw this tiny little Baby Shift Dress with matching diaper cover, I knew we had to organize a look around it. I got the matching Lillith Tunic Dress which I was happy to find was slightly longer than the Lilly shifts, which I wasn't sure I could pull off at nearly 5'8″ as a mom bending over with a tiny baby. I also added this beautiful white, slightly sheer Natalie Shirtdress Coverup to go along with this look; I think it will look perfect with a straw beach hat, solid color swimsuit, and slide sandals.
Lounge
I wanted a new pajama set for summer, so I went for this super-soft Pajama Top with matching Pajama Shorts in one size up to fit the bump.
I discovered the beauty of Lilly's Palazzo Pants a few years ago. They're one of the few pants that are long enough for me and allow me to wear a print in a flattering way. I love being able to throw them on with a tank and sandals to run errands or be around the house while still looking put together. This periwinkle Racerback Top is a perfect match.
I loved the aquamarine color of this Off-Shoulder Pullover, so I ordered it in a size up to fit my bump this spring and summer and was pleasantly surprised when it arrived – I hadn't expected it to be so soft! I have a feeling I'll be living in it, paired with some leggings and sandals or sneaks as an easy on-the-go look.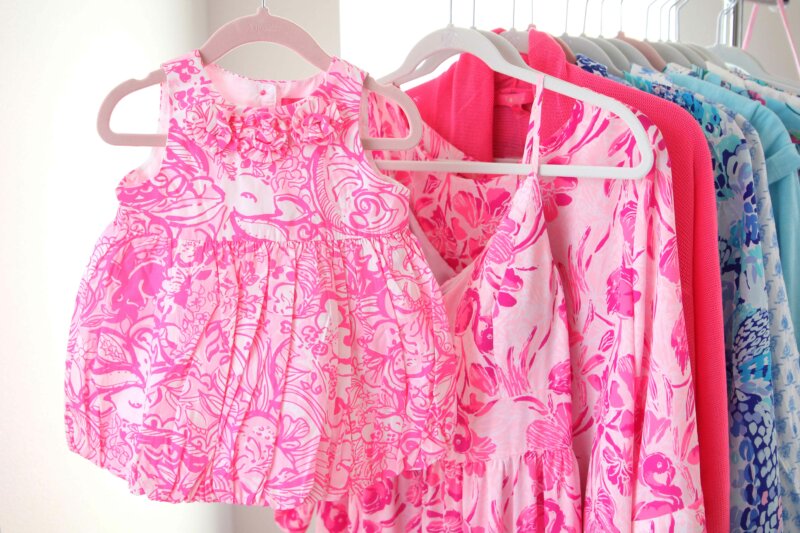 Pink
How darling is this tiny Pink Bubble Dress?! To coordinate, I went with a flowing pink Melody Maxi Dress and my mom went for this pink Langston Top with tie-sleeve details. This pink Fringe Hem Cardigan is a perfect coordinating piece that goes with the little's dress, but could be worn with something as simple as a white tank and white jeans.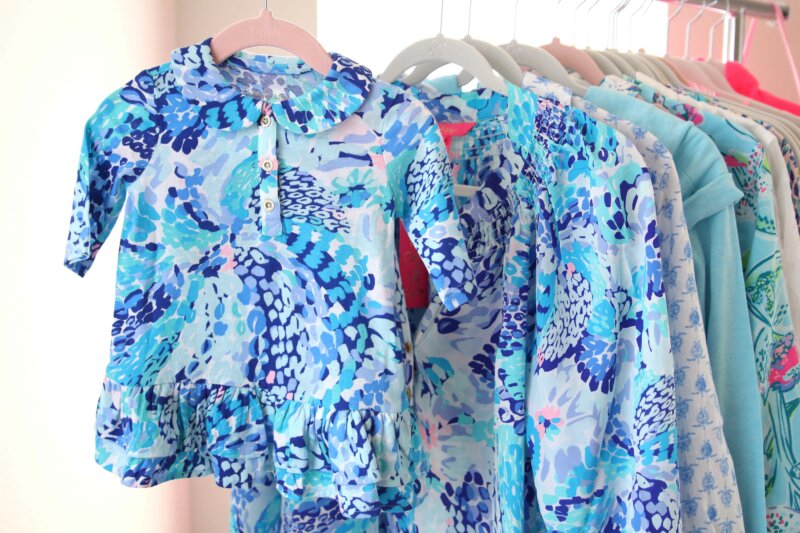 Blue
My mom and I decided to order a couple different sizes in the baby clothes, so in case the baby is running smaller or bigger we could use one of the outfits for a winter beach getaway or save one for spring and summer. This little blue Polo Dress is in the smaller size and I think the tiny collar is just too cute! To match her, my mom and I both ordered the Elsa Silk Top in the same print. These tops have been my favorites for a long time; I love the soft silk material and they can easily be paired with white jeans and strappy heels to transform them into an evening look.
My mom and I also both ordered this pretty Sea View Button Down Shirt with blue sea turtles. It's so beachy and relaxed; it would look perfect with denim shorts or jeans or even a pair of loose linen pants. If you're looking to get something Lilly without the traditional bright prints, this is a great option that would still coordinate with the Baby Polo Dress.
Earrings
Jewelry is one of my favorite things to get from Lilly because they have affordable options to add a statement pop of color to your look. I decided to get these blush and pearl Caliente Hoop Earrings and these earrings with dangling blue petals called the Cascading Petals Earrings. I thought these would both be great options this summer when not much else is fitting!