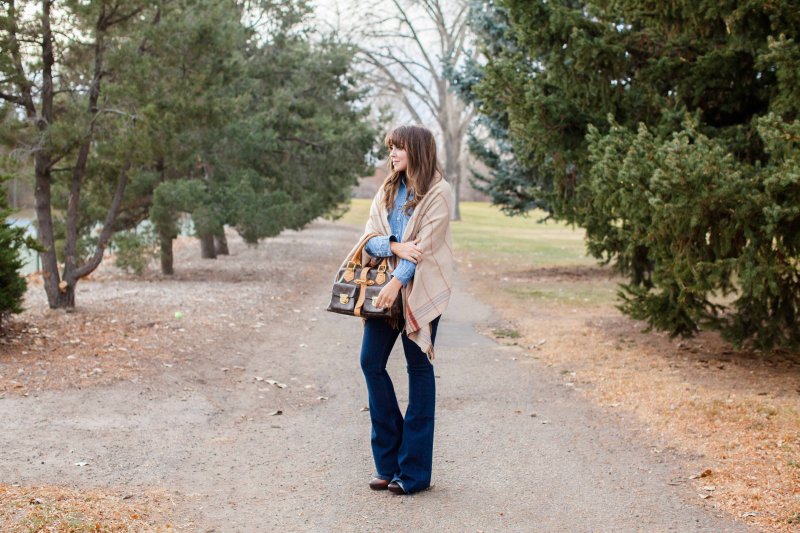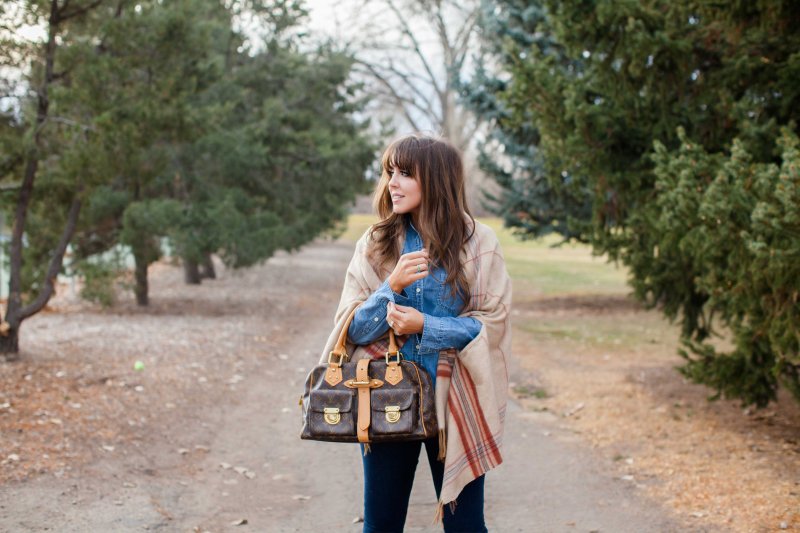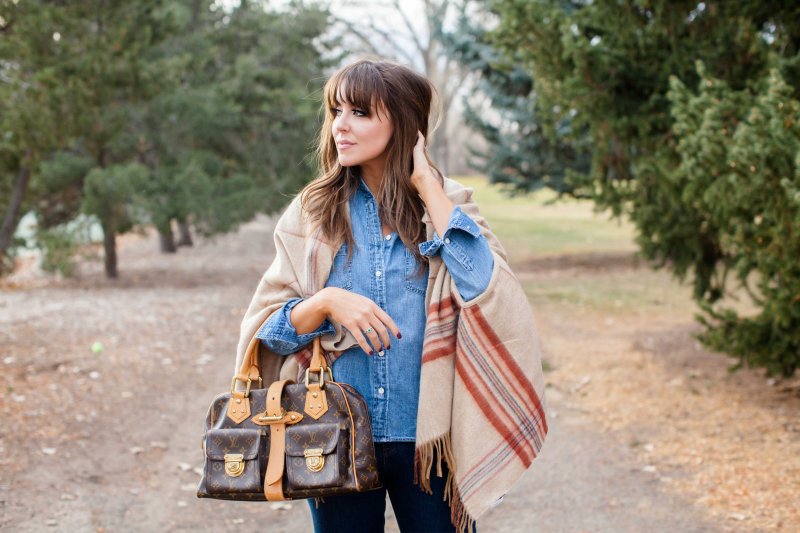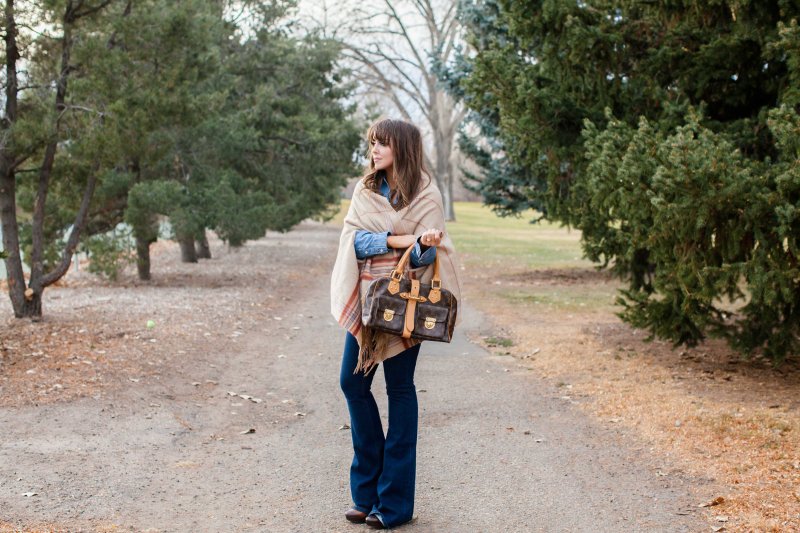 Plaid Wrap.  Denim Shirt.  Denim Flares.  Similar Denim Style.  Louis Vuitton Manhattan GM.
Hair, Tan, Nails c/o Glamour Bar Denver (Mention My Site for $50 Off Lashes)
Cozy and home. Those words go so beautifully together, don't they? I was thinking about cozy layers you could add easily to any outfit during this transitional month of March. And then my sweet little house sold this week; the house I lived in during college and law school, rented out to friends, and have been renting out ever since I left. About a million years ago, I wrote an article when I moved to Los Angeles and still felt homesick for my little townhouse and my friends in the Midwest. I discussed the concept of 'home' and what truly makes a place feel like we are home. In short, it's the people around us. It's the memories we make while in that place, the experiences we share with others.
I've seen friends posting about selling their houses and they often describe a bittersweet feeling; a tugging feeling that makes them hesitant to leave the place they lived when they first married, had their baby, or adopted their troublesome little pup. Now I understand that feeling. I'm so excited for the new owner to make memories of their own. But all the memories I've made in that place came rushing back to me this week. Sitting around the television in yoga pants with friends, crying over Blair and Chuck. Eating Lucky Charms at 3 AM while my friends and I studied for a morning Philosophy exam together. Dancing barefoot on the sofas with my roommates after a particularly fun night out. Crying over boys. Crying over getting into law school. Walking to the Saturday farmer's market downtown. Meeting my future husband in the driveway behind our townhouses. Seeing my kitchen covered in case briefs; a depressing sight if you've never witnessed it. Deliriously staying up until 4 AM to watch the royal wedding with my best friends, burning my hand on the egg pan, and skipping my morning workout that day. Teaching myself to make YouTube videos from my bedroom; if you've ever seen any of my first ones, they're awful. But making them gave me such joy. I hope the new owner makes memories that give them joy and make them feel hesitant to leave that house someday.
This wrap is kind of like coming home. It's a cozy, comforting wrap that's easy to wear; the arm holes help it stay on your shoulders or slouched off the shoulders around your elbows without falling off. You easily can add it over a tee and jeans or toss it over a fitted t-shirt dress. It's one of the most versatile pieces in my closet. This bag is the original Louis Vuitton Manhattan; LV recently released a new Manhattan bag. I get so many compliments on this bag, but I have to say, all the hardware and pockets make it really heavy. I personally don't mind a heavy handbag, but if you're picky about this or have any shoulder issues, I would opt for another style.
Fit Details:  The wrap is one-size-fits-all. This denim shirt I'm wearing is my favorite; it runs true to size and isn't too long, so it can easily be tucked into pants or a skirt. The denim I'm wearing is sold out (I found one last size here) but I've linked a similar pair I like and you should go up one size for both brands.