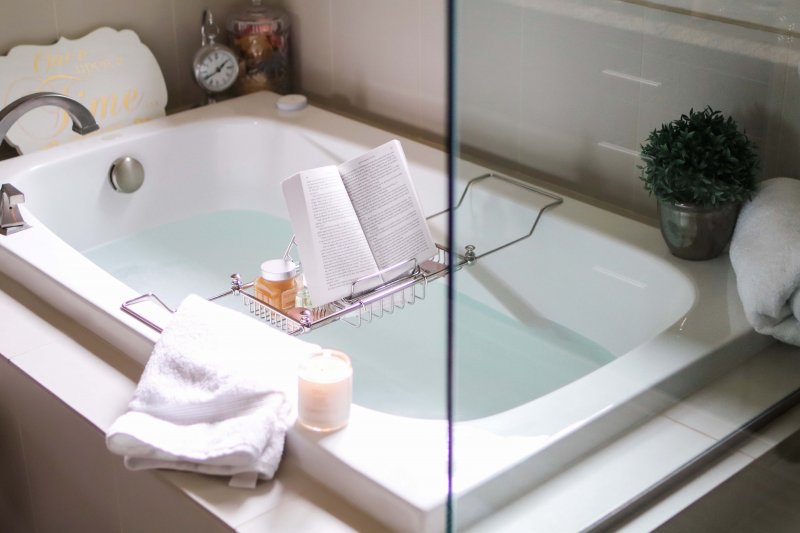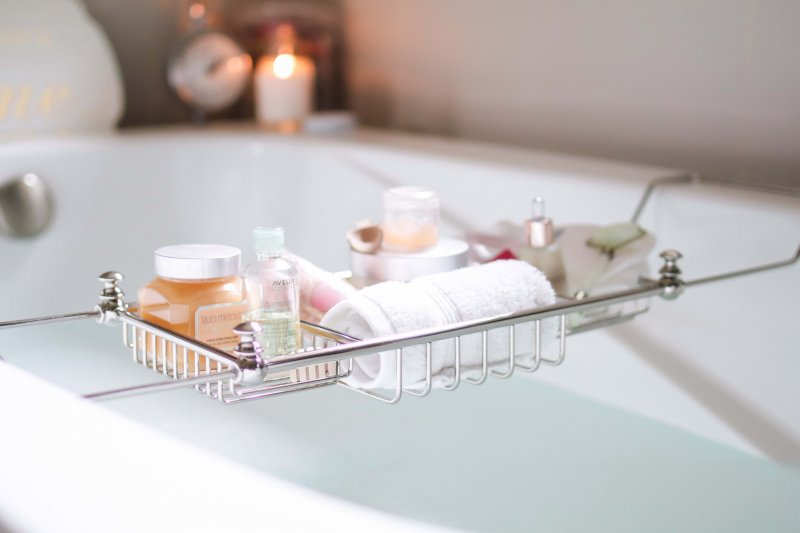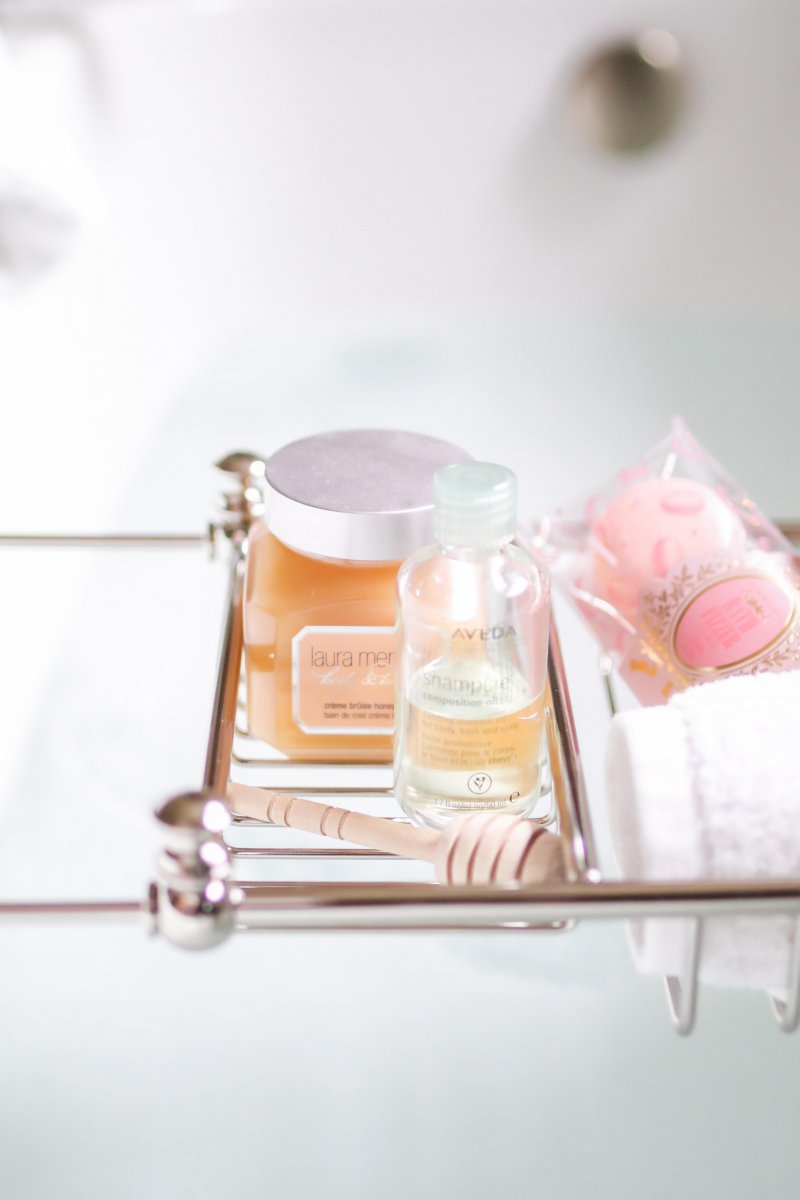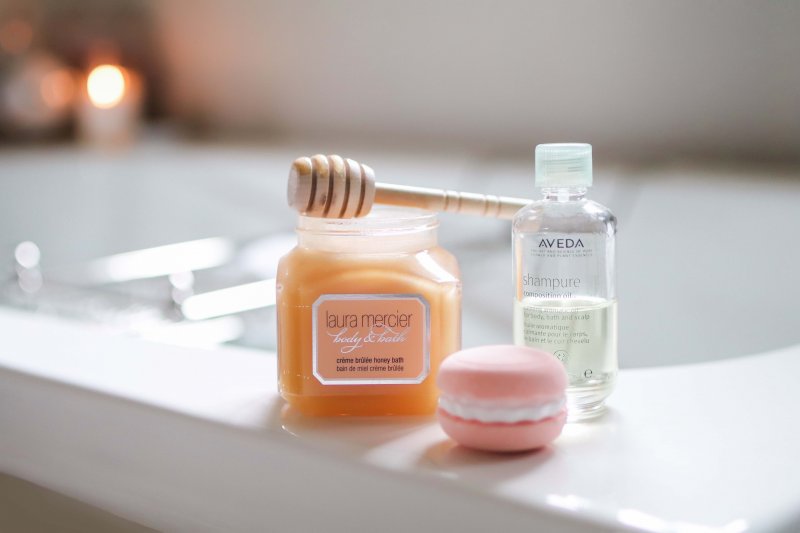 Do you remember when you were little and your mother telling you to come in from playing outside and take a bath sounded like the most dreadful thing you could imagine? And now (if you're like me) you might be out somewhere lively and wishing you could magically teleport yourself back home and into the bath tub with a hair mask on your head?
The bath tub is my happy place; where I can relax and do a beauty treatment or two along the way. To encourage happy thoughts, I've surrounded myself with a framed picture of Paris, a wooden sign from our wedding ceremony, and a crystal jar stocked with bath bombs and bubble bars. In this post, I'm sharing my tried-and-true bath favorites I keep in this beautiful bath caddy with you. So get ready for a… Good, long soak.
1. Start With…
Aveda Shampure Composition Oil
This beautiful oil contains an intoxicating blend of over twenty-five pure flower and plant essences including organic lavender, petitgrain, and ylang ylang. I like to put several drops in the water for a little extra moisture and a lot of calming aromatherapy. If I'm planning on washing my hair the next day, I'll give myself a little scalp massage with this oil, rub it into the ends of my hair, and twist my hair up into a bun for an overnight hair treatment.
Laura Mercier Crème Brûlée Honey Bath
I like to drizzle some of this luxurious honey bath in the water; it's not really a bubble bath, but it does add a bit of suds and a little moisture too. I also use it for a deliciously-scented, luxe body wash mid-soak. My mother and I gift this product to one another all the time; it's our favorite!
A Bath Bomb
As I mentioned above, I keep a jar of bath bombs and bubble bars beside my bath tub. My favorites are from Lush Cosmetics; they come in the most gorgeous colors and are all handmade. We used to walk by the Lush store all the time when we lived in London and I remember being mesmerized by the bright piles of bath bombs and their scent that floated out of the store.
Do you like bubbles with your bath? Try this pretty pink Rose Jam Bubble Bar. Need extra moisture in the form of luxurious oil? Try this yummy Marshmallow Moment bath oil. Want a colorful bath with a romantic fragrance… And maybe a tiny floating rose blossom? Add the Sex Bomb bath bomb. Each time I use one of these, I feel so pampered; they make wonderful gifts as well!
If you're more into bath soaks or bath salts with a bit less color and scent, try the bath salts from Fig+Yarrow here in Denver.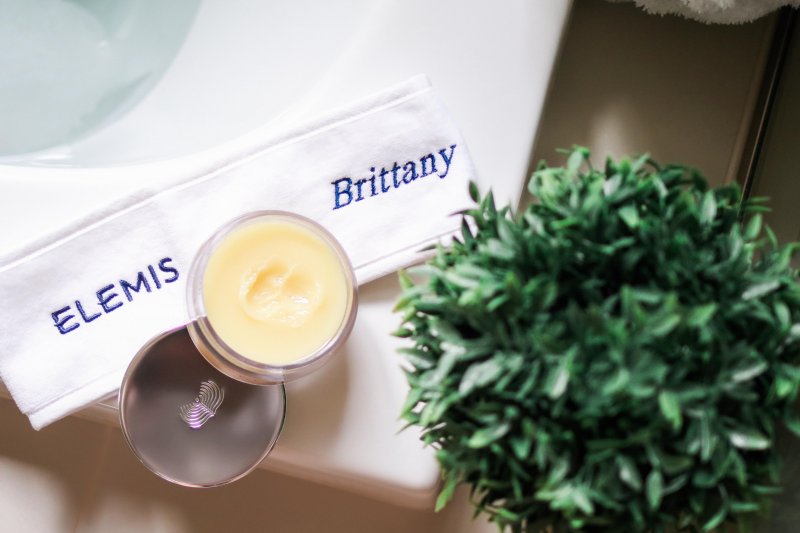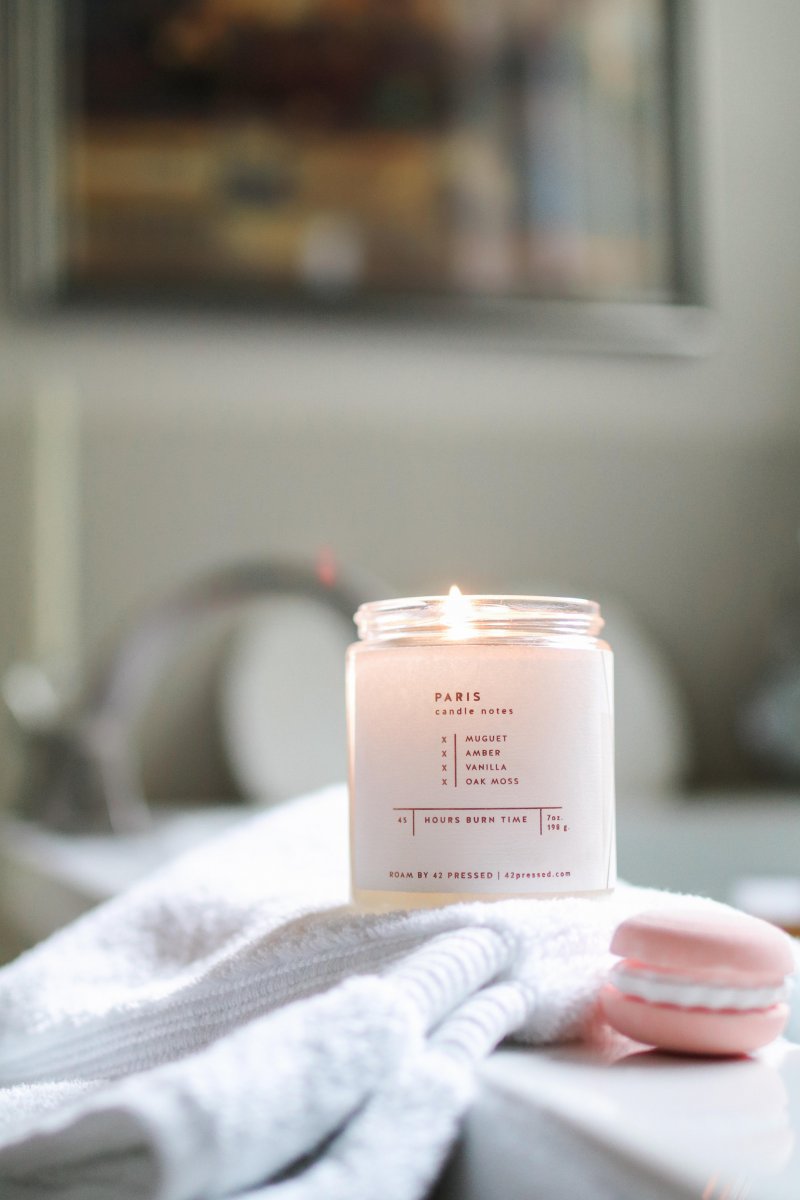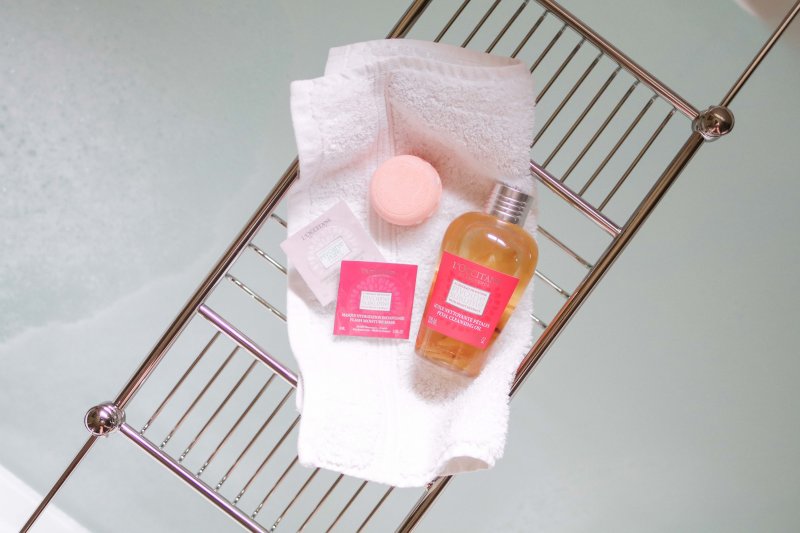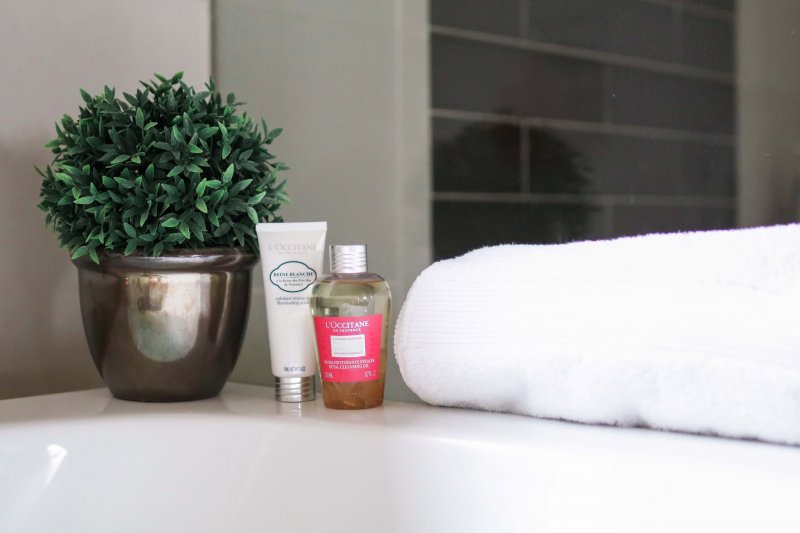 2. Cleanse and Exfoliate
Elemis Pro-Collagen Cleansing Balm
This buttery-smooth cleansing balm is so soft and hydrating on skin. It erases all traces of makeup, cleanses skin, and leaves a glowy complexion in its silky wake. Bonus? It comes with a gentle cleansing cloth too. I like using this as my first cleansing step to "take the day off".
L'Occitane Reine Blanche Illuminating Scrub
This scrub has the most perfect, creamy texture. It's not too scratchy and is gentle enough to use daily, but is substantial enough to remove dead, dull skin. The result? Soft, illuminated, and brighter skin.
L'Occitane Peony Minute Mask
This quick mask packs quite the punch. It reduces impurities, absorbs excess oil, and minimizes pores. Use it to give your skin a weekly detox and help makeup go on more smoothly.
L'Occitane Peony Cleansing Oil
I prefer to use cleansing oil after a facial mask because I find that oils remove the mask without undoing the benefits the mask just gave to my skin. I can't seem to find this peony cleansing oil anywhere, so I've linked another favorite cleansing oil of mine.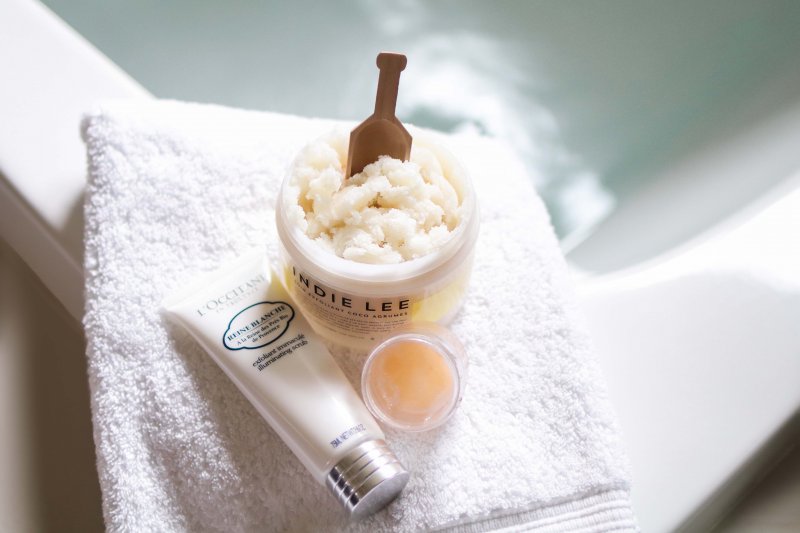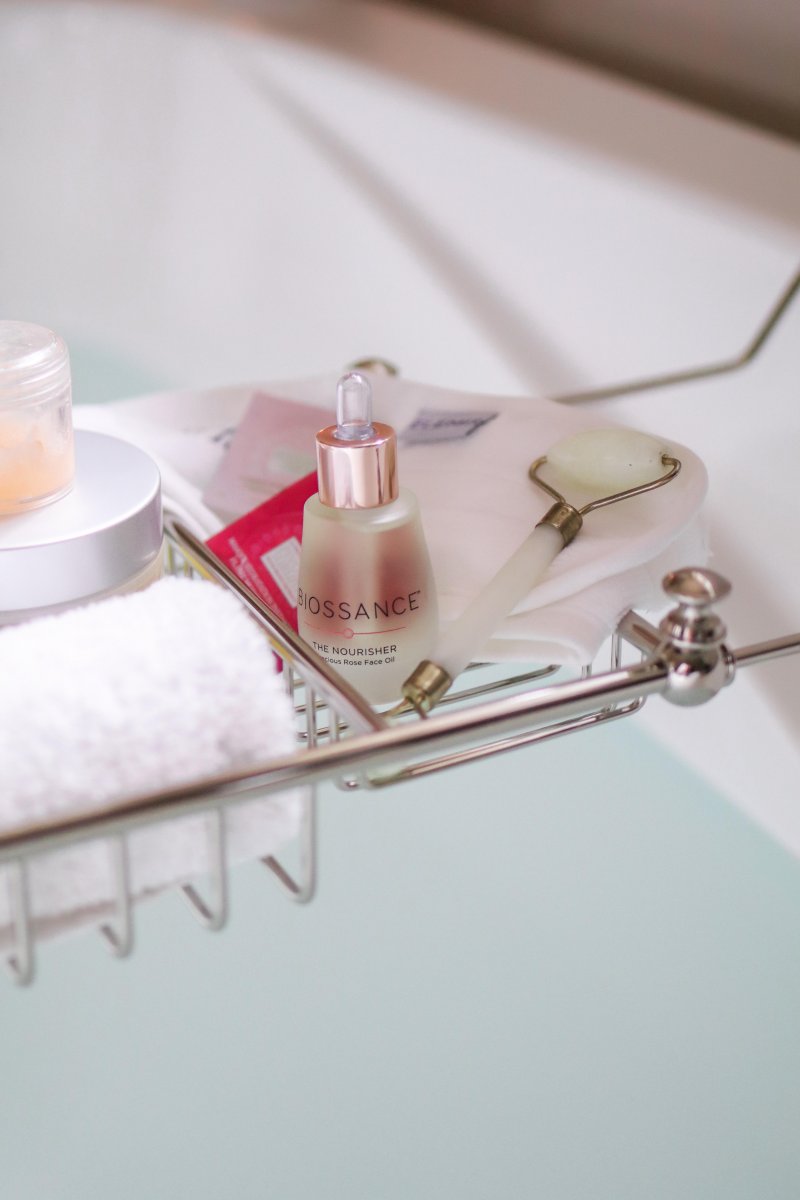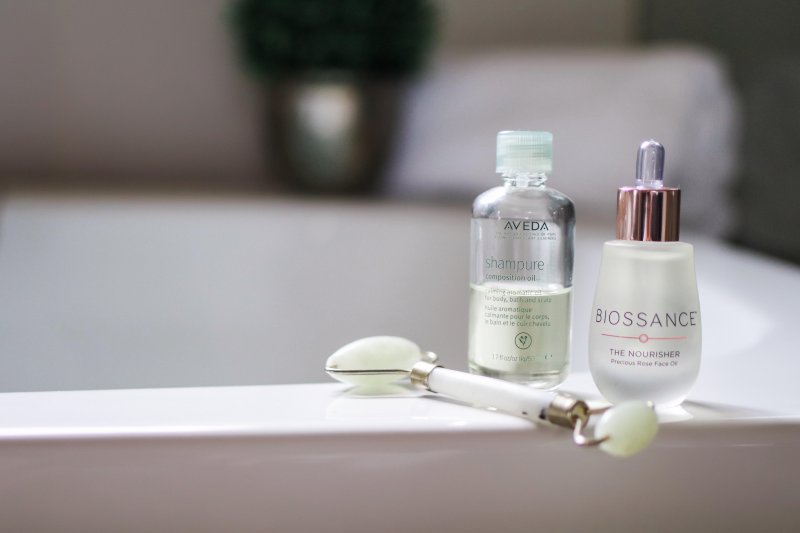 3. Pamper Skin
Indie Lee Coconut Citrus Body Scrub
The most scrumptiously-scented body scrub I have ever come across; I instantly fell in love with its fresh, energizing blend of lemongrass, coconut, jojoba, and vanilla. This gem of a product removes dry skin and then somehow melts to moisturize skin. A similar product made specifically for lips is this lip scrub.
Biossance Squalane + Vitamin C Rose Oil
This is the product that introduced me to facial oils. A secret of French women for decades, oils hydrate and nourish the skin in a way other products simply cannot. After cleansing and masking, treat your skin to extra hydration by jade rolling (see below) this beautiful brightening and tightening oil into skin.
Jade Facial Roller
Although jade rollers have been used in Asia for ages, they have only recently been embraced by the American beauty community. Rolling a cool, smooth stone like jade across the skin de-puffs and drains excess liquids, increases circulation, and rejuvenates facial muscles. I like jade rolling under my eyes in the mornings, but I've noticed massaging products into my skin at night helps to increase their absorption. Another tip? Tuck this baby into your bag with a small bottle of oil while traveling and jade roll mid-flight to prevent puffiness after landing.