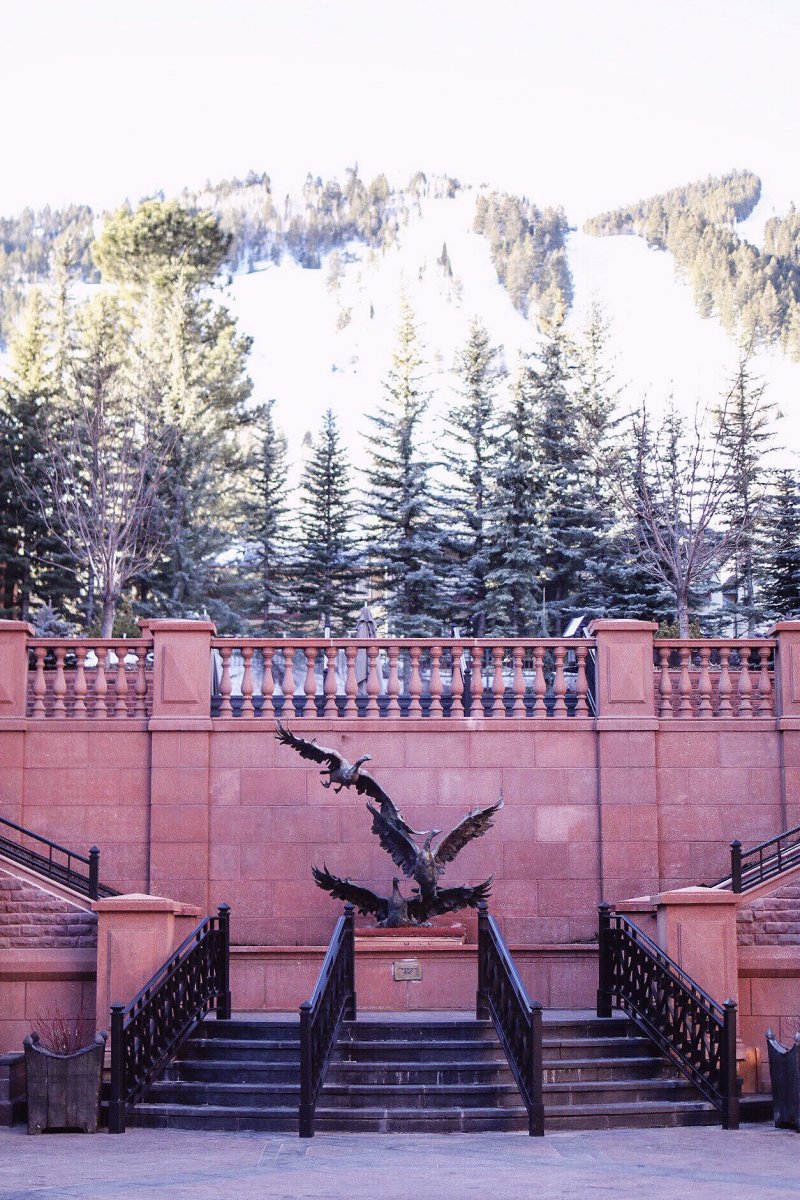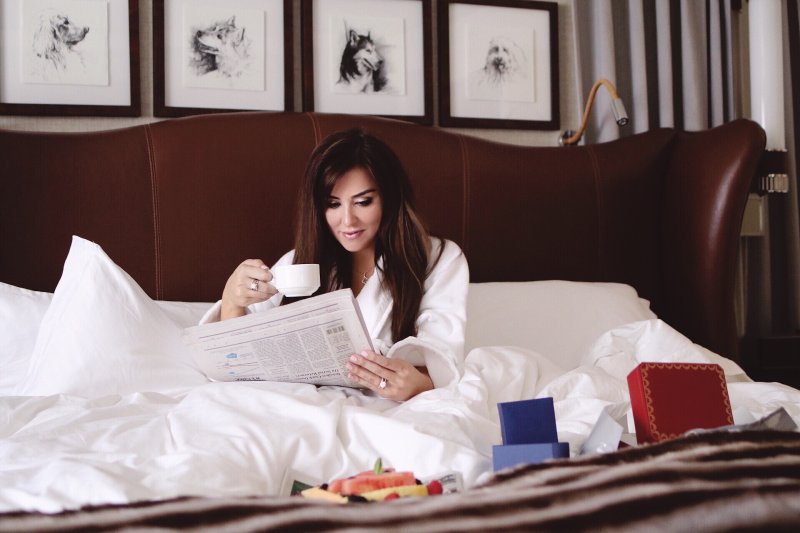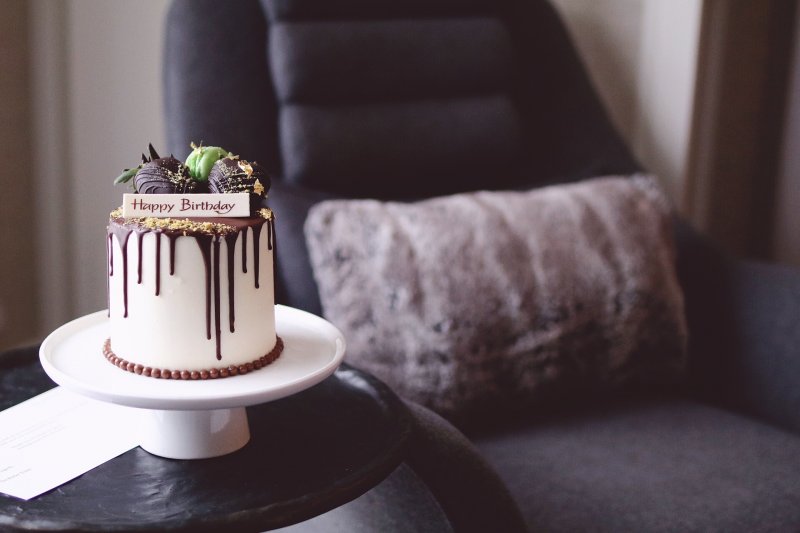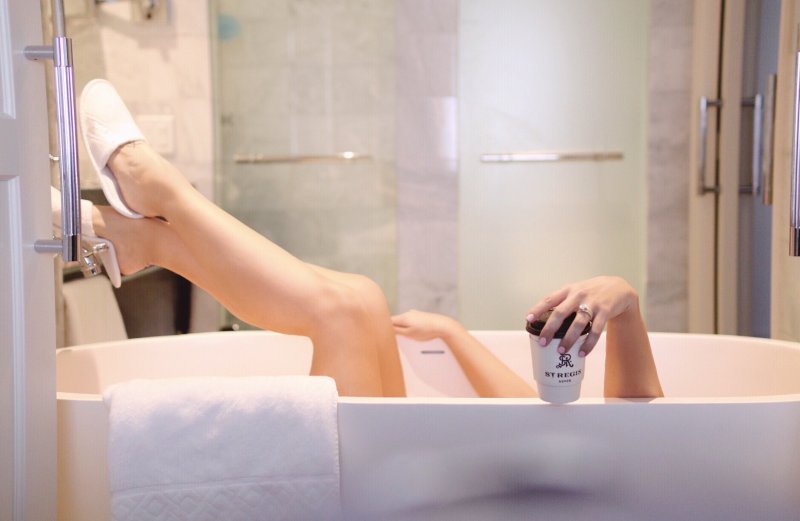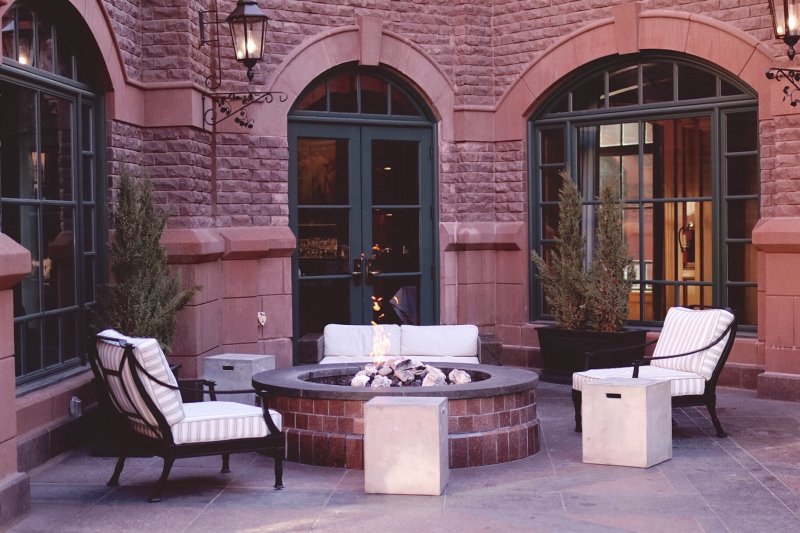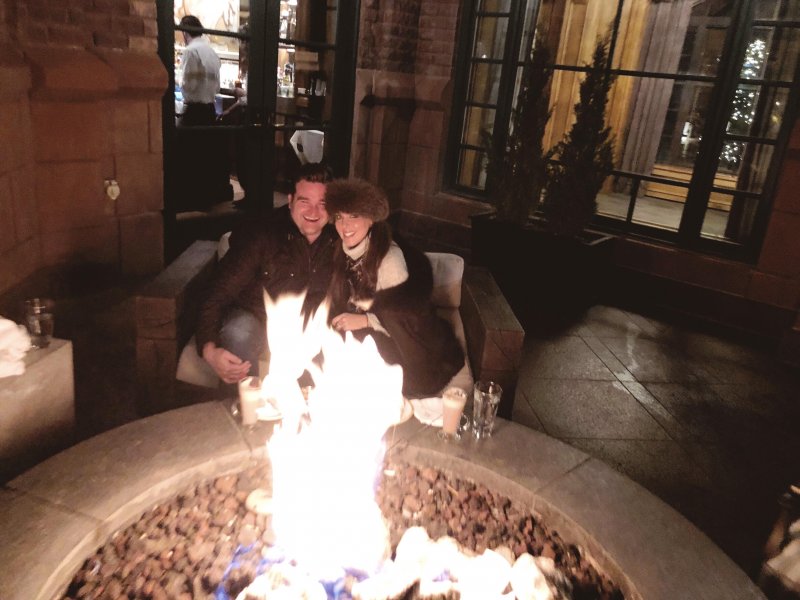 I'm a girl that loves snowy destinations. Especially here in Colorado; the sun is shining overhead, the ground is covered in fluffy mountain snow vs. the Midwestern ice slicks I grew up with, and there is a plethora of breathtaking snow-dusted views everywhere you look. This year, we only had a few snow days in Denver and I had been dying to visit Aspen after hearing so many glowing reviews from family and friends. So for my birthday, my husband planned the sweetest Aspen vacation. It had been over a year since we had vacationed for anything other than work, weddings, or to visit family, so we went all out and made it really special. Speaking of going all out… Another thing I particularly enjoy about wintry destinations is the ability to experience new restaurants guilt-free because I'm layered in scarves and sweaters. Let's all raise a glass to those stretchy ski pants, shall we?!
Aspen is a tiny city in the Rocky Mountains that flourished with the Colorado silver mining rush in the 1880's. Quaint little Victorian storefronts and houses still dot the picturesque town; the saloons and boarding houses having given way to designer boutiques and five-star restaurants. If you're sensitive to altitude like I am, you may prefer 8k ft. high Aspen to other mountain towns at higher elevations. And unlike other mountain towns I've visited, there's truly something for everyone in Aspen, even if you don't like skiing.
After hearing how many celebrities frequent Aspen, I was concerned it would be too flashy and loud for my taste… Not the case. It's definitely a luxurious spot to vacation, but it's luxe in a casual way that also allows you to wear a cowboy hat and jeans to the best restaurants; relaxed in a way only the American West can pull off. Think Ralph Lauren style: cozy sweaters, lots of denim and leather, cashmere blankets, and vintage maps and Native American prints on the walls.
Below I've organized all my favorite stops, eats, and shops to help you out if you're planning an Aspen getaway. (Trust me, you will after reading this!)
Where To Stay
If you haven't spent much time at altitude, you may want to be a bit careful when traveling to the mountains. You may have a headache, feel queasy, and alcohol will affect you quickly. Be sure to stay hydrated and request a humidifier from the hotel ahead of time. Our hotel even refilled our water tank each day and night.
St. Regis Aspen
We chose to stay at the St. Regis because of the resort atmosphere. Spacious rooms, plenty of outdoor space, and a luxe spa make this a great destination for those who like a large hotel property with spaces to explore. The on-property restaurants were delicious and each night we took advantage of the outdoor fireplaces with hot chocolate and s'mores, then soaked in the hot tubs surrounded by a patio with a heated floor. Even a week wasn't enough; we wanted to move in!
Hotel Jerome
My readers told me so many great things about this rumored-to-be-haunted property, we had to stop by and have lunch here one day. Although its an Auberge resort, the Hotel Jerome will be right up your alley if you're into boutique hotels because of the intimate atmosphere and vintage touches. The interior is moody, romantic, and perfectly Aspen.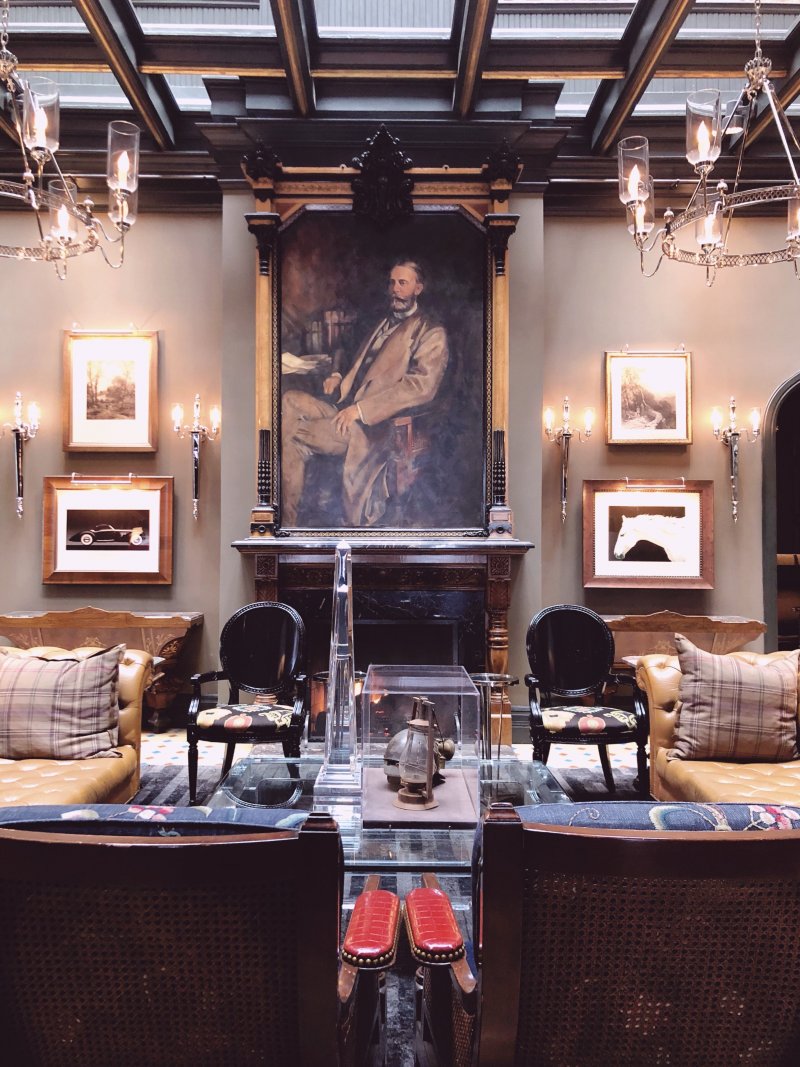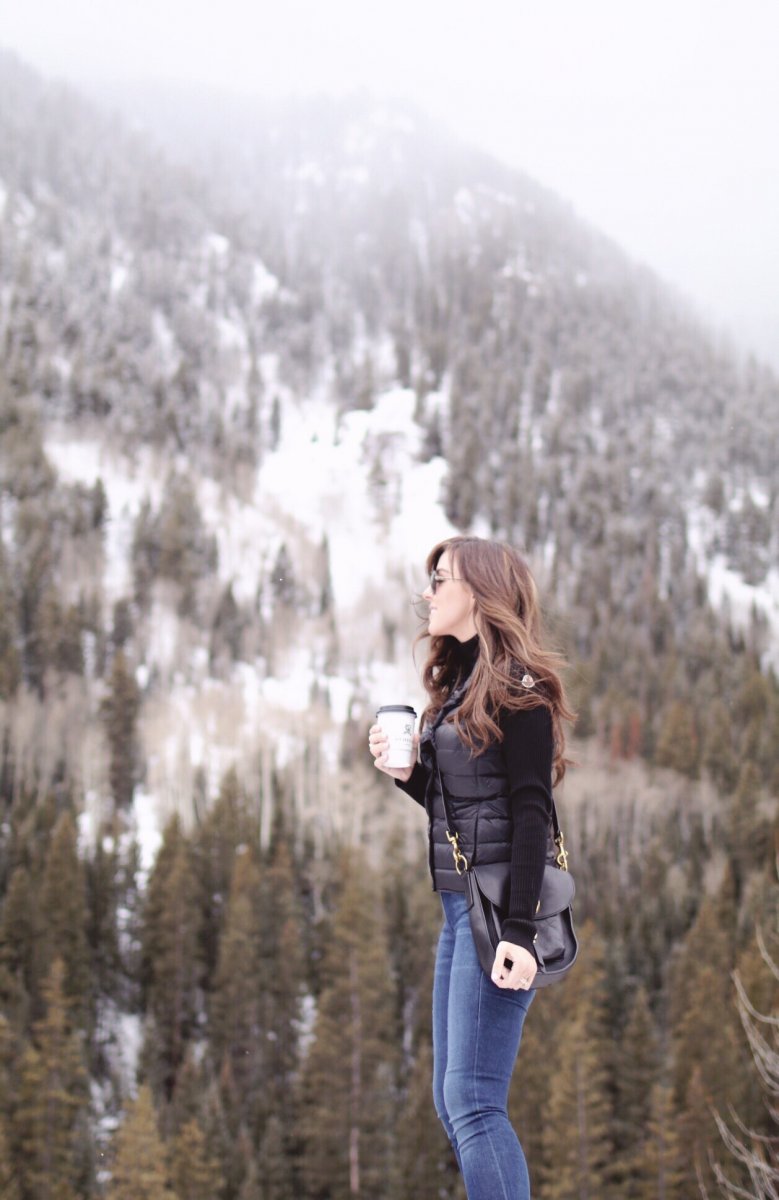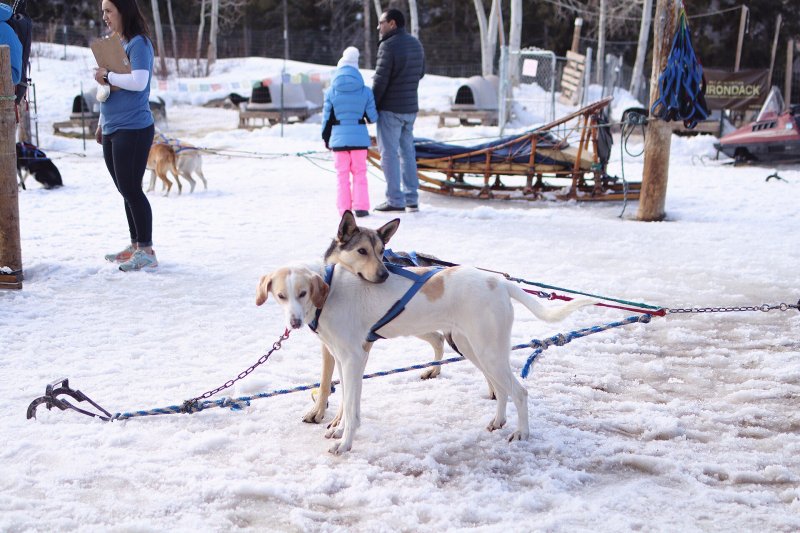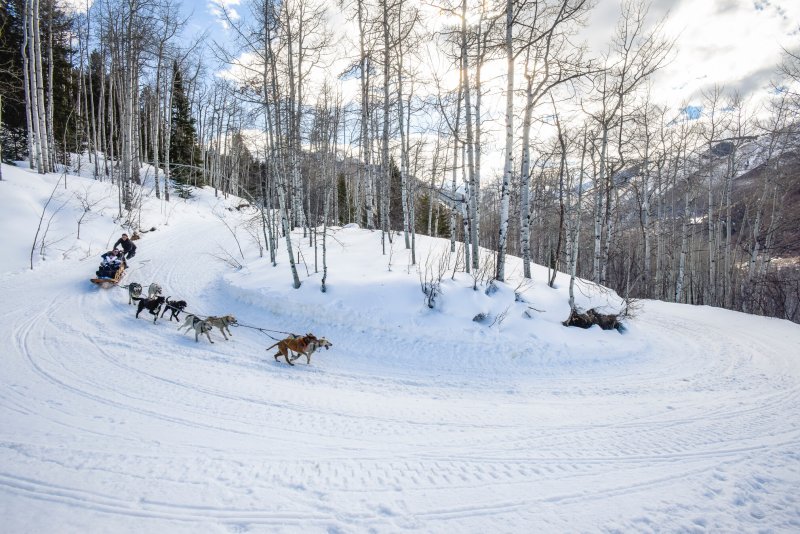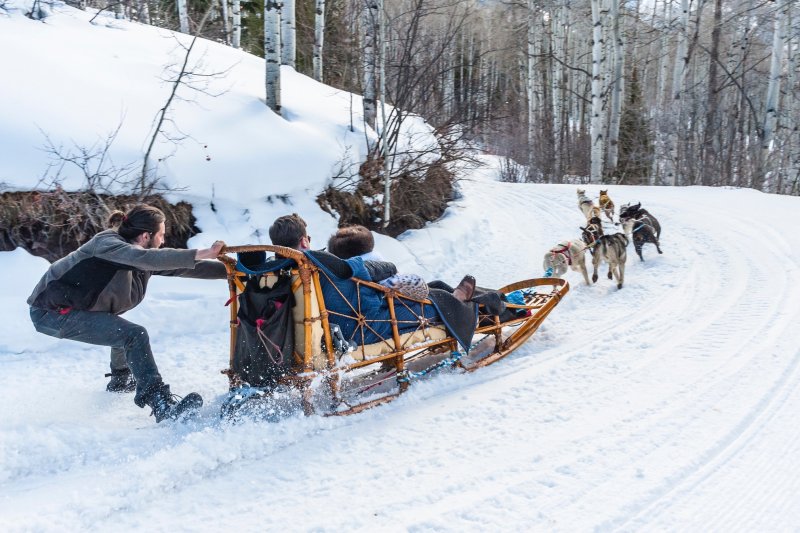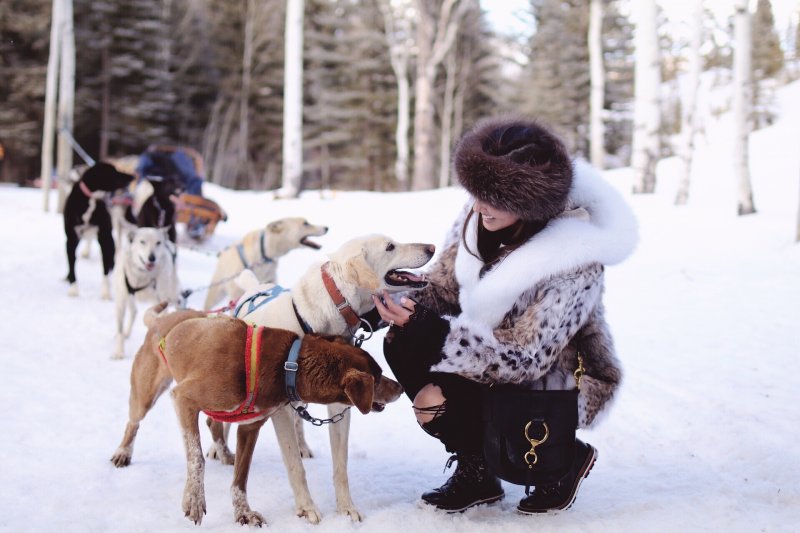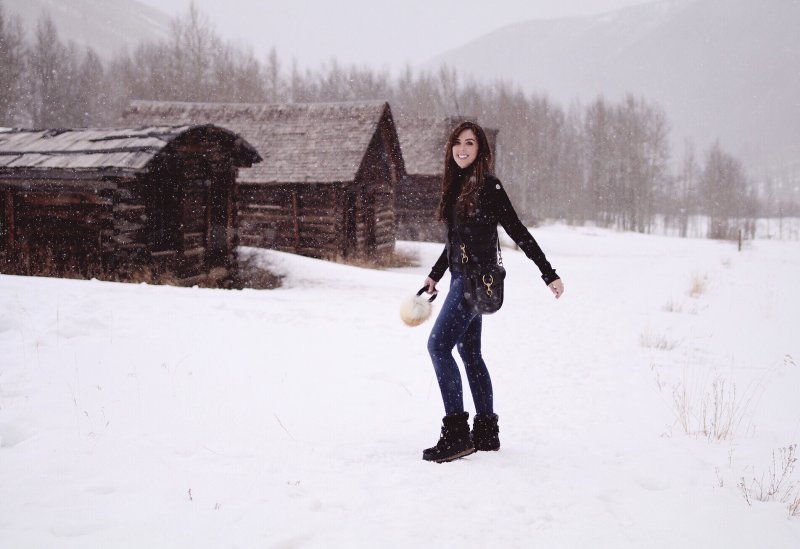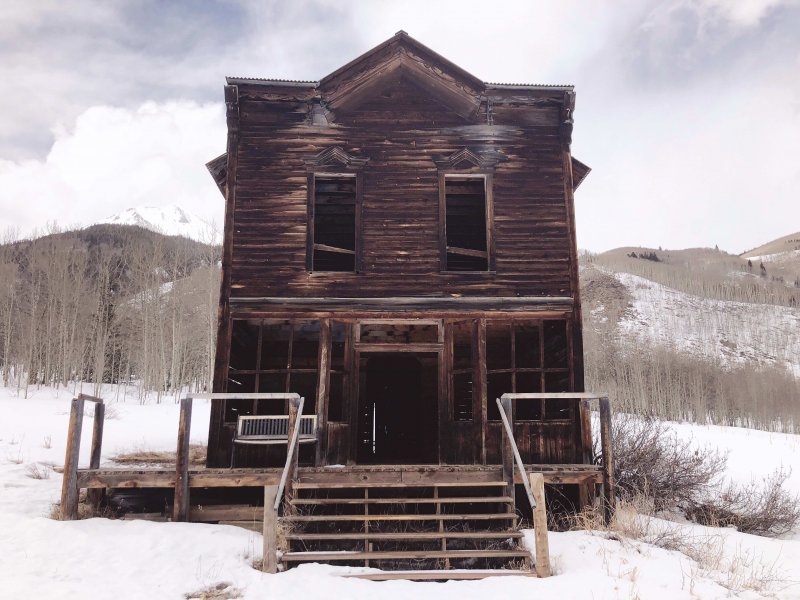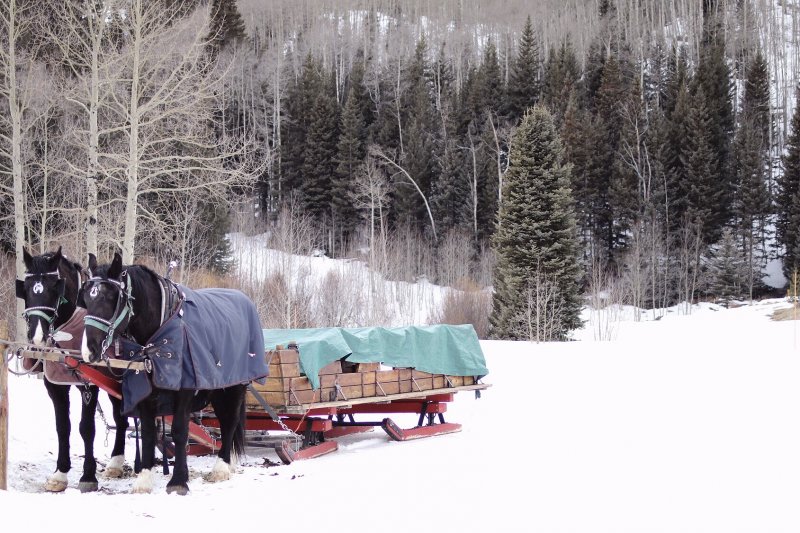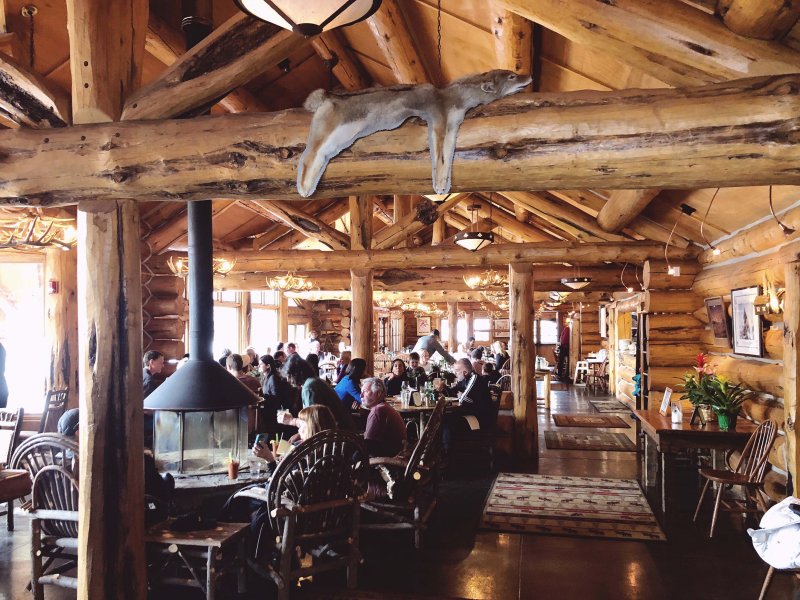 What To Do
Exploring Aspen
One of our favorite things to do each day was simply explore the charming village of Aspen. Grab comfy boots and a hot coffee and weave your way through quaint bookstores, browse antiques, and pop into art galleries. Into art? Take a peek at the Aspen Art Museum. Or catch a performance at Wheeler Opera House or Theatre Aspen. History buffs might enjoy the Wheeler Stallard Museum or the Holden Marolt Mining and Ranching Museum. The breathtaking Maroon Bells were closed during our stay, but are said to be the most-photographed peaks in North America.
Dog Sledding
My husband surprised me with a dog sledding experience at Krabloonik. Located in nearby Snowmass, guests get to take in stunning Colorado backcountry views while being pulled by a team of sled dogs. Speaking of the pups, arrive a bit early so you can have time to meet the pups. We went on the twilight ride just before sunset, stopping halfway for a cup of hot cocoa by a campfire in the woods. After the ride, you can purchase professional photos of your adventure and have dinner in the Krabloonik restaurant. I can't speak for the restaurant because we went back to Aspen for dinner, but the dog sledding experience itself is well worth it.
Snowshoeing
Isn't it the best when you try something new and end up loving it?! That's how I felt about snowshoeing. Similar to hiking, you can choose the trails that correspond to your desired level of physical exertion. The snowshoes allow you to stay on top of the snow and experience some of the most breathtaking views. We went snowshoeing up to lunch at the Pine Creek Cookhouse. Our snowshoe experience began by exploring the Ashcroft ghost town. After a brisk uphill climb, then a leisurely twisting snow path with incredible views, we reached the mountainside restaurant where we had lunch as the snow began to fall outside. We took the easy path back down the mountain and made our way into Aspen before twilight.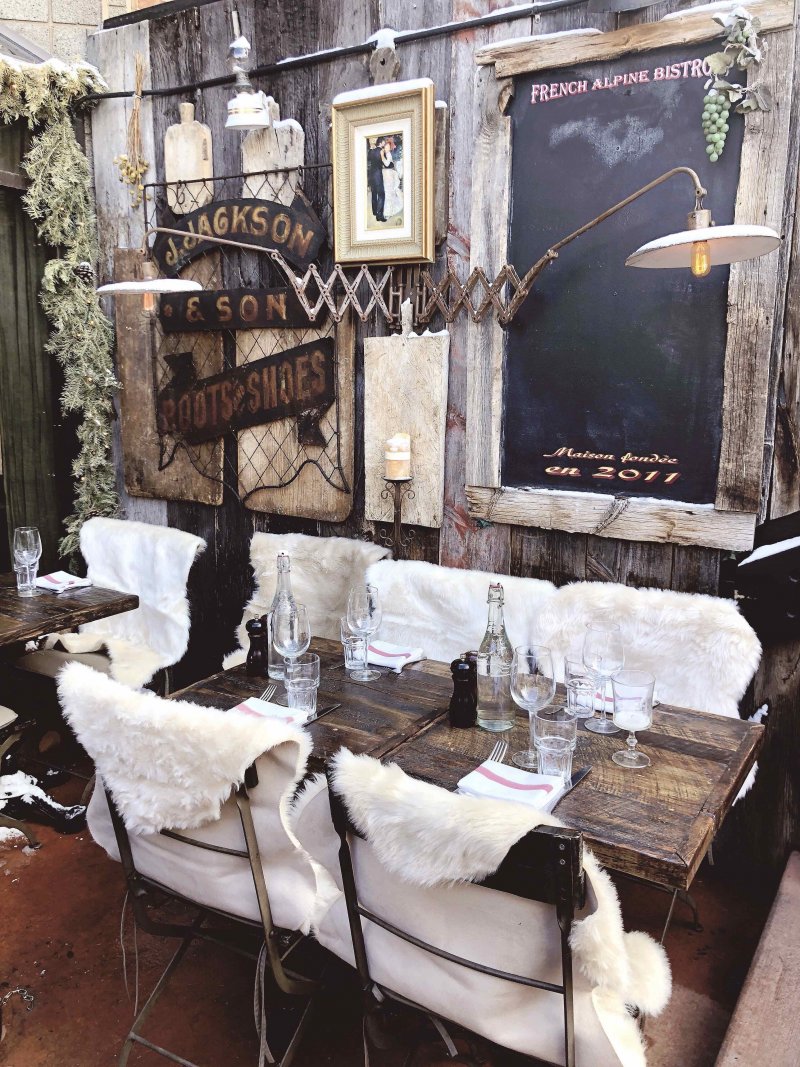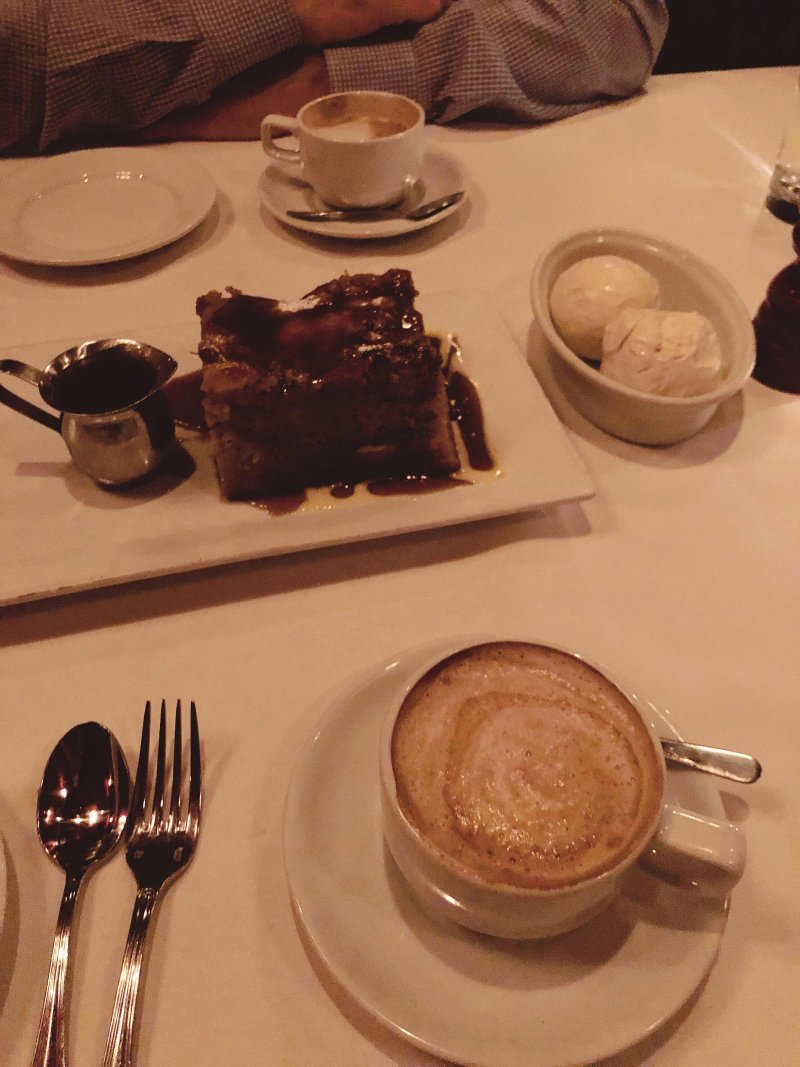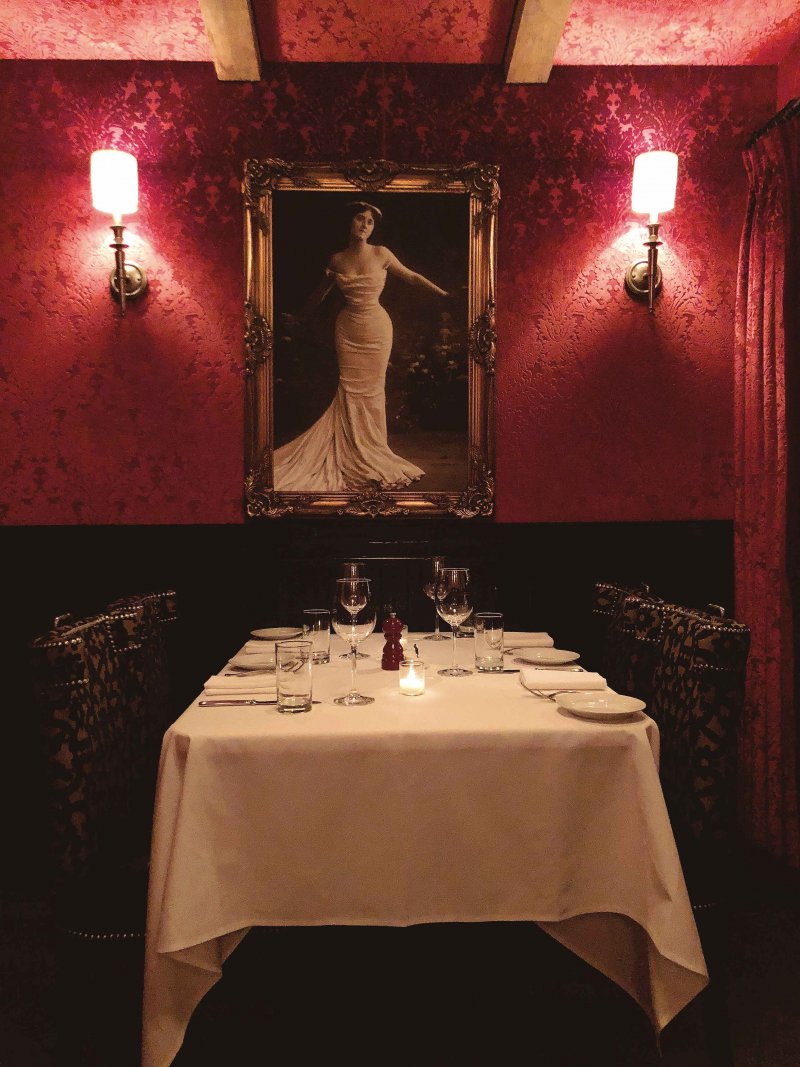 Where To Eat
French Alpine Bistro
This place is seriously Instagram-worthy. Outdoor French bistro meets mountain town in the best way possible. It's the perfect spot for lunch between activities or a cozy evening meal. They aren't open for breakfast, but are known for their delicious crêpes!
Cache Cache
This was our first dinner spot in Aspen and I loved it. Cache Cache calls itself an "upscale French American bistro" and though I found the French component a bit sparse, it was delightfully delicious. I had the foie gras and rainbow trout and both were done to perfection; the foie gras was especially creamy and flavorful.
TIP:  In high altitude, I like to order a glass of rosé with ice cubes (wine connoisseurs feel free to cringe here) because I've found it's the only way I won't get a headache after even a half glass of wine.
White House Tavern
So many people recommended this restaurant to me prior to our trip and when we sat down for lunch it all made sense; White House Tavern is part of the Hillstone Restaurant Group. Hillstone and Cherry Creek Grill are probably our two favorite restaurants in Denver; they're cozy and consistent and delicious. White House Tavern has a mix of both menus along with a few unique items set in a tiny, quaint Victorian house. If you're from Denver and looking to try new places, it might be best to experience Hillstone or Cherry Creek Grill in Denver and try some unique-to-Aspen spots. But as always, the Hillstone Restaurant Group is consistent so you'll never leave one of their restaurants disappointed.
Steakhouse No. 316
This was my favorite restaurant in Aspen. The interior feels like walking into an 1880's saloon; it was dark and sexy and romantic. The food was honestly incredible; one of the best meals we've ever had. I started with the tuna tartare, had the Dover sole for my main, and we ended with the bread pudding. Best bread pudding I've had in my life. It's worth just going for a coffee or glass of wine and that incredible bread pudding. We also noticed that the waiter kept checking on us from afar and left us to chat and enjoy our meal; that perfect balance is a true art. If you go to one restaurant in Aspen, let it be this one!
Matsuhisa
If you live in Denver and love sushi and seafood, you may have tried Matsuhisa in Cherry Creek. Chef Nobu Matsuhisa infuses creativity to Japanese cuisine; if you've never eaten at one of his restaurants, it's worth a visit. The energy and vibe in Matsuhisa was more upbeat and exciting than other restaurants; this would be a nice spot for a girls' night or for dinner before going out.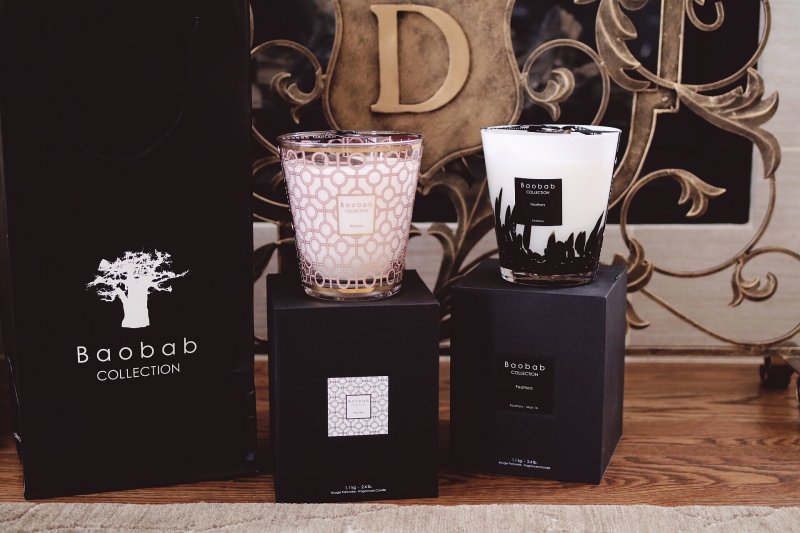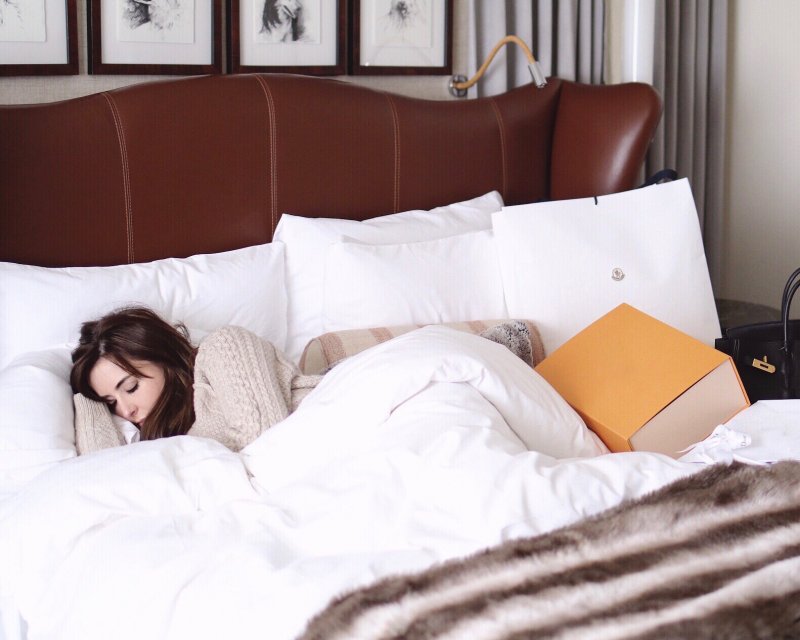 Where To Shop
Daniel's Antiques
We spent over an hour in this shop, talking to the owner. This place is a fascinating little treasure trove of vintage pieces and one-of-a-kind antiques. There are WW2 binoculars and vintage Louis Vuitton luggage; just a great mix of pieces collectors will love.
Explore Booksellers
We were walking one day and stumbled across this little gem of a bookshop. If my husband weren't with me I would have spent hours browsing the stacks. I found a few books and a beautifully scented candle; it wasn't difficult to find something in this shop! I've heard the bistro above the bookshop is delicious; it focuses on nutrient-dense, seasonal foods.
Aspen Home Consignment
Another little gem we stumbled across! This little Victorian house is filled with beautiful consigned pieces, ranging from furniture to decor. You know I love the thrill of the hunt; scouring antique shops and estate sales for that perfect vintage item. I was happy to find a pair of framed original fashion sketches by Dior and Givenchy here at an absolute steal.
Paris Underground
This shop has beautiful home decor and its where I discovered my new favorite candle brand, Baobab. They are giant candles that smell absolutely incredible. My favorite scents are "Feathers" and "Women".
Pitkin County Dry Goods
This moderately priced shop has a relaxed mix of casual clothing, shoes, and gifts. I found the softest long-sleeved 'Aspen' thermals here. It's a great place to pick up a gift as well; I left with a charming canvas market tote and candles and fragrances from Maison Louis Marie.
Designer Boutiques
Aspen is known for the incredible high-end designers that line its snowy streets. It's honestly so funny to see brands like Prada, Ralph Lauren, Louis Vuitton, and Dior in such a tiny, quaint little town. We do have some designers in Denver, but what I really enjoyed in Aspen was the lack of crowds and the attention the sales associates could give each customer. Take a peek in feminine, classic Dior. Louis Vuitton is worth a browse because they had a larger selection than the Denver LV. Moncler is a treat to go in because their wintry pieces are so timeless and high quality.