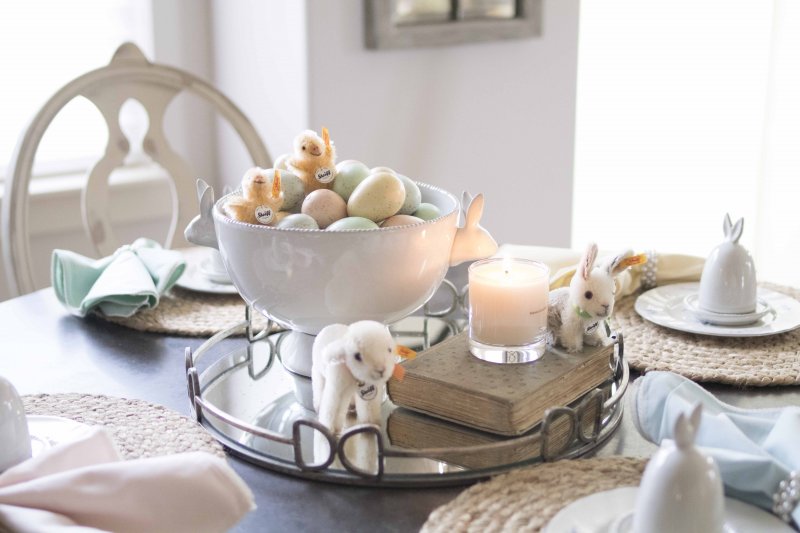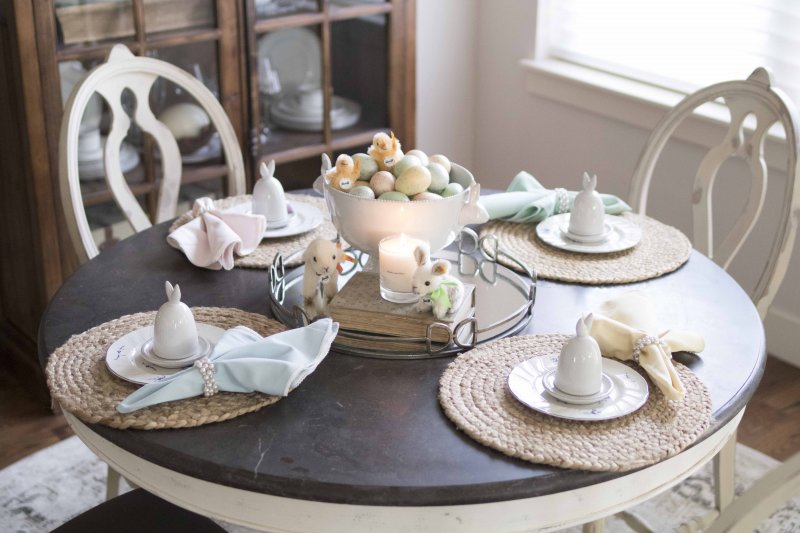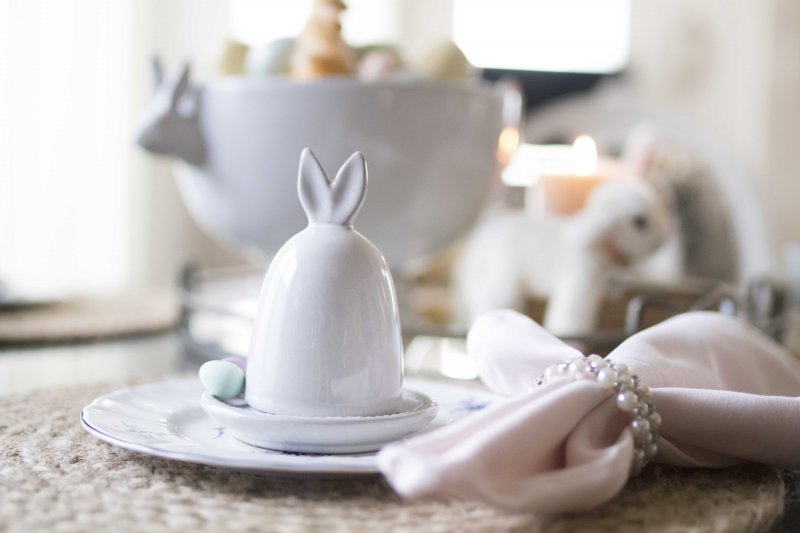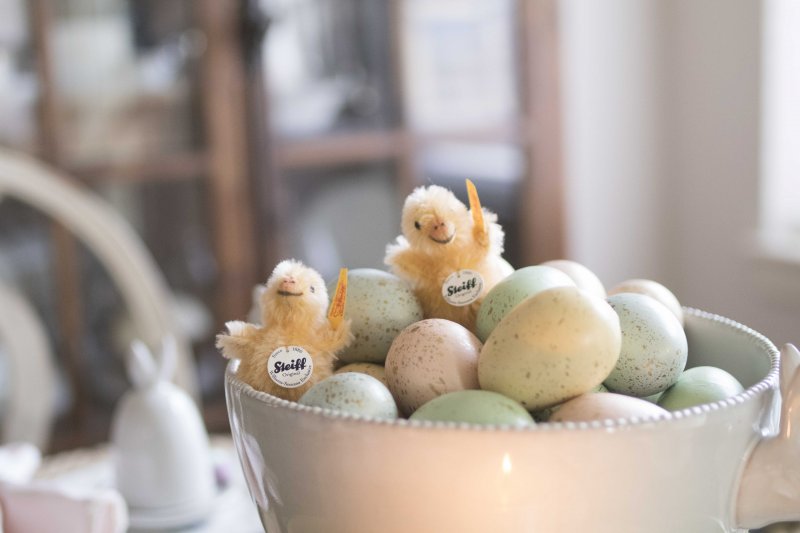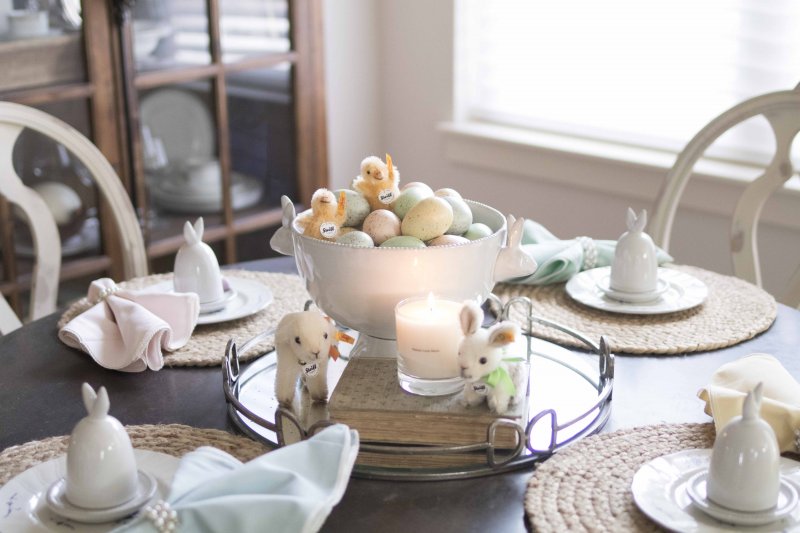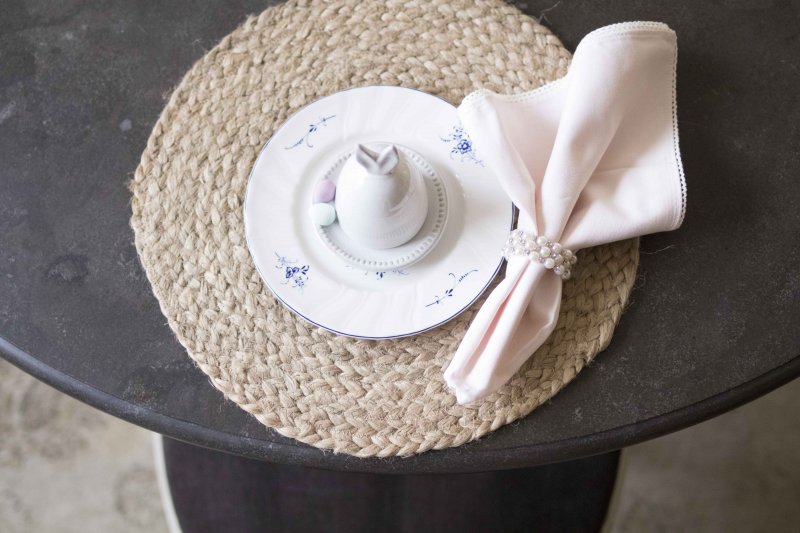 Bunny Serving Bowl.  Gold Speckled Eggs.  Bunny Egg Cups.  Pastel Napkins.  Woven Placemats.  Blue and White Plates.  Maison Louis Marie Candle.
Bunny Egg Cups on eBay.  Another Style of Bunny Egg Cups.
Cabinet, breakfast table, and chairs from Arhaus.
When I think of Easter, I often think about how special and beautiful my mother always makes the holiday. She makes our family's recipe for dinner rolls, passed down from Welsh women one generation to the next; heat rising off them as they sit waiting in a bread basket. And she always has the most beautiful Easter baskets prepared. (Just like our stockings at Christmas, the adults are not forgotten!) In each Easter basket, my mother places a spring Steiff animal. Some years we've received baby chicks, lambs, or bunnies… The animals may vary, but we always look forward to finding them in our baskets Easter morning. This year, I was thrilled to incorporate some spring Steiff animals into our breakfast table decor. I can't help thinking little ones would be delighted by them!
Our breakfast table is where we eat most of our meals, so I usually decorate a tablescape in our dining room instead. But I knew I wanted to center my tablescape around these charming bunny egg cups I recently picked up; they are so quaint I knew they belonged on our rustic little breakfast table. The egg cups are currently only available in store, but I found one set on eBay and I also discovered another style of bunny egg cups I love. If you don't typically use egg cups, they're perfect for holding a soft-boiled egg steady as you tap off the top and dip your spoon in. When I was a little girl, my mother would make me a soft-boiled egg (four-minute boil) then cut a slice of buttered toast into thin pieces for dipping into the runny egg. They call this dish "egg and soldiers" in the U.K.
What Easter traditions do you celebrate in your family?
"Egg and Soldiers" Recipe Here