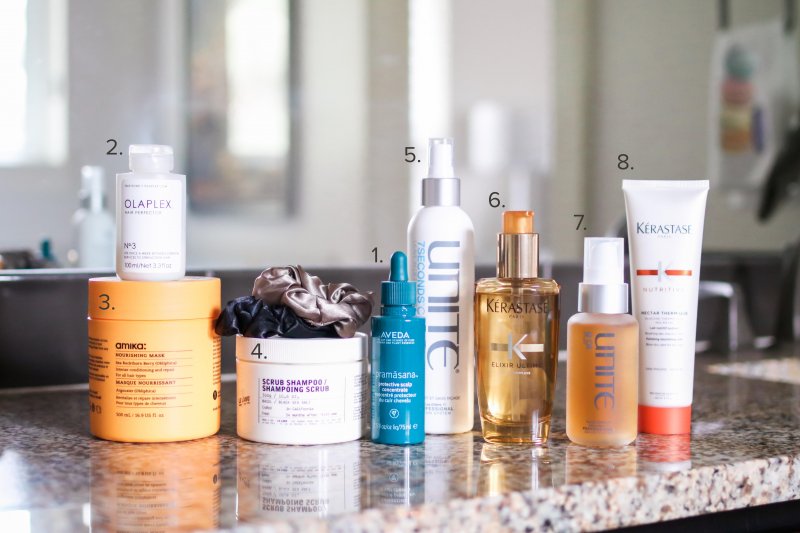 I didn't have dry, sensitive skin until I moved to Colorado. When I lived in the Midwest, my skin was combination-oily and I used to think people were insane for complaining about their dry skin. At the time, I was simply trying to keep my makeup from sliding around my face and fighting my hair falling flat in the oppressive humidity with a series of volumizing mousses and sprays. Quite frankly, dry hair and skin sounded like a dream to me. And then I moved to Colorado.
As I unpacked my boxes that first winter, I experienced the full-blown effects of Colorado's climate and I understood what 'dry skin' really meant. Within a few weeks my lips were split and bleeding, the tops of my hands were chapped, and my heels were cracked; my skin actually hurt. I remember thinking there was no possible way I could ever survive in such a dry climate, but I had already fallen in love with my Denver man and there was no going back, so I spent the next three years trying to find products that would save my hair, skin, and body from the dry Denver climate.
Products for dry and sensitive skin is one of the things I get the most questions about on social media, so I wanted to be sure this post was as comprehensive as possible to answer all your questions and help heal your hair/skin/body!
Details on the Sephora VIB Sale:  Only through Monday, April 23rd… Sephora VIB Rouge members can take 15% off their orders with code YAYROUGE, VIB members can take 15% off their orders with YAYVIB, Beauty Insiders can take 10% off with code YAYINSIDER. Shop now at Sephora.com.
Hair
1. Aveda Pramāsana Purifying Scalp Cleanser
Sometimes what we assume is dry scalp is actually just buildup from hair products. This scalp cleanser gently cleanses the scalp pre-shampoo and removes all traces of dry shampoo and hairspray buildup. If you do have a dry scalp (I tend to just have dry hair) you can apply the Aveda Protective Scalp Concentrate after your shower.
2. Olaplex Hair Perfector No. 3 Treatment
This healing hair mask is designed to strengthen and protect the structure of damaged hair. And it really works. This product healed my hair and helped me to go from blonde back to brunette. Once a week I like to apply this treatment to my dry hair halfway down to the ends, twist it up in a claw clip, and let this miracle product work its magic while I do things around the house before I shower. The longer I leave it, the better this product works!
3. Amika Soulfood Nourishing Mask
I love the scent and creamy-smooth texture of this hair mask. It doesn't heal my hair the way the Olaplex above does, but it does smooth ends and hydrate my hair. I like switching back and forth between the Amika and the Olaplex each week for soft, hydrated hair.
4. Le Labo Scrub Shampoo
This refreshingly gritty shampoo feels like a scrub for the scalp. Whether you have a dry scalp and need to exfoliate or you just have a lot of product buildup, this is a great product to add into your haircare routine. I like using this once a week to exfoliate my scalp, but my husband uses it nearly every day to help wash out his pomade.
5. Unite 7Seconds Leave-In Detangler
A huge part of keeping my hair hydrated is protecting it against breakage. After my shower, I spritz several sprays of this product halfway down and through the ends, then I comb through my damp hair with a wide-tooth comb. It smells refreshing and makes the comb glide through my hair like water while conditioning and protecting against breakage. I also like using this on second or third day hair to moisturize my ends.
6. Kérastase Elixir Ultime
I was introduced to this magical potion several months ago and it has changed my life! It's unlike any other oil I've used. I apply two pumps of this oil on my ends after the leave-in detangler. It heals and moisturizes my hair without weighing it down, making my ends shiny and soft. If I had to choose any product for my dry hair, it would be this one.
7. Unite U Oil
This is another hair oil I like to use. It's really just a personal preference between the two!
8. Kérastase Nutritive Nectar Thermique
This creamy hair treatment goes onto damp hair halfway down and into the ends after the detangler and oil. I use a quarter-sized amount. It smells incredible and it nourishes hair with lipids and proteins, making it soft and bouncy.
Hair Products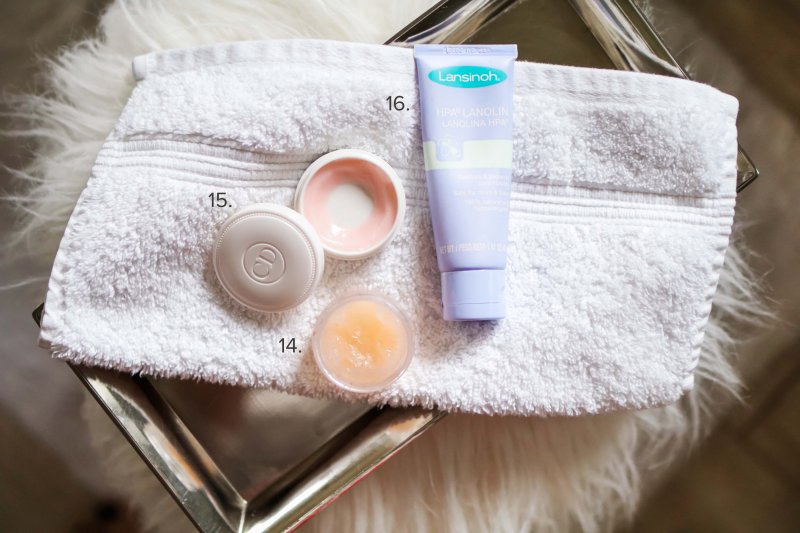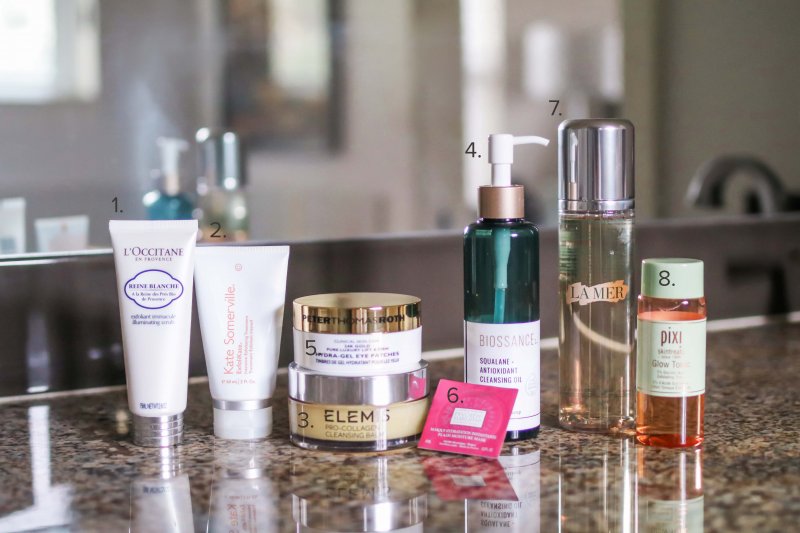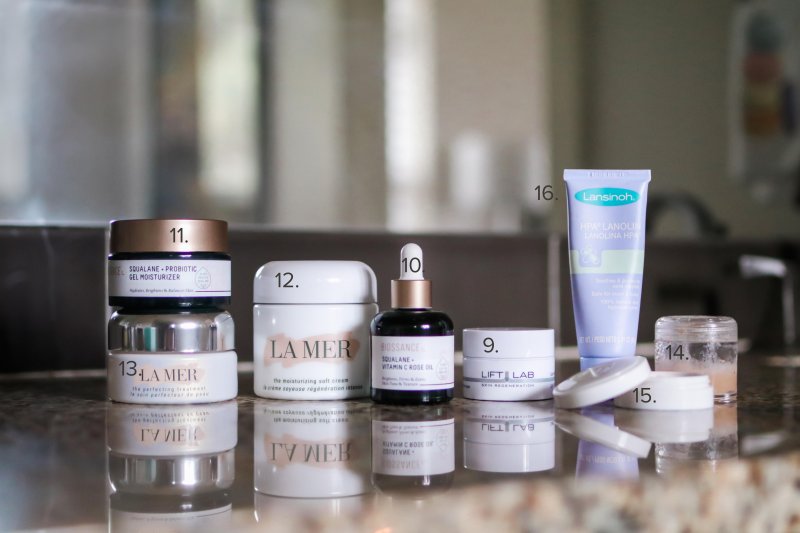 Skin
1. L'Occitane Reine Blanche Illuminating Scrub
This gentle scrub has the most perfectly sized exfoliating beads for a refined, smooth complexion. I use this every other day and I love the way it brightens and refreshes my skin.
2. Kate Somerville ExfoliKate
I apply this to my skin in the shower, gently rubbing it onto my face for about 20 seconds to activate the lactic acid and fruit enzymes that exfoliate skin, then leaving it on for 2 minutes in the steam. It's a great way to get brighter, smoother skin without the facial appointment.
3. Elemis Pro-Collagen Cleansing Balm
This luxurious cleansing balm removes dirt, makeup, and grime while moisturizing skin. Made up of rose and mimosa waxes and elderberry and starflower oils, this product smells like a trip to the spa. I like applying this to dry skin then splashing a little water on my hands and massaging to remove all my makeup at night.
4. Biossance Squalane + Antioxidant Cleansing Oil
This cleansing oil is moisturizing and gentle on my skin, but still manages to remove makeup and product. I like using the Cleansing Balm I mentioned above at night to remove makeup and then I use this in the mornings or daytime to cleanse my skin in the mornings and/or post-workout.
5. Peter Thomas Roth Hydra-Gel Eye Patches
These anti-aging eye patches are infused with 24K gold and colloidal gold to help lift and firm the eye area. I use these post-shower and leave them on for 10 minutes before I apply the rest of my skincare and makeup. They help hydrate and plump my under-eye area and provide a smooth canvas for my makeup.
6. L'Occitane Pivoine Sublime Flash Moisture Mask
I did a previous blog post with L'Occitane on these mask pods. They are little miracle workers that pack a punch. This Flash Moisture Mask is my current favorite because it hydrates skin in just 10 minutes. Try this mask before you apply your makeup, whether at night or in the morning; you'll love the glow they give your skin.
7. La Mer The Tonic
This is my daytime toner. I apply it after cleansing and it removes any trace amounts of makeup or product, tightens pores, and gently hydrates skin.
8. Pixi Skintreats Glow Tonic
This is the toner I use at night. It contains glycolic acid, which gently exfoliates to reveal healthy, glowing skin.
9. Lift Lab Lift + Firm Eye Cream
This eye cream is one of the only I've tried that actually improves my dark circles. The science behind it? Aquafill reduces wrinkles and Glucosyl Hesperidin and Niacinimide help to lighten dark circles. Try it for two weeks and I bet you'll notice your eye area looking brighter!
10. Biossance Squalane + Vitamin C Rose Oil
This silky, luxe oil is made from soothing rose oil and plant-derived squalane. Vitamin C helps our skin create collagen and fights free radicals. I love layering this product on after my toner and sometimes I even mix a drop or two in with my foundation for a more dewy, fresh look.
11. Biossance Squalane + Probiotic Gel Moisturizer
The perfect lightweight gel moisturizer for daytime use. Plant-derived squalane acts as a barrier against the loss of moisture during the day.
12. La Mer The Moisturizing Soft Cream
I fell in love with this luxe face cream as soon as I learned the proper way to apply it. Instead of smearing it all over your face, tap the product between your fingers until it emulsifies, then melt it into your skin. I like using this as my night cream but it also can soothe and soften dry skin during the day. It's incredible; there's a reason this product has a cult following.
13. La Mer The Perfecting Treatment
The perfecting treatment is an extra dose of hydration I like to apply after my daytime moisturizer. It softly blurs pores and creates a smooth canvas for makeup. This is a combination between a moisturizer and a primer. If you live in a humid climate, you may be able to
14. Sara Happ Lip Scrub
This brand has updated their packaging since I got mine, but it goes to show you how long this luxe lip scrub lasts. I keep mine in my shower and use it every day or so to exfoliate my lips. It removes dead skin, but it also contains soothing oils to help hydrate lips and prep them for lipstick application.
15. Dior Crème de Rose Balm
When I was looking for the link to this product, I realized they might this sitebe discontinuing it! I was only able to find it on and it's going for twice the price on eBay. It has a cult following because of its creamy, soft texture and beautiful light pink color. It smells like a dream and it gently plumps lips while protecting them with SPF 10. In other words, stock up.
16. Lansinoh HPA Lanolin
Bear with me here… This is nipple cream for breastfeeding mamas. I learned about this trick in the beauty program I was in. If you have cracked lips, there is nothing more soothing than lanolin. It's natural, safe, and heals and protects like nothing else. I keep a tube of this in my bag at all times and another in my bathroom cabinet to apply before bed.
Skin Products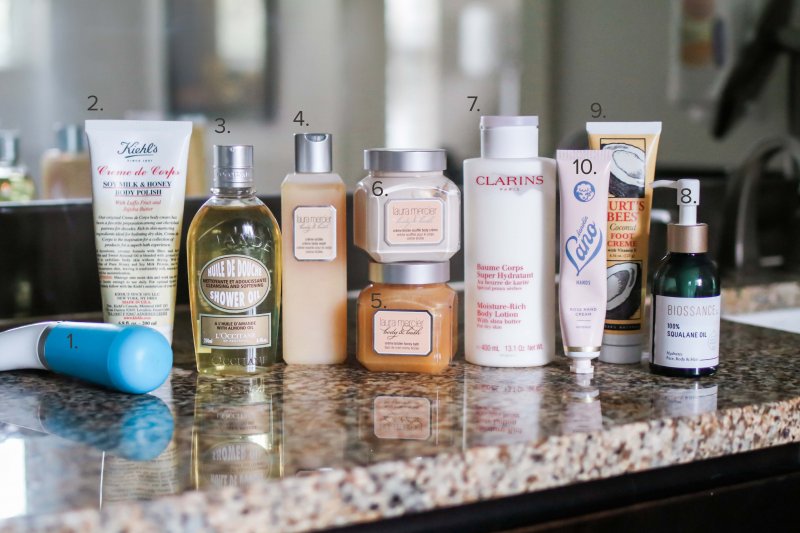 Body
1. Amopé Pedi Perfect
I know these things seem like one of those As Seen on TV products, but they really work. I've linked the new version that can be used both wet and dry; the earlier version I have can only be used on dry skin. I suggest sitting in your shower or tub and exfoliating your feet and heels while they are dry once a week or so. This tool works better than any foot file or callus remover I've tried before. Even pedicures often don't get my feet as soft as this does.
2. Kiehls Soy Milk & Honey Body Polish
This body polish really is a body polish; it's gentle, soothing formula differs from most harsh body scrubs on the market. Shea and jojoba butters and almond oil hydrate skin as you exfoliate, then honey and soy milk soothe and protect skin even after your shower.
3. L'Occitane Almond Shower Oil
This product is one of those 'game changers' we fall in love with and repurchase every 3 months; it will change your life if you have dry skin! This gentle almond oil transforms into a creamy foam with water, making it the most soothing and hydrating body wash you've ever tried. But my favorite way to use this is as a shave cream; when I shave with it, my skin stays moisturized even after my shower. It's incredible.
Note: It looks like Sephora only has the travel size in stock (perfect to try out) but if you'd like the full size, it's available here.
4. Laura Mercier Crème Brûlée Crème Body Wash
This is the more liquid, less moisturizing sister of the Honey Bath I've mentioned below. Both have the same incredible scent and both are hydrating. If you're having difficulty deciding, think of this version for showers and the below version for baths and gifting to others.
Note: This is typically available at Sephora, but is currently sold out due to the VIB sale so I've linked at another store where it is available.
5. Laura Mercier Crème Brûlée Honey Bath
My mom and I gift this product to each other every Christmas. It's our favorite because the luxe, honey-like formula hydrates skin with the most delicious crème brûlée fragrance. Drizzle a little into your bath (featured in this bath caddy blog post) or use it as foaming body wash when you shower. Like I said, it also makes the perfect gift!
6. Laura Mercier Crème Brûlée Soufflé Body Crème
If you're already addicted to the decadent scent of Laura Mercier's Crème Brûlée products, you need to add this thick, creamy body moisturizer to your collection. It's perfect for dry skin and I like to use it on hands, elbows, knees, and feet in the summer. The scent blends beautifully with most fragrances and… As a bonus, men love it.
7. Clarins Moisture-Rich Body Lotion
This silky body lotion is nourishing but isn't as thick as the Laura Mercier version above, so it's perfect for using every day. The delicately fresh scent is barely detectable, so it's perfect for using with other fragrances. I found my jumbo version here.
8. Biossance 100% Squalane Oil
Our body produces squalane naturally, but the amount decreases over time. Nourish your body with this plant-derived version. Sometimes I add a few drops to make my body cream less thick and more oily, sometimes I just apply this to extra-dry areas, and sometimes I apply this all over my body before bed. It's a great go-anywhere product to add into your routine.
9. Burt's Bees Coconut Foot Creme
This is the most healing product I've ever found for feet. It's not really a cream, but is more of a thick honey texture. Once a week after I use my Pedi Perfect I apply a thick layer of this to my feet and then wear soft socks to bed. In the morning, I wake up with the softest feet ever. This is a game changer!
10. Lanolips Lano Rose Hand Cream
This intense hand cream is made from a lanolin and rose oil blend that deeply moisturizes hands and leaves them soft and silky. I like to keep a tube in my handbag and one on my nightstand. Every night before bed I apply this to my hands and feet.
Included in VIB Sale

Hair Products

Skin Products

Body Products