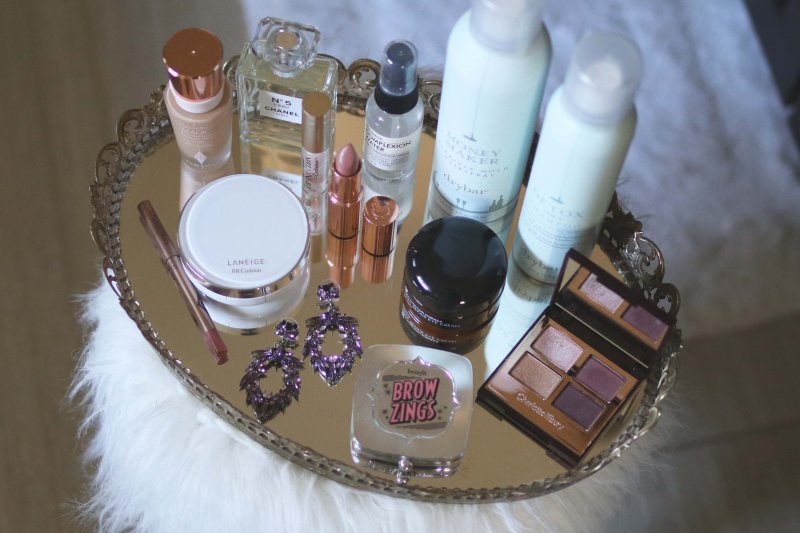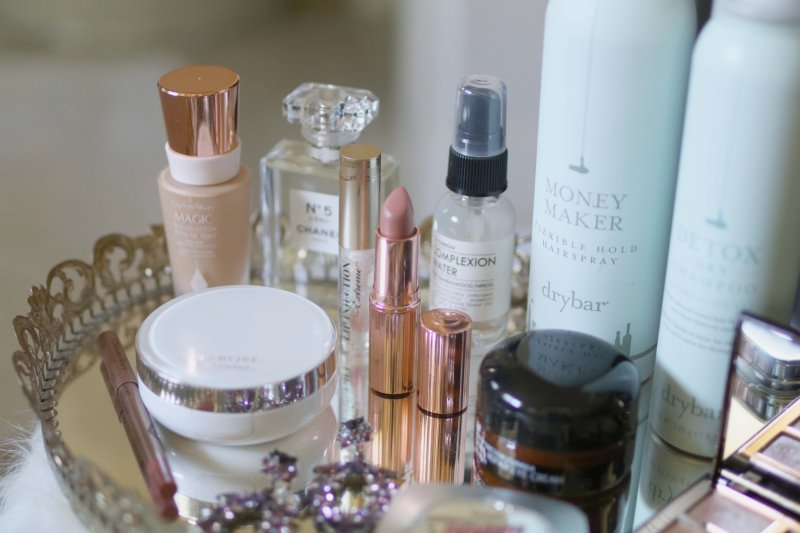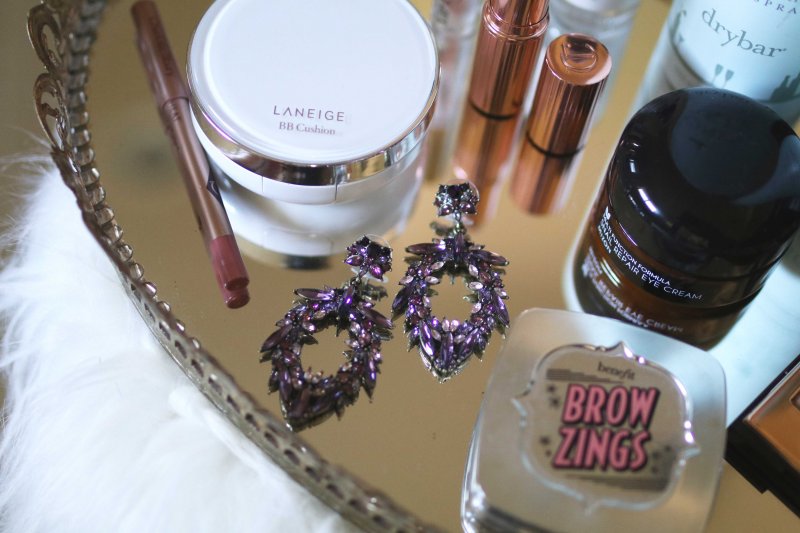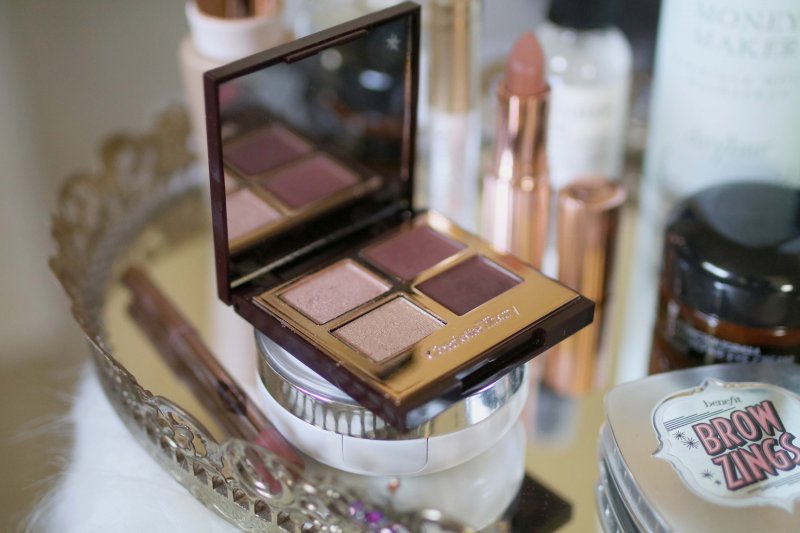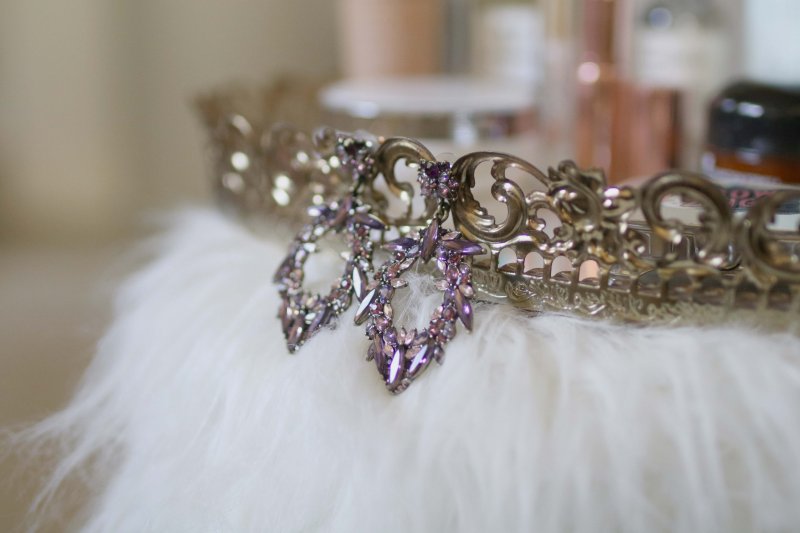 Blowout, Lashes, Tan, Nails c/o Glamour Bar Denver (Mention My Blog for $50 Off Lash Application)
Wipes.  Eye Cream.  Complexion Water.  Dry Shampoo.  Hair Spray.  Fragrance.  Cushion Makeup.  Magic Foundation.  Shadow Palette.  Brow Kit.  Lip Liner.  Lipstick.  Lip Gloss.  Earrings.
Water Babies Wipes
A special thanks to the woman I met at a recent event who told me about these treasures! I use them to remove my makeup at night and they leave my skin feeling fresh and clean without the greasy feeling so many makeup wipes leave behind. Bonus? I can use as many as I want without feeling guilty since they are so affordable.
Mizon Snail Repair Eye Cream
I grabbed this when I was looking for an inexpensive eye cream and I love the larger size in comparison to so many tiny eye cream jars I've often used. The creamy formula moisturizes and helps to hide my fine lines and dark circles.
Complexion Water
A light hydrating mist for the face made from pure essential oils of rose, sandalwood, and neroli. It smells like the most dreamy spa experience and is perfect for refreshing makeup and skin throughout the day.
Drybar Detox Dry Shampoo
I use this dry shampoo every day to keep my hair looking fresh between washes. It smells wonderful and the light texture doesn't weigh my hair down or make it chalky. If you prefer a dark version for brunette roots, you can find it here.
Drybar Hair Spray
This hair spray's flexible hold makes it nice and light, preventing hard and stiff-looking styles. I love how soft and bouncy my hair feels when I use this. It's light enough to be used throughout the day to fluff and rejuvenate hair.
Chanel No. 5 L'EAU
A modern, fresh, crisp take on the original Chanel No. 5, L'EAU features notes of lemon, mandarin, and orange then unfolds into a feminine scent with rose, jasmine, and ylang-ylang. I love wearing this every day as it's pretty and light without being overwhelming.
Laneige BB Cushion Makeup
This light cushion makeup with SPF 50 is perfect to wear every day. I'm in the color "Light Medium" and although it's technically a BB cream, I find this product really easy to layer and build wherever I need a little extra coverage.
Charlotte Tilbury Magic Foundation
This creamy, full-coverage foundation really lives up to its name. I've been using this as my photoshoot and evening makeup, or whenever I need a little extra coverage. Use a damp beauty blender to blend this out over skin and it will create the most beautiful, airbrushed finish.
Charlotte Tilbury Eye Shadow Palette
I've been using this eye shadow palette in "Vintage Vamp" nonstop lately. The gold and burgundy tones are perfect for fall and winter and mix beautifully with highlighted cheeks and a rose-colored lip.
Benefit Brow Zings Brow Kit
This brow kit includes both cream and powder brow color, mini tweezers, and a dual-ended brow brush. I'm in the color "3-Medium" and I use the angled side of the brow brush with both cream and powder brow products to create my brow look. I love that I have everything I need for brows in this one little kit.
Charlotte Tilbury Lip Liner
This lip liner in "Pillowtalk" is nearly the exact color of the lipstick I've linked below. The creamy texture and similar color allows me to slightly overline my lips and color them in before I apply lipstick and lip gloss, creating a nice plump look.
Charlotte Tilbury Lipstick
This beautiful rose-nude creamy lipstick in "Penelope Pink" is my current favorite. It's hydrating and soft on the lips and I find that it lasts longer than most lipsticks I own. Pair with the lip liner and lip gloss I've linked and you'll have a really gorgeous lip look flattering on nearly any skin tone.
Too Faced Lip Injection Extreme
I love the way this slightly shimmery lip gloss looks with the Charlotte Tilbury rose-nude lip duo. It really does plump lips; it tingles just a bit, then gives lip a fresh, plump look. It does work better with bare lips, but I find I still get a nice plumping effect when I layer it on top of other lip products.