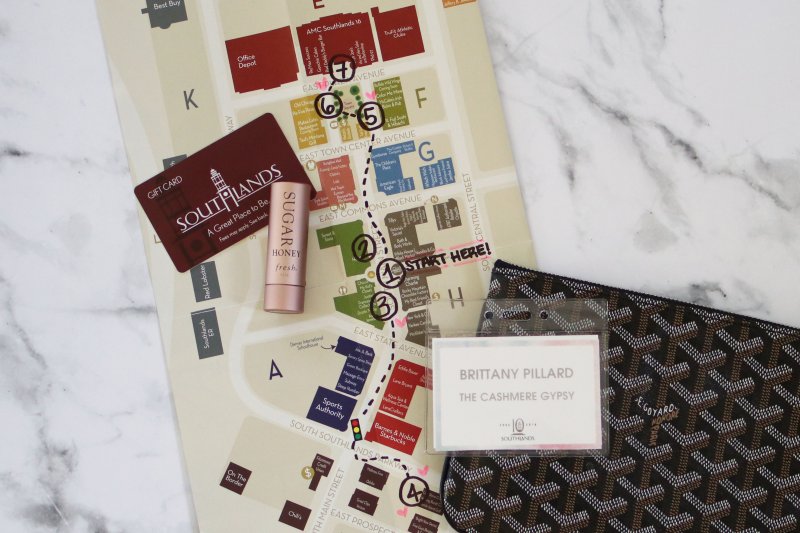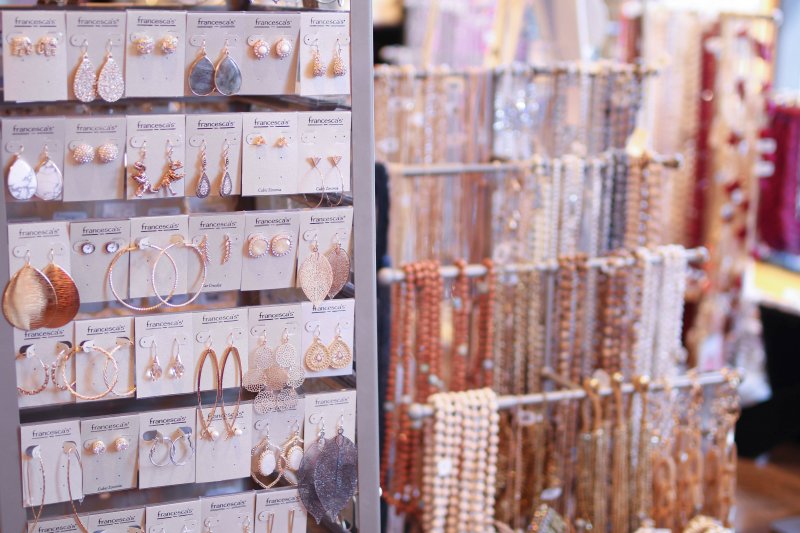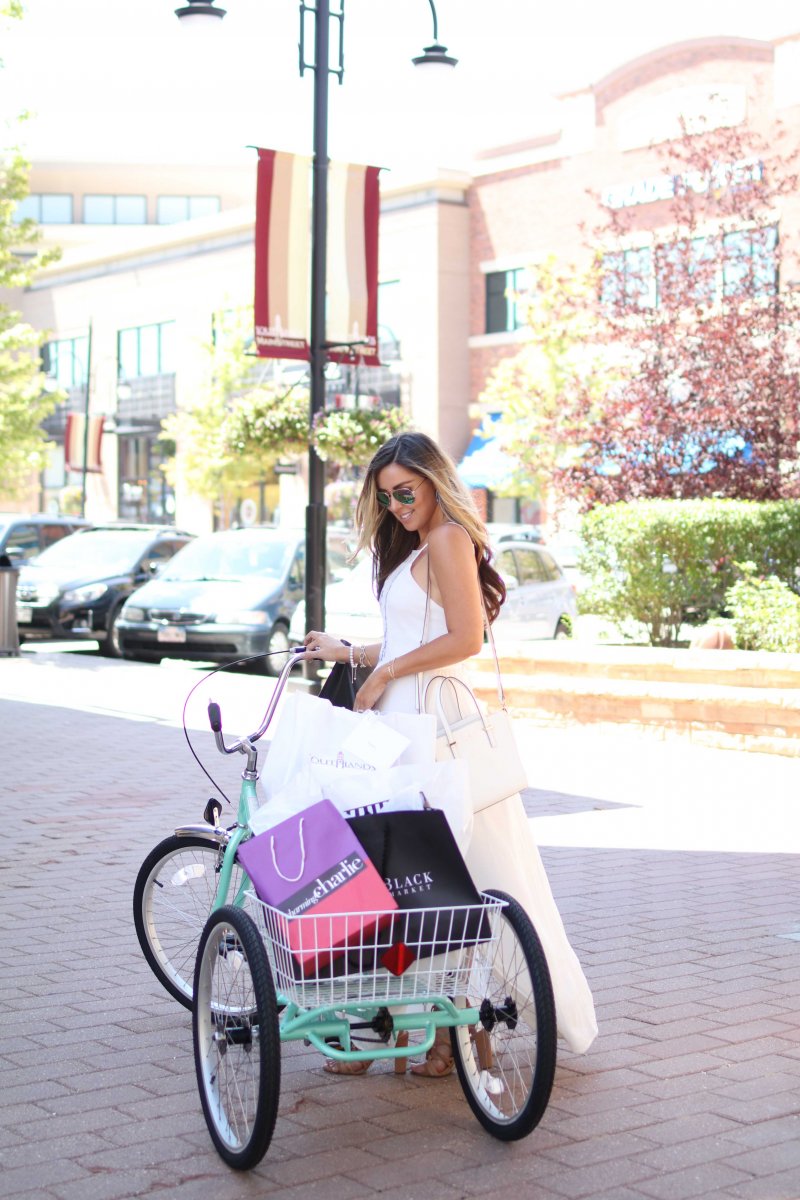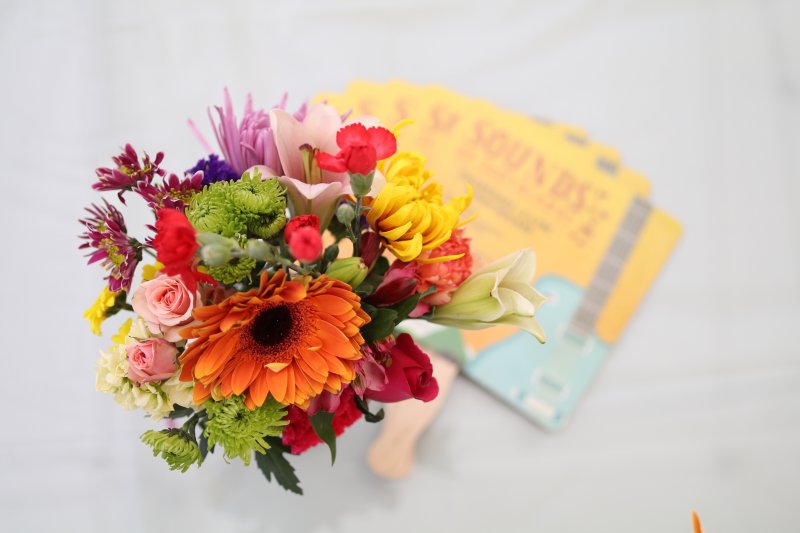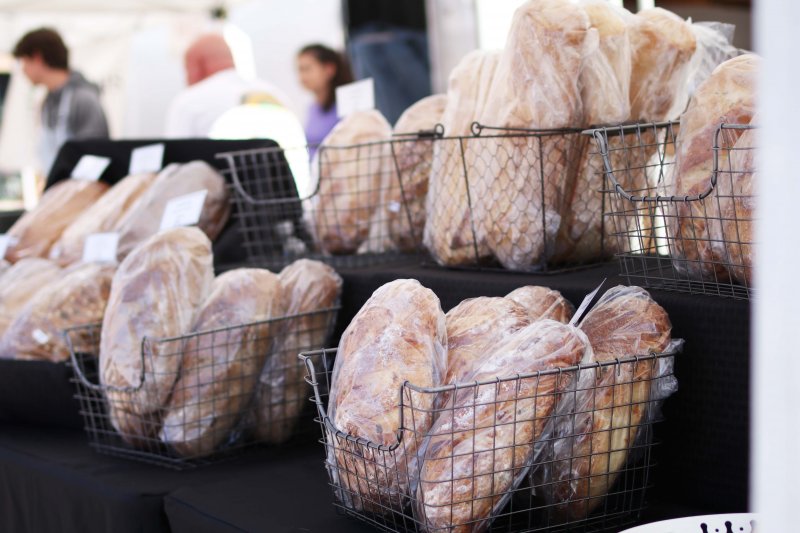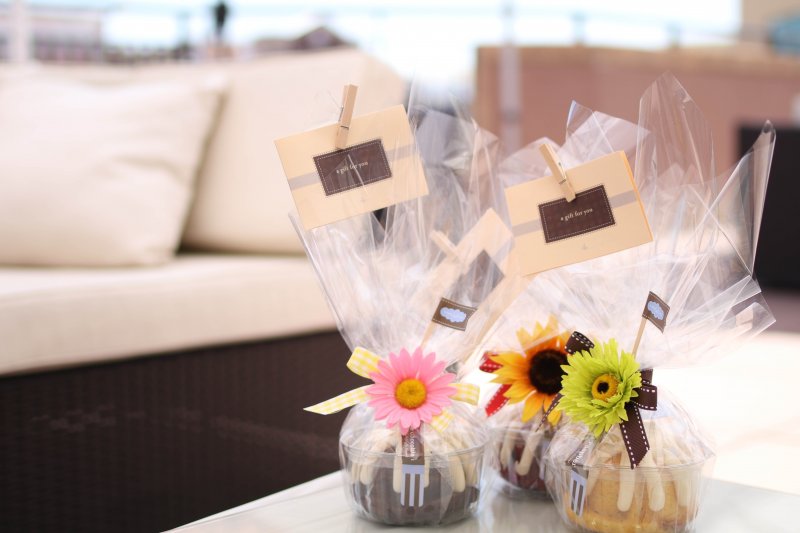 Some of my favorite reader questions and requests are the ones that challenge me to find a "look for less" or to style an entire outfit under a certain spend amount. I love pretty things, but I also know the importance of balance… And we all have to budget if we want this season's It Bag, right?!
Last week, some fellow Colorado bloggers and I had a fun day exploring Southlands beautiful outdoor shopping, dining, and entertainment options. In between iced blueberry-pomegranate tea at Legends and sweets at Fuzziwig's, I planned a date night and even added a few new pieces to my existing basics to create a fun date night look… And all for around $100.
If you're in the Denver area, Southlands Shopping Center is a great place to find lots of affordable options from clothes and accessories to beauty and books. They have a nice selection of restaurants, as well as outdoor activities, a large movie theater, and nighttime entertainment, so it's the perfect place for date night.
1.  Pedego Electric Bikes
Southlands is the largest shopping center in Colorado. And if you like heels as much as I do, a girl can get tired while shopping! I grabbed one of these darling Pedego bicycles to help me carry all my goodies while I shopped. Pedego has bicycles and electric bicycles for both sale and rent; but the electric one is the serious game changer, albeit dangerous for the budget. (Just think of the damage we can do if we're cruising from shop to shop at 20 mph with a large basket to hold all our shopping bags… Pretty much endless shopping stamina!)
2.  H&M
H&M is an essential stop if you're looking to stay within a budget; I can always find cute pieces here at affordable prices and it's one of the first shops I mention when readers ask me where to find inexpensive options to work into their wardrobe. I found the sweetest cream-colored dress for our date night and styled it with some black leather accessories to add a little edge.
3.  Francesca's Collections
Francesca's is always a favorite of mine when I need a specific jewelry piece and can't seem to find it anywhere. They have a huge selection and a variety of styles, so it's easy to find a piece that works with my outfit. This time, I found these dainty gold earrings with suspended ivory drusy stones… They complemented my dress perfectly.
4.  Nothing Bundt Cakes
These little bundt cakes come in the most delicious flavors (chocolate and lemon are my favorites) and they have the perfect amount of icing on top. The "bundtlet" cakes are portioned well for two people, so I snagged one of these to share with my husband for our date night dessert.
5.  Farmers Market
On the weekends, Southlands has a farmers market set up around the Town Square area and I bought the ingredients for one of my favorite picnic meals; freshly baked bread topped with creamy goat cheese and sliced peaches. The texture is lovely and the flavors work well in warm summer weather.
6.  Outdoor Picnic
That evening, my husband and I enjoyed my farmers market finds and the sweet little bundt cake outdoors at a little patio table overlooking Southlands' Town Square. It's such a charming little spot, especially at night… The string lights twinkle overhead and live music echoes across the square.
7.  AMC Southlands 16
We ended our night with a movie at AMC Southlands. When we walked in, I was pleasantly surprised to see that moviegoers could order healthier in-theater dining options like crispy brussels sprouts, quinoa bowls, and sushi rolls. And I don't think I've ever seen theater seats so huge and cozy in my life; my husband usually despises sitting through movies and he didn't complain once.
**Tip… Matinee tickets are always less expensive and are often offered until 5 PM.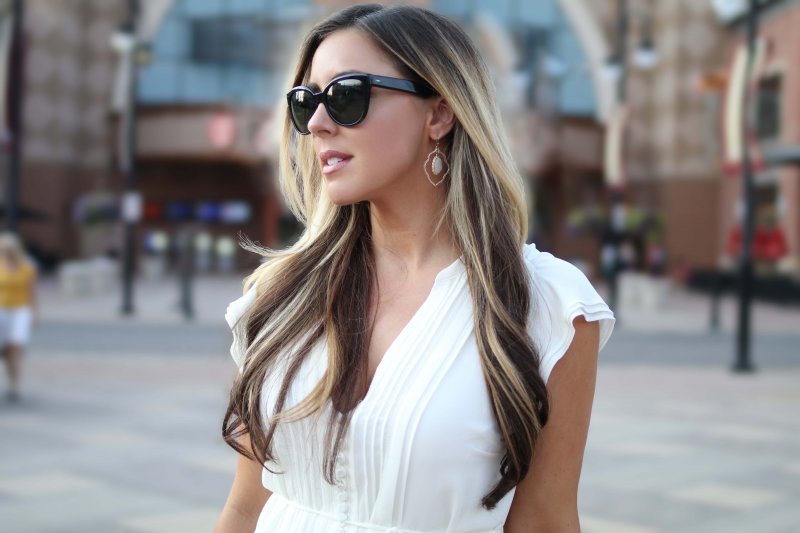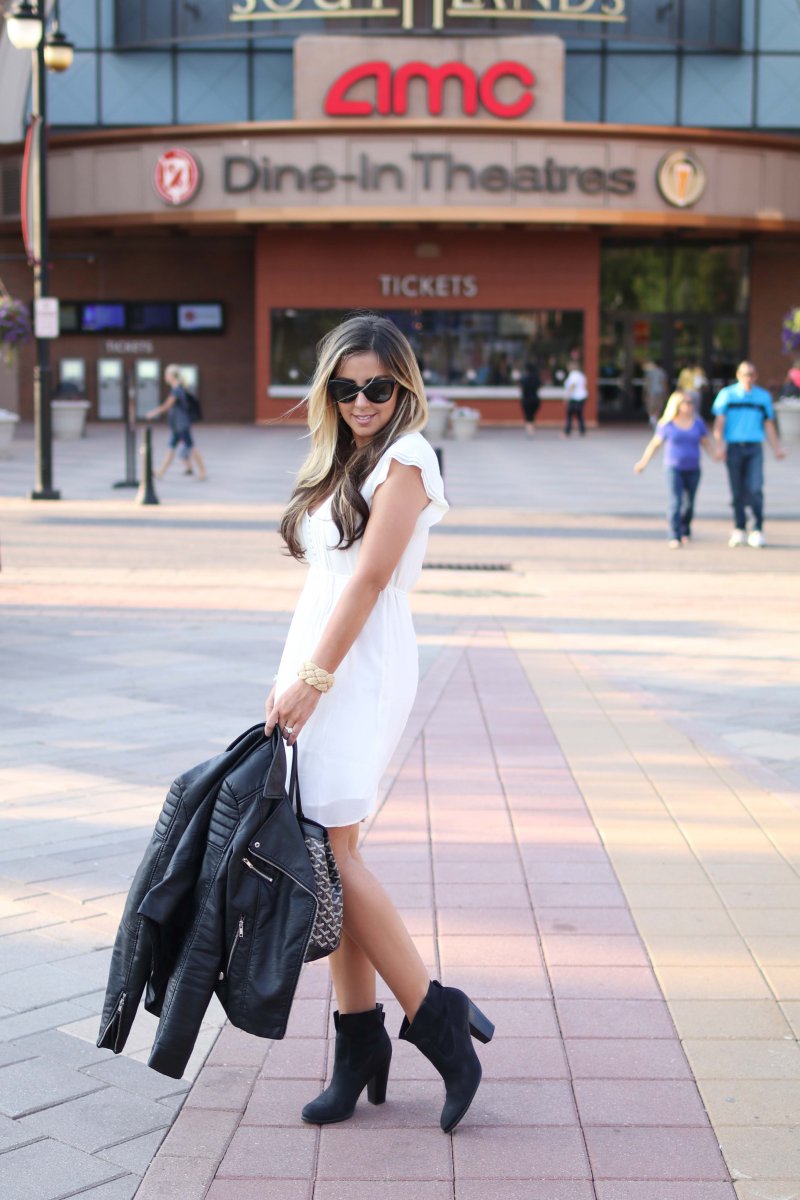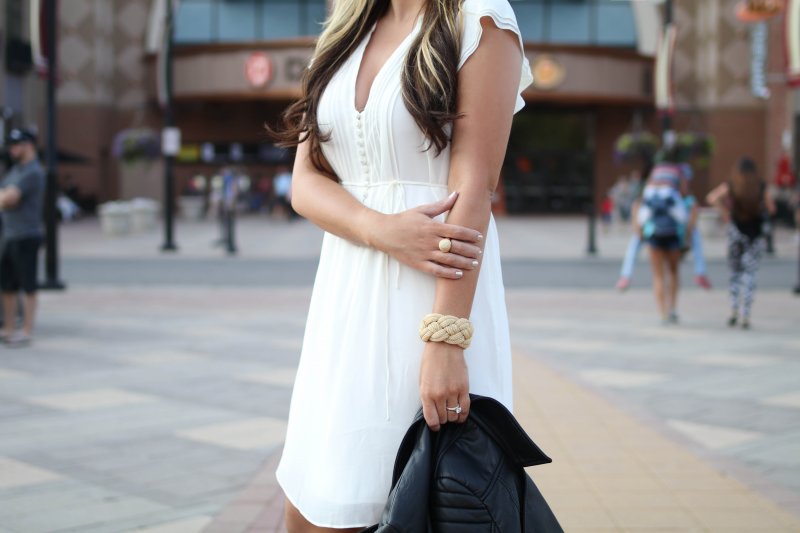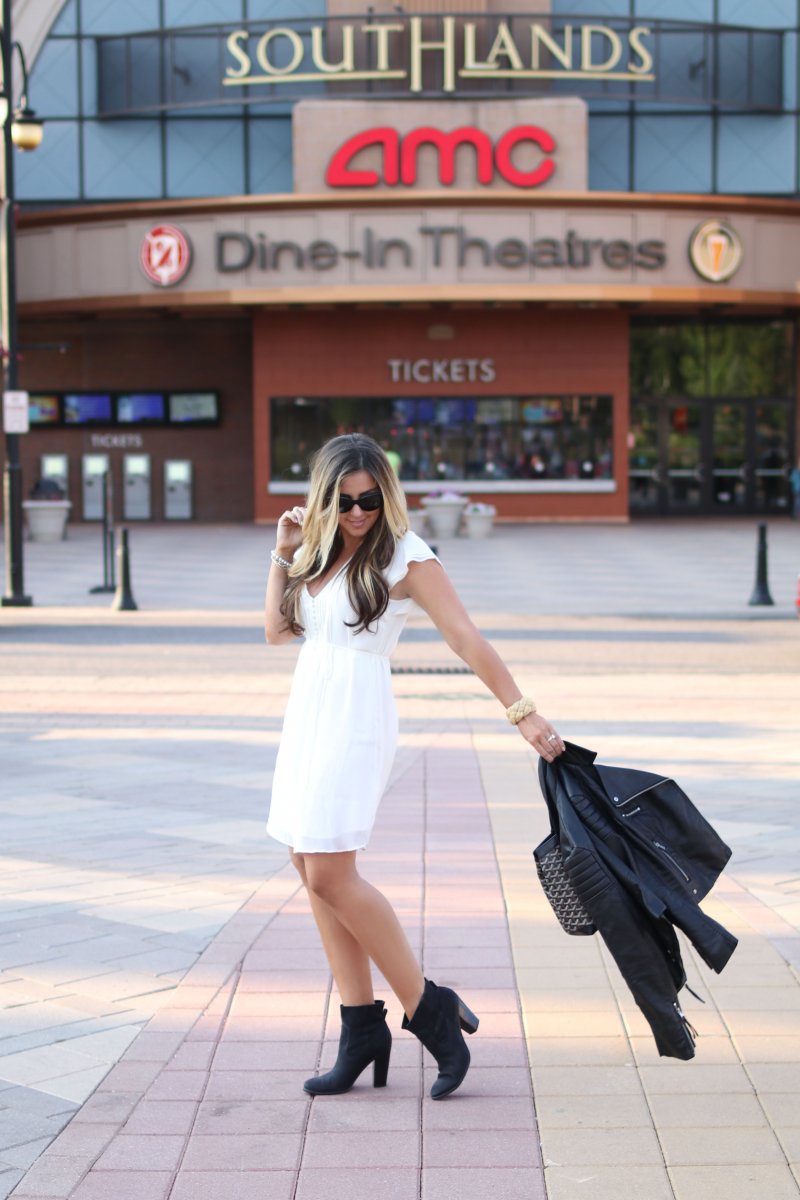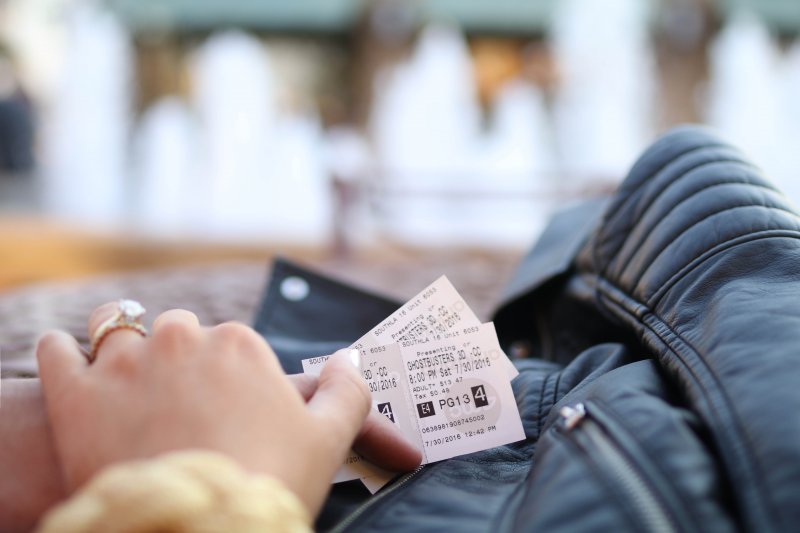 Sunnies.  Earrings.  Similar Jacket.  Goyard Bellechasse Bag.  Similar Booties.  Gold Bracelet.  Gold Ring.
Similar Dresses:  Here.  Here.  Here.
This dress has such sweet, feminine details with its fluttery sleeves and tiny buttons down the front of the bodice. It's also really flattering on the body because of the deep 'v' neckline and the curve-creating tie waist. It runs a bit small; get one size up. I like it toughened a little with black leather accessories like my jacket and booties.
I wasn't able to find this dress online, but I'll keep checking and will link it for you if it ever goes up on HM.com. I found three similar styles for you: this similar tie-waist dress, one with butterfly sleeves, and one with open detail on the neckline.
** Tip… Dresses are a great option if you're on a budget… You only have to purchase one item and you're able to get an entire new look. They're also versatile because they can be layered with your existing accessories like hats, jewelry, jackets, and scarves.  Add a slouchy sweater for a top-and-skirt look.