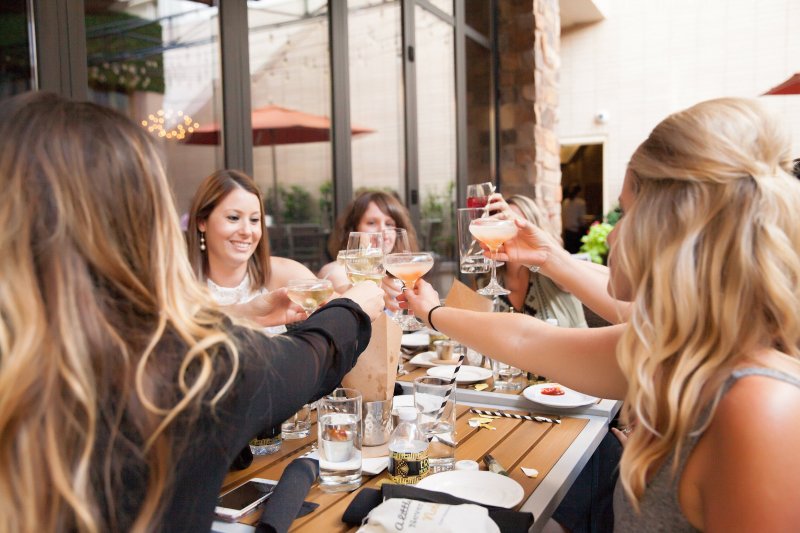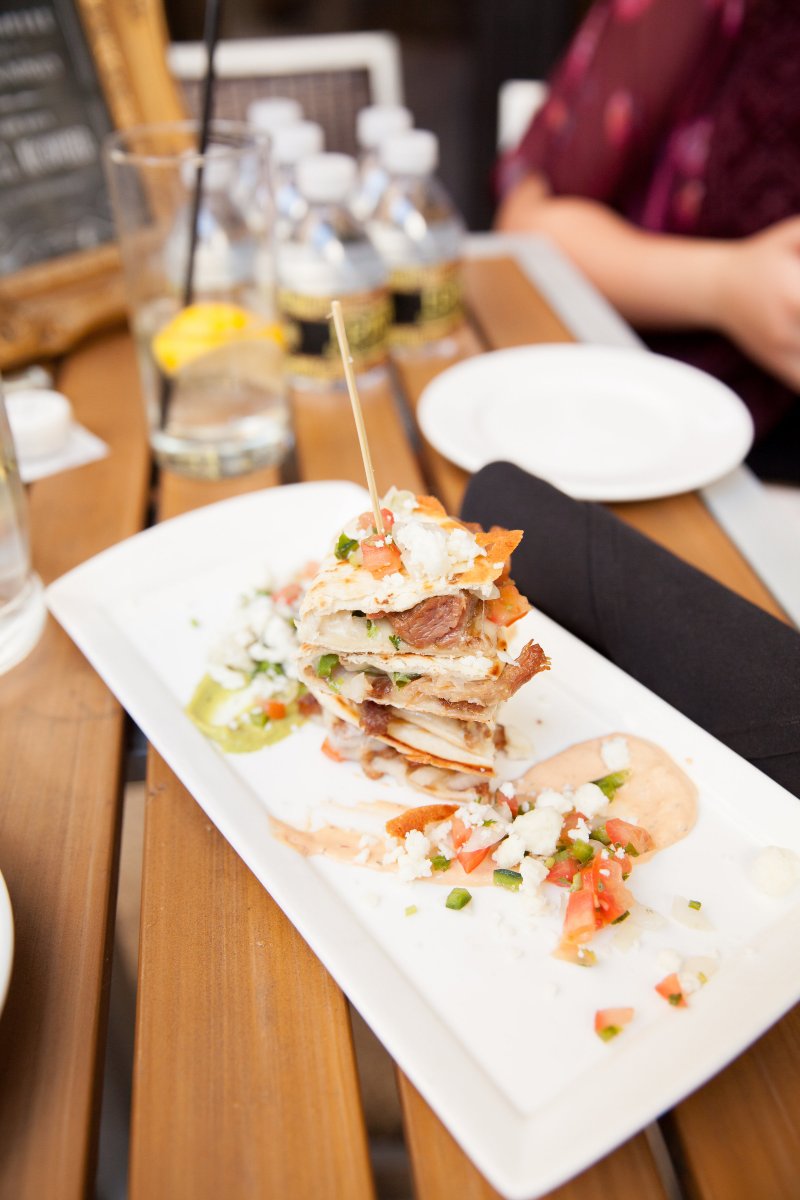 I hosted my friend's bachelorette party here in Denver last week and I've been friends with her my whole life, so the pressure was on for the weekend to be perfect! I spent so much time planning this event and the timing and activities went off without a hitch, so I thought I'd share the itinerary in case any of you were thinking of a girls' weekend here in Denver.
I've included everything from where to go and when to what to order once you're there. Stay tuned for more bachelorette posts going over the decor + details and guest gift bags!
Friday
5:00 – 8:00  Appetizers + Drinks at Second Home
Second Home – 150 Clayton Lane, Denver – 303.253-3000 – website
Yours Truly Cupcake – 3047 Larimer Street, Denver – 303.638.3528 – website
We started the weekend at one of my favorite places in Cherry Creek; Second Home in the J.W. Marriott hotel. It's a bar + restaurant with a gorgeous little courtyard hung with twinkling lights and a glowing stone fire pit. It's worth getting there early to snag a table in the courtyard.
We kicked off the weekend with bridal games and a lingerie shower, so you could probably cut the three hour time allowance down a bit if you're not doing anything like that. However, the courtyard is a great spot for photos with its natural lighting and pretty lights… It's not hard to spend extra time there!
Everyone was a bit hungry from traveling and getting ready, so I had pre-ordered some of Second Home's delicious comfort-food-style hors d'oeuvres for us to share. Order the Sweet Potato Fries, Hummus Plate, Colorado Meatballs, Tator Tots, and the Couch Potatoes (sweet potato chips with the most incredible dip)… They're delicious!
We ended our time at Second Home with a pink champagne toast complete with gold, glittery cupcakes from Yours Truly Cupcake, my favorite bakery in Denver. The cupcakes were even adorned with tiny, edible pearls and perfectly coordinated with our 1920's themed party.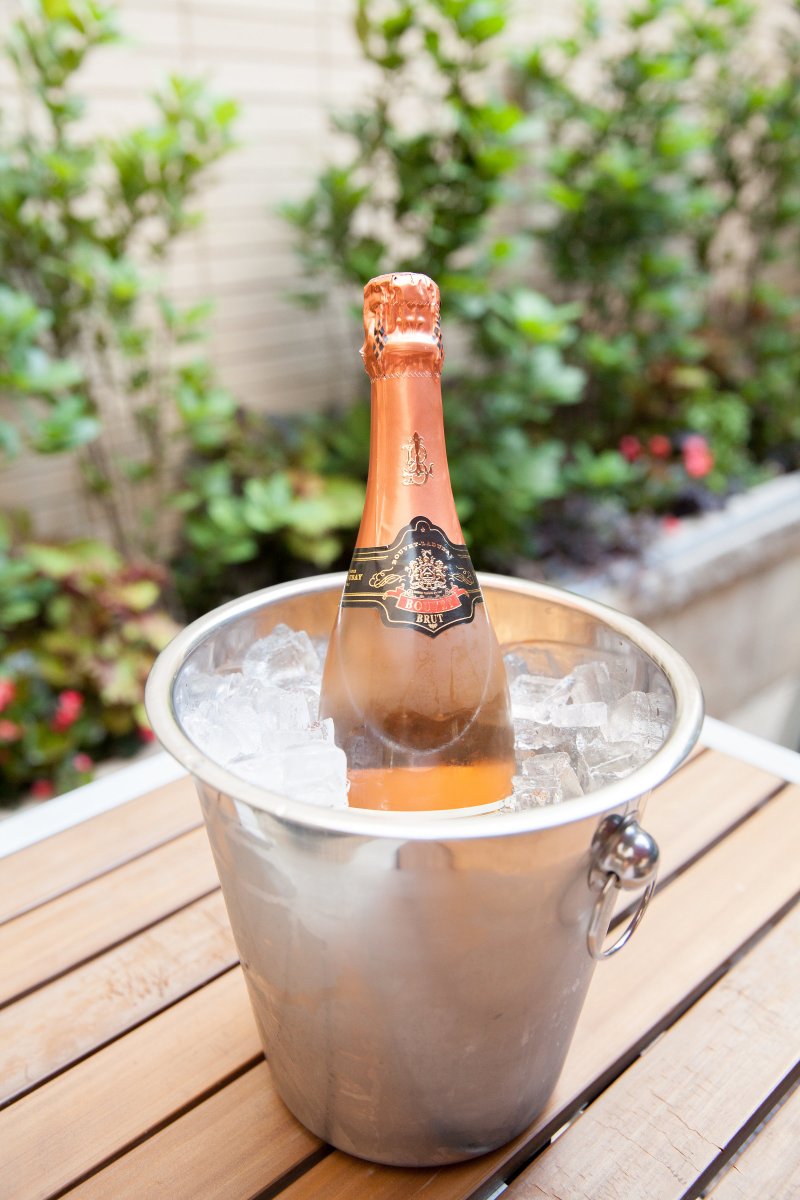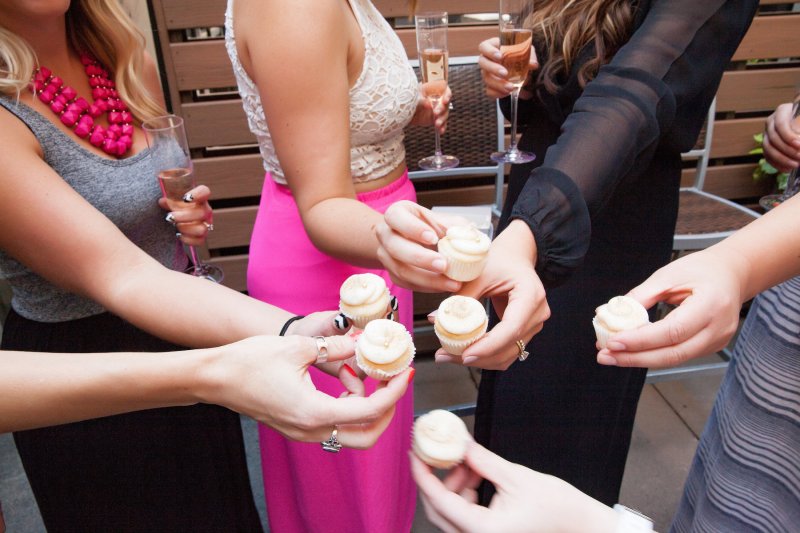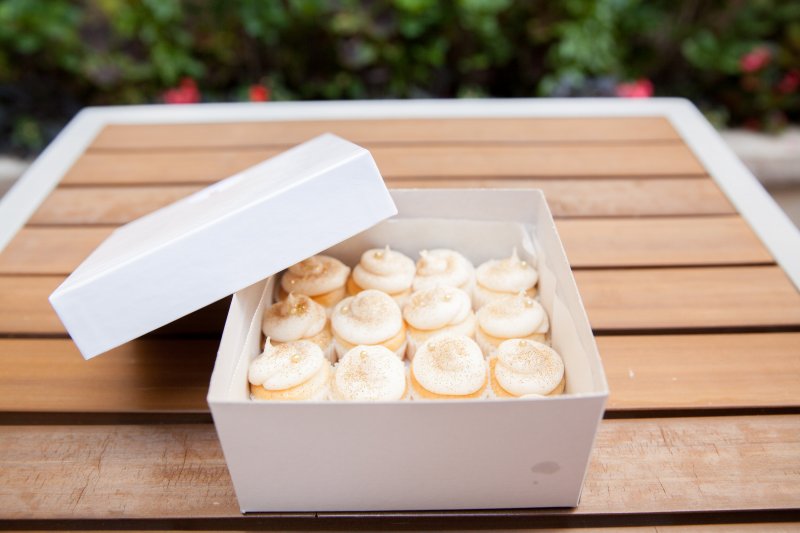 Glitter Cupcakes c/o Yours Truly Cupcake
8:30 – 1:00  Dinner + Drag Show at M's Uptown
M's Uptown – 700 East 17th Avenue, Denver – 303.832-1833 – website
We hopped in an Uber and headed to another part of Denver for dinner and the drag show at quirky M's Uptown. Be sure to reserve a table weeks in advance… The place fills up incredibly fast. Get there a bit early (the show starts at 10 PM) and you may even be able to talk the host into switching tables for a better view.
Another perk of an early arrival at M's is the ability to place your food + drink order before the place gets packed. The American-style dining is surprisingly delicious for a place that looks more like a bar than a restaurant… Our table raved about both the mixed salads and the burgers.
Equal parts comedy show, lip syncing sing-along, and costume contest, the drag show at M's Uptown is not one to disappoint. I've been to drag shows in bigger cities and I have to say, this one in Denver was the best I've been to. It's a fun way to sing and laugh to the girliest music with your girlfriends (while cheering on men that can dance in heels far better than I do).
Saturday
9:00 – 10:30  Breakfast at Snooze
Snooze – 1701 Wynkoop Street, Denver – 303.825.3536 – website
Depending on the early risers in your group, you may want to plan on breakfast in the morning. Snooze is a Colorado favorite and there is a location in Denver's newly renovated Union Station, just down the street from the next stop on the itinerary. Union Station is worth a walk-through, either before or after the DIY activity.
I would suggest ordering the Pancake of the Day to share with the table if you're really hungry. And if you're just in the mood for coffee, Snooze has a great Caramel Latte. Pig Train Coffee (also in Union Station) is a nice alternative.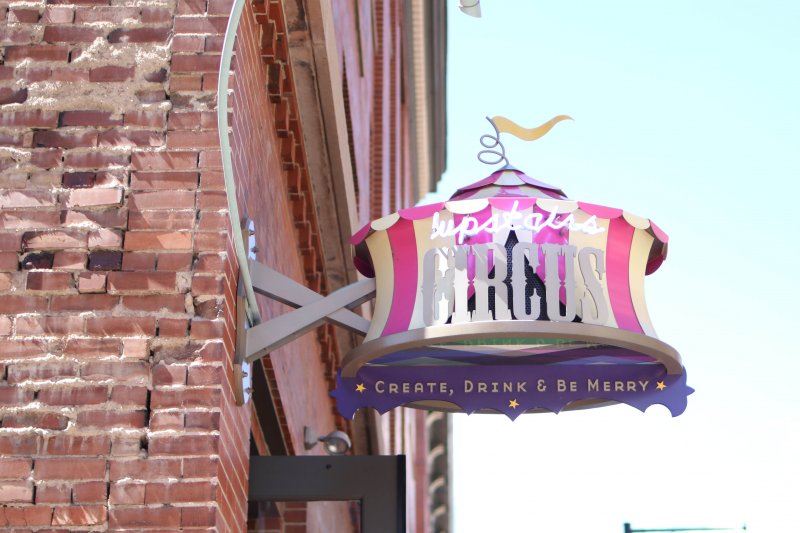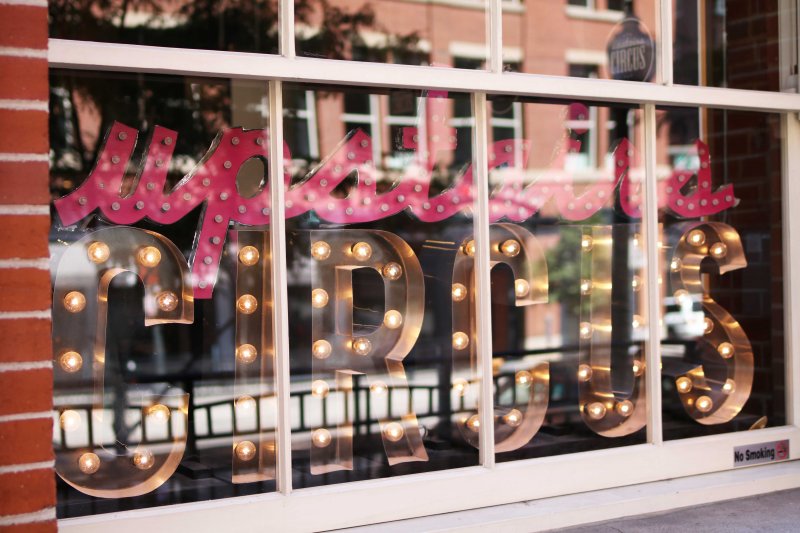 11:00 – 1:30  Mimosas + Crafting at Upstairs Circus
Upstairs Circus – 1500 Wynkoop Street, Denver – 720.722.2105 – website
This is an activity that pleases everyone in the group – the artsy girls will love making the creative Pinterest-style crafts Upstairs Circus provides. And the others will enjoy making one of the easier crafts, then watching everyone else finish up while they sit back and enjoy complimentary popcorn and bottomless mimosas. I made a stamped gold necklace and the bride-to-be painted a vintage-looking Audrey Hepburn canvas.
A couple words of wisdom? Reserve your spots ahead of time, as the place fills up quickly with bridal showers and bachelorette parties. And pay attention to each project's suggested skill level and time allowance; projects can take anywhere from 1 to 2 hours.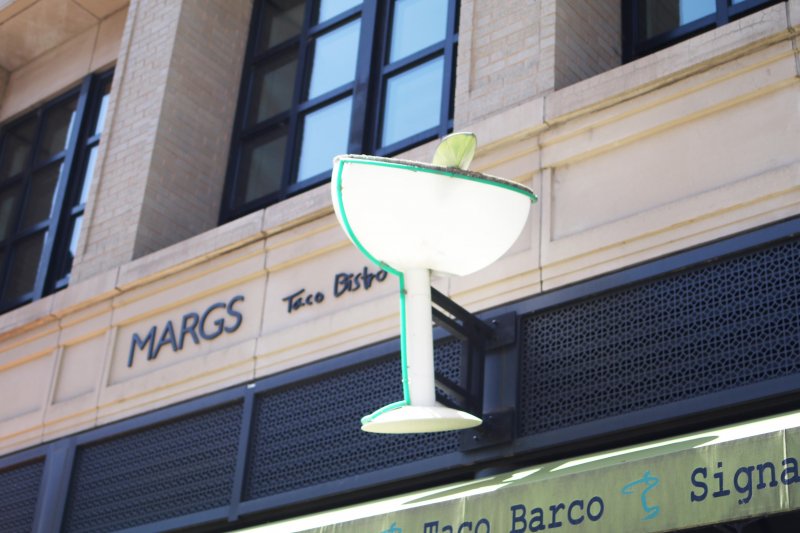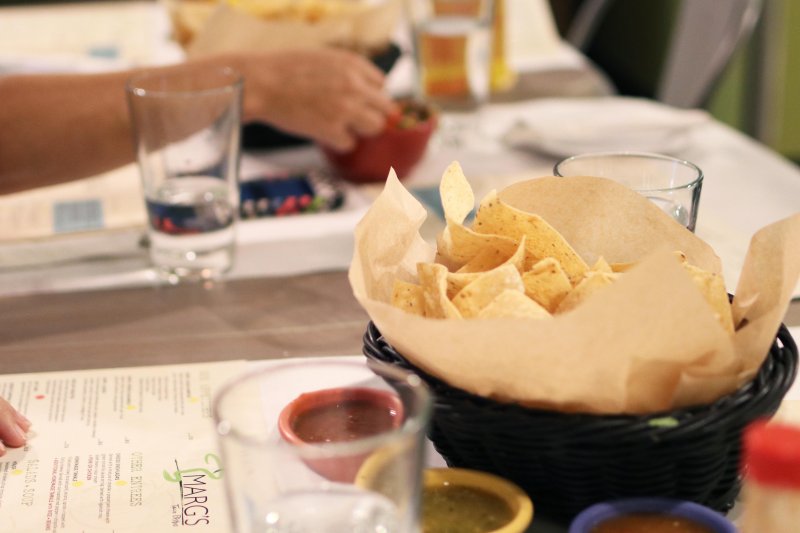 1:30 – 3:00  Lunch at Marg's Taco Bistro
Marg's Taco Bistro – 1519 Wynkoop Street, Denver – 303.534.6274 – website
Right across the street from Upstairs Circus, this little taco spot is my favorite in Denver. The chips and queso are addictive, and I always order the Caprese and Calle tacos. Sometimes the restaurant is packed and other times it's quiet, but make a reservation just to be safe.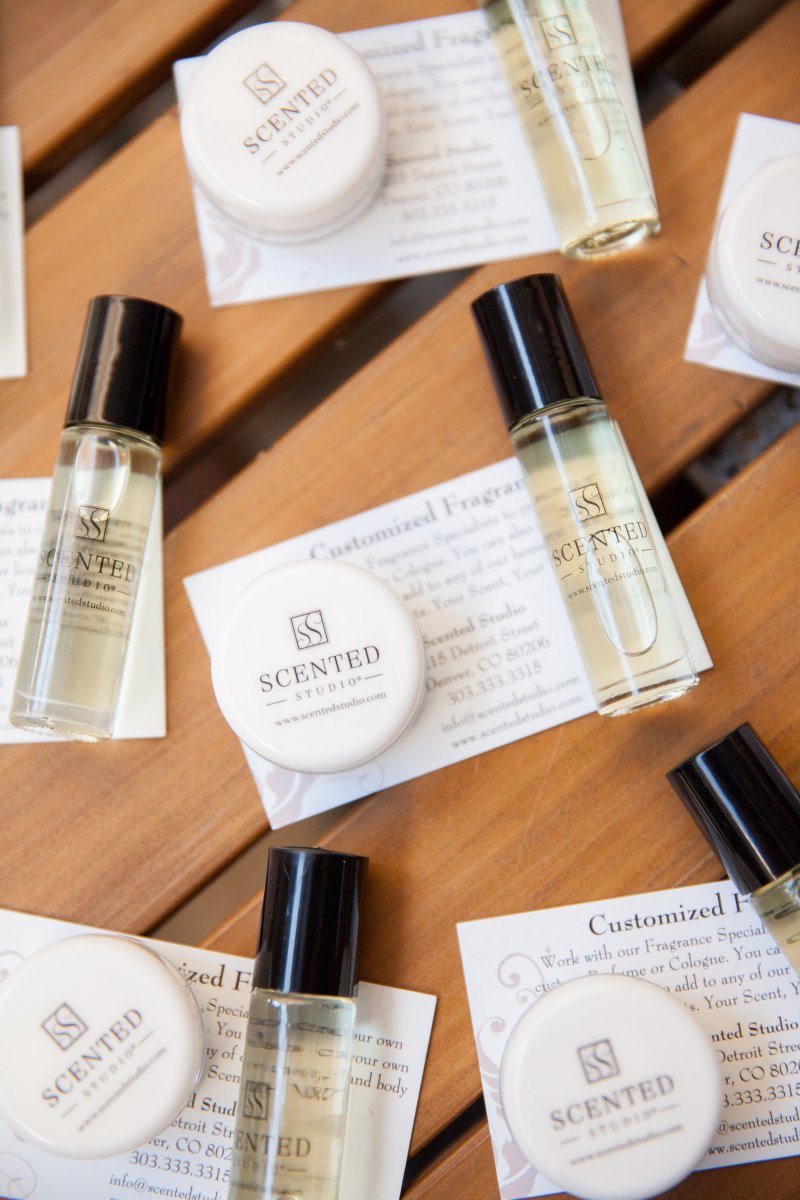 "Cashmere Gypsy" Fragrance Rollerballs c/o Scented Studio
3:30 – 6:30  Free Time in Cherry Creek
Cherry Creek Shopping Center and Cherry Creek North
I adore the Cherry Creek area of Denver; it's so charming and easy to walk around. Cherry Creek has plenty of shopping, entertainment, salons and spas, restaurants, and coffee shops. The girls staggered going back to the hotel and getting ready so it wouldn't be too chaotic in the hotel room and everyone could have their time to spend shopping or doing activities.
Scented Studio – 215 Detroit Street, Denver – 303.333.3315 – website
**Updated Address – 3437 S. Broadway, Englewood – 303.333.3315
Scented Studio is a beautiful little fragrance shop where you can shop for high-quality fragrance products or create your very own custom fragrance with the One-On-One Custom Fragrance/Cologne Experience. You can also book the venue out for the Scented Journey Workshop or the Scented Studio Oil Table Experience, both of which allow your guests a professionally-guided experience to create their own custom fragrance or bath/body/home products. Remember my Insta Story/Snapchat when my fellow Denver bloggers and I were  learning about fragrances and designing our own? We did the Scented Journey Workshop and Oil Table Experience.
It's such a fun experience and the women at Scented Studio will guide you through the whole process until you're thrilled with your custom fragrance. Mention our blogger party to get 25% off your own custom fragrance. And if you want, you can even call them (they ship!) and purchase my signature fragrance Cashmere Gypsy – a sexy floral, or Cashmere Gypsy 2 – a lighter floral that complements it. I'm so obsessed with mine, I've worn them both every single day since I created them.
DryBar – 3290 East 1st Avenue, Denver – 303.242.3515 – website
Finish off the afternoon with a fresh blowout at DryBar, a style-only salon in Cherry Creek. Be sure to book your appointment through an app on your phone in advance. A few tips?? Ask for a double shampoo… It gives extra volume and makes your style last extra long. My favorite styles are the Southern Comfort and the Cosmo. And I sleep with my hair on top of my head and touch it up with dry shampoo each morning to extend my blowout as long as possible.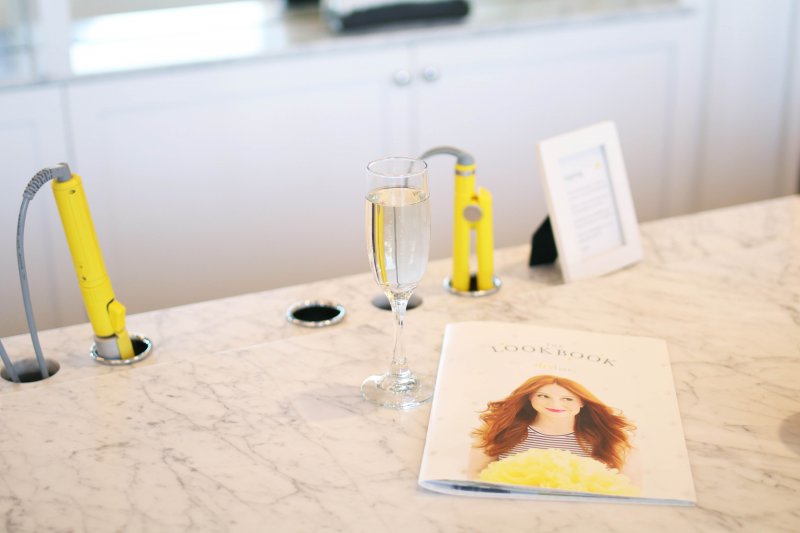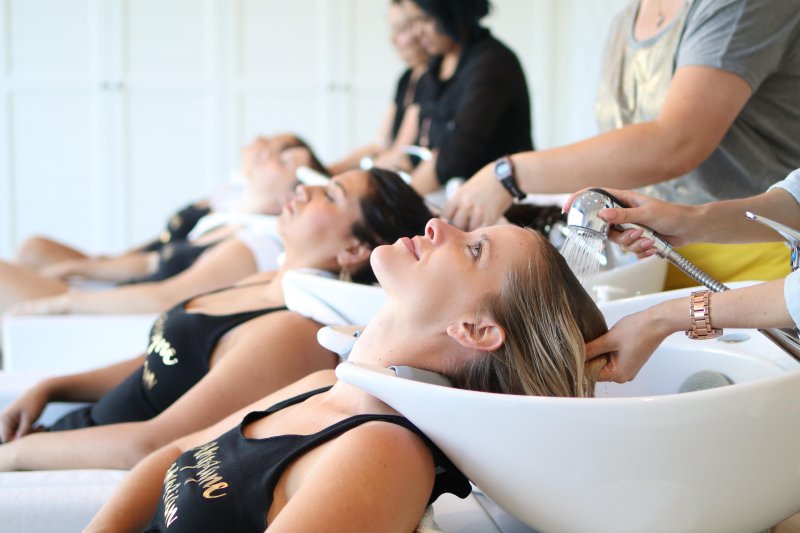 7:15 – 9:15  Dinner at Del Frisco's Grille
Del Frisco's Grille – 100 St. Paul Street, Denver – 303.320.8529 – website
Del Frisco's is a modern steakhouse with delicious cocktails and scrumptious desserts. When you reserve your table, request to be seated on the rooftop upstairs… It has the prettiest views of the Cherry Creek area and the large tables have long, glowing fire pits in them. My favorite things to order? The white sangria, ahi tuna tacos, and kale salad. It's a great place to start the evening, snap some photos, and maybe even play a bridal game or two.
9:45 – 12:00  Dancing at Tracks Nightclub
Tracks – 3500 Walnut Street, Denver – 303.863.7326 – website
My favorite spot in Denver for dancing, Tracks always has fun themed events and the best music in Denver. There's a main room that plays everything from Britney and Whitney mixes to Katy Perry and Taylor Swift. A smaller room plays older music and is heavy on the disco tunes. It's definitely a fun spot and it's worth bottle service just to have a spot to sit down, rest your feet, and relax as the club can be quite crowded on weekends.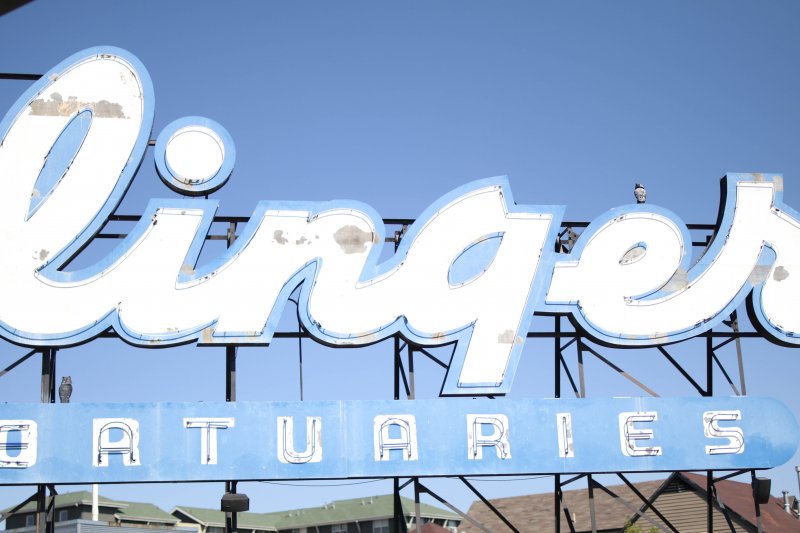 Sunday
10:00 – 12:00  Brunch at Linger
Linger – 2030 West 30th Avenue, Denver – 303.993-2130 – website
A restaurant operating out of a renovated funeral home sounds a bit morbid, but taste the food and check out the 1970's-chic decor before you judge Linger. Nestled in LoHi, Linger offers rooftop dining with incredible views. The food is unique and eclectic; my favorites are the chorizo tacos and hot donut holes. It's the perfect spot to rest your dance-weary feet and refresh from a long night out. Be sure to make your reservation early… It's a popular spot on the weekends.
Photography by Miranda L. Sober and Myself