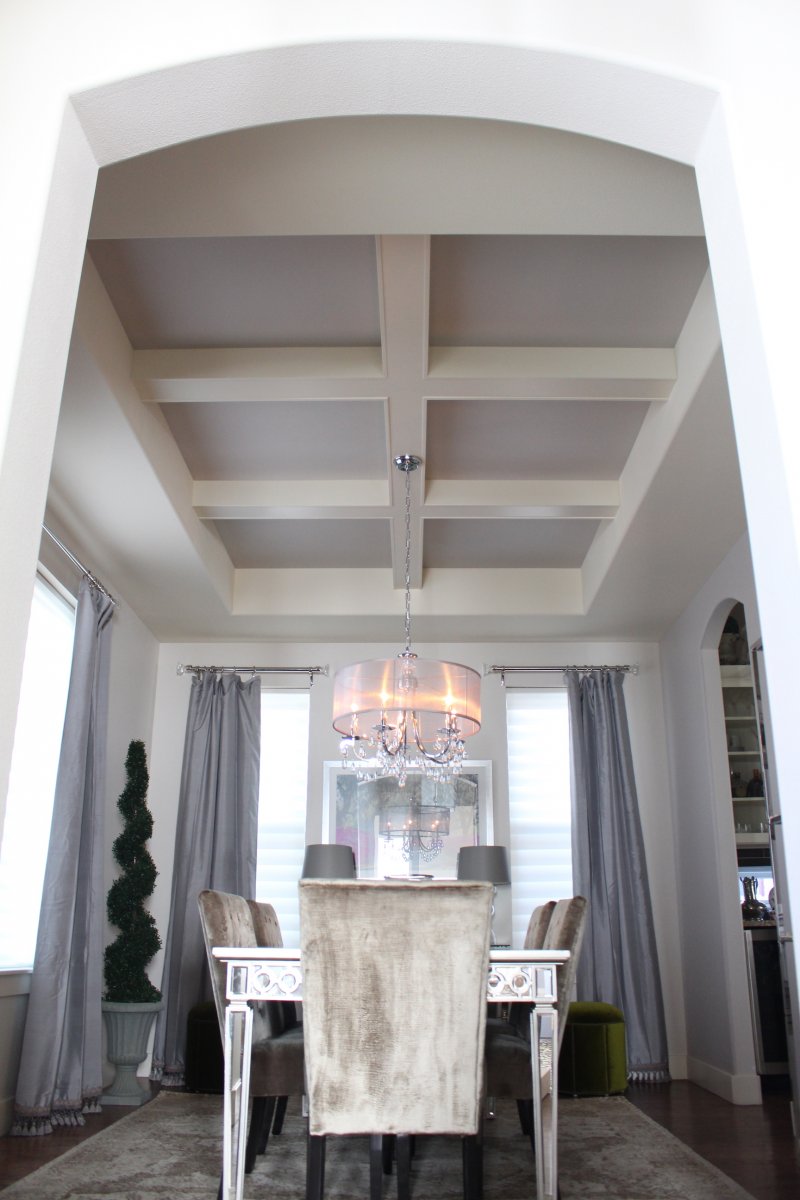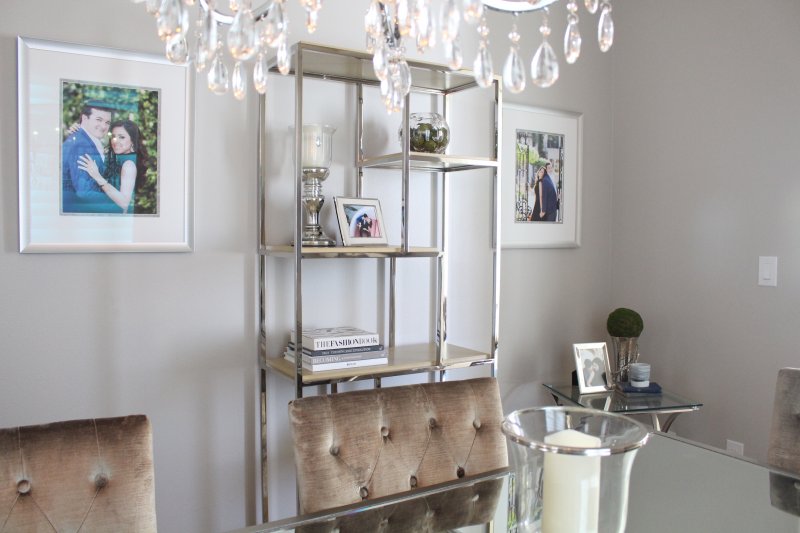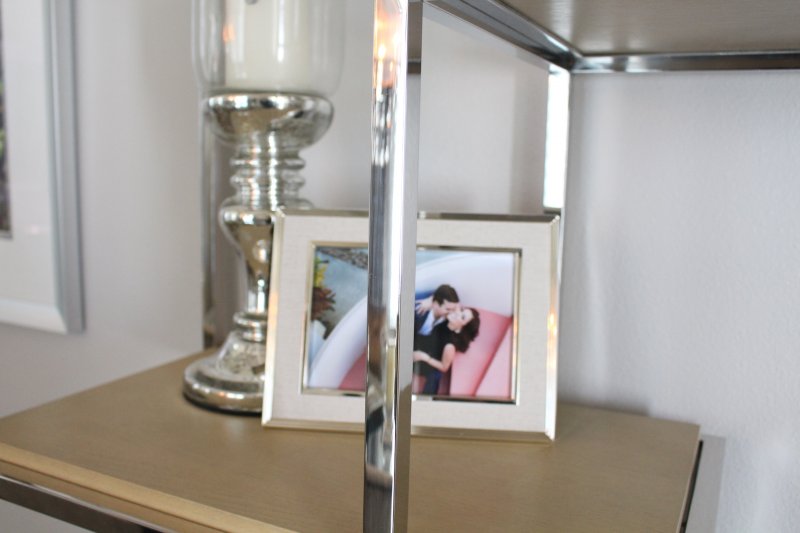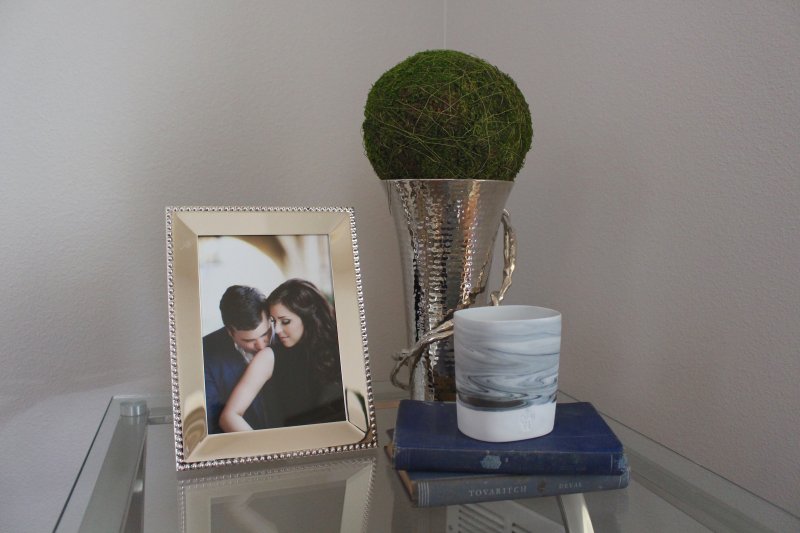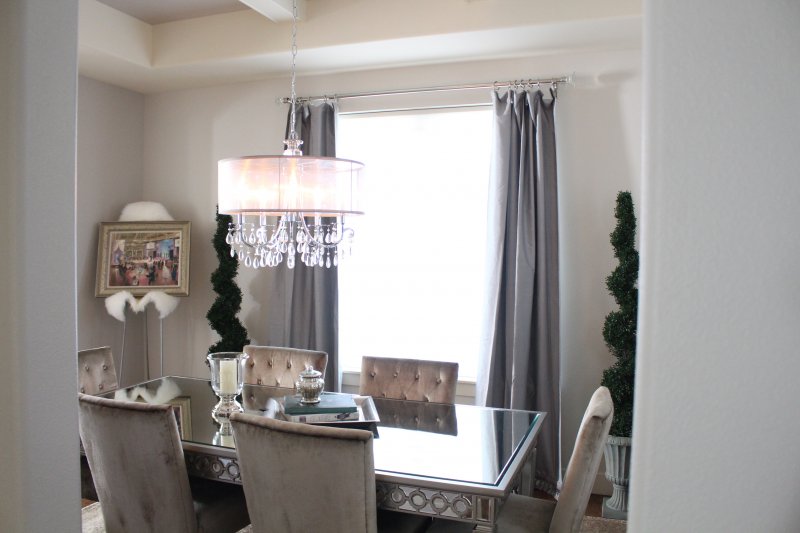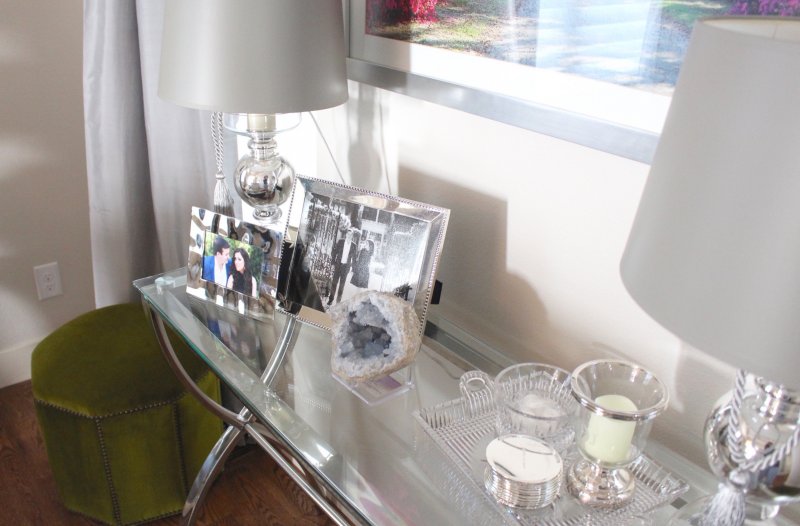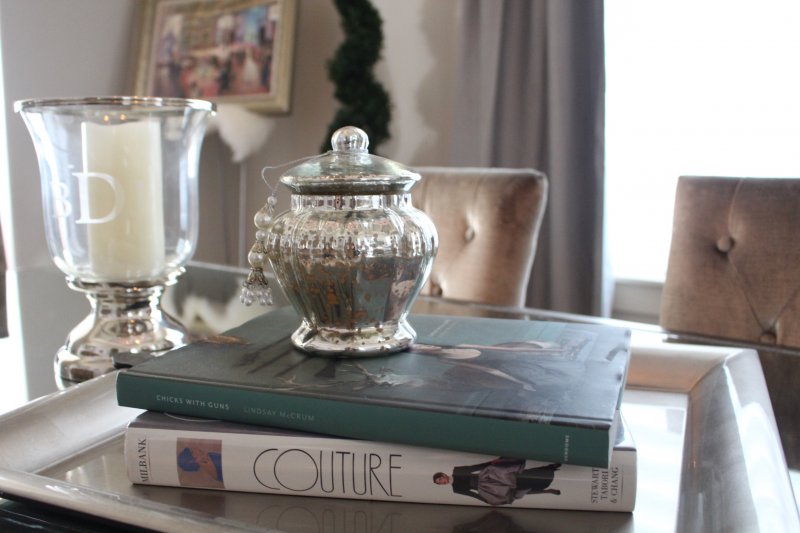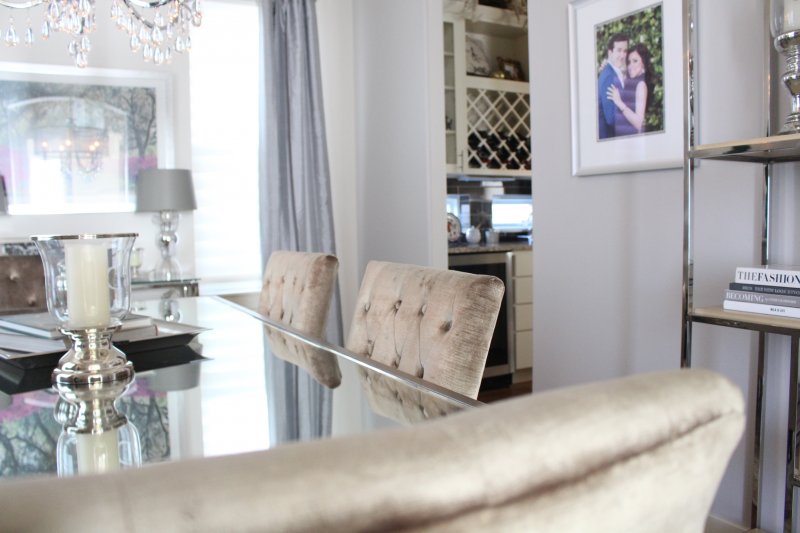 Curtains (I added 2 layers of tassel trim from Hobby Lobby).  Drapery Rods.  Drapery Hardware.  Topiaries.  Chandelier.  Mirrored Dining Table.  Dining Chairs.  Rug.  Gray Lamps from HW Home.  Chrome Bookshelf from HW Home.  Velvet Tuffets from HW Home.  Wedding Painting.  Sheepskin Rug.  Painting Easel.  Vintage Books.  Diptyque Candle.
We've been in our home nearly 2 years now, but it's taken me nearly that long to tackle our decor. Our dining room is the first room you see when you enter our home and it's bothered me so much to see it so unfinished. I made a list and worked on the items one by one.
I wanted the room to be primarily neutral with pops of bright green and shining chrome. I utilized some of my more modern furniture from L.A. and mixed it with more classic pieces and various textures (velvet, fur, silk, tassels) to create a more comfortable, traditional feel to flow with the rest of our home. It's not easy to blend different styles of furniture, but by maintaining a mostly neutral palette and mixing textures, the transition can occur more easily.
One of the things I love most about this room are the personal touches. I framed many of the engagement photos we took on Worth Avenue in Palm Beach and I love the bright colors they bring into the room… Each time I look around, I think of that day and how much fun we had. We had a live painter at our wedding reception and his work of art capturing our first dance rests on an easel in the corner as a focal point. Many of the frames and objects in this room were wedding gifts and it makes this space even more special to us.
When I posted about our guest bedroom on my previous blog, I suggested keeping future goals in mind when decorating a room and I mentioned various upgrades I wanted to layer in – a television in the armoire, an accent chair in the corner, luxe-looking curtains, a crystal chandelier. I don't have many upgrades in mind for this room, but I have been thinking about wall sconces near each topiary and tie-backs for the curtains at the small windows.
Something I found to be a huge help with hanging drapes and installing lighting is the TaskRabbit. If you've never heard of it before, get ready, because it will change your life. Need someone to wait for a delivery? Need someone to grab a few groceries for you? Need someone to help you move furniture, even just around your room? TaskRabbit is like a personal assistant in your pocket. You can download the app here.
As a thank you to my readers, TaskRabbit is giving you $20 off your first task using the code CASHMEREGYPSY. The coupon is valid through 1-1-16.
If you're interested in more decor ideas, check out our guest bathroom… Inspired by the calm, beachy vibes of Palm Beach and featuring framed vintage maps and postcards I found from the area. On my previous website, I featured our relaxed vintage guest bedroom to showcase how decor doesn't have to break your budget. If you follow me on Snapchat (username brittanypillard) you probably saw the easy upgrades I made to it lately.