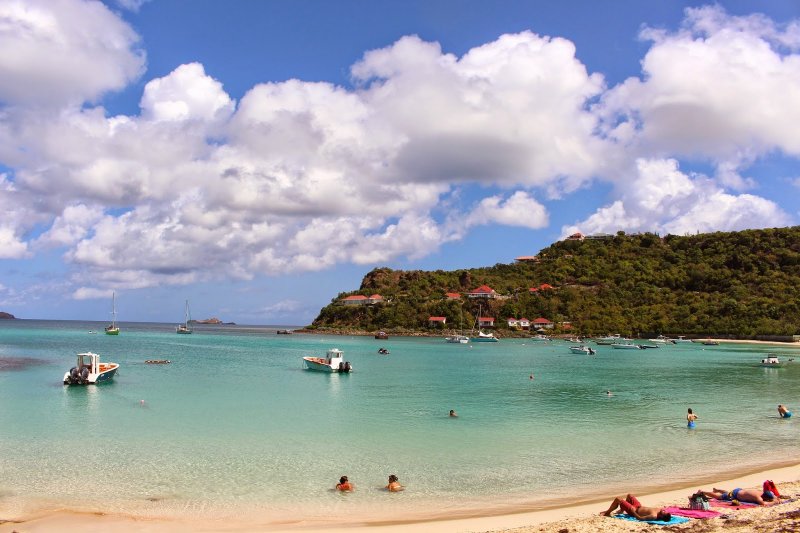 Can we take it back to St. Barth and another honeymoon revisit??  This time, I'm showing you some photos from our adventures around the island.  You can see my first honeymoon post about our resort 
here
.
The above photos are from the little town of Saint-Jean… A beachy, relaxed little gem.  With shops tucked into lush greenery, we felt as if we were in the rainforest as we browsed the little storefronts.
 A few quality items to pick up here??  The finest French lingerie, dainty little necklaces with tiny tassels and gemstones, bohemian bead bracelets, and buttery-soft leather sandals.
The town of Saint-Jean is much smaller than the capital, Gustavia, and can be explored easily in a day or so.  We liked spacing our time in the towns and our time on the beaches out a bit, as being relaxed and living on island time felt so serene… A little shopping, lunch, and a fashion show in Saint-Jean then Saline Beach all afternoon, for example.  Maybe the next day a morning hike followed by Gustavia shopping then stopping by Saint-Jean again just for dinner.
Next stop… Gustavia.
Gustavia is the capital of St. Barth and forms a curve around the harbour.  It's busier and a bit more commercial than Saint-Jean and hosts a selection of art galleries, boho-chic boutiques, restaurants, and high-end designers.  There is no tax on St. Barth, so you can shop to your heart's content and feel as if you've left with a bargain.
Sailboats and yachts pull into the cove and those aboard come to Gustavia to enjoy the shopping and restaurants.  They also provide a little entertainment… We walked along the cove, enjoyed the sunshine, and watched the boats coming and going from the harbor.Gustavia is filled with tiny little streets brimming with architectural treasures.  French influences, romantic archways, sun-bleached façades, and colorful shutters.  An old church from 1855 gazed stoically down at us from the top of one street.
A few things to look for here?  Unique art, the lowest prices on Longchamp bags, and intricately-decorated bohemian beach coverups and sandals.
If it's not apparent from my posts, I quickly fell in love with St. Barth… The luxe dining and fantastic shopping set amongst the turquoise water and lush greenery was such a surprising combination.  Beautiful colonial buildings, bleached to antique perfection by the sun and salt water.  Curvy winding roads leading up the hills to breathtaking views.  Powder-soft beaches that run the gamut from serene and romantic relaxation to windy, wild seclusion.
We found St. Barth to be the best combination of romance, adventure, relaxation, and luxury.  It really was the perfect destination and we are anxiously awaiting the next chance we have to return to the island!!
Happy Wedding Wednesday.