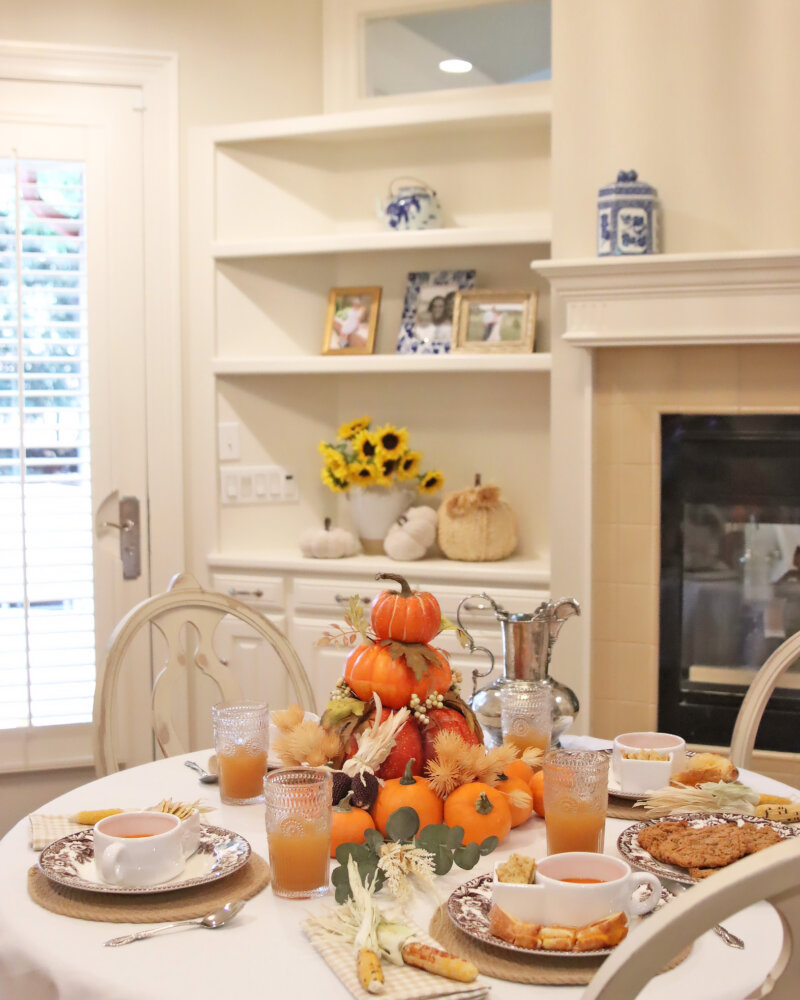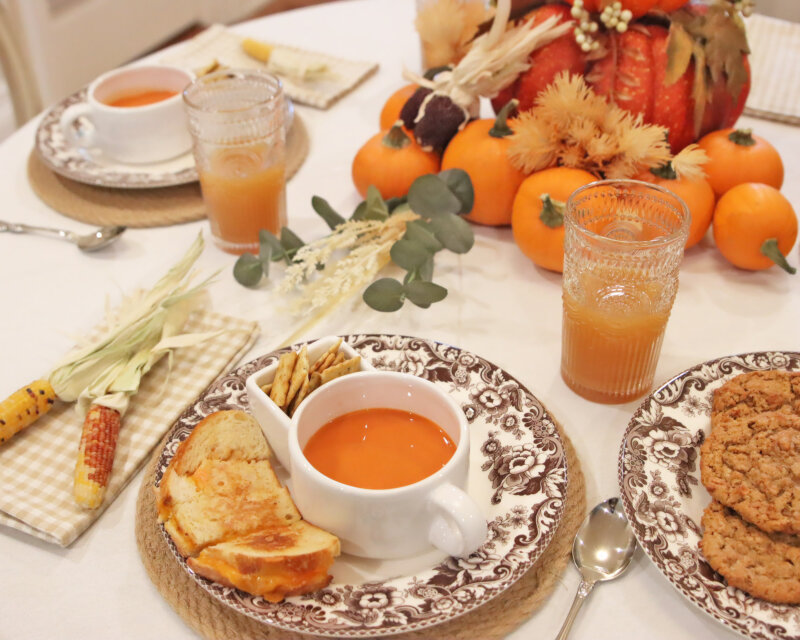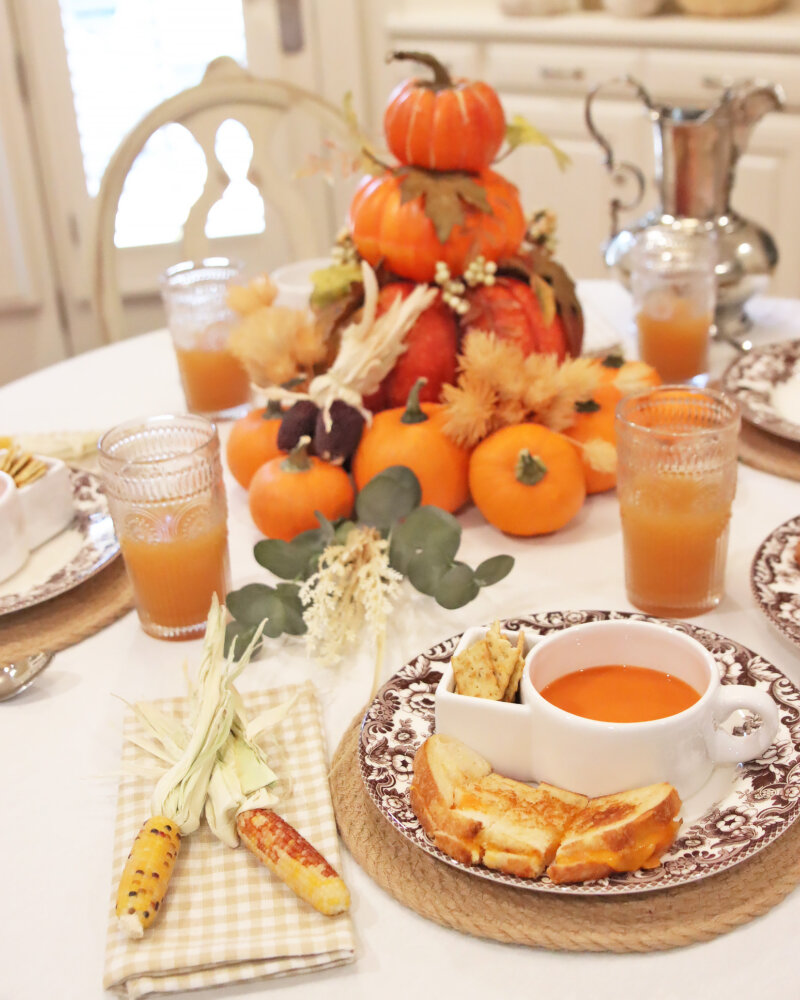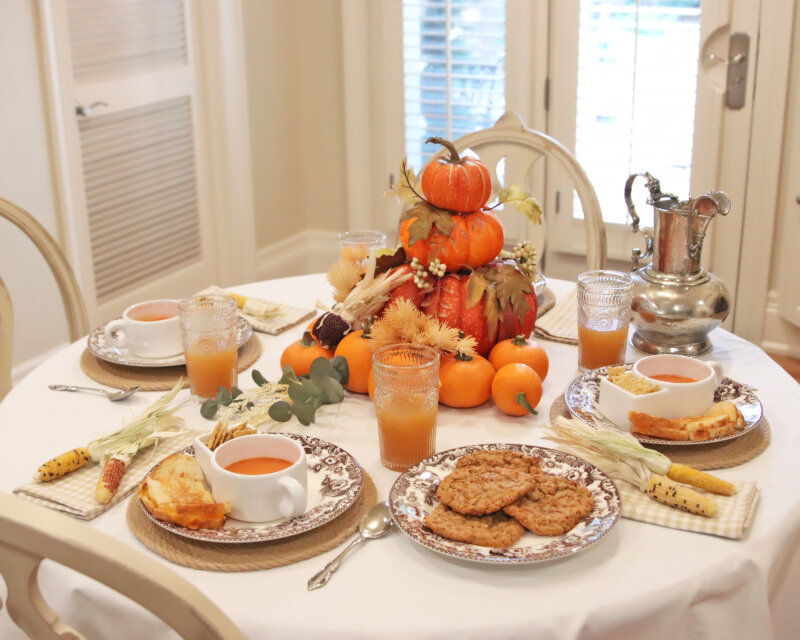 Pumpkin Centerpiece. Clear Glass Tumblers. Soup + Cracker Bowls. Spode Plates. Beige Gingham Napkins. Woven Placemats. Apple Cider. Organic Creamy Tomato Soup. Flatbread Crackers.
I'm partnering with Walmart Home today to share some of my curated Fall updates for the kitchen. Now having two little ones two and under, it's important for me to be able to get lunch and dinner on the table quickly while still making sure it's something Georgina will enjoy. I put together an easy meal with a cute fall tablescape on our breakfast table, and created a fall-inspired coffee bar so you can take some time to make a seasonal coffee for yourself in the mornings. Take a peek at them both above and below…
I made some quick grilled cheese sandwiches (my top tips are to butter both sides of the bread and blend cheeses in the middle) and paired them with my go-to tomato soup, flatbread crackers, and ice-cold apple cider. I added texture with gingham napkins and woven placemats. And my favorite piece… These gorgeous chocolate brown Spode plates I had been wanting to get my hands on for years. The finishing touch was a pile of little pumpkins, corn, and greenery tucked around the stacked pumpkin centerpiece.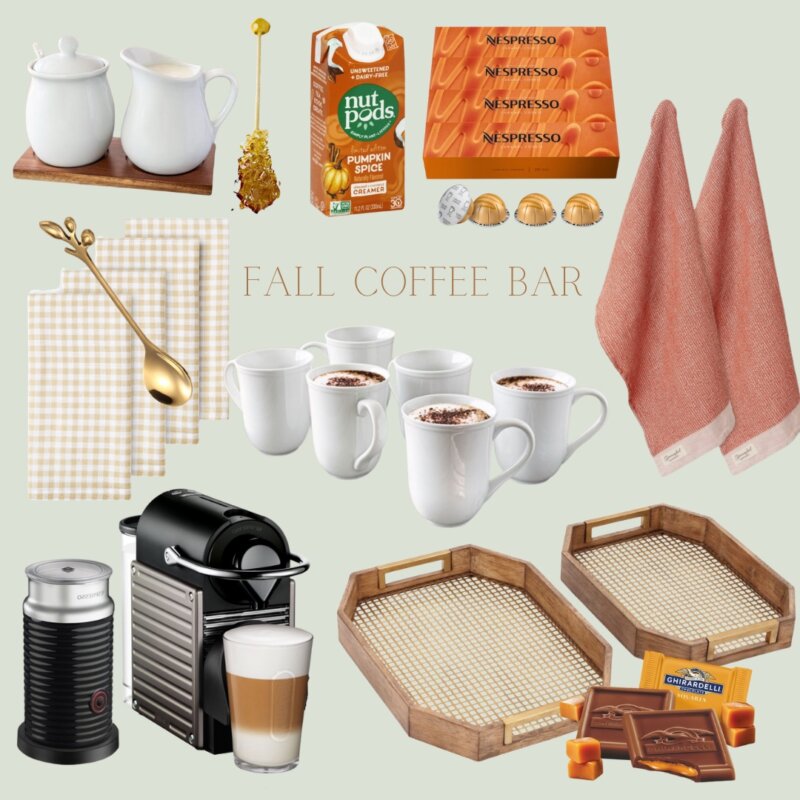 Cream + Sugar Set. Rock Sugar Sticks. Dairy-Free Pumpkin Spice Creamer. Caramel Cookie Nespresso Pods. Orange Waffle Knit Kitchen Towels. Beige Gingham Napkins. Leaf Spoons. Porcelain Coffee Mugs. Nespresso Pixie Machine. Set of Wood Trays. Caramel Chocolates.
One of the things I look forward to most each day is coming out to the kitchen and making my first cup of coffee at my little coffee bar. I like doing this before Georgina wakes up so I can have a moment to myself; I take my cup outside and water my flowers, scroll Instagram, or check my texts and emails. Now having two children age two and under, it's my little bit of self-care each day. In honor of September being Self-Care Awareness month, I've partnered with Walmart to share products you can use to style a Fall coffee bar.
Whether you're like me and need a little moment to yourself before you begin your day or you just want a pretty space to offer guests a cup of coffee, these items will add plenty of fall texture and flavor to your kitchen. Best of all, I've found that many Walmart items ship fast and free so I can get what I need in time.
Walmart has put together an interactive coffee machine buying guide if you're in the market. You can take a look here.