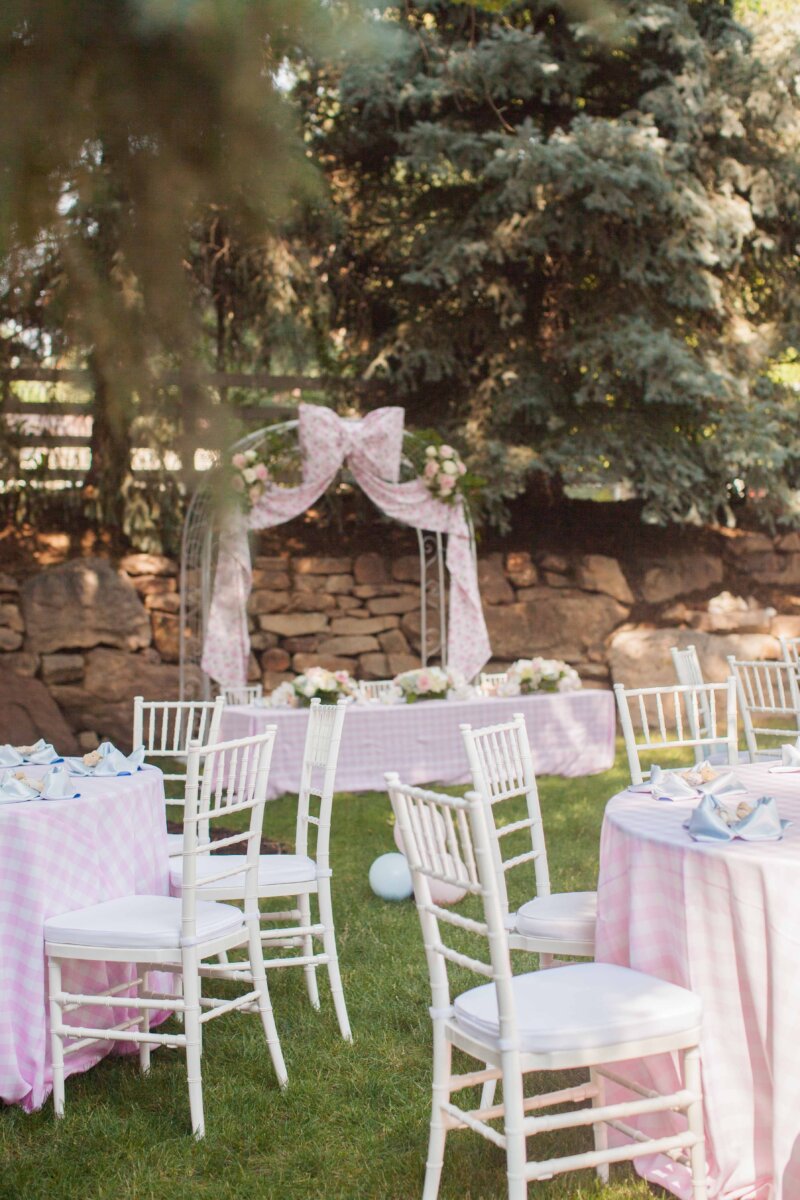 WHAT WE WORE… My Gingham Dress. My Sandals. Georgie's Dress from previous Born on Fifth x Dondolo collaboration. Georgie's Scalloped Bow. Georgie's Blue Shoes. Georgie's Second Dress (White with Embroidery). Georgie's Pink Shoes.
VENDORS… Florals, Bow Arch, Table and Chair Rentals, Table Linen Rentals via Newberry Brothers. Catering by Encore Catering. Cake, Cake Pops, and Sugar Cookies by Suga Me Sweet. Photography by Miranda Sober Photography. Children's Entertainment by Puppets & Things On Strings. Balloon Garland by Fun Balloons.
DECOR… Invitations, Birthday Banner, Table Confetti, Thank You's Available Here on Etsy. Custom Plastic Cups. Pink Plastic Plates. Silver Plastic Utensils. Gingham Luncheon and Dessert Napkins. Teddy Bear Snack Cups. Brown Teddy Bears. Small Bears in Napkins. Gold Frames for Prints, Photos. Blue Gingham Wrapping Paper. A Teddy Bear's Picnic Book. Pink Gingham Tablecloth. Pink Gingham Kitchen Towels.
PARTY FAVOR BASKETS… Picnic Baskets. White Crinkle Paper. Teddy Bear Ears Headbands. Small Bears on Baskets. Pink Plastic Teddy Bear Candy Containers. Pink Gummy Bears. Bubbles. Chalk.
I already had the idea for Georgina's second birthday some time around her first birthday. Both my mom and I love hosting themed parties and especially children's parties; sometimes I think we have as much fun as Georgina does. When I found out I was pregnant in December of last year, I knew I still wanted to throw Georgina a little birthday party this summer… In my mind, it was the last event I could give her as an only child and I wanted her to feel extra special before her little brother arrived. So here I was… Nine months pregnant with our ten-pound son, hosting a birthday party in the middle of August with an air quality advisory going on!
I played "The Teddy Bears' Picnic" song for Georgina in the spring and she loved it; she would ask our Alexa to play it while she ate lunch and asked me to read her the "The Teddy Bears' Picnic" book before bedtime. So I knew she would love having a party with teddy bears, dolls, and picnic-style food with her friends. As for the decor, I pictured pastel pink and blue gingham, floral bows, and teddy bears. During our last trip to Palm Beach, we went to the LoveShackFancy shop and I saw the most beautiful giant floral fabric bow there; I snapped a photo and saved it to show to the florist for our floral arch inspiration.
We started the party with a ventriloquist and puppet show, then passed out teddy bear ears to the littles and moved outdoors for lunch, cake, and presents. We even invited the littles to place their teddy bears or dolls on a quilt nearby for their own mini picnic while a family of bears (my own vintage VanderBear family) looked on. As our guests left, we gave them picnic basket party favors full of goodies. And everyone left with plenty of sugar from Suga Me Sweet!
I made a Teddy Bears' Picnic playlist to play during the party – you can listen to it here!
It was such a special day for our little girl. Seeing her stare in wonder at her balloons going up before the party, admire the flowers with her grandparents, and squeal in delight when she saw her darling teddy bear cake made me so happy. As any mama knows, I will never forget the day she was born and I'm thrilled to be able to celebrate it with her and make her feel special.
Party Favor Picnic Baskets:
Party Decor: