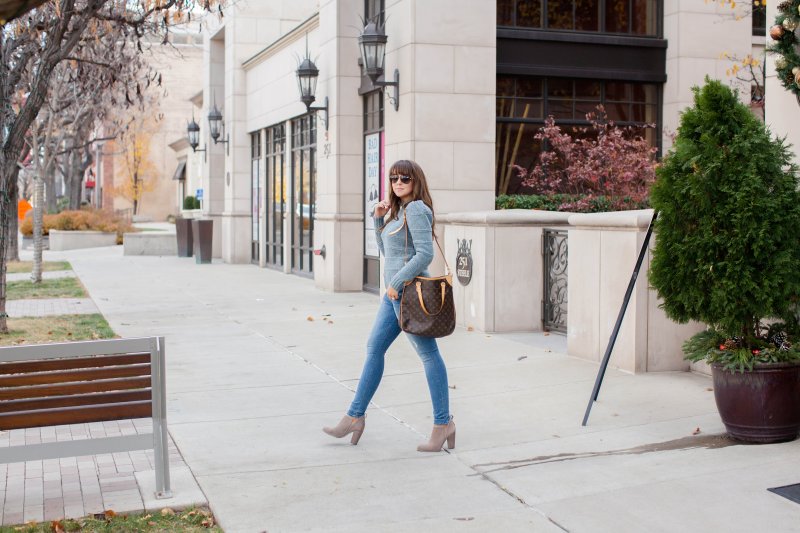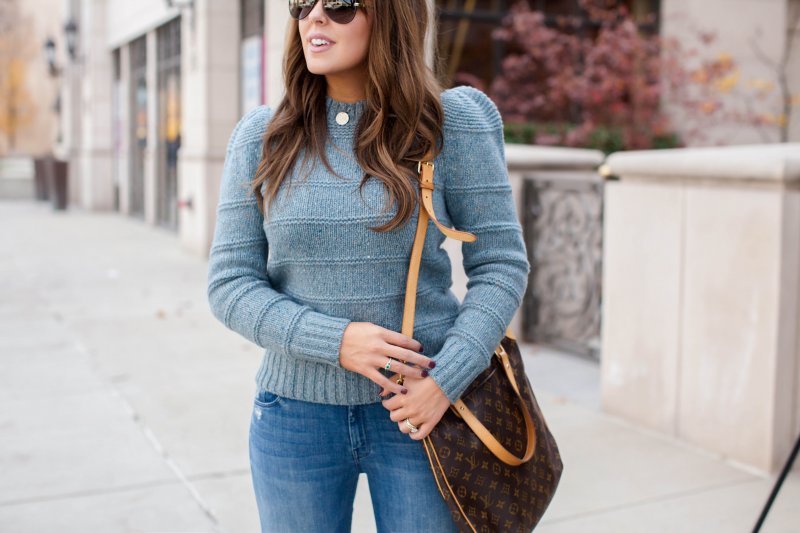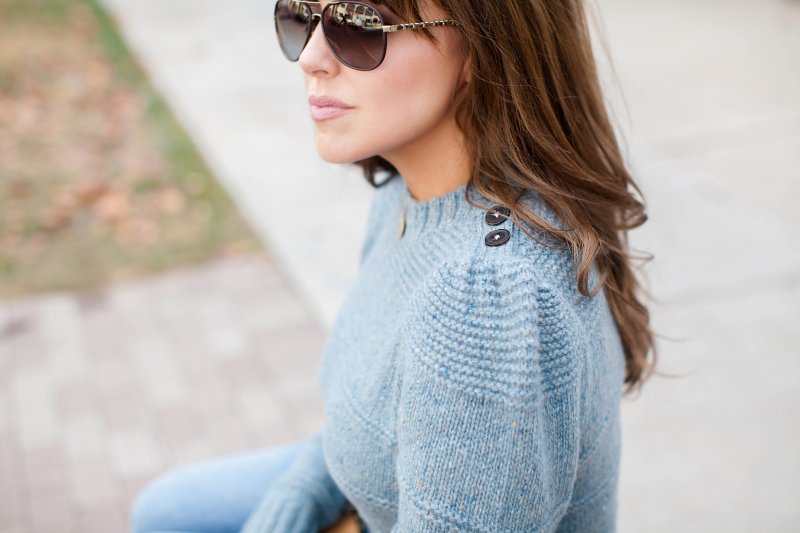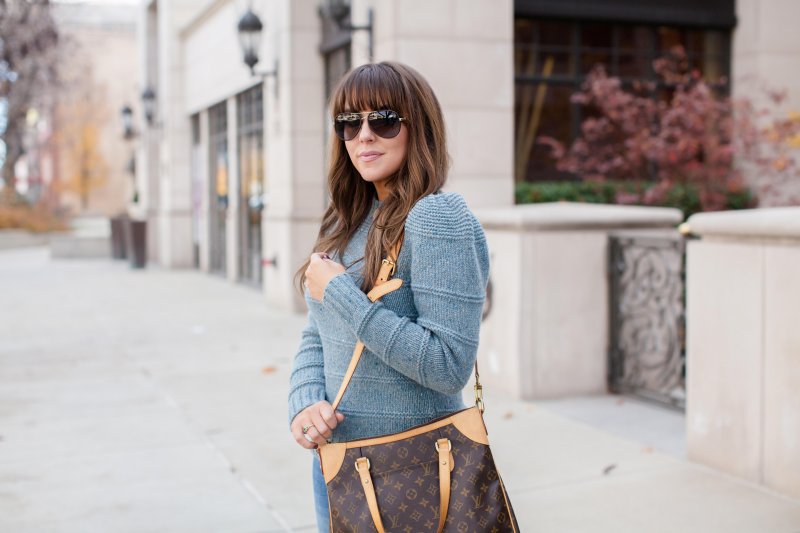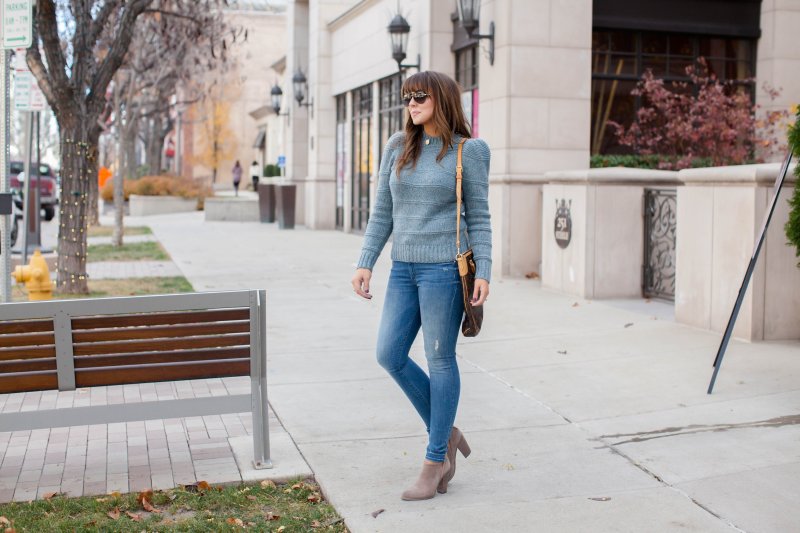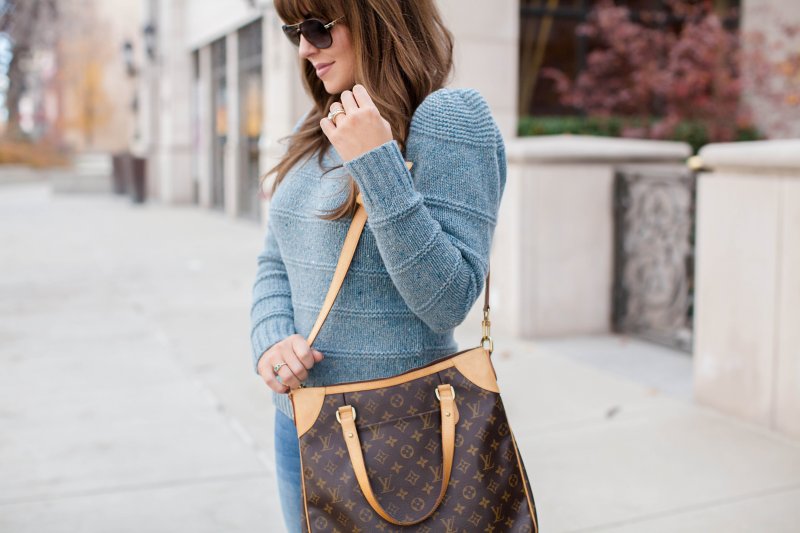 Sunnies.  Sweater.  Sweater in Pink.  Jeans.  Louis Vuitton Odeon Bag.  Booties.
Hair, Spray Tan, Nails c/o Glamour Bar Denver
TCG in 2018
Coffee in hand, I sat down at my computer to put my 2018 goals into words. As I began to type, my mind kept drifting back to when I first began posting online years ago. I escaped the heavy subject matter of law school (at the time I was taking Child, Family, and State and felt particularly helpless) by turning to my phone and my makeup cabinet, putting rudimentary little makeup tutorials out into the abyss. I hoped I could help someone feel better about themselves in some small way; in a way I couldn't help the people in the cases I read each night. It was truly my creative outlet and a place for my mid-twenties self to bloom and grow. I just never imagined people were looking for the exact same escape and that I would connect with so many of you.
Since that time, my goal was to create a little space to inspire and provide the kind of lighthearted escape I was searching for years ago. But that's the funny thing about time; it passes and it changes us. When I think about the future of TCG in 2018 I can't help but compare the things that inspire and excite me for the year ahead and the things that inspired and excited that girl making videos from her bedroom floor because they are so very different. My personal style has been honed and developed, my interests have changed, and my overall outlook on life has slowly grown and expanded. Even the little things are different. The girl making tutorials from her phone chose clothing and accessories over home decor every. single. time. And she could care less about skincare as long as she had the tan and makeup to cover any imperfections. When it came to food, she considered Lucky Charms and clementines a perfectly acceptable daily diet as long as it allowed her to save for a new dress and nights out with the girls.
I'm still dreamy, a romantic at heart, and love storytelling through my photography and writing more than anything else. But the things that used to set my heart aflutter aren't the same and I increasingly look to new sources for inspiration. Suddenly I find myself forgoing most of the fast fashion trends to invest in special pieces for our home. I research the newest skincare products and techniques because I'm focused on creating a healthy, supple canvas for my makeup instead of just concealing any skin issues. I've been incorporating more wellness into my life.  And I love discovering new wine and restaurants in Denver, but I appreciate a cozy night in with friends just as much. The places I want to travel have less to do with sunbathing or shopping and more to do with exploring new places and seeking adventures. And giving back is more important to me than ever. So as I look to the future, I see this new outlook and inspiration coming through in my posts here at TCG. In short, TCG is growing and maturing with me.
I'd like to hear from you… What are the things that inspire you lately? What kind of content would you like to see from me? Style, beauty, fashion, home, travel? Are you interested in reading interviews with girl bosses? Guest posts from other specialists in their fields? If so, who do you want to hear from – a chef, a life coach, a skincare expert?
Personal Goals
Before I go into my personal goals for 2018, I want to share two pieces I read in December 2017 that inspired me, humbled me, and completely shaped my outlook going into the new year. Every now and then we need a beautiful little reminder that life is a precious gift and these both presented themselves to me within a week of one another; the universe sending me a message of what's important. The first was a text message from my friend who had recently lost a parent. I have respected and looked up to this woman for years; she is an incredible friend, businesswoman, daughter, wife, and mother. Her message read as follows.
"This is totally none of my business, but if you and John are considering a family (if at all possible) let your Dad enjoy seeing you as a Mom and time with your kids. It really is what this is all about. And, I am so glad Kate has sweet memories with my Dad and that Dad was able to meet Alex."
As I read it, I began to cry and I thought about this text message every day for at least three weeks after I received it. I shared with my friend the things that made me hesitant to start a family (things all women probably worry about such as progressing in one's career, losing weight, finishing projects, etc.) and she gently reminded me that those things just don't matter in the end. Because in the end, all we have is love… Love for our families, love for our friends, and love for ourselves. Love and witnessing love in all its various forms is truly the only thing that matters. It's not about only romantic love, selfless love, parental love, unconditional love, or friendship. Bear with me and think about it for a moment; when we enjoy a truly incredible meal we're witnessing the love that chef has for his craft and for the experience of dining itself. When we travel and see a breathtaking edifice or monument we are witnessing the love an architect had for his passion and the love so many people felt for their country. If you feel moved while watching a sunset you're witnessing your love for nature and, if you believe in a higher power, our creator's love for us. A few days later, I read the heart-wrenching letter from dying 27-year-old Holly Butcher to the world and it only reinforced this powerful message.
"You might have got caught in bad traffic today, or had a bad sleep because your beautiful babies kept you awake, or your hairdresser cut your hair too short. Or your new fake nails might have got a chip, your boobs are too small, or you have cellulite on your arse and your belly is wobbling. Let all that shit go… I swear you will not be thinking of those things when it is your time to go. It is all SO insignificant when you look at life as a whole. I'm watching my body waste away right before my eyes with nothing I can do about it and all I wish for now is that I could have just one more day with my partner and my dog. Just one more."

"That's the thing about life; it is fragile, precious, and unpredictable and each day is a gift, not a given right."
Before this beautiful soul left the earth she had the rare opportunity to think about and process her final thoughts on life and what our human experience means. Life is meant to be lived and enjoyed. Notice a theme between two messages? Whether people are facing a loss or at the end of their time here on earth, it's clear the most important things aren't things at all. So, with my newest inspirations in mind and a fresh reminder about the importance of love and life, I put my personal goals for 2018 into words and I'm sharing them here with you.
Incorporate more wellness into my life, both physically and mentally. 
Wellness is something I began to explore this past year and I've found it to be incredible for my health, reducing stress levels and clearing my head. I've always felt that I could do everything, be everything to everyone but a few difficult times in the past year have shown me that each of us have different apogees for that point at which we can't take on any more and instead we become, for lack of a better word, shitty people. "Reeeeally shittty," as my favorite French friend would say. We can only take on so much pressure and commitments (I'm talking both personally and professionally) before things start to slide and we find ourselves going through the motions in life without really enjoying those little moments and putting forth our best work. Once I discovered my own personal "point of no return" I did everything I could to find ways to foster and maintain that balance in my life. Keep in mind this point may be different for every person and we cannot eschew responsibilities, but we can make small changes that lead to greater balance. For me, meditation and creating a calm physical space around me have been huge game changers. I know many of my readers are such girl bosses and amazing mamas, juggling so many roles, and I really think we deserve to give ourselves balance in 2018.
Want to know more about your strengths and weaknesses? I took this 16 Personalities Test recently and I love the way this test breaks down the results and analyzes both sides of personality, relationships, and work skills. My test results were "Protagonist" and it broke my weaknesses down in a better way than I could have self-assessed, allowing me to clearly focus on improvement tactics and techniques.
Give myself the gift of one hour per day to exercise.
I was thinking about my personal goals and intentions for 2018, reading a few of yours online, and suddenly it hit me. Why do we treat physical exercise as a punishment? "I have to go to the gym once a day," read our New Year's resolutions. Each year, we shackle these sanctions on and begrudgingly drag ourselves to whatever gym or workout class we deign to do until, a few weeks later, we give up on the motivation we felt January 1 and we abandon the self-imposed suffering altogether. But isn't spending an hour of time focusing solely on improving our own physical health a luxury?! I recently spoke to an overwhelmed, touched-out, exhausted new mother and she commented, "Exercise? Who has time for that?!" And if you ask any injured or incapacitated person what they miss most, I'm certain the ability to walk or run or move normally will make it into their list. This year, I'm viewing exercise for what it is – not a sanction, but a long-term benefit to myself and my health. I am giving myself the gift of one hour per day, uninterrupted, guilt-free, to exercise. When you consider something an incentive versus an obligation, how does it affect your level of success?
Continue where I left off with my French lessons.
Assez dit, no? This one is self explanatory. I began Rosetta Stone from the comfort of my home/car/headphones three years ago and then I slowly stopped making time for it in my weekly schedule. I began sifting through my family ancestry during my post-Christmas blues and upon discovering Jean-Baptiste from Burgundy and Louise-Sophie from Champagne, I knew I needed to return to my French studies! I'm excited to dive in and learn more about these people and the places they came from.
Organize the environment around me; simplify and declutter.
My bad habit of holiday overpacking made me feel cluttered and chaotic as I stood staring amongst the gifts and laundry piles after unloading them from the car. I just wanted a fresh, clean slate to begin the new year. With Taylor Swift songs blasting from Spotify and my hair up on top of my head I set to work tearing through closets, dividing the contents between donation boxes and consignment boxes. I felt so great after my productive little rampage I made it one of my goals to continue through every part of the house (even my computer desktop, old camera cards, etc.) to organize and streamline in 2018. Someone once told me that a person's home or environment reflects their state of mind. I think it's true and I believe the two can even influence one another; our cluttery habits creating a disorganized mind.
Purchase fewer, better things.
I always try to highlight investment pieces on TCG; the pieces you can feel comfortable investing in now and wearing for years to come. Once you have some nice staple pieces to plan outfits around, you can add in a few trendy items to keep your look updated and fresh. Some examples? I've owned my pair of tan leather Tod's loafers for eight years now and wear them as often now as I did in the beginning; they make any outfit look more polished and they're perfect for travel and being comfy-casual. The leather is becoming a bit worn around the edges and the soles, but I seem to love them more with every scuff and scratch. This pair is the same style as mine, only in a beautiful soft suede. I also like this pair because the hardware gives it a more edgy look. Another great classic is the Mulberry Bayswater Bag, which is now on sale in the gorgeous, tan "Oak" color I own. Mulberry is a British brand that produces tasteful, timeless bags made from the most buttery-soft leather and beloved by classic style icons such as Catherine, Duchess of Cambridge and Meghan Markle. There's something special about a piece of clothing or leather good that only gets better with age; you can look at that piece and smile, thinking of how you saved for it and all the memories attached to it since then.
Continue exploring a skincare routine that works.
I've been a skincare and beauty fanatic for years and I receive a lot of product from companies to try. In the fall, I made a little pact with myself to use all my skincare products and samples by doing a full skincare routine each night and morning until Christmas to see if I could notice any improvements in my skin. I stuck to the pact and I definitely did notice a difference. So I decided to continue with it. Going back to the wellness and the "gift of self-care" above, this is one of those little gifts of time I can give myself each day that makes a difference in the health of my skin (after all, our skin is an organ!) and my happiness and overall stress level. This year, I want to continue exploring the brands and products I use in order to create a streamlined skincare routine that works. One of my favorite skincare tools in the past year has been the NuFace device that lifts and tones skin, improving my natural facial contours and the elasticity of my skin. Like anything else, you have to use it consistently to see results, but the results are worth the minimal effort and time involved.