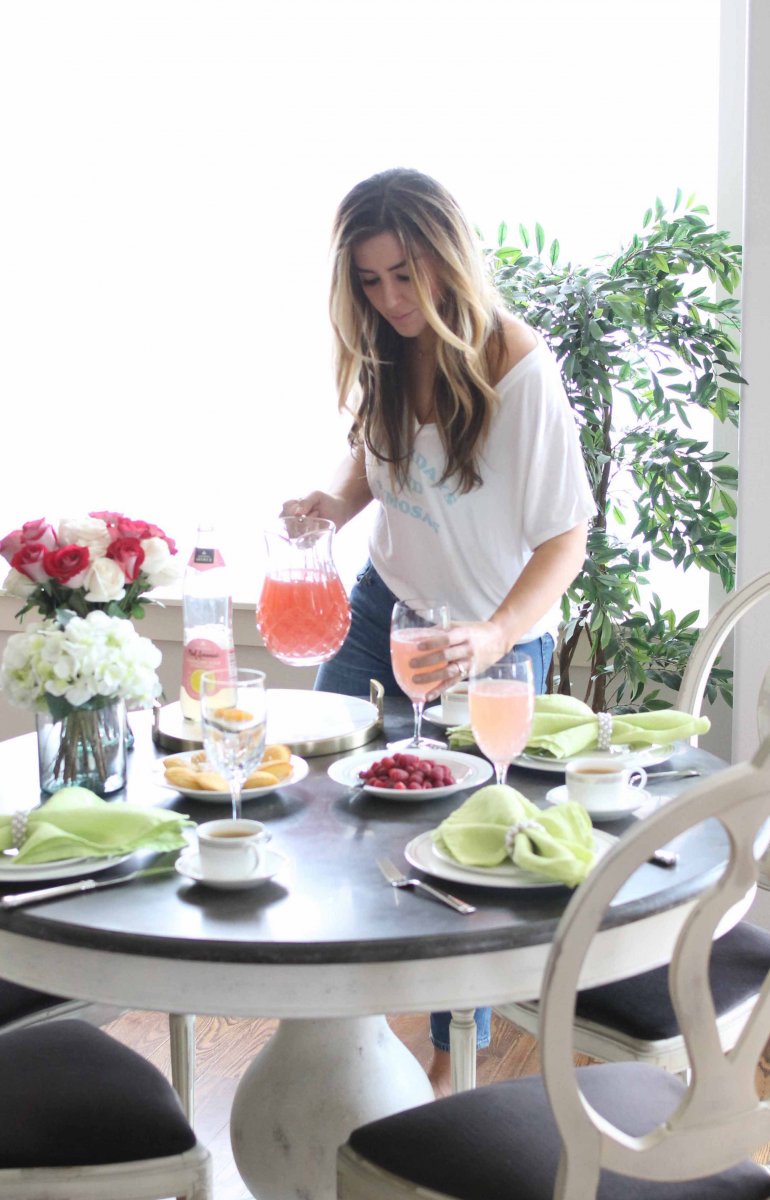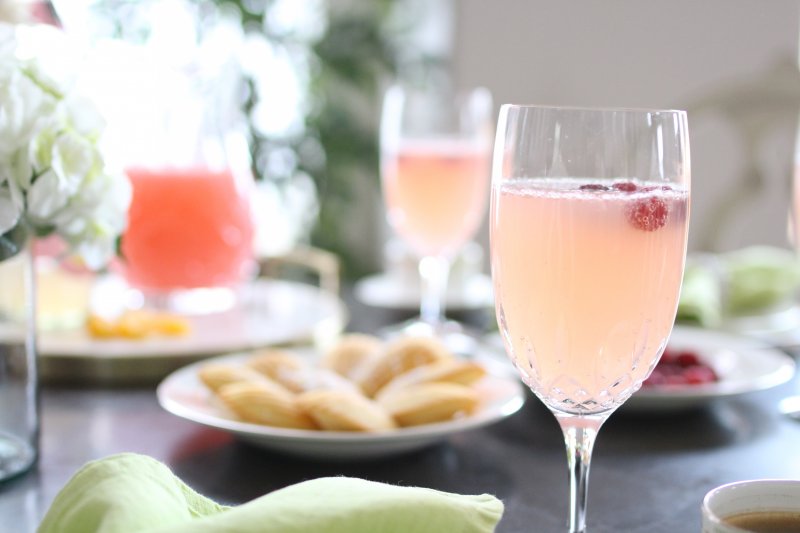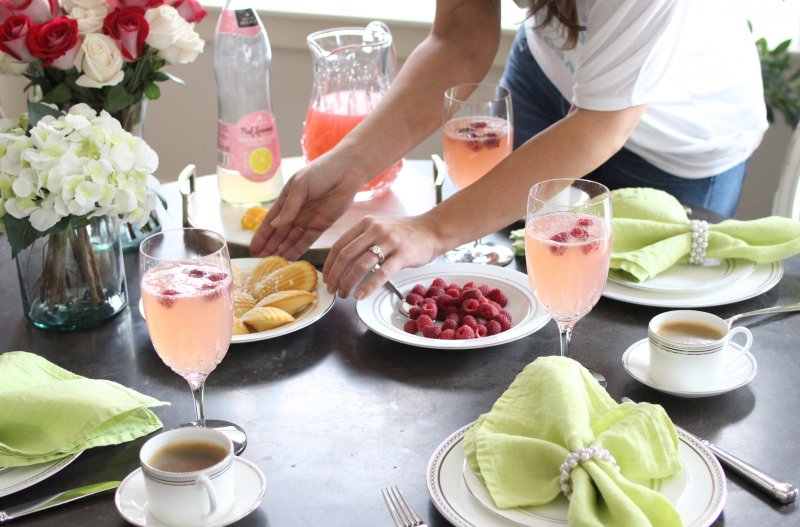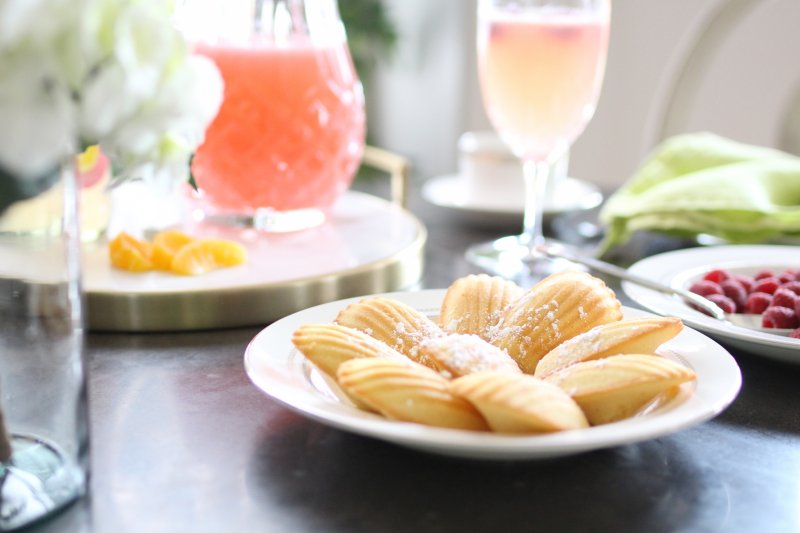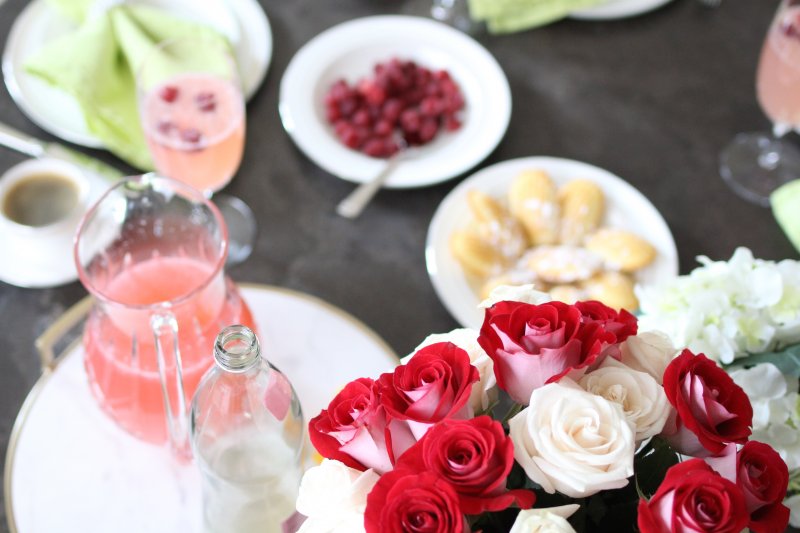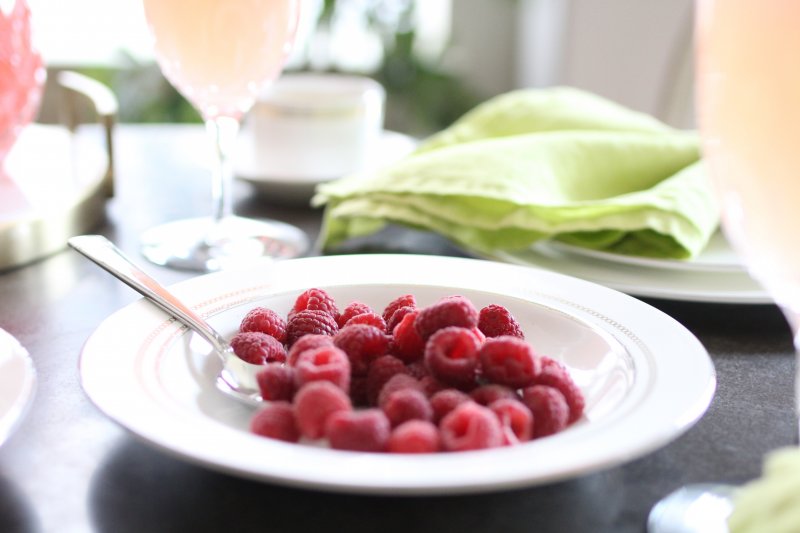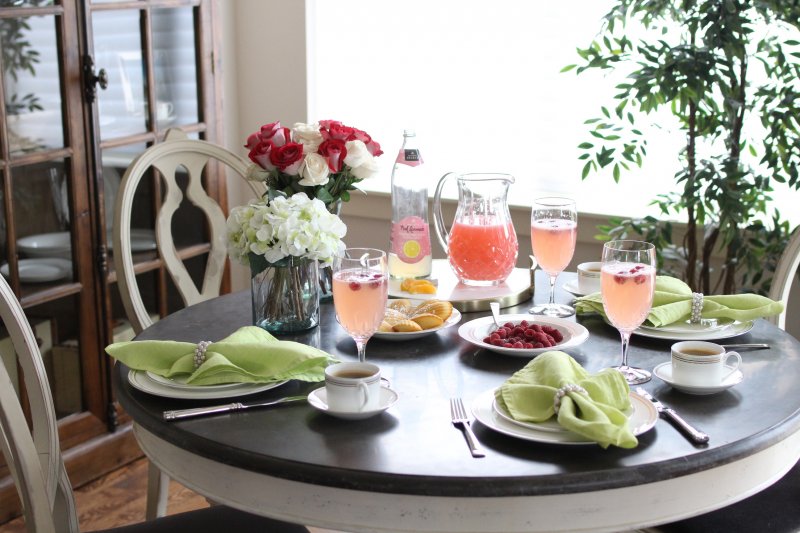 T-Shirt.  Jeans.  Table.  Chairs.  Pitcher.  Glasses.  Teacups.  Saucers.  Shallow Bowls.  Plates.  Flatware.
Raspberry Pink Lemonade
Start with a glass of chilled sparkling pink lemonade. You can also substitute with pink champagne.
I like to add a splash of raspberry juice for a sweeter drink. But depending on your preferences, you can also substitute with homemade raspberry simple syrup for another sweet option or pureed raspberries for a more tart taste.
Garnish the drink with a few fresh raspberries. I like to squeeze a bit of orange into the lemonade for an extra dash of citrus flavor.
Classic Madeleines (Epicurious)
Preheat oven to 375. Generously butter and flour pan for large madeleines.
Using an electric mixer, beat 2 large eggs and 2/3 cup of sugar in large bowl until blended. Beat in 1 teaspoon vanilla extract, 1/2 teaspoon grated lemon peel, and a pinch of salt. Add 1 cup all-purpose flour and beat until blended. Gradually add 10 tablespoons of cooled melted butter in a steady stream and beat until blended.
Spoon about 1 tablespoon of batter into each indentation in pan. Bake 16 minutes, or until puffed and brown. Cool 5 minutes before gently removing from pan. Repeat the process, buttering and flouring the pan before each batch.
Dust cookies with powdered sugar.
MEMORIAL DAY SALES
Ann Taylor:  50% off full-priced items and extra 40% off sale items with code SUMMER50. 5.26 – 5.30
Anthropologie:  Additional 30% off sale items. 5.26 – 5.30
Asos:  Extra 30% off with code HISUMMER. Now – 5.30
Banana Republic:  Extra 40% off purchase with code BRTAKE40. 5.20 – 5.30
Bloomingdales:  Take an extra 20% off sale items with code BROWNBAG. 5.26 – 5.30
Diane von Furstenberg:  30% off select styles with code SUMMER30. Now – 5.30
J.Crew:  30% off your purchase with code WEEKEND. Now – 5.31
Lilly Pulitzer:  Free gifts with purchase. 5.27 – 5.30
Moon & Lola:  20% off your full-priced order with code RSCHARM20. Now – 6.6
Nasty Gal:  Extra 40% off all markdowns. Now – 5.31
Nordstrom:  Up to 40% off. 5.27 – 6.6
Pottery Barn:  Up to 25% off with code SAVEMORE. Now – 5.30
Rebecca Taylor:  Extra 25% off sale styles with code EXTRA25. Now – 5.31
Revolve:  Up to 50% off starting 5.20
Sam Edelman:  30% off sitewide with code VIPSUMMER. Now – 5.30
Shopbop:  New markdowns. 5.25 – 5.30
Sole Society:  50% off select styles. 5.26 – 5.30
The Real Real:  Extra 20% off with code HITLIST. Now – 6.1
Vince Camuto:  Extra 30% off sale and clearance. 5.26 – 5.30