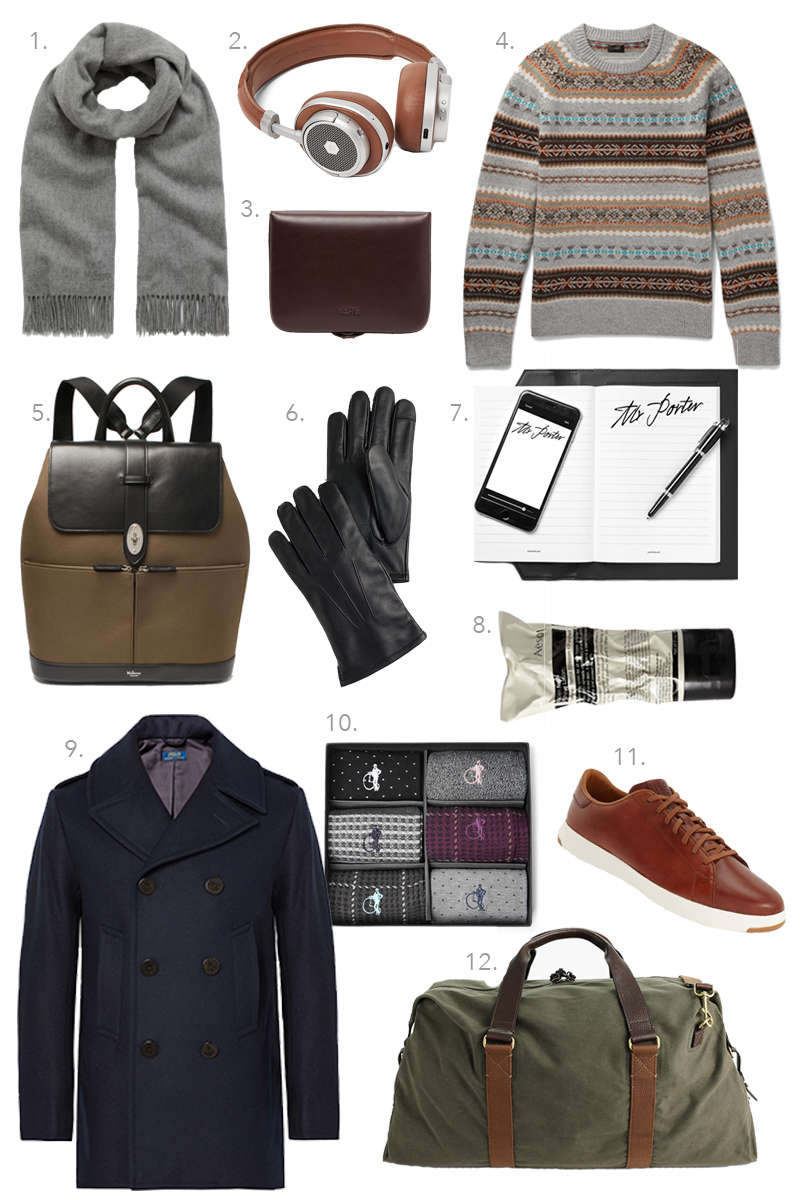 1. Lambswool Scarf.  2. Wireless Headphones.  3. Wallet.  4. Sweater.  5. Backpack.  6. Leather Gloves.  7. Notepad-to-Digital Digitizer.  8. Post-Shave Lotion.  9. Wool Peacoat.  10. Sock Set.  11. Leather Sneakers.  12. Weekender Bag.
How To Shop:  Click any of the links below the collage above, click "Available Here" under any of the items in the numbered list after the text below, or click any of the images in the slide at the bottom.
Each year, the men on my list are always the most difficult to buy Christmas gifts for. I love buying gifts for my friends and female family members because I know what they'll enjoy and use. But when it comes to men, they're usually into something very specific that I'm unfamiliar with; for example, working on vintage cars or hunting pheasant. I'm aware of the new beauty products and latest accessories that my mom or best friends would love to receive. But when it comes to the best tools or newest binoculars, I have no idea what the recipient wants or already owns.
Unless you know the specific hobby-related item he wants or if you want to add in a little something extra, I always suggest going with something your guy needs but in a luxe version, such as a set of beautifully designed socks or luxury post-shave lotion… It's a guarantee he'll use it and appreciate the quality. And you'll never go wrong with chic, classic accessories like a lambswool scarf, a leather-trimmed backpack, or leather sneakers. If you know the recipient doesn't have it, I'm completely fascinated by this luxe Montblanc device; the pen automatically digitizes anything written in the notebook and transfers it via Bluetooth or USB to your phone or tablet. Take notes, sketch, draw… And you instantly have an electronic copy.
We are all incredibly fortunate to have the things we truly need and have a bit extra to give back. If you want to do some good instead of or in addition to your Christmas gifts I suggest the following:
Heifer International: Purchase a farm animal and this organization will give it to an impoverished family around the world. My favorite gift I've already purchased this year? A hive of honeybees. Animals not only feed and sustain the family they are given to, they help feed that family's community and give the family a new stream of income.
Adopt-A-Family: So many families are struggling to make ends meet this holiday season and many elderly people will be alone on Christmas. I simply searched "Adopt a Family for Christmas in Denver" to find opportunities. Be quick because most Denver programs have already filled their donor lists. The Parker Task Force still needs donations and DHS is still accepting donations. Check your neighborhood within the Be a Santa to a Senior program to help a senior in need or sign up to be a volunteer at Baskets of Joy this December 9th.
Looking for more inspo? You can find more gift guides and all my holiday content in my website's Holiday section. Happy Shopping!
1.  Light Grey Lambswool Scarf
2.  Leather and Stainless Steel Wireless Headphones
3.  Leather Card and Coin Wallet
4.  Fair Isle Wool Sweater
5.  Leather and Canvas Backpack
6.  Cashmere-Lined Leather Gloves
7.  Notepad-to-Digital Writing Set
8.  Moroccan Neroli Post-Shave Lotion
9.  Double-Breasted Virgin Wool Peacoat
10.  Patterned Six-Pack Set of Cotton-Blend Socks
11.  Leather GrandPro Tennis Sneaker
12.  Canvas Weekender Bag