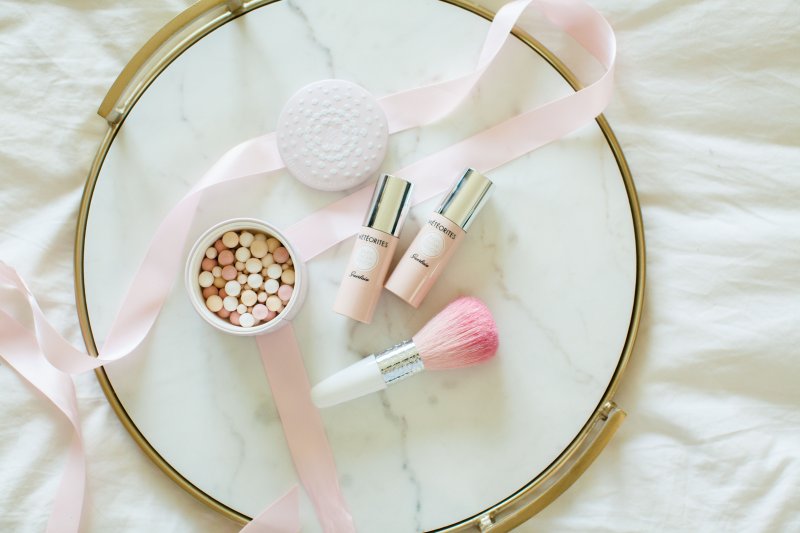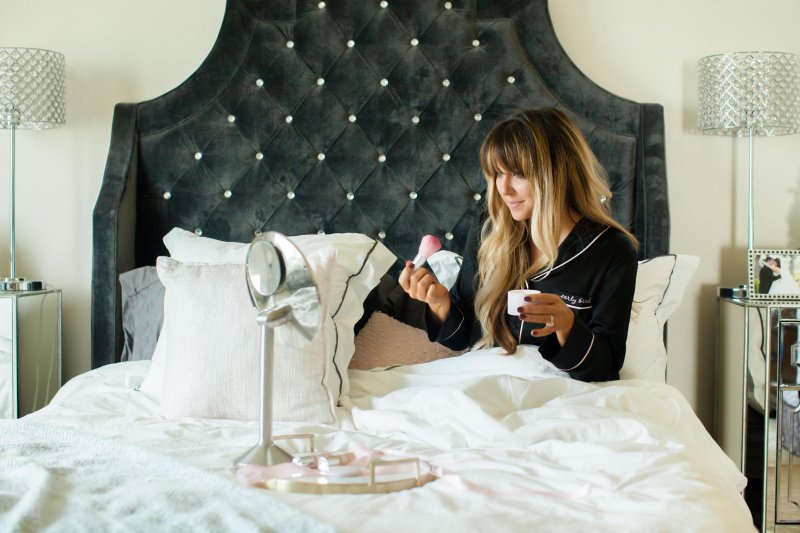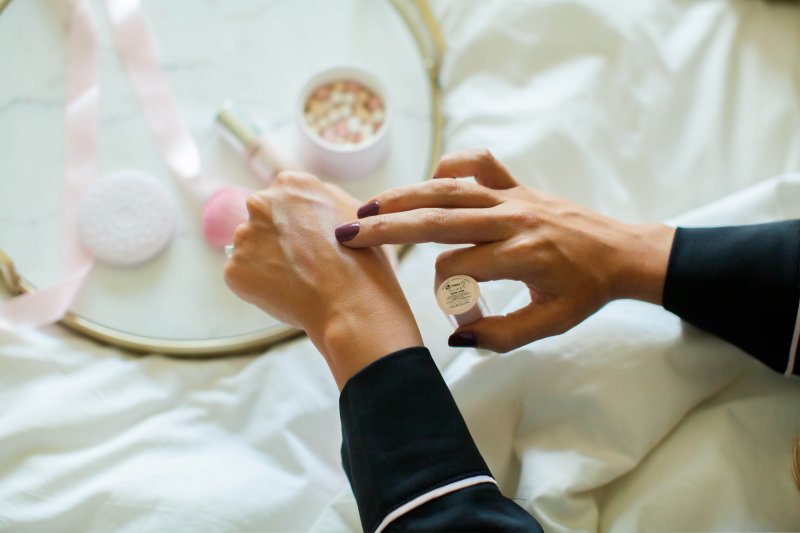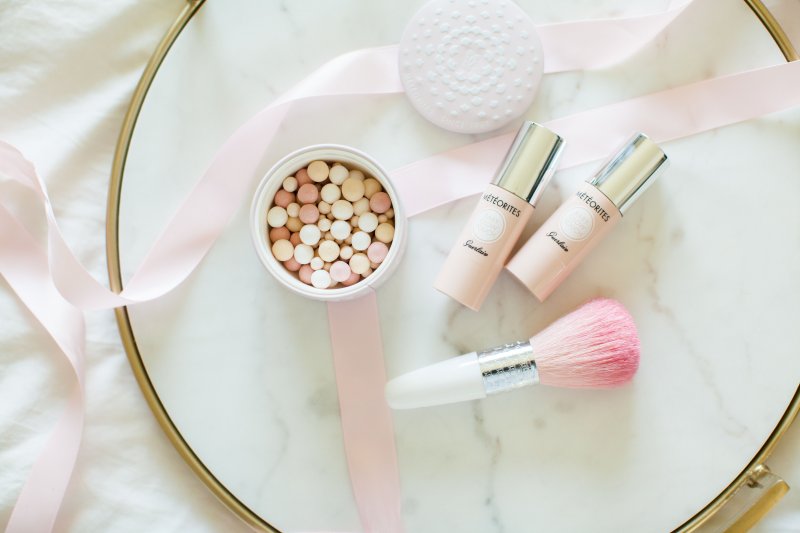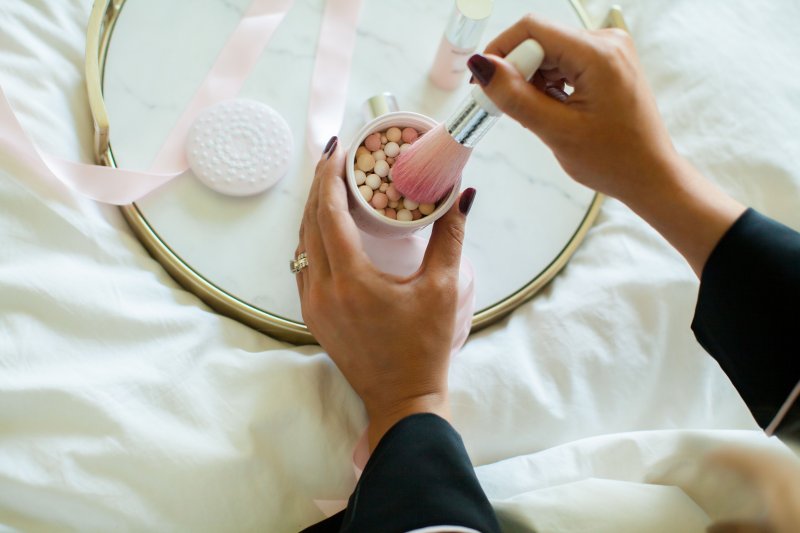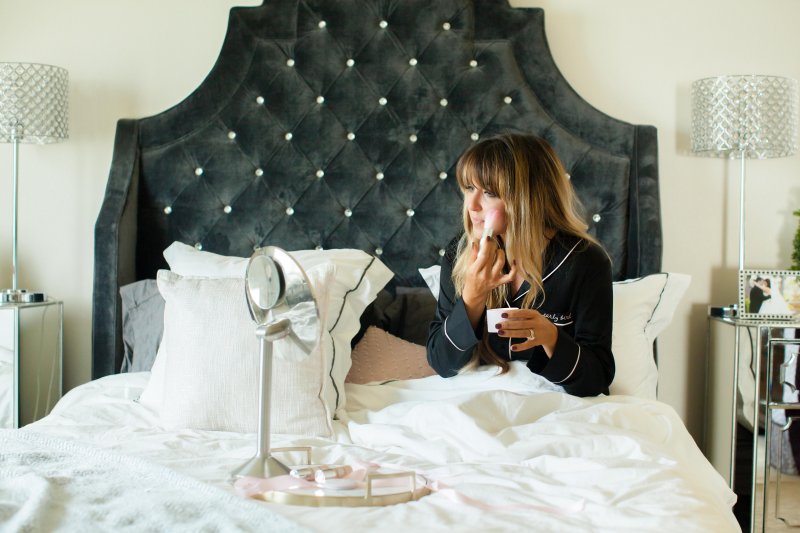 Météorites Birthday Candle Pearls.  Météorites Brush.  Météorites Baby Glow Touch Stick.  Magnifying Mirror. "Early Bird" Satin Sleep Shirt.
Hair Extensions, Lashes, Tan, Nails c/o Glamour Bar Denver (Mention My Blog for $50 Off Lashes)
The first time I saw them I was vacationing in Palm Beach with my family. The jar of pearls was at my eye level, sitting atop the makeup counter and shimmering tantalizingly right in front of me. My mother was busy chatting to a woman spritzing fragrance on a paper card so I reached out in front of me to touch this magical little jar of pastel pearls. "Brittany…" How do mothers do that?! Resignedly, I placed my eager hand down again and said goodbye to the magic pearls.
And magic they are. Guerlain launched its one-of-a-kind, illuminating, color-correcting Météorites Pearls in 1987. These delicate and perfectly round pearls continue to be shaped by hand, with a technique mastered by only four people in the entire world. The concept behind the pearls? The ability to create the perfect combination of light reflection to combat dullness, flattering illumination, and color correction for various skin issues all in one jar of pearls. With just a brush stroke across your jar of magic pearls, you can create an illuminated look that color-corrects as it reflects light from your skin. Your skin looks alive, brightened, and glowing.
To celebrate their 30th birthday, Guerlain has released a new, limited-edition collection. Their little pink jar of Birthday Candle Pearls looks as beautiful on your bathroom counter as it does on skin. And their shimmering formula is reimagined in creamy stick form with their Baby Glow Touch Sticks in both Rosy Glow and Gold Glow. You can see me swatching the sticks above. With a spray tan, I can wear either or both the rosy or bronze color. I place the rosy color down the center of my nose, on my brow bone and cheekbones, and on the top of my lip and focus the bronze color on my cheeks and around my forehead as bronzer. Then I dust the Birthday Candle Pearls all over. There's also a liquid-cream version if you prefer that texture to a stick formula.
I think the Guerlain Météorites Pearls would make a lovely gift this holiday season – in either their original colors or the limited-edition Birthday Candle Pearls versions. Put it on your list for your girlfriend, wive, mother, mother-in-law, sister, or aunt.
Do you want to really knock her socks off? Add in this incredible cordless, illuminating, magnifying mirror I'm using in the photos above. This genius device shows every lash, hair, pore, wrinkle in 5x detail and even comes with a 10x detail mini mirror tucked into the back for when you need your brows or that winged liner to be flawless. The first night I used this for two hours straight, tweezing and doing pore extractions to my heart's content; I couldn't believe how much I had missed in a regular mirror! I can even change the lighting from an app on my phone so my makeup will be perfect for any setting – indoor, outdoor, candlelight, fluorescents. I always know my makeup will look flattering and I can guarantee I haven't had any embarrassing foundation lines since bringing this little wonder home.