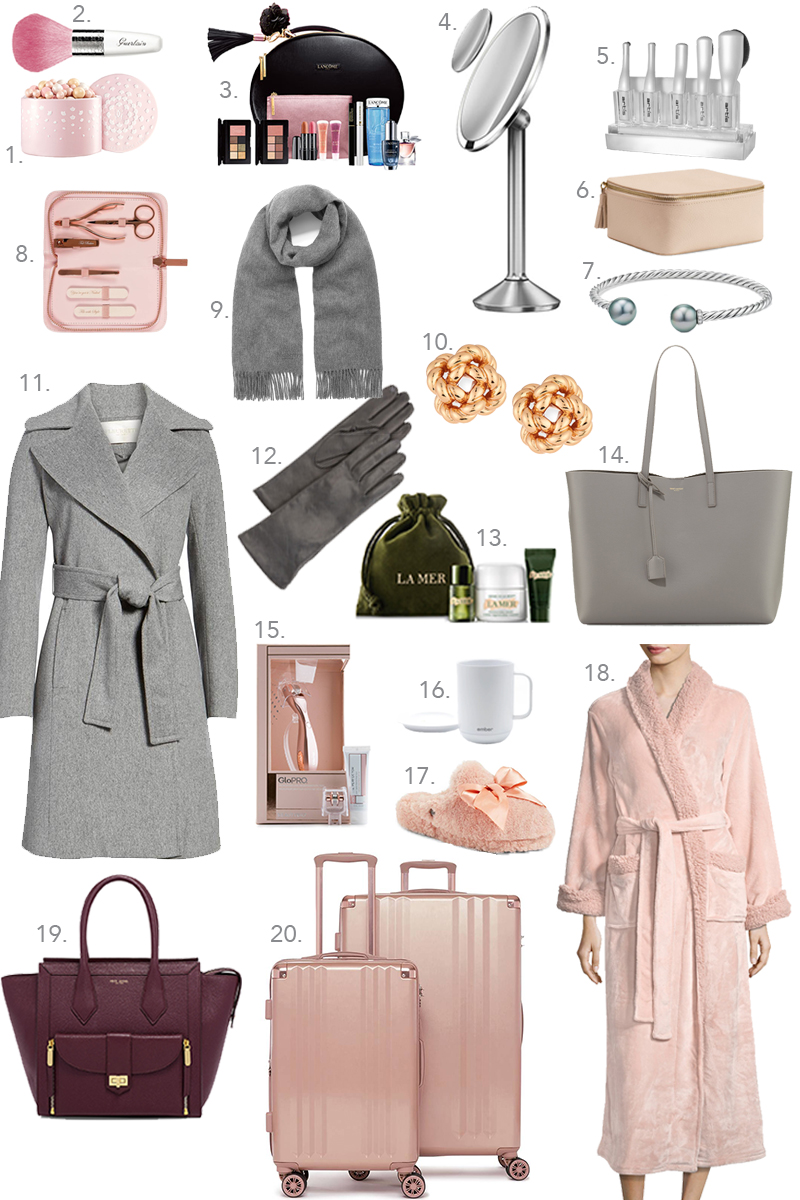 1. Guerlain Météorites.  2. Pink Powder Brush.  3. Lancôme Gift Set.  4. Magnifying Illuminating Mirror.  5. Skincare Brushes.  6. Leather Jewelry Case.  7. David Yurman Bracelet.  8. Manicure Set.  9. Lambswool Scarf.  10. Rose Gold Knot Earrings.  11. Wool Wrap Coat.  12. Cashmere-Lined Leather Gloves.  13. La Mer Gift Set.  14. Saint Laurent Tote.  15. GloPro Microneedling Set.  16. Ember Heated Mug.  17. Ugg Bow Slippers.  18. Natori Cozy Robe.  19. Henri Bendel Bag.  20. Rose Gold 2-Piece Luggage Set.
How to Shop:  Click one of the links under the collage above, click any of the links in the text below, click any of the "Available Here" links under the numbered list of items after the text below, or click any of the images in the shoppable slide at the bottom.
"I don't need anything, sweetheart." is probably the #1 Mom Statement come the holidays. Let me tell you something. It's not helpful to you (you being the lovely child out to find the perfect token of your love) and… It's not true. Your mother deserves a gift more than anyone else on your list. Have you ever gotten a horrible flu or food poisoning? Remember how thankful you were for the person who took care of you? Well your poor mother signed up to do that for eighteen years. Does she "need" a gift? Of course not – if you're reading this, you have internet access and therefore none of us probably "need" a gift. But that's not the point of a gift, is it? Your mother deserves a thank you and a little something to make her feel special during the hectic holiday season. If you check off one person on your holiday shopping list, make sure it's your mama.
Now before we start swooning over beautiful gifts, I want to go back to the "internet access" comment above. We are all incredibly fortunate to have the things we truly need and have a bit extra to give back. If you want to do some good instead of or in addition to your Christmas gifts (this will make your mother extra happy, I promise) I suggest the following:
Heifer International: Purchase a farm animal and this organization will give it to an impoverished family around the world. My favorite gift I've already purchased this year? A hive of honeybees. Animals not only feed and sustain the family they are given to, they help feed that family's community and give the family a new stream of income.
Adopt-A-Family: So many families are struggling to make ends meet this holiday season and many elderly people will be alone on Christmas. I simply searched "Adopt a Family for Christmas in Denver" to find opportunities. Be quick because most Denver programs have already filled their donor lists. The Parker Task Force still needs donations and DHS is still accepting donations. Check your neighborhood within the Be a Santa to a Senior program to help a senior in need or sign up to be a volunteer at Baskets of Joy this December 9th.
Within each gift guide, I try and give my shopping tips for the person the gift guide is dedicated to. That way, if you don't like any of my picks you can still walk away with some tips. For mothers and mother-in-laws I try to look for items that have beautiful fabric or a great tactile quality about them. As we mentioned before, these women already have the necessities and are usually into really beautiful things that make them feel comfortable and pampered; cozy robes, cashmere-lined gloves, a heated coffee mug, and soft slippers. She probably enjoys taking care of her skin, so spoil her with the latest in beauty like this incredible magnifying and illuminating mirror, this set of luxe skincare brushes, or this microneedling gift set.
Be sure to check out my Men's Gift Guide and for more gift guides and holiday content, take a look at my website's Holiday section. Happy Shopping!
1. Guerlain Météorites Illuminating Pearls
See my Guerlain Météorites blog post for more info.
2.  Guerlain Pink Powder Brush
3.  Lancôme Makeup and Skincare Gift Set
This is a Lancôme Purchase with Purchase but is so worth it. Buy any Lancôme product (I love their eye makeup remover and toner) and you can purchase this gift set comprised of two cosmetic cases, two eyeshadow and blush palettes, two lipsticks, two lip glosses, lash primer, mascara, eye makeup remover, anti-aging serum, and mini perfume for just $63.50.
4.  Magnifying and Illuminating Mirror
See my Guerlain Météorites blog post for more details on this incredible mirror. I will never go back to tweezing, doing skincare, and applying makeup without it!
5.  Artis Skincare Brush Set
I own the Artis makeup brushes and they're incredible; they give a flawless finish and feel so comfortable to hold and apply makeup. These are designed specifically to cleanse the face and apply skincare products.
6.  Blush Pink Leather Jewelry Case
7.  Silver, Diamond, and Tahitian Pearl Bracelet
8.  Rose Gold Manicure Set
9.  Light Grey Lambswool Scarf
10.  Rose Gold Tory Burch Knot Earrings
11.  Light Grey Wool Wrap Coat
12.  Cashmere-Lined Leather Touch Screen Gloves
13. La Mer "Mini Miracles" Gift Set
I've completely fallen in love with this brand this year. You can read more about what these products have done for my skin and why I adore them so much in this blog post.
14.  Saint Laurent Large Leather Shopping Tote
15.  GloPro Microneedling Gift Set
16.  Ember Temperature Control Mug
Perfect for the coffee or tea lover in your life, this heated mug can be adjusted remotely from an app to keep your cup at your preferred temperature. You can even save your favorites to ensure the perfect cup every time.
17.  Ugg Shearling Bow Slippers
18.  Natori Plush Pink Robe
19.  Leather Convertible Tote
20.  Rose Gold 2-Piece Spinner Luggage Set