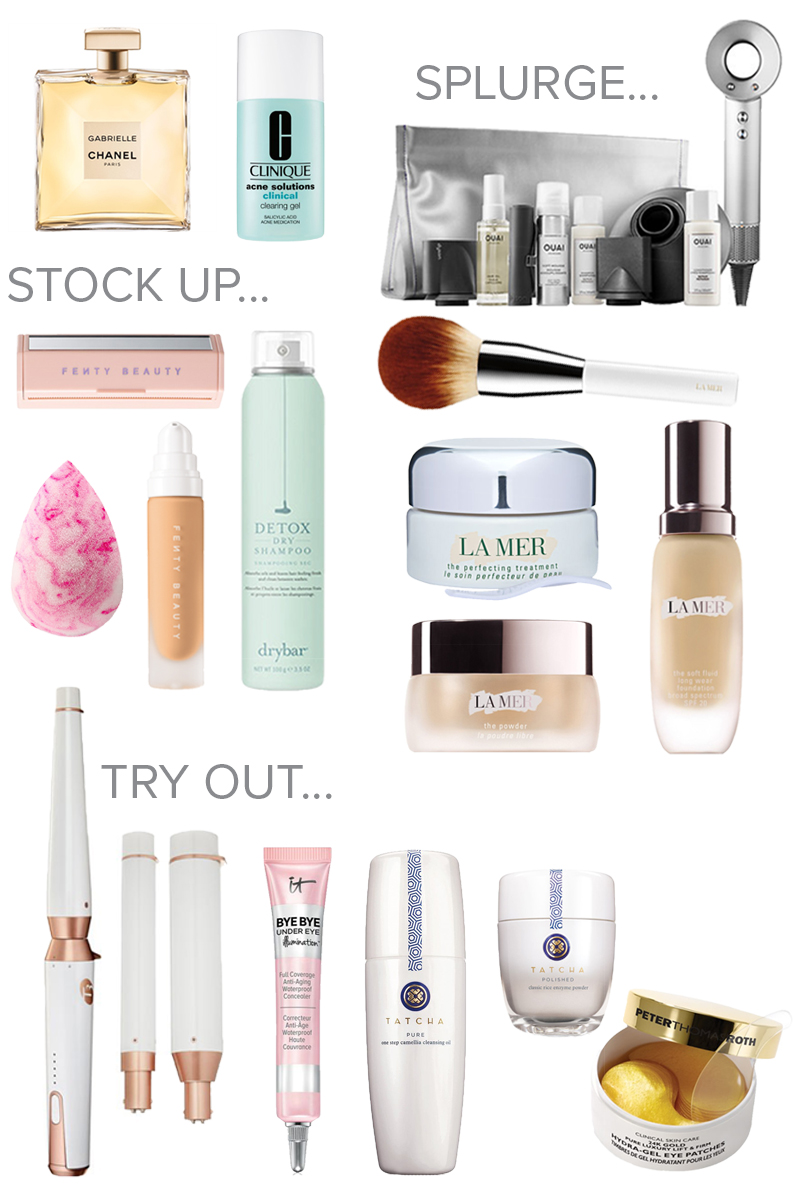 Stock Up:  Chanel Fragrance.  Clinique Acne Treatment Gel.  BeautyBlender Sponge.  Fenty Blotting Papers.  Fenty Foundation.  Drybar Dry Shampoo.  Try Out:  Curling Wand Trio.  Under Eye Concealer.  Tatcha Cleanser.  Tatcha Rice Powder.  Peter Thomas Roth Eye Patches.  Splurge:  Dyson-Ouai Set.  La Mer Powder Brush.  La Mer Perfecting Treatment.  La Mer Powder.  La Mer Foundation.
My favorite beauty sale of the year is here!! During the Sephora Beauty Insider event, beauty members can take 15-20% off their total purchase. Sephora Rouge members use code 20FORROUGE for a 20% discount.  Sephora VIB members use code 20FORVIB for a 20% discount.  Sephora Insiders use code INSIDER15 for a 15% discount. The Beauty Insider event ends November 15th, but this is a major one and items often sell out or go on backorder, so be quick!
Not a Sephora Beauty Insider yet? You can find out more and sign up here.
Into beauty content? You can find all my previous beauty posts here.
Stock Up…
Clinique Acne Solutions Clinical Clearing Gel
My little secret weapon for over ten years now. This clear-drying gel contains a magical acne-fighting potion with an extra dose of salicylic acid. When I see a breakout starting, I apply this gel onto any spots at night after I cleanse and tone my skin. (Be sure to let the gel dry before applying serum or moisturizer on top!) In the morning after I cleanse and tone I apply I light layer and once it dries I'm able to apply makeup; one of my favorite features of this product is that it won't show or interfere with makeup.
BeautyBlender Sponge
If you've been following me for long it's no secret to you that I love these sponges. They give an airbrushed look to makeup and blend product like no other application tool I've tried. The trick? Soak the sponge with cool water and then squeeze out with a clean towel. The BeautyBlender will become huge, light, and fluffy when wet. Sometimes I apply foundation to a foundation brush, spread over my face, then use the damp BeautyBlender to blend and get an airbrushed finish. Other times I apply foundation directly onto the Beauty Blender and just dab it all over into my skin. Try both methods and see what works best for you. Either way, it's a beauty essential I can't live without.
Fenty Pro Filt'r Soft Matte Foundation
Leave it to Rihanna to come up with such a gorgeous foundation formula in an astounding array of 40 shades. I'm in shade 280 with a spray tan (most of my photos) and shade 190 (current skin tone if you watch my IG Stories). The shades factor in cool, warm, and neutral tones. You're a cool tone if you have a pink cast to your skin; you look good in jewel tones like sapphire blue and ruby red and you probably like silver or white gold jewelry. You're a warm tone if you have a yellow cast to your skin; you look good in warm colors like orange and chocolate and you probably look best in yellow gold jewelry. Can you wear both? You might be neutral toned like me, especially if you have a background with both tones. I have warm olive tones from my dad (French/Native American) and pinkish cool tones from my mother (Welsh) so I have a blend that's been difficult to color match in the past.
This foundation formula is creamy, satin-matte, and full-coverage. I love the satiny-matte finish because it's not drying, although I'm sure if you used a mattifying moisturizer and primer you would get more of a traditional matte finish than the satiny finish I get when I use a hydrating moisturizer and an illuminating primer. This foundation lasts all day and does not sink into pores and fine lines like so many I've tried. It really is a beautiful product worth trying.
Fenty Invisimatte Blotting Paper
Even though I feel as if the dry Denver air is sucking the life out of my skin most days, I still need oil blotting sheets throughout the day to keep my makeup looking fresh. These work great and come in the cutest packaging, complete with a little mirror. I shudder to think how many people have seen me oil blotting in public places, but c'est la vie… With this cute packaging I truly don't mind.
Drybar Detox Dry Shampoo
Ahhh… My favorite. Each time I branch out and try a new dry shampoo, I find myself going back to my all-time favorite. Drybar's Detox Dry Shampoo truly breathes life back into my hair. Who has time to wash and blow-dry each day? Not me… Plus, it's horrible on hair to endure that much heat styling. This dry shampoo smells incredible, whisks away excess oil, and gives texture to hair.
Chanel Gabrielle Fragrance
Sophisticated and feminine, this fragrance is a timeless one you'll find yourself falling in love with. The scent is centered around four white flowers; rich jasmine, fruity ylang-ylang, fresh orange blossom, and classic Grasse tuberose. It's a little sexy, a little feminine, a little playful… But will become part of your personality when it warms to your skin. This would make a lovely Christmas gift as well… Gift it to someone who wears Chanel Coco Mademoiselle, Hermès Jour d'Hermès, or Viktor & Rolf Flowerbomb (Gabrielle is much less fruity, but has the same focus on florals).
Try Out…
It Cosmetics Illuminating Full-Coverage Concealer
I've inherited a tendency to get dark circles under my eyes, especially if I'm stressed or not getting enough sleep. It can be difficult to hide these with makeup, but I recently tried this product in a beauty sample box and was pleasantly surprised. The formula is very thick and pigmented – a little on your BeautyBlender goes a long way, then dab to blend. I like to dust my blended concealer with a little setting powder because it feels just slightly tacky before it dries and the powder ensures it will stay all day. I love the illuminating element; the concealer covers everything and illuminates at the same time. I'm in the color Medium and just ordered my first full-size tube in my sale order.
Tatcha One Step Camellia Cleansing Oil
I've heard so many positive things about the Tatcha brand, I had to try one of their Holy Grail products. This cleansing oil is supposed to gently remove makeup and cleanse, leaving behind silky and hydrated skin. I can't wait to try it… My skin has improved so much since I discovered cleansing oils.
Tatcha Polished Classic Rice Enzyme Powder.
Mini Size Available Here.  Full Size Available Here.
Another Holy Grail product from Tatcha, I've had this rice enzyme powder on my "must try" list for a long time now. The rice enzyme powder is supposed to gently exfoliate skin without harsh grit or strong chemical exfoliants and incorporates some hydrating ingredients as well. I ordered the mini version, which I discovered is very mini at 0.35 oz compared to the 2.1 oz full-size version. I think in this case the full-size version might be the better purchase.
Peter Thomas Roth 24K Lift + Firm Hydra-Gel Eye Patches.
Again – another product I've been hearing rave reviews about and I decided to wait for my 20% discount to try them out. These hydra-gel eye patches (60 in a jar) are soaked in a shimmering, radiant serum designed to lift, hydrate, and brighten the under eye area. I've seen professional makeup artists use these on clients right before they apply makeup and they seem to really make a difference.
T3 Whirl Interchangeable Curling Wand Trio
I talk about this curling iron with interchangeable wands in this blog post. I love the variety in the interchangeable wands; they make traveling a breeze because I know I can get multiple hairstyles when I bring them. Plus, they create curls and waves that last all day. If you've been waiting to try styling tools from T3, this is a great time to use your discount and try them out.
Splurge…
La Mer The Perfecting Treatment
Okay, hear me out… I used to work at a cosmetics + skincare company that regularly put down La Mer because it "doesn't have any active ingredients" like most medical-grade skincare with glycolic acid, retinol, etc. As a result, I just didn't understand the hype behind this luxe brand… Until I tried their foundation (read below). So I used my discount to splurge and get The Perfecting Treatment, which is La Mer's version of a primer you can use before or after moisturizer. Just a tiny amount of this gel-cream treatment glides over skin and neck, creating a smooth, satiny, poreless canvas to apply makeup.
When I read about the La Mer brand and The Perfecting Treatment, many reviews stated the line "transformed" their skin over time – reducing redness, minimizing pores, hydrating, and softening the texture of skin. Since I've moved to the dry, greatly fluctuating climate in Denver I've noticed a quick deterioration in the hydration, elasticity, redness, and pore size of my skin. I think everyone's skin is different and since chemical skincare and expensive facial treatments haven't worked for me, I'm ready to try more of the La Mer line and see if it improves the quality of my skin the way their foundation has.
Note:  You can also use the La Mer SkinTint SPF 30 as a primer before their foundation.
La Mer Soft Fluid Long Wear Foundation
This is the product that started my love affair with La Mer. A satiny, silky foundation that is easily blended into skin (my favorite way is to dab it on with my BeautyBlender, although the La Mer foundation brush is great if you're looking for a new one) and is somehow simultaneously lightweight and full-coverage. I use shade "Neutral" but "Natural" also blends well with my skin tone and is just a tad lighter. Once I dab it into my skin my redness is reduced, pores are minimized, and my skin appears glowy and hydrated. I always get compliments on my skin when I wear this foundation and most of the time it's (impressively) hiding some breakouts, irritation, and redness! This is one of those cases where you truly get what you pay for.
To reduce the amount of product you use (I get it, it's La Mer) use clean fingertips to spread the product over your face and then just blend out with a damp BeautyBlender.
La Mer The Powder
Not surprisingly, La Mer's The Powder is equally brilliant. If you choose one, go for the foundation. But… Keep in mind the La Mer products work seamlessly together to create a beautiful, flawless look. You'll always get a better result when you layer them (skincare and makeup) with one another. The makeup can be layered with other brands, but I find they just don't blend as nicely. Keep this in mind and be light-handed when applying concealer, contour, blush, and bronzer.
I dust La Mer's The Powder on top of everything as a finishing powder, concentrating on my under-eye area so it really sets my concealer. The powder is finely milled, soft, and full of softly reflective particles. Your skin will have a satin-matte finish and be glowing from within when you're done. The La Mer Powder Brush is the softest, fluffiest brush and gives a gorgeous finish.
La Mer The Powder Brush
Because if you're going to be a La Mer addict… Be a La Mer addict. This powder brush is exquisitely soft and dusts the perfect amount of powder onto skin.
Dyson Blown-a-Ouai Set
I've been so curious about this Dyson hairdryer. I played around with it in store and it seemed great, but I obviously wasn't able to see the shine and volume it promises when it's used on hair. I saw this set and think it would be the perfect way to purchase the Dyson hairdryer since it comes with a selection of Ouai hair products. Ouai was designed by Jen Atkins (hairstylist to the Kardashians) and I can attest her Ouai Texturizing Hair Spray is incredible; the scent is gorgeous and the product really works. If you're going to splurge on a hairdryer, why not get it with a bunch of new hair products?