It's that time of year again, when we flock to our local Nordstrom (or laptops) to shop the Nordstrom Anniversary Sale. I know there's so much hype and panic-buying surrounding the sale, but it's truly a great time to pick up some things you need to restock and even snag a few early holiday gifts. Below I'm curating my favorites; items I've actually bought before or am currently shopping this year.
If you haven't shopped the sale before, the reason so many of us are a bit addicted to it is because the sale offers new fall items and often exclusive colors + larger packaging at discounted prices. Many items quickly sell out, which is why "Early Access" to shopping the sale (through being a Nordstrom cardholder) is a plus. Find details on Nordstrom card application and benefits here.
Nordstrom Anniversary Sale 2021 Dates: In 2021, the Nordstrom Anniversary Sale could be previewed by everyone on July 6th. Icon status cardholders can shop the sale starting July 12th. Ambassador status cardholders can shop the sale starting July 14th. Influencer status cardholders can shop July 16th. And the public can shop the sale beginning July 28th before prices increase August 9th.
Below I've linked my favorites and what I'll be shopping this year…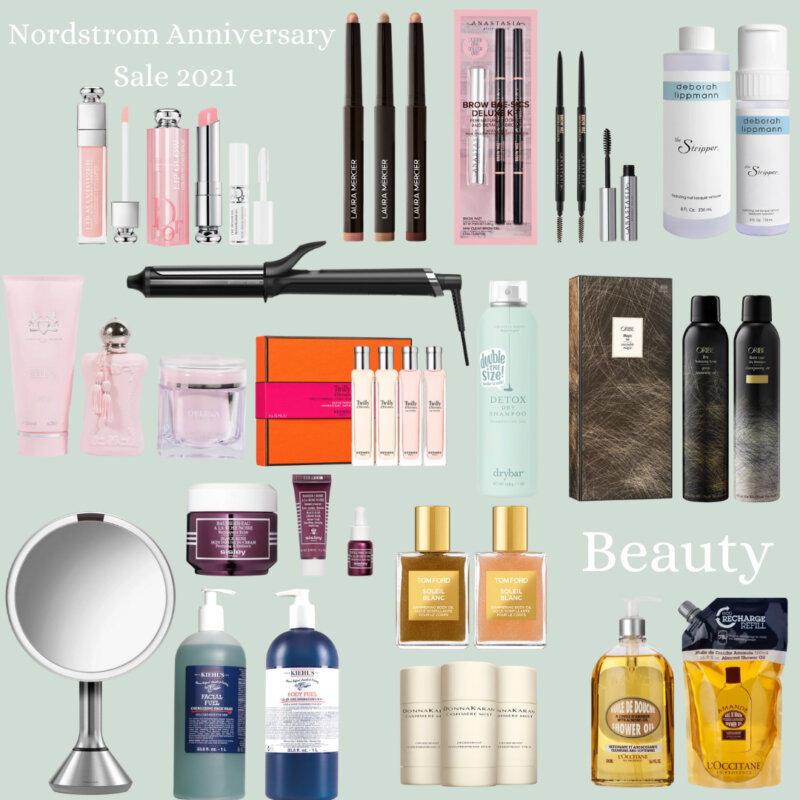 Shop My Nordstrom Anniversary Sale Beauty Favorites on LIKEtoKNOW.it
Dior Lip Set. Laura Mercier Cream Eyeshadow Set. Anastasia Beverly Hills Brow Set. Deborah Lippmann Nail Polish Remover. Parfums de Marly Delina Perfume Set. Twilly d'Hermès Perfume Set. Sisley Paris Set. GHD Curling Iron. Drybar Dry Shampoo. Oribe Dry Shampoo & Texturizing Spray Set. Simplehuman Mirror. Kiehl's Jumbo Face Wash. Kiehl's Jumbo Body Wash. Tom Ford Body Oil Set. Donna Karan Deodorant Trio. L'Occitane Shower Oil.

This is the only lip plumper I use consistently; not only does it work, I find it makes my lips plumper over time. I love layering the lip gloss over the lip balm. They give lips the most perfect pink glow.
This creamy eyeshadow set sold out quickly last year and for good reason. The colors are gorgeous, wearable neutrals and the formula is easily blended into both shadow and liner applications. This set has saved me so much time getting ready as a busy mama with limited time for makeup.
My favorite brow pencil of all time. I wear the shade "Medium Brown". This set comes with two mechanical brow pencils and a travel size clear brow gel as well.
I love stocking up on this nail polish remover because it's the only one I've tried that has a pleasant scent. Since I had Georgina, I often do my nails myself because I don't have the ability to pop into a nail salon as much. This set comes with a tap-pump bottle and a large refill bottle.
I discovered this fragrance last year and fell in love; it's a sweet floral without being too candy-sweet and has a hint of sensuality to it. This set comes with a full-size fragrance, shower gel, and body cream. Fragrance notes: Turkish rose, lily of the valley, rose, lychee, bergamot, rhubarb, nutmeg, cashmere wood, and musk.
Such a fresh, clean, yet still feminine fragrance. This set gives you two small bottles of each; perfect for travel. Would make a great gift to tuck away for someone as well. Fragrance notes of Eau de Parfum: ginger, tuberose, and sandalwood. Fragrance notes of Eau Poivrée: pink peppercorn, tender rose, and patchouli.
My favorite and most-used curling iron; this gives me full, soft curls that last for days. I also reach for this to touch up a blow-dry in the days that follow.
I swear by this dry shampoo for its light, fresh scent and its impressive absorbing power. It's so nice to have a bottle this large; my previous jumbo Nordstrom Anniversary version has lasted me an entire year!
Oribe products give you that full, sexy-scented hair so many of us want but few of us are born with. The dry shampoo is great, but the Dry Texturing Spray is my favorite. I spray it toward the bottom half of my hair when I'm done styling it, then tousle with fingers. Such a great set to grab on sale or gift to the hair-obsessed woman in your life.
This is a great skin cream if you're looking for something to plump skin with moisture and create a luminous glow. The full size Black Rose Skin Infusion Cream alone is usually $210, so at $155 this is a great opportunity to experience it while getting to try out travel sizes of the Black Rose Cream Mask and Black Rose Precious Facial Oil as well.
If you treat yourself to one thing this sale, let it be this mirror! I consider mine a game changer when it comes to skincare and makeup and have gifted this a few times. The first time I took mine home, I think I spent an hour tweezing hairs and doing pore extractions I had missed in my regular mirror.
I buy these products for my husband each year during the sale and he loves them. He only recently finished last year's bottles.
I passed up this set either one or two years ago during the Nordstrom Anniversary Sale and regretted it, so I'm putting them on my list this year. I love using body oils, especially ones with just a hint of shimmer during the summer months. This set comes with two travel-size bottles in golden and bronze shades.
I had heard such great things about this deodorant and finally bought the set during the Nordstrom Anniversary Sale last year. The reason for the hype is… It just works so well! I have no idea what they put in this product, but it's better than any other deodorant I've tried. The scent is pleasant but not overpowering; I wear it every day and it doesn't clash with my perfume. This set comes with three deodorants and a travel-size Cashmere Mist perfume.
Love, love, love this product and have repurchased countless times. This oil slightly lathers as it moisturizes and hydrates skin. I use it to shave in the shower every day.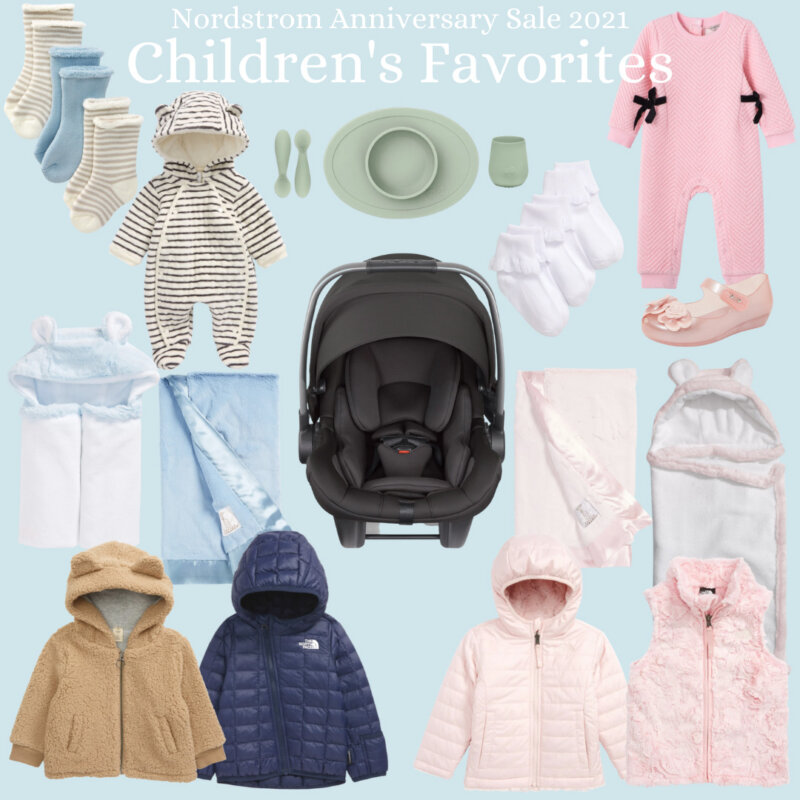 Shop My Nordstrom Anniversary Sale Children's Favorites on LIKEtoKNOW.it
Soft Socks Set. Baby Bunting Suit. Blue Bear Hooded Towel. Little Giraffe Blue Blanket. Bear Jacket. Navy Northface Jacket. First Foods Set. Car Seat. Quilted Romper. Scalloped Socks Set. Pink Jellies. Little Giraffe Pink Blanket. Pink Bear Hooded Towel. Pink Reversible Jacket. Pink Swirl Vest.

This brand makes the softest blankets. Georgina still sleeps with hers every day and this blanket in blue is on my list to grab before this sweet baby boy makes his appearance.
Georgie wasn't a big fan of her infant car seat. Once she had outgrown it and we finally switched to a Nuna brand toddler seat (the Nuna EXEC All-In-One) it was so much better. I was recently in Nordstrom and I saw this car seat, lifted it, and could not believe how light it was compared to my last infant car seat. It made my decision easy and so I purchased this car seat a few weeks ago! I wish I had known it would be in the sale just a few weeks later.
Georgie is obsessed with these jelly shoes. She outgrew her first pair and kept going into the spare bedroom where I was gathering her outgrown clothing and shoes and putting them on, desperate to keep them around! I stocked up so she'll always have a pair of jelly Mary Janes that fit. This pair is so darling, I had to put them on my shopping list for the sale.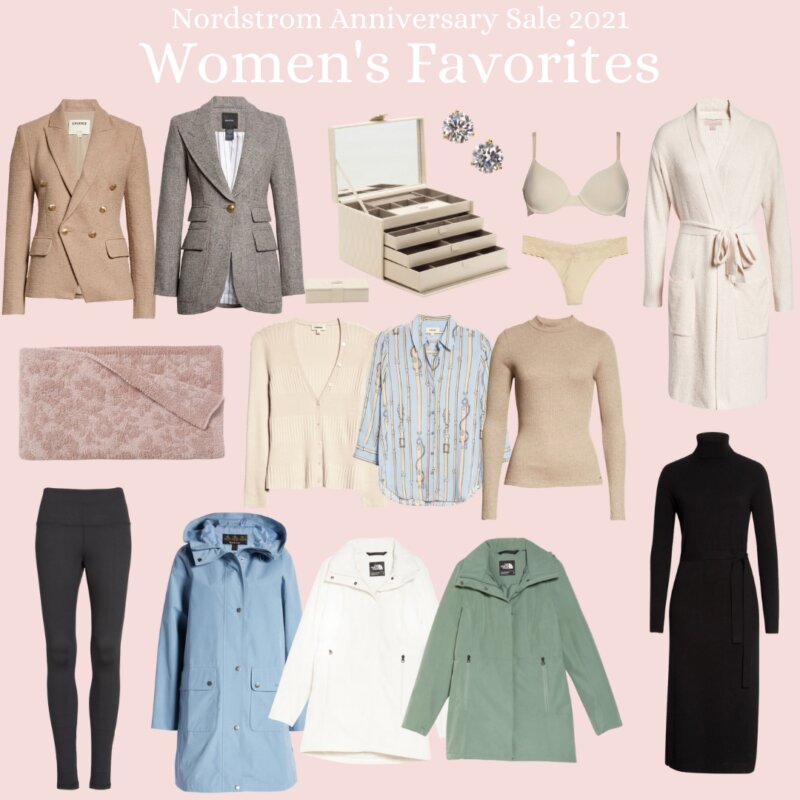 Shop My Nordstrom Anniversary Sale Women's Favorites on LIKEtoKNOW.it
Kenzie Double Breasted Bouclé Blazer. Smythe Herringbone Blazer. Wolf Quilted Jewelry Box. Cubic Zirconia Earrings. Underwire Demi Bra. Bliss Thong Underwear. Bliss Bikini Underwear. Barefoot Dreams Robe. Barefoot Dreams Floral Blanket. L'Agence Rib Stripe Cardigan. L'Agence Belt Stripe Blouse. Ted Baker London Ribbed Pullover. Zella High Waist Leggings. Zella High Waist Maternity Leggings. Barbour Waterproof Hooded Raincoat. The North Face Hooded Waterproof Parka. The North Face Hooded Waterproof Parka. Theory Turtleneck Cashmere Dress.

One of the Duchess of Cambridge's favorite brands, Smythe has beautiful fabrics and flattering feminine tailoring. This wool blazer is timeless and feels like the type I would wear for years to come. One of my favorite go-to fall and winter outfits is to throw on a blazer with a hint of English influence like this over a tee or silk blouse, jeans, and boots.
These jewelry boxes are so beautifully made, they're like little works of art. I had this on my wishlist for years and my husband gifted me one for Christmas last year. They look beautiful displayed in a closet or on a dresser and hold so much jewelry. Depending on the size you order, they come with a travel jewelry case and a smaller jewelry box for tucking into a safe or lockbox for safekeeping. If you have a little less room, take a peek at this Medium version.
My favorite leggings of all time! Thick material, great compression, a flattering fit, and fabric that holds up wash after wash have made these my #1 choice the past few years. They run true to size and come in maternity leggings as well, which are great for pregnancy and postpartum. I usually pick up a fresh pair of these during the sale and have gifted them to friends as well.
I couldn't curate my women's favorites from the Nordstrom Anniversary Sale without mentioning the Moonlight Pajamas. Soft, stretchy, and in a flattering classic silhouette, these pajamas will quickly become your favorite. I have had mine for years and they are one of my favorite items to gift as well. Order true to size for a loose fit and order one size down if you prefer your pajamas more fitted. (Not pictured in collage – I ran out of room!)