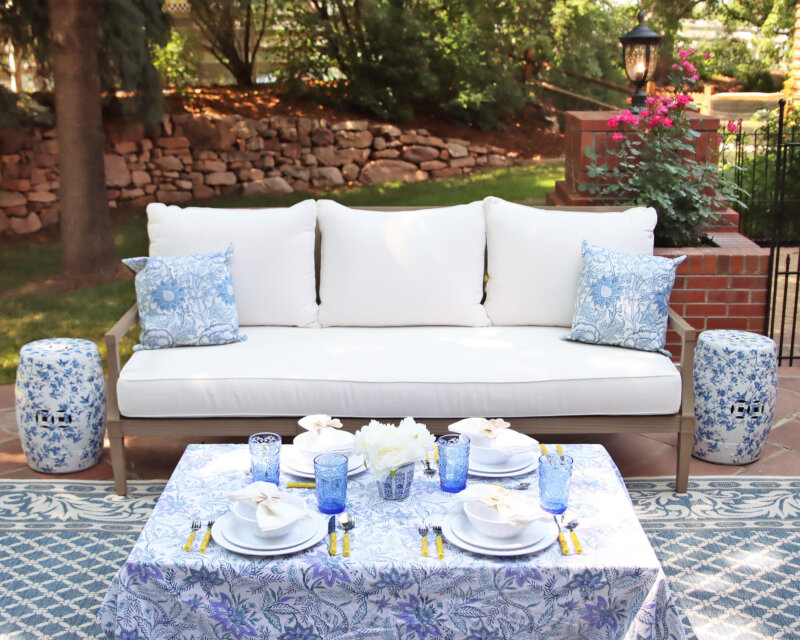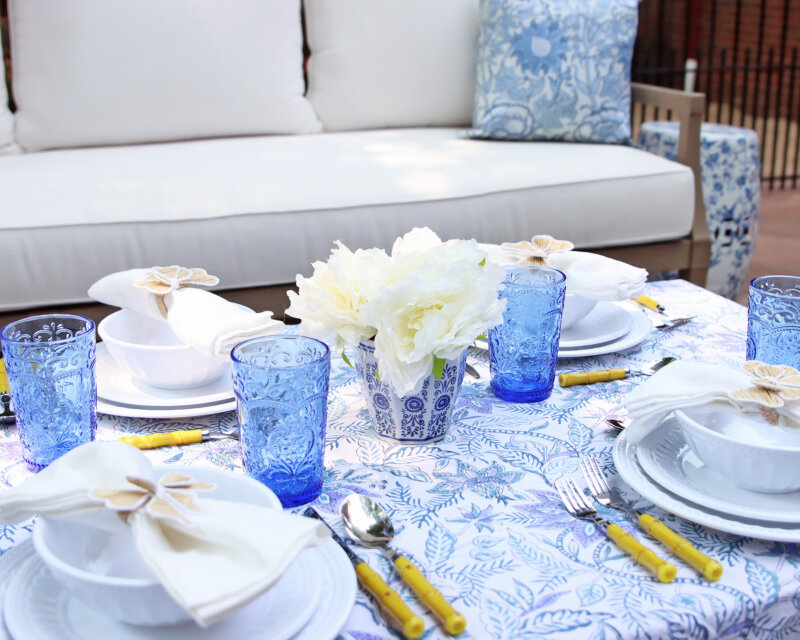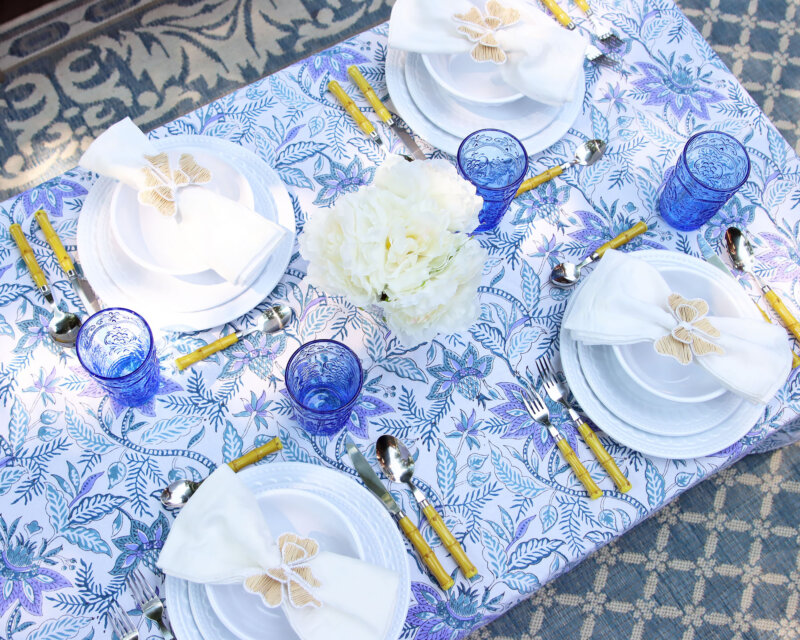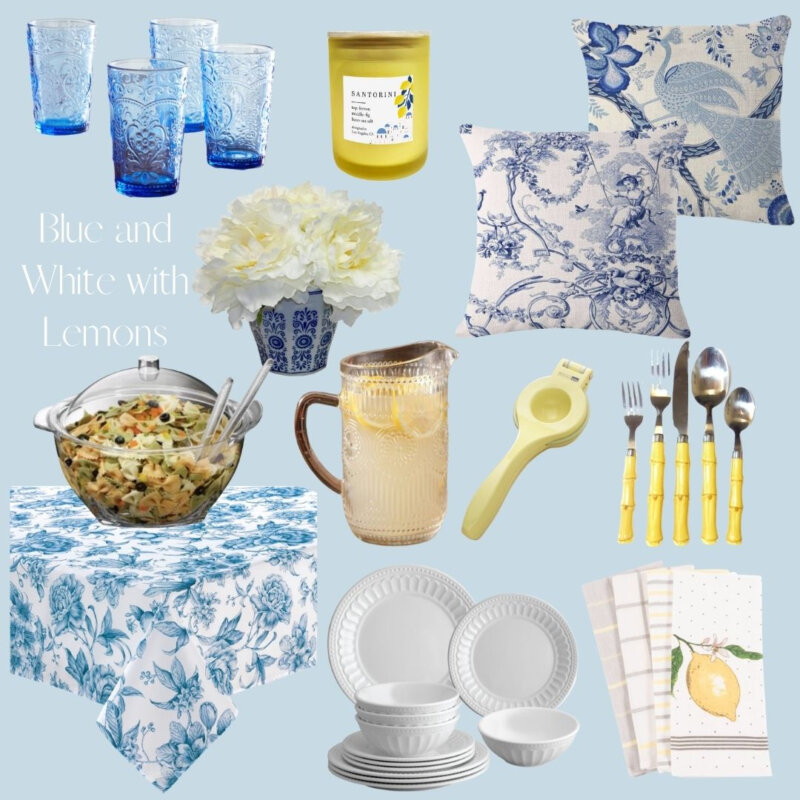 This Post Sponsored by Walmart.
Blue Tumblers. Santorini Candle. Toile Pillow. Chinoiserie Pillow. Chinoiserie Faux Floral. Plastic Salad Serving Bowl. Blue and White Tablecloth. Glass Pitcher. Lemon/Lime Squeeze. Plastic Bamboo Flatware. Melamine Dishes. Lemon Towels.
Blue and White
We've been spending so much time out on our patio this summer and with a little one in the mix, I needed to look for more durable and affordable tablescape options for our outdoor dinners. Here in Denver we often have pleasant days well into October, so I felt like now was the perfect time to get my alfresco tablescape in order. With so many items being delayed or backordered, I was happy to find everything here in stock and available for fast 2-day shipping through Walmart.
I've been inspired by beautiful chinoiserie patterns and traditional ginger jars in my home decor lately, so I carried that blue and white theme over into our patio tablescape as well and infused that blue and white color palette with a hint of bright, crisp citrus. I found a blue and white tablecloth, gorgeous white melamine dinnerware (comes as a setting for four), beautiful blue glass tumblers, and a salad serving set that keeps your food fresh while you are serving and dining. A citrus-scented candle, chinoiserie faux floral, blue and white chinoiserie and toile throw pillows, and plastic bamboo flatware give everything a fresh, summery feel.
All items in this beautiful blue and white tablescape are under $65 and available for fast shipping through Walmart. I love how this tablescape turned out; it arrived quickly, gives my patio table a beautiful new look, and the plastic tableware and flatware have already proven to be winners with my toddler.
If you're looking to update your space or prepare your home for summer guests, take a peek at more summer items from Walmart in this lookbook.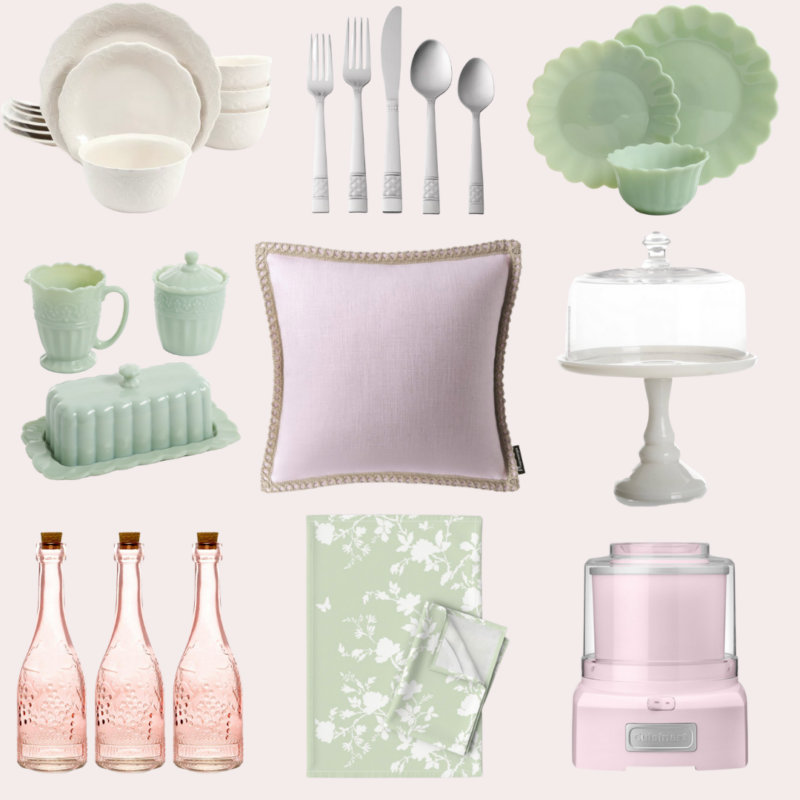 Lace Pattern Dinnerware Set. Lattice Flatware. Blush Pink Glass Tumblers. Milk Glass 3-Piece Dinnerware Set. 3-Piece Sugar, Butter, Creamer Set. Linen-Trimmed Blush Pink Pillow. Milk White Glass Cake Stand. Vintage Blush Pink Glass Bottle Flower Vases. Chinoiserie Tea Towel Set. Pink Ice Cream Maker.
Blush and Green
I couldn't resist coming up with a blush pink and green tablescape as well; it's one of my favorite color combinations and I think you could easily add some deeper garden roses and even some fall-tinted hydrangeas (ours turn a deep mauve come September) that would bring this tablescape into the cooler months. Just love this color combination and the feminine, vintage-inspired table it would create! I would love hosting a girls' night with some rosé on the patio… Or maybe just a special night with cake and ice cream (how cute is that pink ice cream/yogurt maker?!) for Georgina. All of these items are under $70 and available for fast shipping through Walmart.