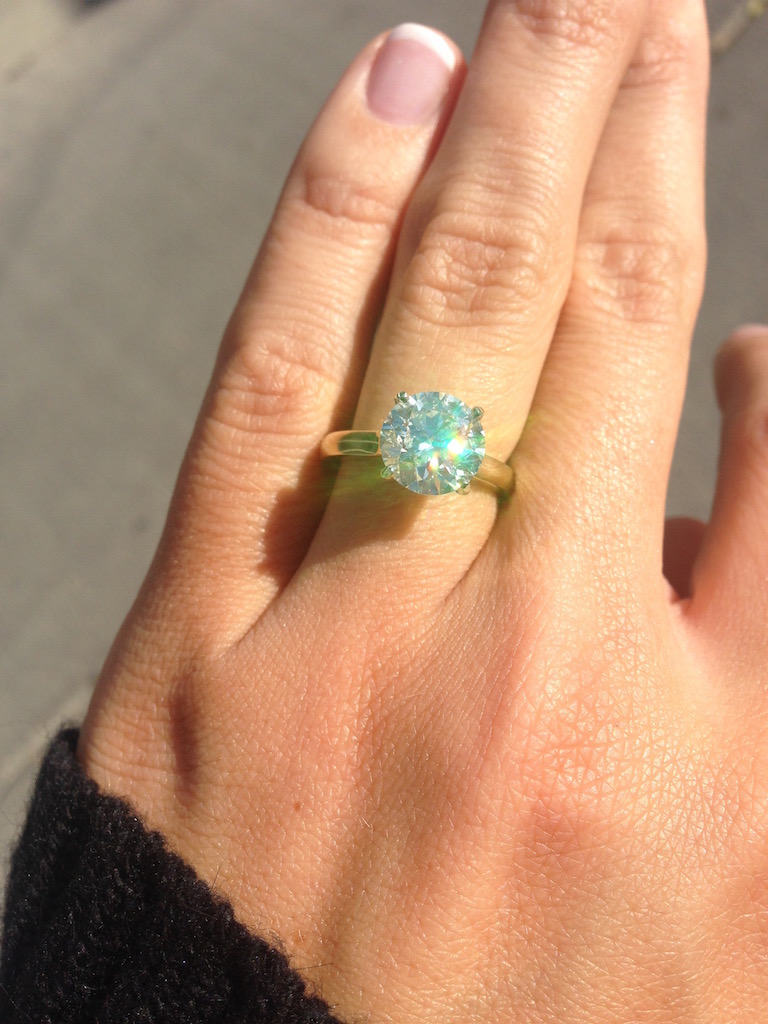 On Tuesday October 8th my boyfriend changed my life by proposing to me.  I said YES, and have been in a state of absolute bliss ever since.
I waited until we had called both our families before posting anything on social media last night.  Being a blogger my life is so public… But this is something very special, meaningful, and personal to me so it has actually been difficult for me to decide whether or not to share it.
There are so many details in our story, so ultimately I decided this was a perfect way to let our family and friends in on our engagement.
But first, let's start at the beginning…
How We Met
J moved in down the street from me when he came to law school in Omaha.  I was speeding up the street one day and I nearly hit him with my car as he was walking home with dinner.  Most guys would have labeled me as the neighborhood psycho but instead John told me he thought, "Wow.  She's beautiful!"  He didn't know until later that I would be going to law school with him.
I had seen J at law school orientation and then again at our first mixer.  But my first real, vivid memory of him was in class… I immediately noticed that he was tall and handsome, but what I loved and continue to love most about him to this day are his kind, sweet eyes.  As I packed up my books after class one day I remember thinking, "He just looks so nice."  For some reason, I wanted to trust him immediately.
We spent time together, but both of us had a lot of growing up to do before we got into a committed relationship.  I wanted to focus on law school and I was the type of person who really needed to study to make it through.  So we went our separate ways, dated other people, but we always kept in contact.  We would text each other and J would often bring my favorite Hot Tamales to me when he knew I was staying in and studying.  There was just something about him.
I look back on this time and sometimes am sad that I was such an idiot and didn't realize that such a wonderful guy was just down the street… But I trust in God's plan and I know He was waiting for both of us to grow up and become the people we needed to be for one another.
J asked me to a car show our 3L year of law school.  It was meant to be a casual afternoon looking at cars but we had so much fun together that we decided to extend the date and go to dinner.  We spent our 90 minute wait at the restaurant talking about our families, law school, our future careers, and our lives.
Just Us
I saw a different J in those 90 minutes… He had grown up so much.  He was mature, kind, sweet, sensitive, patient, and understanding.  After that dinner everything changed.  There was no going back… I knew there was a reason we were brought together and I could see him as the man who would be in my life for a very long time.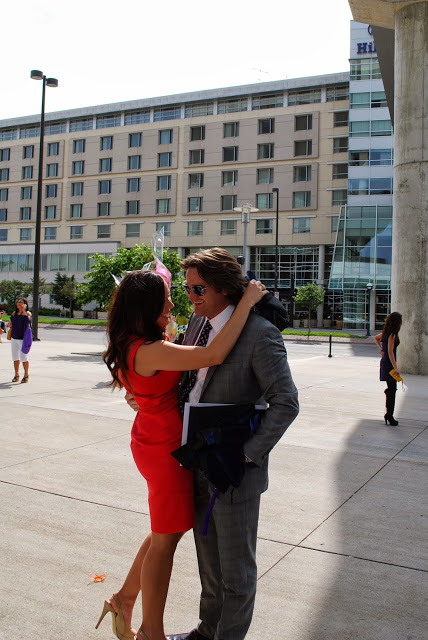 The day we graduated from law school together.
The hardest part of our relationship was the long distance while I was in Los Angeles and J was in Denver.  It was so difficult to be away from each other… We tried every possible option and we finally decided that we had to try living out our relationship while in the same city.  We wanted to do normal things like go on walks, grocery shop, and take our dogs to the park.
Since I've been in Denver, J and I have gone through so much and have become so close.  He is my best friend and he always tells me that I'm his too.  We've learned so much about each other and about love, respect, commitment, and trust.  We challenge each other to be better people and we make a great team.
The Proposal
J and I are not good at surprises.  So… I was fairly certain we would get engaged, I just didn't know when it would happen.
J gave me a letter on Monday night that explained I would be on a scavenger hunt on Tuesday.  I wasn't allowed to text anyone, call anyone, or post on social media about my day.  When I arrived at each location, I had to send him a photo and he would send me another clue.  It was the perfect proposal for J and I… We are so playful and we love doing fun things to keep one another guessing.
I want to keep the clues/messages J sent to me private.  It was so special… Like our own private conversation all day long.  He put so much thought and love into each and every one.  I will never, ever forget those sweet messages and how wonderful they made me feel inside.
Our engagement day was honestly every girl's dream; J made me feel like a princess.  His clues sent me to a morning of pampering… I got my nails done and I got a spray tan for a little glow.  After that, he told me to go shopping and pick out something new for that evening.  He had a beautiful bouquet of roses waiting for me at the florist's.  Then I was instructed to go home and get ready for our afternoon.
His next clue sent me to the picturesque river rapids where we swam this summer.  After that, I was led to a pumpkin patch and corn maze outside the city… I have loved pumpkin patches since I was a little girl and my grandparents would take me every year.  J's clue told me to go into the corn maze and take a photo… I sent it and waited anxiously for the next clue to ding.  When it finally did it read, "Get to the end of the maze.  Since you're an Iowa girl you should know how to navigate a corn field!"
My heart was pounding and I was so flustered.  The employee told J most people take 45 minutes to finish the corn maze while I finished it in 20 minutes!  
I got to the end of the maze and I saw J standing there… I wasn't sure if I went the right way or not, but I was so happy to see him after the long day of anticipation!  When I walked up to him, he touched my forehead and he told me I was bleeding!  One of the paper-thin cornstalks had brushed against my face and cut it… Of course, I was oblivious because I was so excited and anxious.
Then, as I was thinking about my forehead, J got down on one knee and my whole world spun… Honestly, the next 20 seconds went past like a blur.  He told me that he loved me and he wanted to navigate the maze of life with me.  He pulled the ring out of his shirt pocket and said, "Will you marry me?"  Ahhh!!  Those words just kept swirling in my mind and I saw my life flash forward to J as my husband.
I said, "Yes!!! Yes… Of course I will marry you."  And he slid the most beautiful, sparkly, perfect ring onto my finger.
J stood up, and we hugged each other so tightly… I felt like I could faint at any second, I was so overwhelmed and happy.  I remember telling J I would love to spend the rest of my life with him and then I looked at my ring and told him it was the most beautiful thing I'd ever seen.  All of a sudden I remembered my scratch and I asked him, "So wait, why am I bleeding?!"  It was all one big crazy, beautiful blur.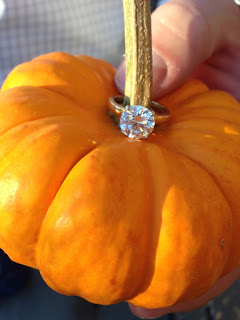 We picked out pumpkins to celebrate before heading home in total bliss.  Of course, our first duty was to call our family and let them know the good news.
That night, J took me to the restaurant
Mizuna
to celebrate.  I just kept staring at him and my ring throughout dinner.  Our waiter brought us celebratory champagne and I felt like we were in this warm, happy glow all night.
J was so good about taking photos with me and calling everyone and reading Facebook posts together.  I was so thankful he was a good sport.  Attention male readers: This is very important to your lady, so make sure you allow time for her to reach out to both your families and take all the photos she wants.
Also… To anyone planning on getting engaged sometime soon, try to focus on each and every second because the proposal passes so quickly (even if it lasts all day like mine!)  Everyone warned me about this, but it's almost uncontrollable… All your thoughts and emotions are rushing and time seems to speed up.  Did any of you feel like this?!
I'm so glad I was able to share this exciting day with you!  It was the best day of my life and I still can't believe I'm lucky enough to be blessed with a man like J.  I'm sure I'll be asking you all for lots of advice in the future!