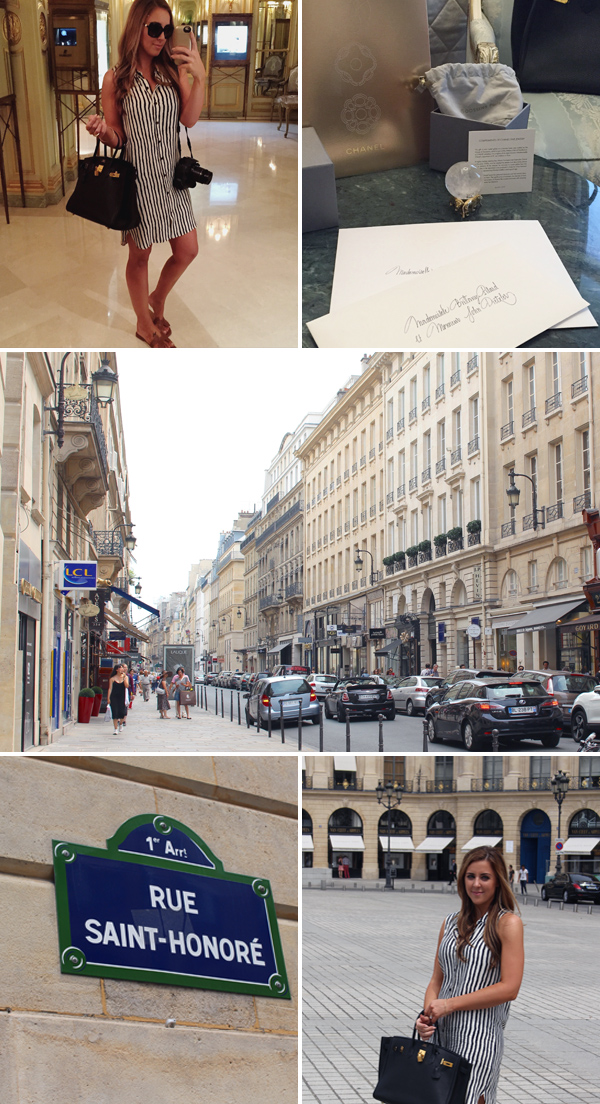 Paris.  Chanel.  Haute Couture Autumn/Winter 15/16.  I can't even put into words what this trip meant to me.  In a short number of days and nights I gained a plethora of knowledge about this industry and enough inspiration to last me a lifetime.
This is the first of my posts about my time in Paris.
Two representatives from Chanel met us off the plane and welcomed us into the unusually sweltering Parisian weather.  The City of Light was experiencing the hottest day on record in over 100 years and we were thankful to be in an air conditioned sleek black van heading to our hotel.  But as we watched the beautiful French architecture pass from behind tinted glass we began to ache for long, Parisian walks through the city… Sweating or not.
We met our "Chanel Concierge" posted at the hotel, checked into our hotel rooms, and freshened up.   This breezy little
striped dress
was a Godsend during our trip.  I paired it with my Hermès Oran flats (
similar here
) and I could literally walk all day.  With hair in a bun and some wedges or heels it would be perfectly appropriate for a summer evening out.
Waiting on our hotel room table was a shiny gold itinerary for the Chanel events and a beautiful little gift… A tiny replica of a decoration in Gabrielle Chanel's apartment on the Rue Cambon above her shop.  Coco was a Leo and was fascinated with lions all her life.  She had asked a local jeweler to remove a crystal ball from one of her treasured chandeliers and make a bronze lion base for it; the decoration became a favorite that sits in her apartment still today.
We tucked our treasures away and headed off for some lunch and shopping to shake off any remaining jet lag.  Lunch had to be Angelina – a beautiful little tearoom founded in 1903 on the Rue de Rivoli.  The favorite tea spot of Chanel and many others, it's a bit of a tourist destination, but its tea and charming pastries aren't to be missed.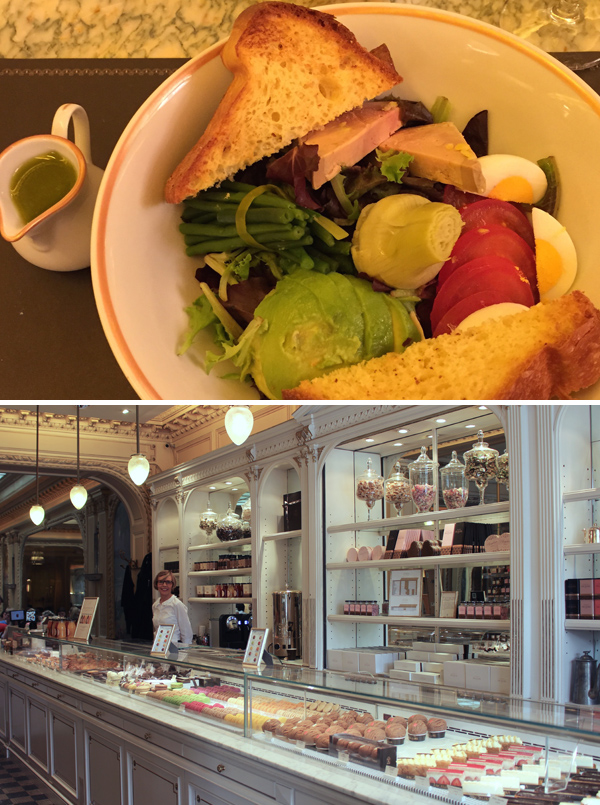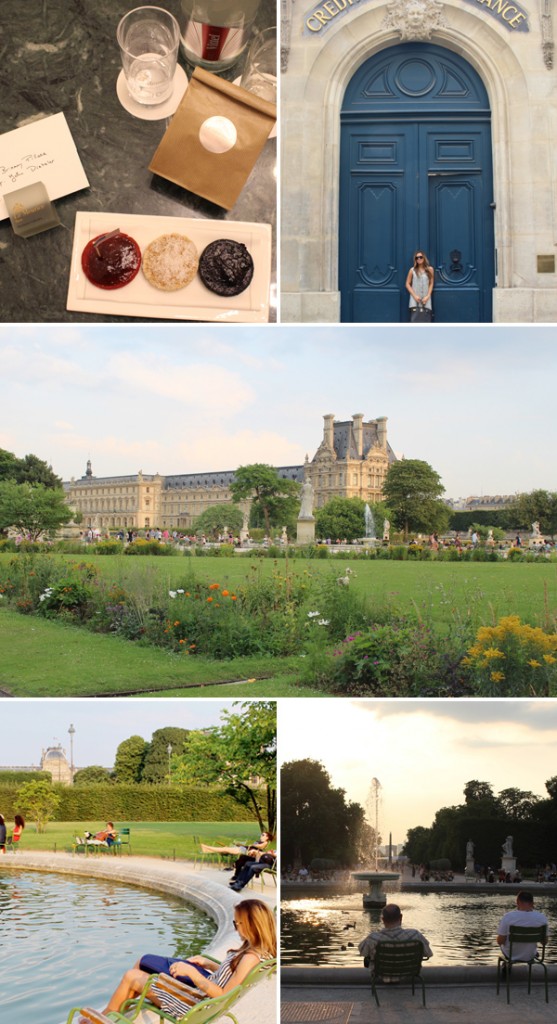 Walking through the intense summer heat, we stopped by our favorite Parisian shops… Goyard, Hermès, Chanel.  Paris shopping is like no other and it's truly worth the spent calories to simply just walk along street after street and window shop, or faire du lèche-vitrines as the Parisians say.
By the time we returned to our hotel after only a few hours outdoors, we were tired and hot.  Mom opted for room service dinner in the air conditioning and allow J and I an early picnic lunch in the park as the sun went down.
The hotel had left us patriotic little cakes and a bag of chocolate goodies in our room, so I packed them away in my
Longchamp bag
and we walked through the Jardin des Tuileries.  We found some French sandwiches to go, reclined in chairs near a little fountain, and let the evening breeze blow softly past us.  I'm sure I looked a wreck after traveling and sweating through the afternoon, but I could have stayed in that moment forever.  That kind of evening relaxation with stunning architectural feats for a view must be the reason people come to Paris and never leave.