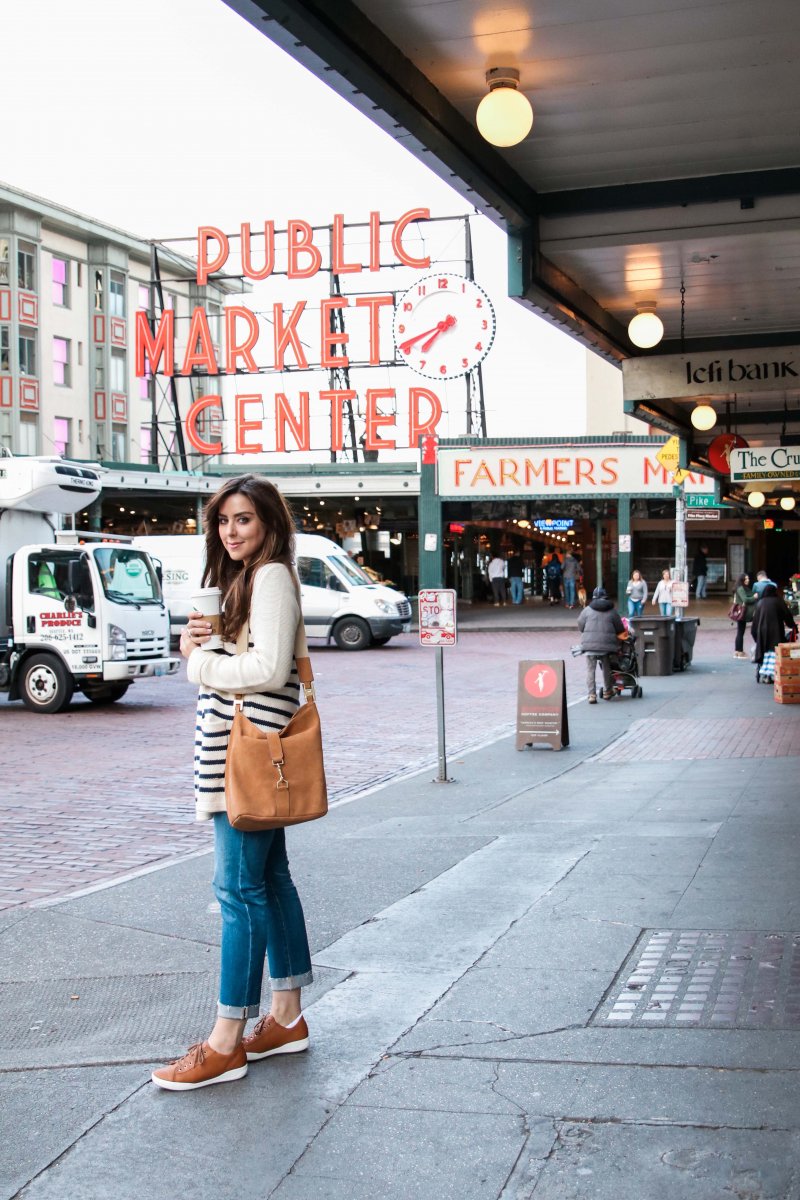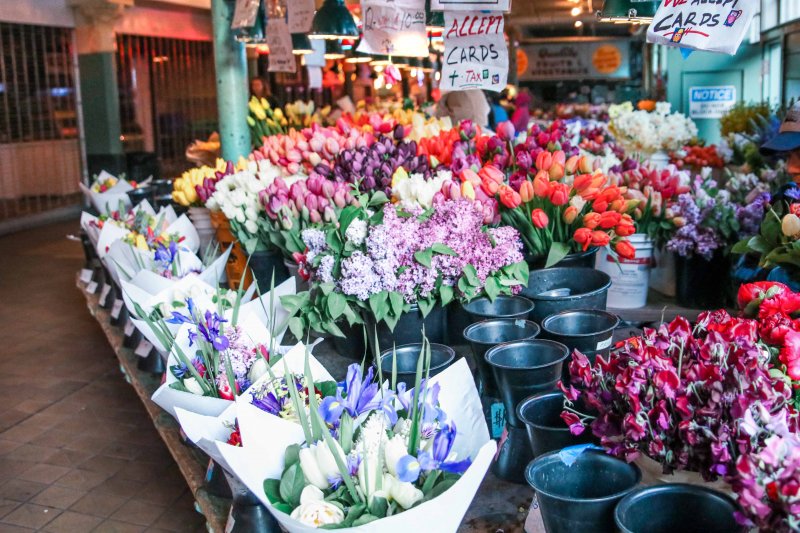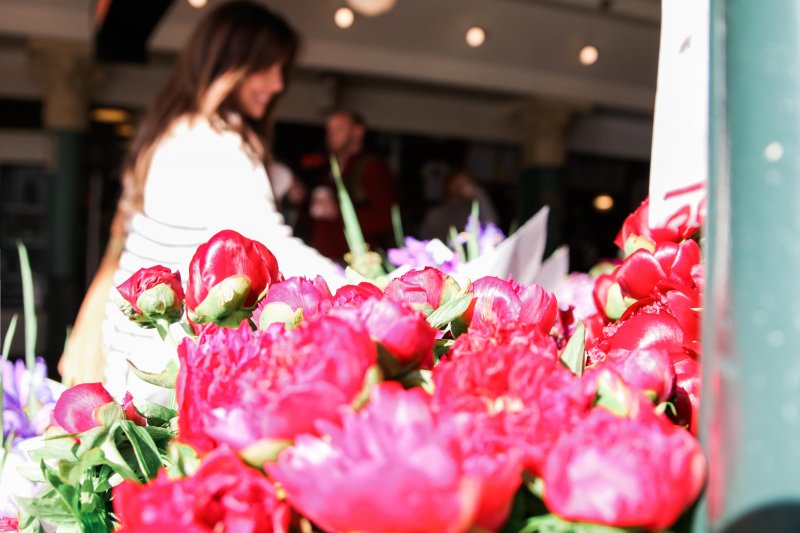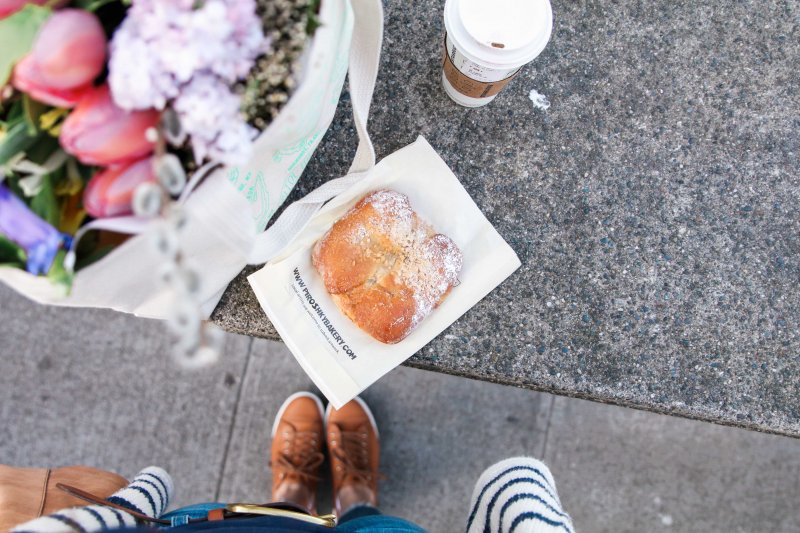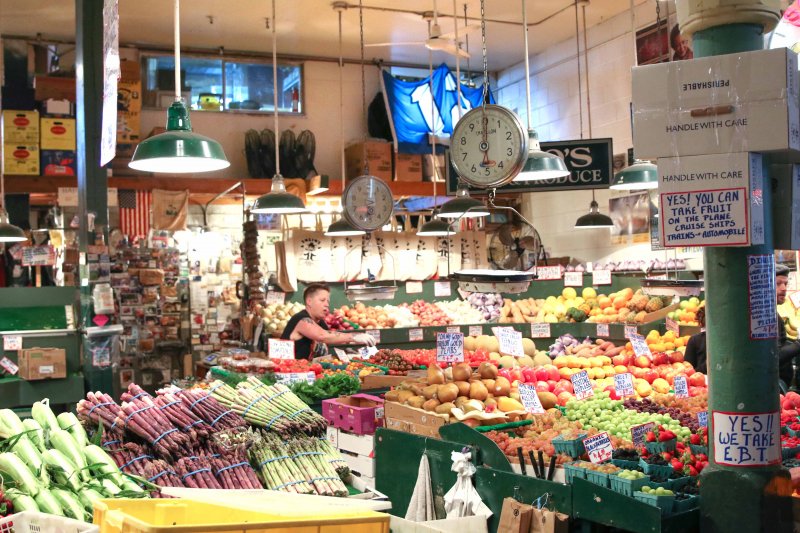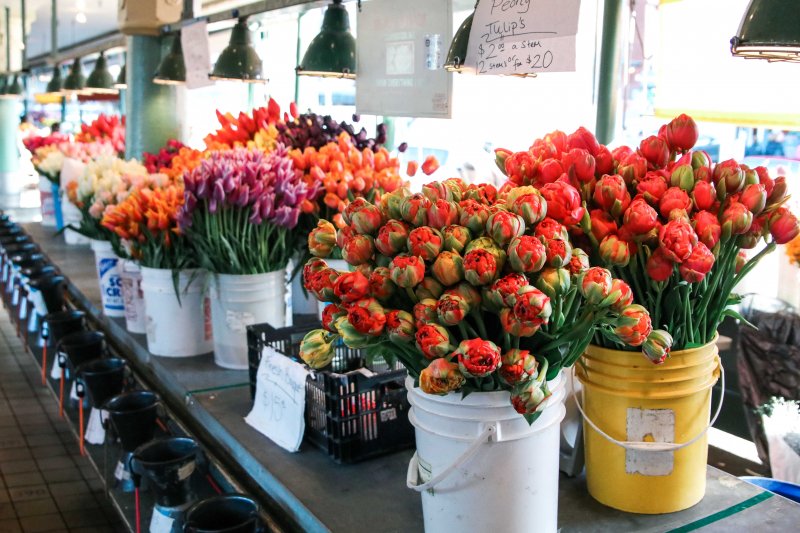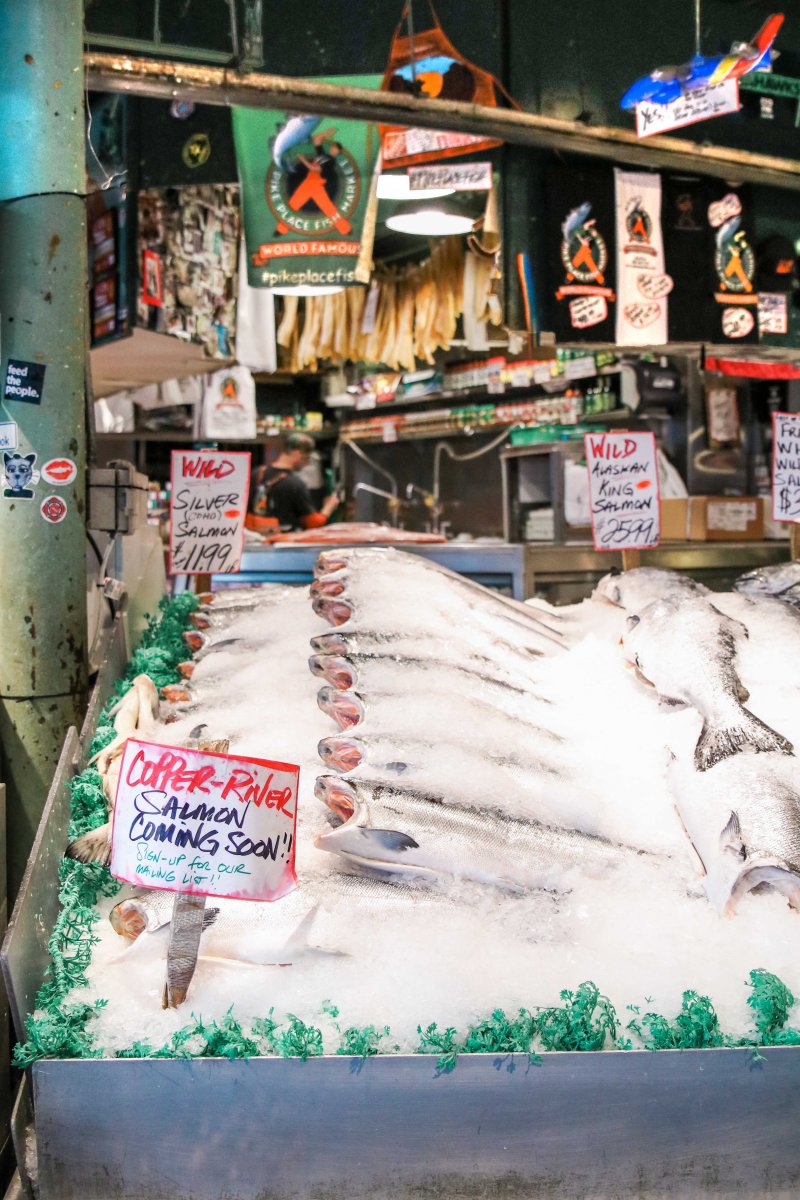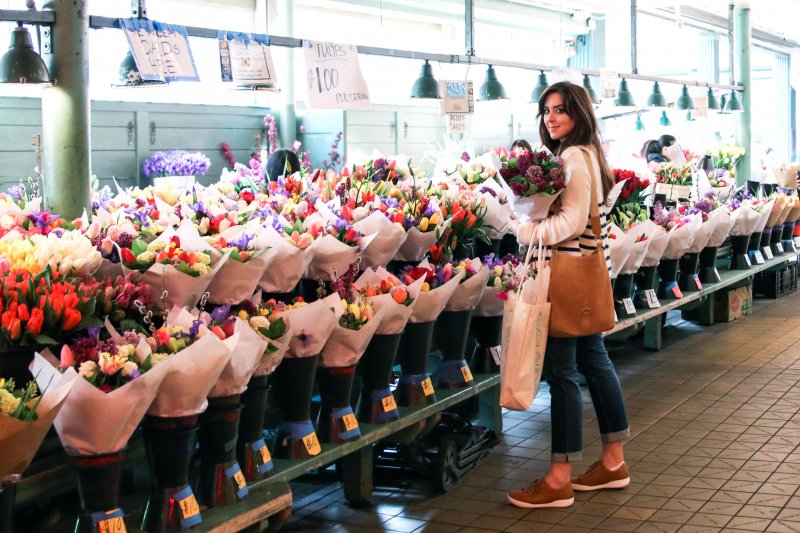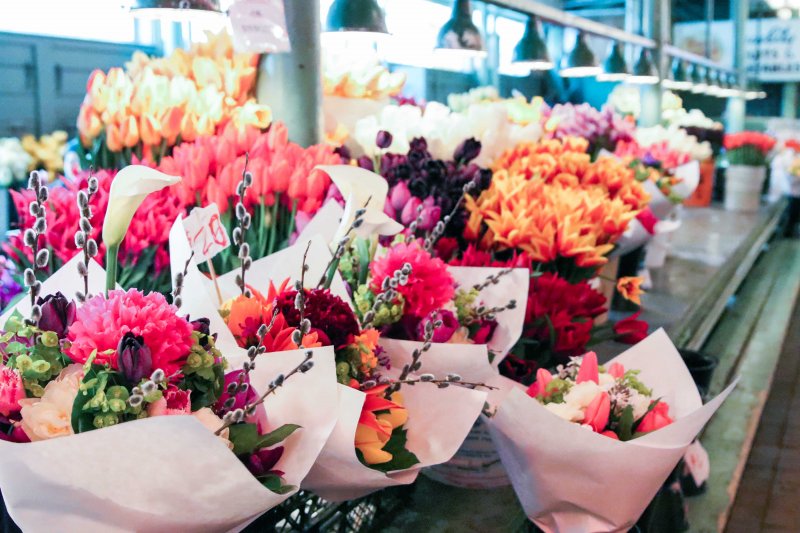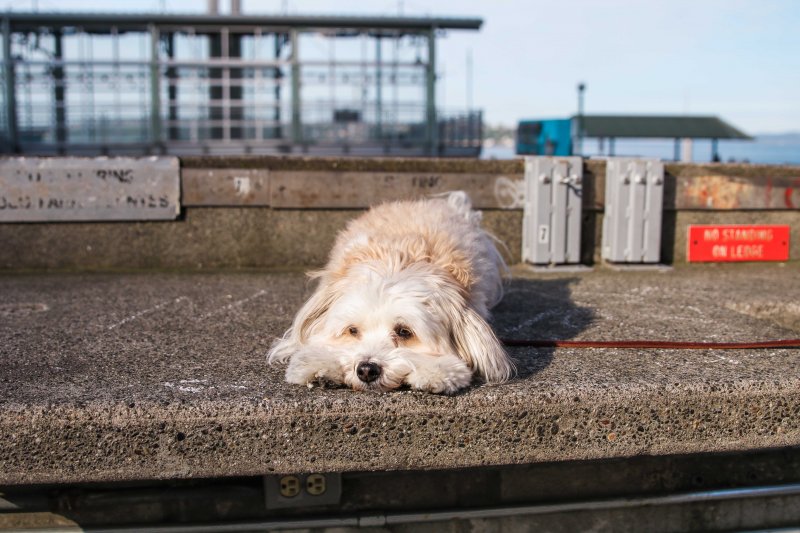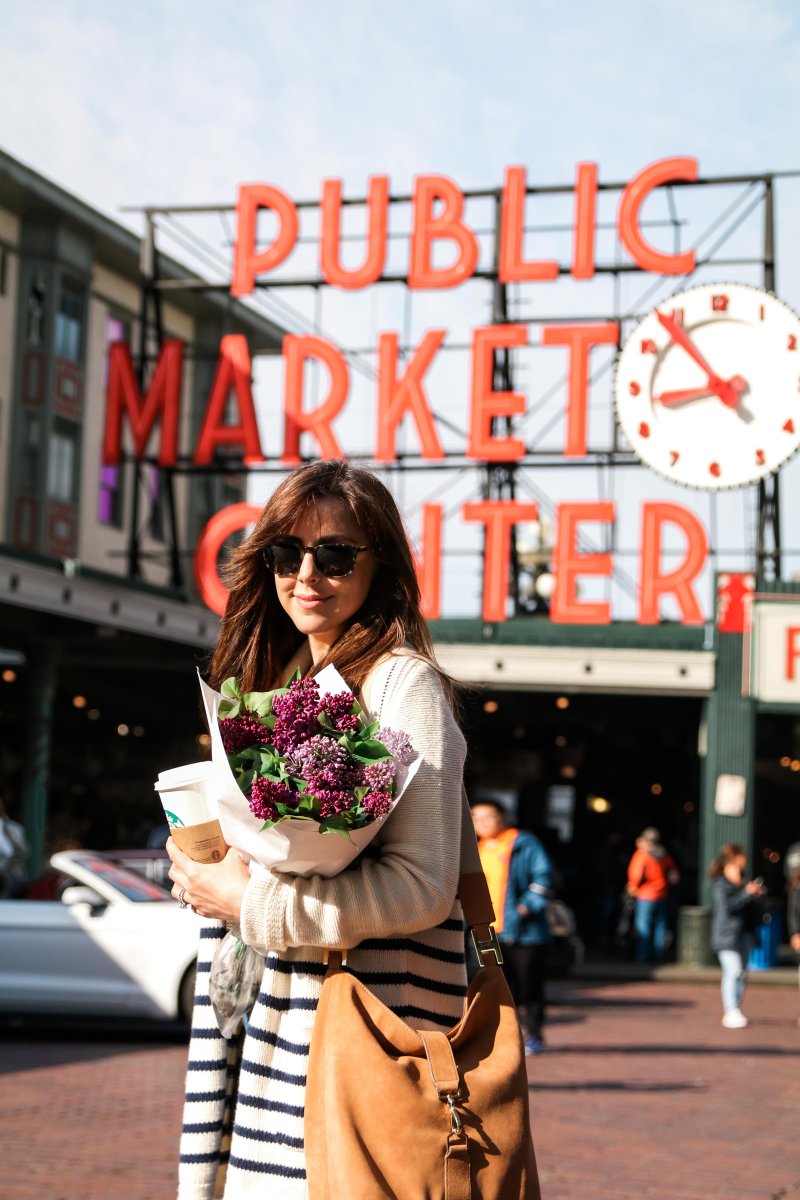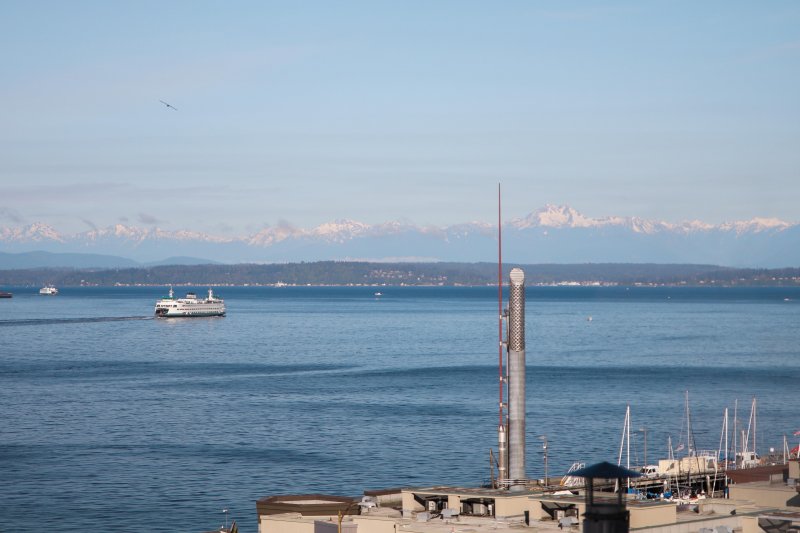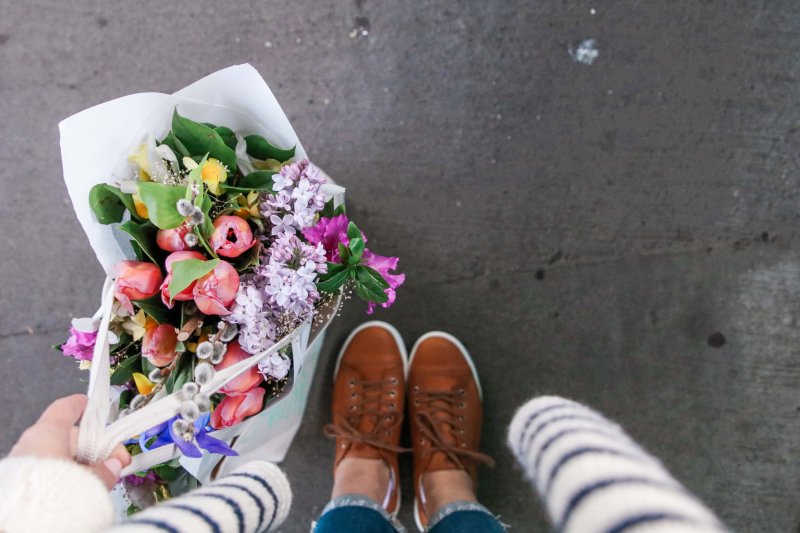 Sunglasses.  Suede Handbag.  Sweater – One Size Left.  Sweater Style – Solid Colors.  Navy 3/4 Length Tee.  Leather Belt.  Boyfriend Jeans.  Leather Sneakers.
Touristy though it may be, the iconic Pike Place Market is not to be missed during your Seattle, Washington travel. If you're visiting on the weekend, I suggest grabbing a coffee at the first Starbucks shop on Pike and 1st and showing up bright for prime photo shots and first pick of the day's flowers and foods. I was so impressed by the wide selection of fruit, seafood, and beautiful flowers at this market. At $10 or $15 a bouquet, I am incredibly envious of those of you who live in and around Seattle –  I would be filling our house with fresh flowers every weekend! I even bought a mixed bouquet and some fragrant lilacs to carry around with me and gifted them to an elderly woman later in the day. It was worth it to have them in photos, smell their perfume all day, and enjoy them at our picnic. If you'll be staying in the area for a while, most hotels will have flower vases you can borrow.
Our favorite produce stand was Sosio's Produce; the champagne mangoes and muskat grapes were delicious and we bought some to snack on during our trip. I spotted their Morel mushrooms right away – I think my Midwestern heart skipped a beat! We found the people working there to be so friendly and knowledgeable. You can ask them anything about flavors or preparation and they'll be happy to help you. Is your mouth watering reading about the mangoes and grapes? They told me they ship anywhere – you can take a peek at their website here. I think a shipped box of Morels would make for a perfect Father's Day gift.
We followed our noses across the street to the Polish bakery Piroshky Piroshky for breakfast. These buttery, flaky pastries are filled with your choice of anything from savory like ham or spinach to sweet like cream cheese or rhubarb. This spot becomes busy (with a line out the door and down the street) and after trying their fare, I find the long line completely justified! Their pastries were so delicious, we went here twice during our trip. Show up to Piroshky Piroshky early after a walk through the market and enjoy your breakfast while looking out over Elliott Bay on the other side of the Pike Place Market. Then make one last pass through the market after more of the shops and stands are open.
Wondering what to wear? Go for comfy-casual. Seattle reminded me of Denver with its relaxed, casual style of dress. I have never (and I mean never) found a pair of boyfriend jeans that flatter me until I discovered this pair. They're slim fitting, so they look less bulky and masculine than others I've tried. They run true to size, but you can order one size up and belt them if you want a looser look. The cobblestone and brick streets surrounding the marketplace area call for comfortable shoes, so my leather sneakers were a perfect fit. I wore these exploring La Push Beach, hiking in Hoh Rainforest, and running around the city and they never once made my feet sore or uncomfortable! We are working on a Europe trip and I will definitely be packing these for walking.
More From This Trip: