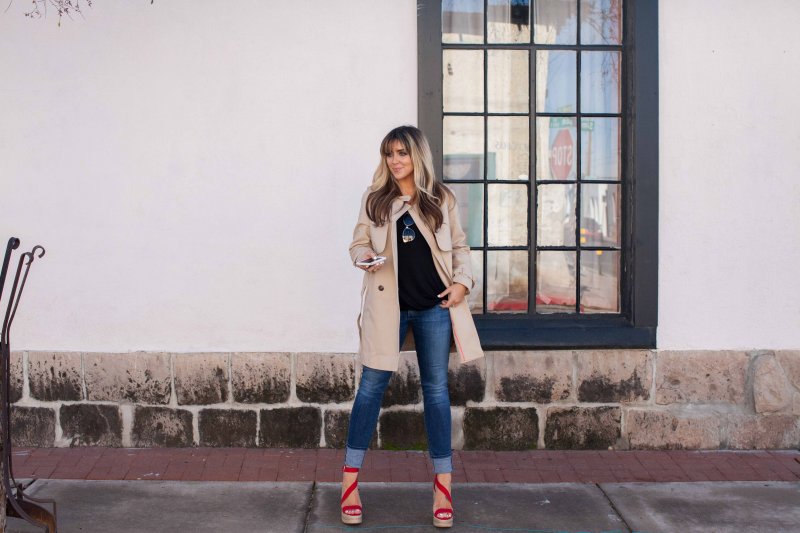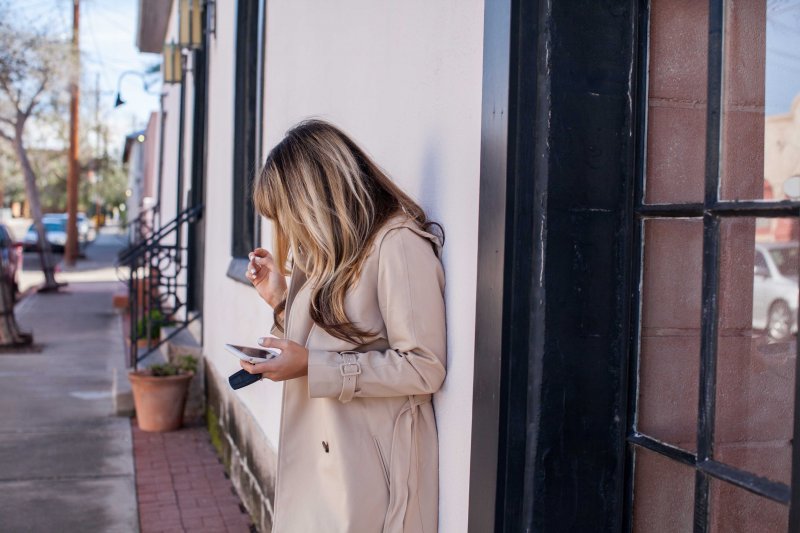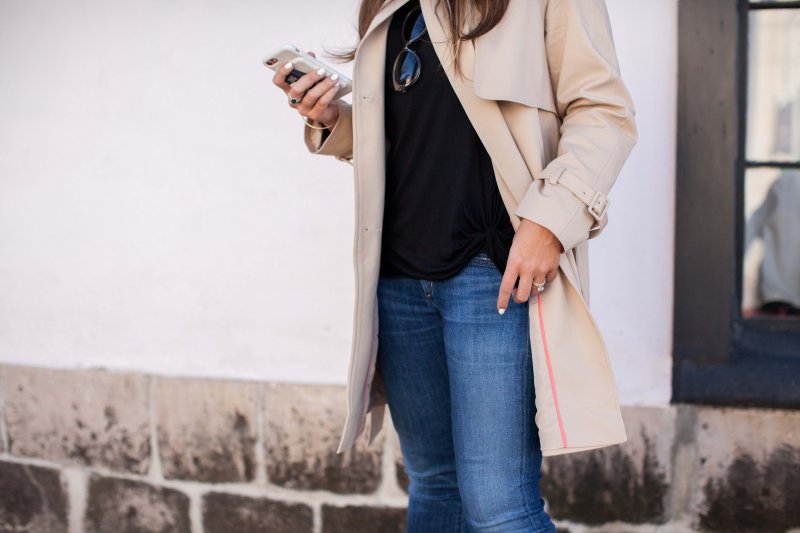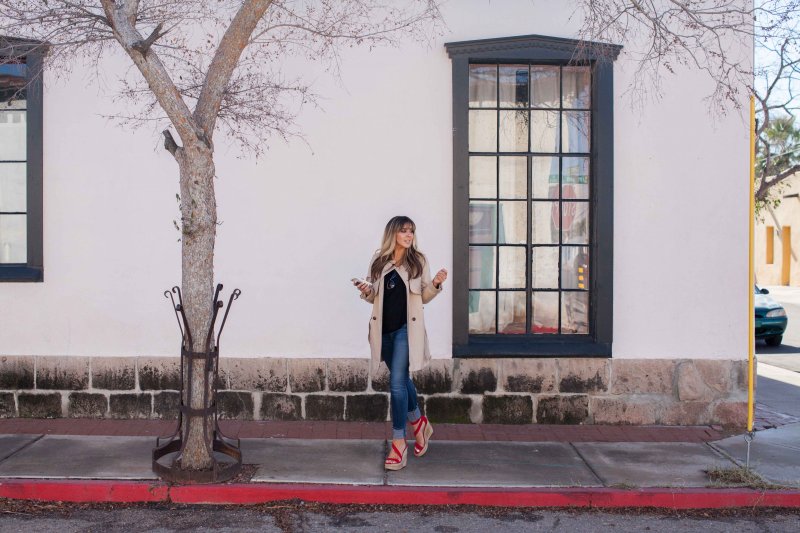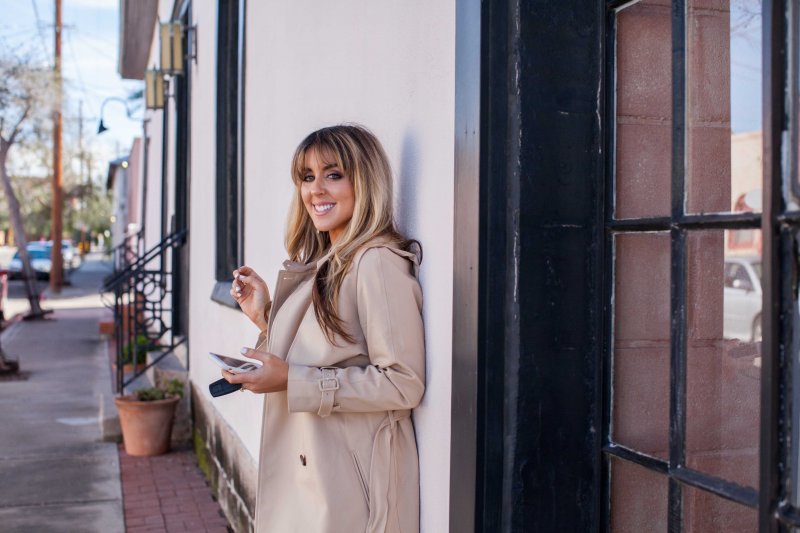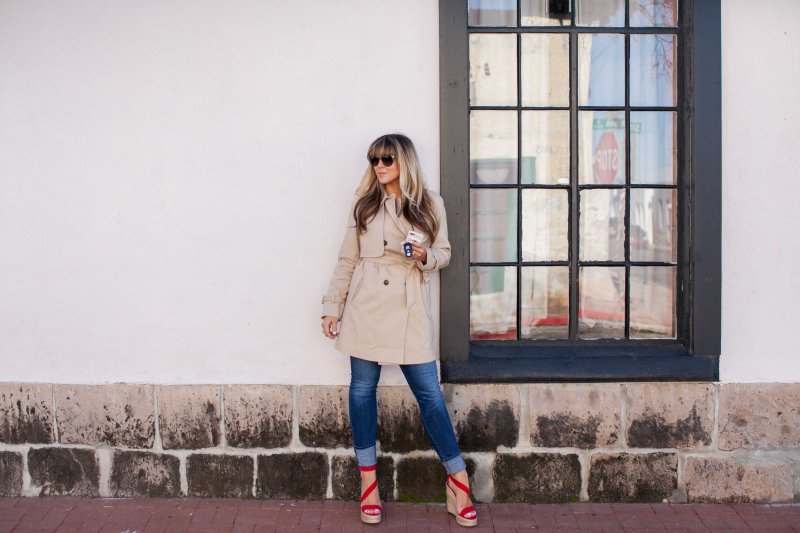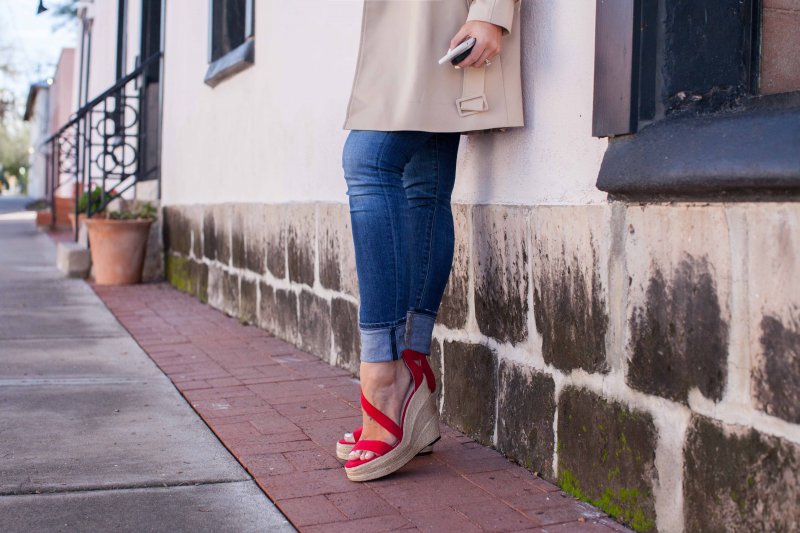 Sunnies.  Trench.  Similar Trench.  Same Style – Different Colors.  Top.  Jeans.  Wedges.
Lashes, Tan, Nails c/o Glamour Bar Denver (Mention My Blog for $50 Off Lash Extensions)
I was recently in Savannah, Georgia for my friend's bachelorette weekend. One morning while there I hopped out of bed, brushed my hair, and threw on this black tee, black leggings, and flats for a quick walk to a little French coffee shop nearby. One of the girls commented that I "always look put together" and she asked how I did it in only five minutes. My secret? Classic, timeless pieces… Specifically, my short trench coat.

I've lived a lot of places (hence the "gypsy" namesake) and I've really tried to gain fashion insight from each place I've called home; all these little fashion lessons have helped define my own personal style. I lived between the U.S. and London for nine years of my life and to this day, London remains a major source of fashion inspiration for me. While living in London, I noticed that Brits often invested in timeless classics; trench coats, quilted jackets, cashmere sweaters, polished riding boots… And it made an impact on me. Whenever I shop, I always take note of pieces that will only get better with time and those are usually the ones that make it into my closet. I love trends as much as the next fashion-obsessed girl, but I prefer to incorporate only my favorite trends and make sure they don't overwhelm my looks. I believe this is the one factor that ensures I'm curating a closet of classics… And as my friend commented, makes it easy to look "put together".

I styled this look to show you an easy spring-to-summer look that you can wear nearly anywhere. It's classic, chic, and timeless but still looks fresh. Cat-eye sunglasses, a simple black tee with a side knot for detail, cuffed skinny jeans, red wedges for a pop of color… And don't forget the timeless trench.

What fashion tips have you learned from the places you've lived? Please share your tips for easy, "put together" looks down below in the comments… I would love to learn from them too!