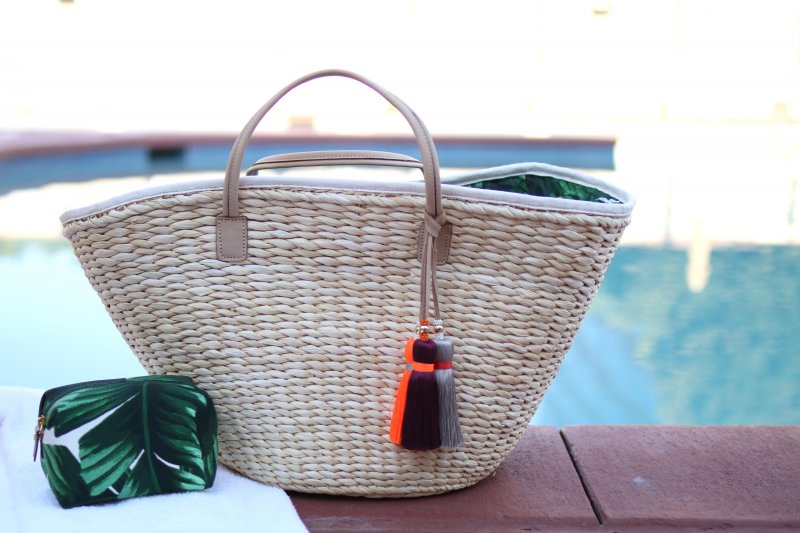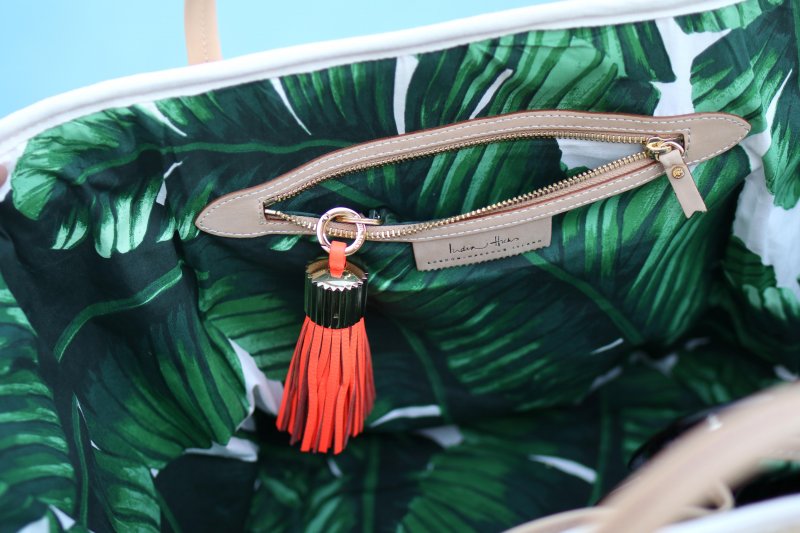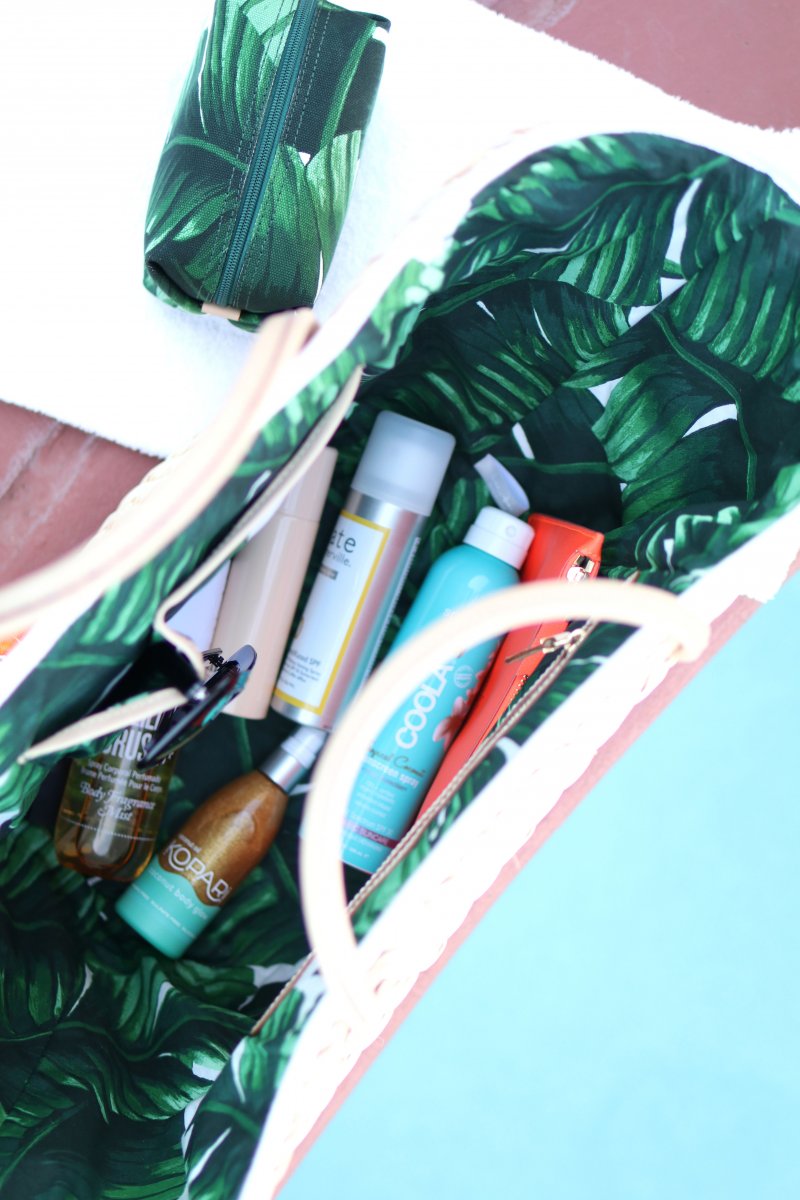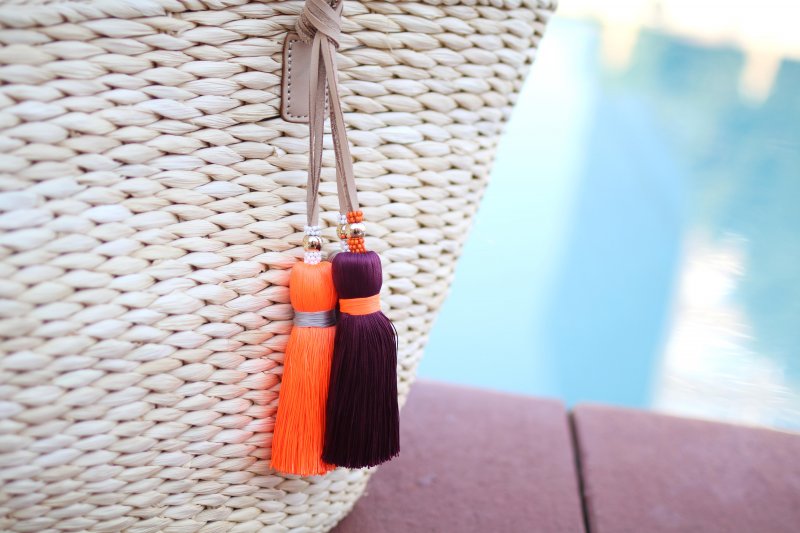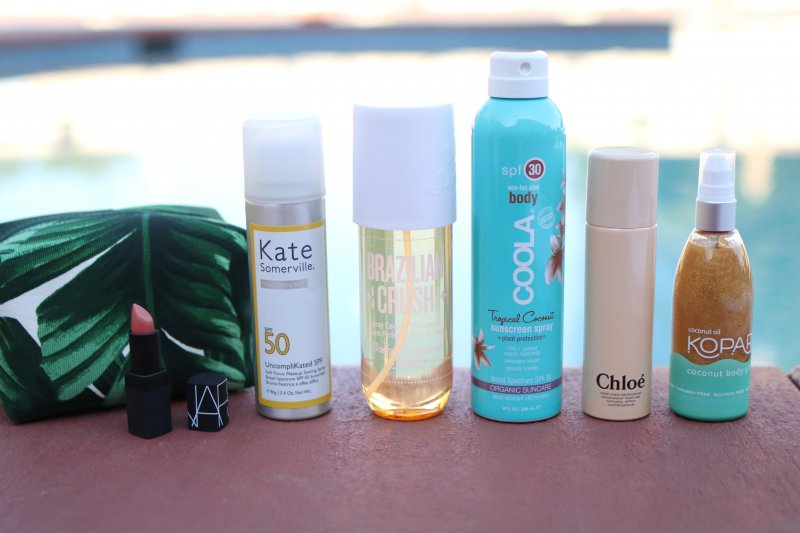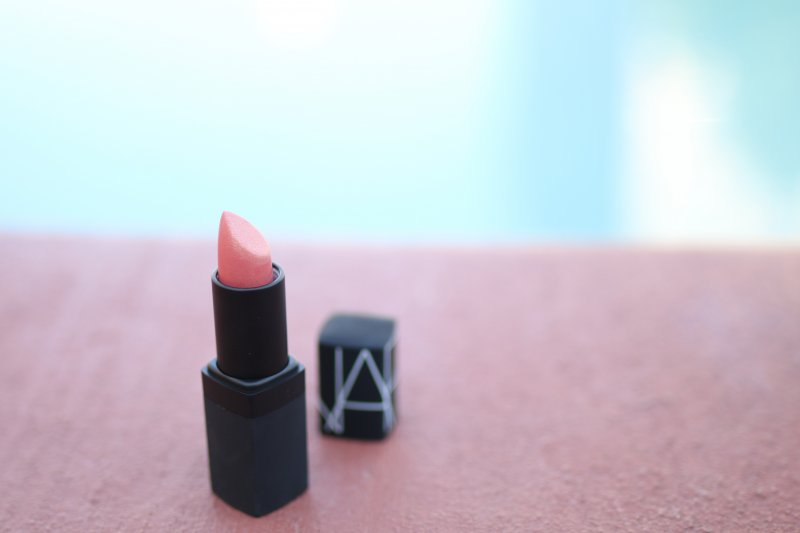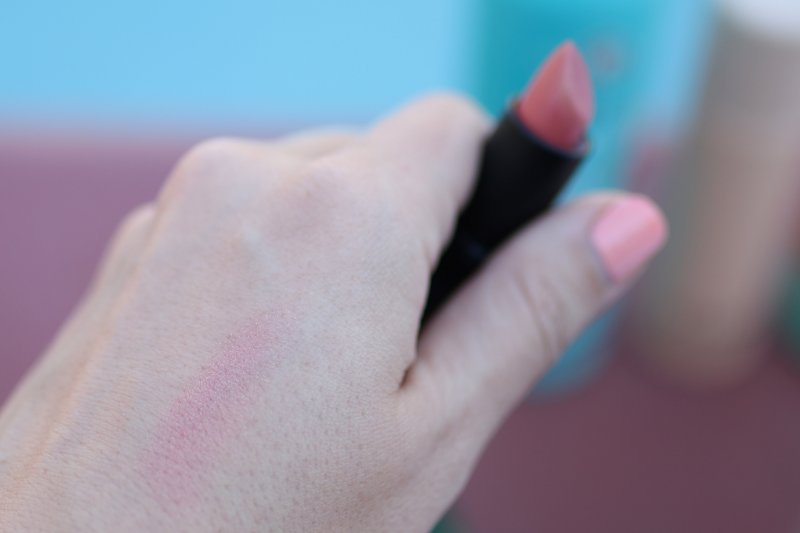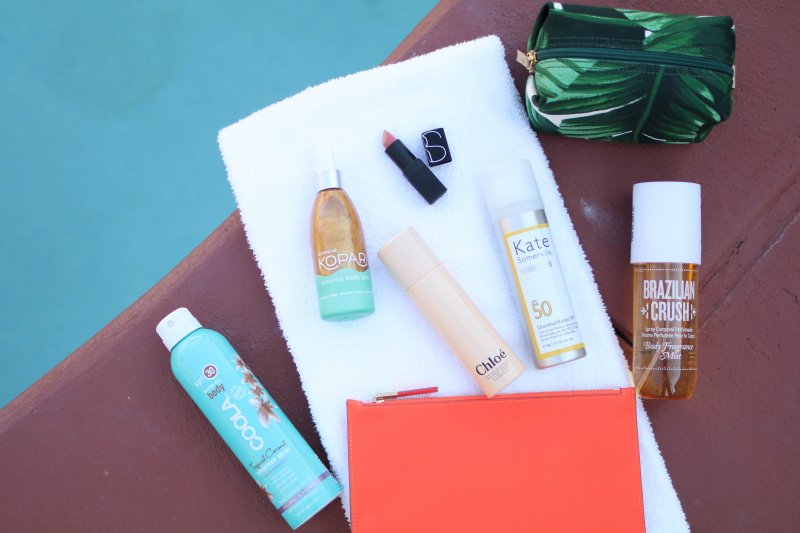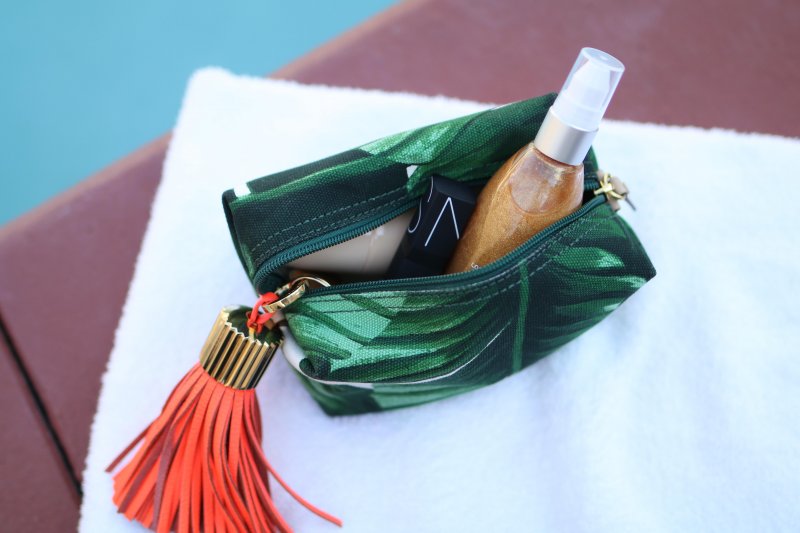 Beach Bag – ON SALE.  Cosmetic Bag – SOLD OUT.  Zippered Pouch.  Tassel Keychain.
Products:  SPF Makeup Setting Spray.  Fragranced Deodorant.  Body Sunscreen.  Body Fragrance Mist.  Coconut Body Glow.  "Orgasm" Lipstick.
The temps are up and most of us are headed to the pool or the beach to spend our summer days cooling off. I went to my stash of beach beauty products and found that my sunscreen was separated and my shimmer spray expired; it was time to refresh my summer beauty products. So I tested out the top products on the market and am sharing my favorites right here!
Best Beach Bag
ON SALE 60% OFF from July 11th – July 18th! Was $245, now $98. I had been searching and searching for the perfect straw beach bag, when I saw this one. The shape is perfectly beachy and the leather-trimmed handles and palm print lining make it extra special. I also love the chic, silky tassels on the outside.
I stash my phone, keys, and gym pass in the inner pockets for easy access. Then toss all my favorite sun products and beach reads in the interior. And this straw bag isn't just for the pool… When I pair it with my favorite sundress as a handbag or tote, I always receive lots of compliments. [AVAILABLE HERE]
Best Tropical Cosmetic Bag
ON SALE 60% OFF from July 11th – July 18th. Was $35, now $14. I love this darling little cosmetic bag with its soft leather trim and tropical palm print. I tuck it in my beach bag to hold smaller cosmetics, headphones, and hair ties. Another tip? Use it when packing your suitcase to keep all your lacy little things together and organized! [SOLD OUT]
Best Day-to-Night Clutch
This sleek, flat orange zippered pouch is perfect to carry as a clutch; it makes a statement against neutral-colored sundresses and even a simple white tee and jeans. I love its textured exterior and linen-lined interior; the outside is easy to wipe clean and I can easily see the contents against the light interior. I'm currently using this bright little pouch in my beach bag to organize my cash, credit cards, and business cards. If I get up to purchase an iced drink, I can just grab this little pouch and go. Plus… It looks really cute against the green palm print interior of my beach bag! [AVAILABLE HERE]
Best Bright Leather Tassel
Have you seen the gold leather tassel I clip onto my everyday handbag? (You can see it in this post.) This is its brighter sister in a coral-orange color called "flamingo". It's so cute it makes me happy every time I pull out my keys and I get compliments on it all the time. Each leather tassel comes with both a clip and a key ring, so you can clip it onto bags and clutches or use it as a keychain. [AVAILABLE HERE]
Best Facial Sunscreen
I love my everyday serum and moisturizer, so I didn't really want to replace either of those with an SPF version. But then I found the perfect solution… This genius SPF 50 Makeup Setting Mist ensures I'm able to use my tried-and-true skincare favorites and still get all the sun protection I need! Best of all? It protects any makeup I have on against sweat and oil with a long-lasting, soft-focus finish. On those days when I don't wear any makeup, I simply spray this on top of my moisturizer and I swear it makes my skin look a bit better. [AVAILABLE HERE]
Best Deodorant
If you're out in the hot sun, jumping in and out of the pool, you definitely need deodorant. But have you ever packed a stick of deodorant and reached for it poolside, only to find a melted mess? Avoid the mess and save your beach bag with spray deodorant instead! I've come to realize how essential spray deodorant is and I don't think I'll ever go back to the stick version! This spray deodorant is softly scented with the classic, feminine Chloé fragrance which means it doesn't have that annoying "deodorant" smell and instead you'll smell fresh and pretty with just a hint of soft fragrance, nothing overpowering. [AVAILABLE HERE]
Best Body Sunscreen
This easy-spray bottle ensures I get SPF coverage everywhere I need it and the "sport" formula allows me to go a bit longer in between applications. Best of all? No toxic-smelling fumes or tacky fragrances here; COOLA's unique coconut scent is fresh, clean, and reminiscent of my best beach memories. [AVAILABLE HERE]
Best Summer Fragrance
When I purchased this firming cream last year I remember thinking, "They should really make a perfume that smells exactly like this." Apparently I wasn't the only one, because after receiving an endless wave of requests, Sol de Janeiro created this body fragrance mist. Pistachio and salted caramel combine to create a warm, sexy, tropical scent like you've never smelled before. This isn't your average cheesy tropical scent; it's sophisticated and intoxicating. The best part is, it's light enough to layer in the summer without being overpowering. I spritz it everywhere – hair, skin, and even my bikini and lingerie! [AVAILABLE HERE]
Best Body Bronzer
A body bronzer that shimmers and sparkles on the skin while moisturizing?! It doesn't get any better than that. I rub this Coconut Body Glow on my shoulders, arms, and legs… Anywhere I want to illuminate with a bronzy-highlight! The light bronze color perfects my skin, hiding blemishes, discoloration and dullness while the organic coconut blend hydrates and heals as it infuses my skin with antioxidants. Its fresh coconut-gardenia scent is light enough to layer with my other fragrances or mix into my usual body moisturizer for a subtle glow. [AVAILABLE HERE]
Best Summer Lipstick
I never thought I would type that word on my website! But… Sexual innuendos be damned because this lipstick color is the perfect peachy-pink! The color of beautiful flushed skin with a delicate shimmer, this lipstick will become one you reach for every single day. For an easy summer makeup look, spritz moisturized skin with the SPF 50 makeup setting mist, dab a little Coconut Body Glow or your favorite bronzer on cheekbones, and apply this lipstick on lips. The result? Total beach babe. [AVAILABLE HERE]