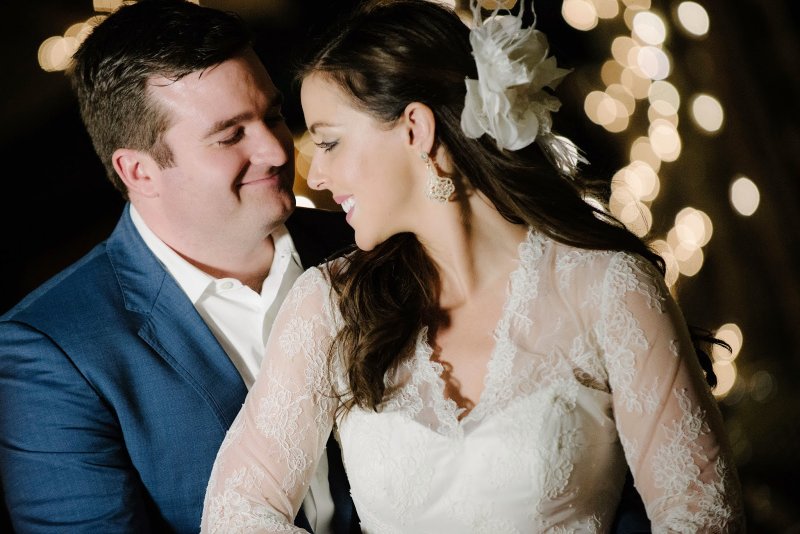 Finally I found the bridal suite – a completely stunning set of rooms overlooking the crashing ocean surf and the glowing blue Breakers pools.  It was perfect.  I had stayed at The Breakers many times but never did I have a room so large and elegant.  There were two bathrooms and a mahogany walk-in closet.  A coral chandelier hung above the table in the dining area.
By the time I found everything I had exactly 30 minutes to shower, get ready, and get dressed for the rehearsal and rehearsal dinner.  It wasn't enough time to wash and blow dry my hair that had been tossed around and sprayed with salt water from the ocean that day.  But sometimes you have to cut corners and paint your face as best you can (you just hope it's not on your wedding weekend).  Eeeeek.
Mom's rehearsal dress was a floor-length navy number with delicate embellishments and beading in a gorgeous array of blue shades.  I wish we had more photos of the back of the dress… The inside bodice came down a bit lower in the back and there was this feminine beading scattered across her back on the mesh; it was stunning.  I loved the blue color on her and I think she looked so beautiful – it was her weekend to shine as well!
I had a specific idea of what I wanted my rehearsal dinner dress to look like, but I was having difficulty finding it anywhere.  I wanted something a little Kate Middleton inspired on top with lace sleeves and a v-neck, but a fitted pencil skirt on bottom.  I spotted a bolt of lace on one of Mira's shelves and I knew I wanted my dress to be made from it!  We sat down at her table and we brainstormed a design.  I was so incredibly happy with it and I felt like a princess.
After rehearsal, J and I gave our wedding party their gifts before the kids returned to the hotel with sitters.  I had already given my bridesmaids, mom, MIL, aunt, and sisters their gifts at the bridal luncheon.
Everything was delicious and the conversation reached a fever-pitch; Dad mentioned room volume being a great barometer of an evening's success when he thanked my MIL and FIL for the evening.  It was so much fun to be there with our family and wedding party.