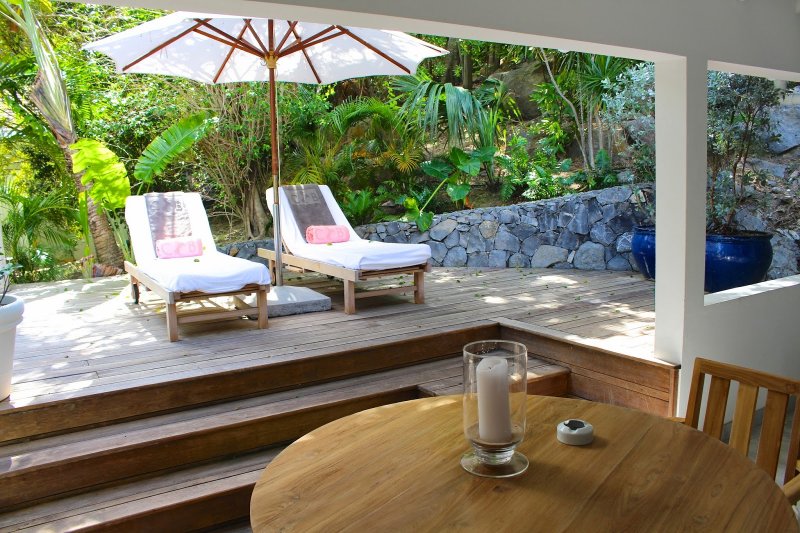 Sunday after our farewell brunch we packed up all our suitcases with Palm Beach items, boxes of wedding cards and small gifts and mementos from our day, and my wedding dresses and had the Breakers ship everything back to us in Colorado.  Logistics are the most difficult piece of planning a destination wedding.
But we got ourselves together, in special thanks to the help of my bridesmaid.  And early Monday morning we were off to the airport with, amazingly, just one suitcase each.
We flew into St. Maarten on a commercial plane and then took one of the St. Barth commuter planes from there.  These teeny planes that look as if they're from 1950 leave frequently for their 15-minute flight from the larger French/Dutch island of St. Maarten to shuttle travelers to the smaller, volcano-formed French island of St. Barth.
The sheer beauty of the turquoise Caribbean waters and the lush green mountains forming the island took my breath away as we approached.  Then something else took my breath away… The tiny plane had to fly up in between two mountainsides and then down to the runway, which ends in ocean water. I had read about this intense landing, but experiencing it myself made me realize why its touted as one of the "most dangerous landings on Earth".  Luckily, the pilots were skilled and all of us were so excited to be in St. Barth we would have hopped on a raft at that point.
A driver from the Cheval Blanc picked us up at the small airport in an SUV with chilled water, moist hand towels, an iPod for our music selection, and an iPad playing a short movie about our resort.  At the hotel, the travel agent had a rental car set to meet us for use during our stay.  With a 40% tax on imported vehicles, it's unusual to see very nice cars on the island.  Most are small, inexpensive vehicles that can make it around the curvy mountain roads and tiny parking spaces in the towns.  Even though J and I are very much into cars, we didn't mind at all… We absolutely loved cruising the island in our tiny car!!
A white resort peeked through the lush trees of the island, and as we looked down a long hallway (glasses of chilled champagne to welcome us in our hands) we could see the intense blue of the ocean.  The entire resort is done in crisp white and wood, with pops of a soft coral.  The style is very clean, chic, and undeniably French.  We had a Garden Bungalow room that was tucked into the trees and had a private patio we took full advantage of in the mornings and evenings.
The hotel is set on the stunning Flamand Beach, a curve of powder-soft sand protected on either end by small mountains.  The water here is calm and glows turquoise.  Topless sunbathing is permitted all over the island, so be prepared if you're not used to this European pastime.  I have to admit, it's nice to see a culture that embraces bodies as we naturally are… There weren't many people covering up in t-shirts and baggy clothes.
We relaxed on beach chairs and ran through the waves together during the day, stopping to have lunch at the Cheval Blanc's chic little restaurant in the sand.  Bikini and resort wear fashion shows are popular on the island; our resort holds one on Tuesday evenings as the sun is setting over the water.  You can sip one of the hotel's creative cocktails and look out onto the sunset.  Then after dark, you get to see the locals (most of whom look like models, men and women alike) sporting the latest St. Barth fashion.  After the show, the resort's boutique opens and you can shop your favorite looks.
Dining on the island is world class; most of the food is flown in from Paris and nearly everyone who works on the island is French so the cuisine closely resembled anything I've eaten in France or the French-speaking part of Switzerland.  You can't go wrong here.  But… We found our meals at Isle de France to be exceptional.  Foie gras with truffles that melts in your mouth, creamy burrata with truffles spread onto the flakiest French bread, everything was pure perfection.  To that end, we probably ate at our resort a bit too often but we couldn't get enough!!
As you can see, the resort is so stunning we found it difficult to leave.  We didn't want to make too many plans each day… After so much planning for over a year, it felt wonderful to simply wake up when we wanted and spend the day lounging in the sand and surf.  European romanticism is alive and well on the island and it's easy to get swept away – falling in love with the island and your travel partner all at once.
Next week I'll show you some photos from our trips out exploring the island of St. Barth.