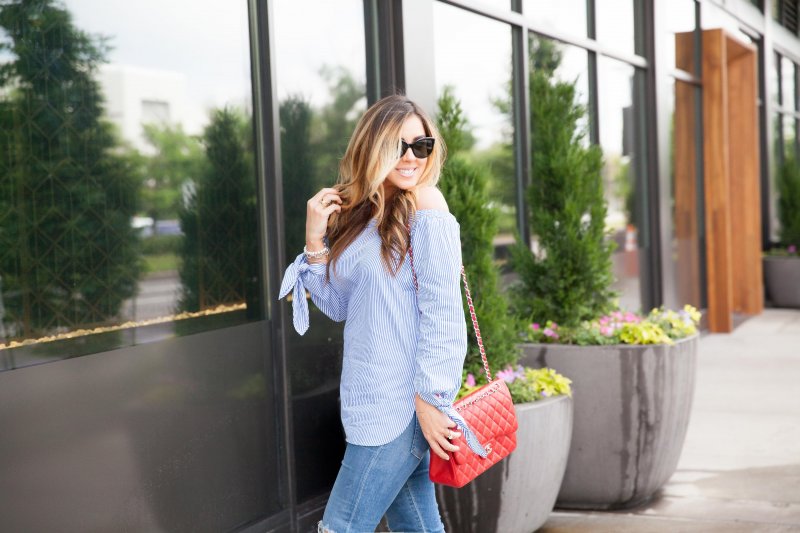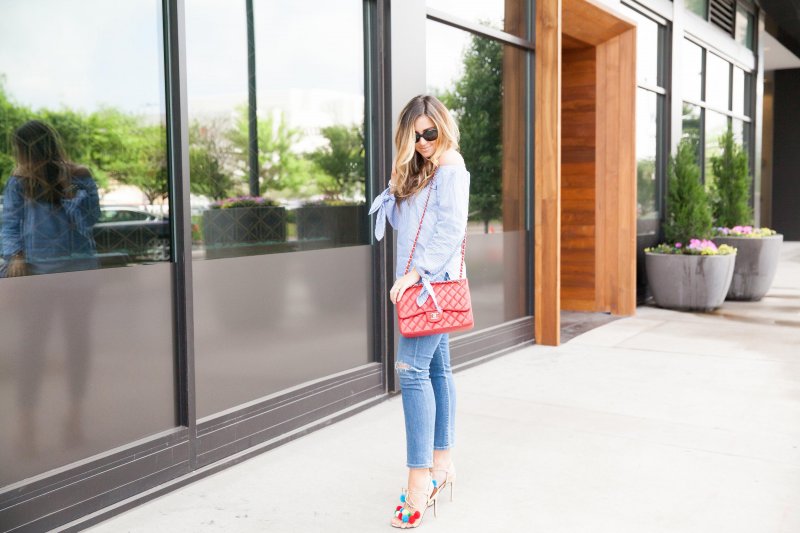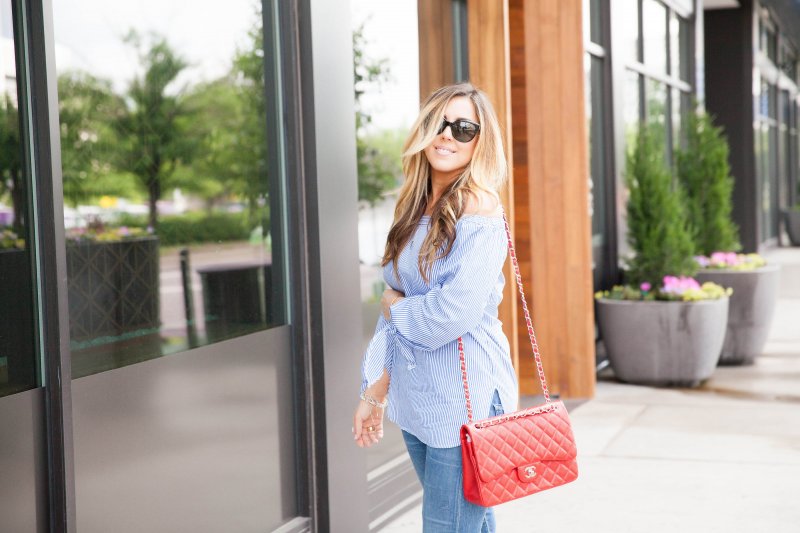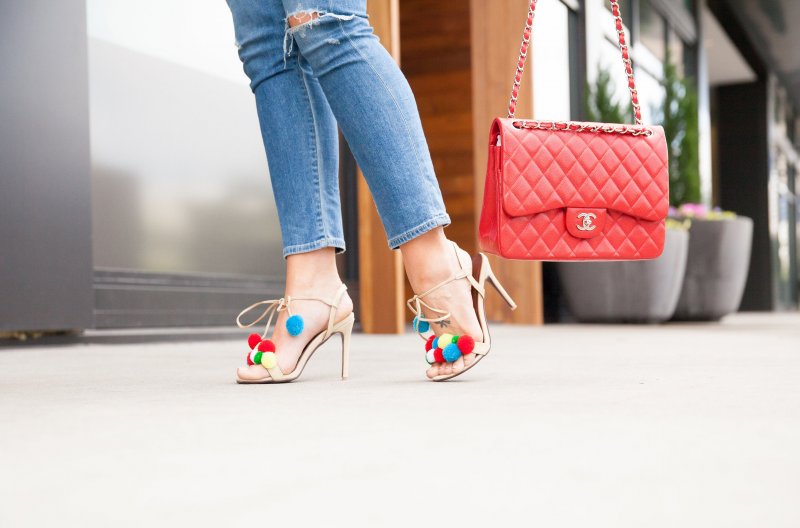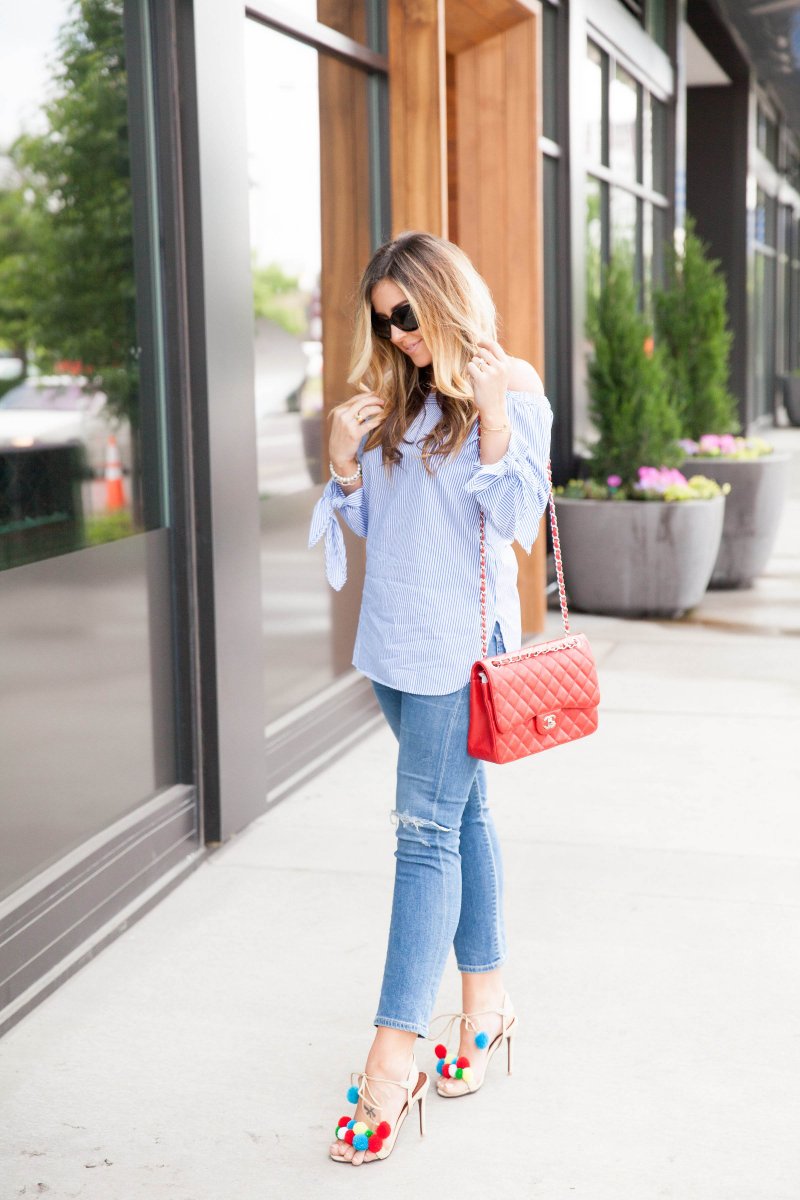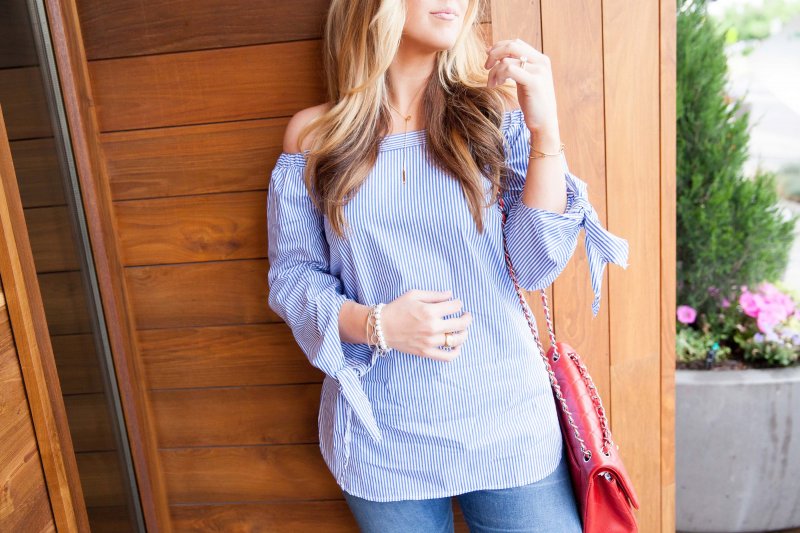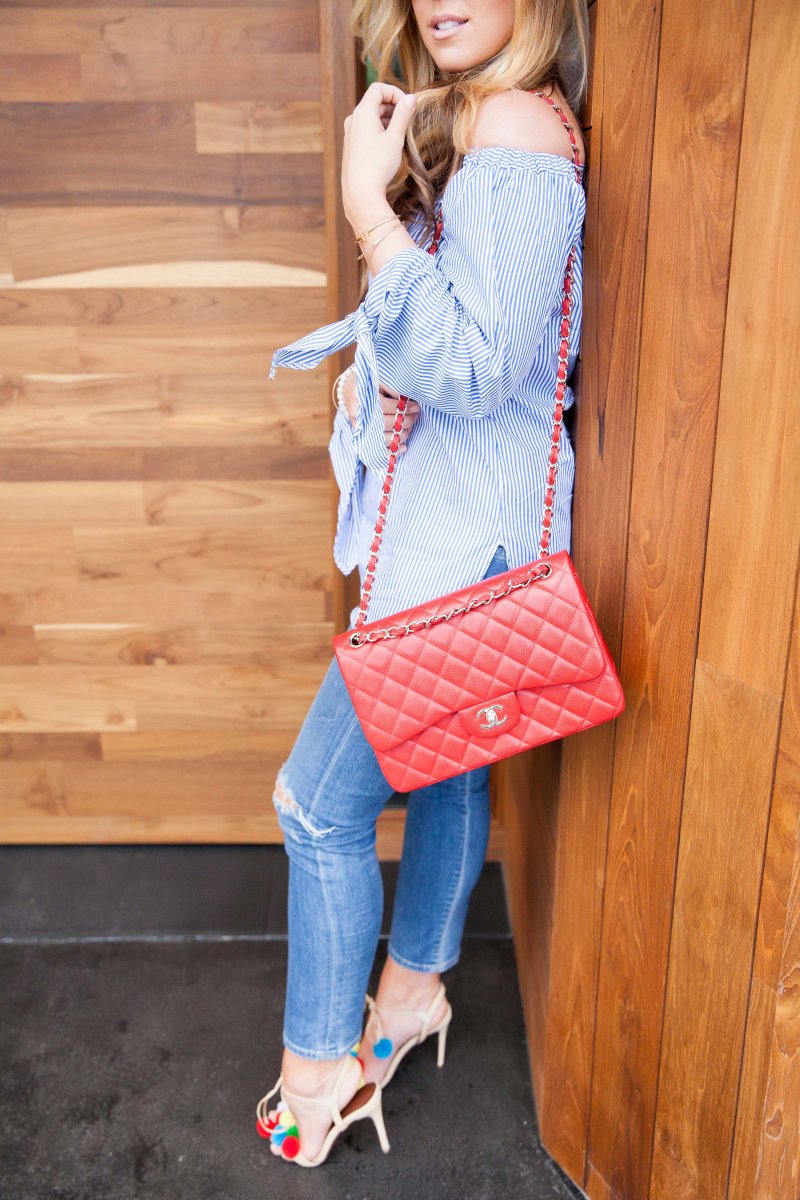 Sunnies.  Necklace.  Top.  Jeans.  Heels.  Similar Bag – Take 25% Off with TAKE25OFF.  Similar Bag.
I wanted to style an outfit for Fourth of July events that was patriotic, but still wearable throughout the summer. If you follow me on Instagram, you know I'm totally addicted to the off-the-shoulder trend… I think these tops are so flattering and easy to dress up or dress down with accessories. This top is breezy, cool, and a steal at under $20. It runs just slightly small and since I think these tops look best more loose and airy, I would recommend ordering a size up from your usual.
Of course, I've paired this striped top with my favorite ripped ankle denim (I love the fit and look of these jeans so much I'm considering ordering a second pair) but I think it would look incredible with denim cut-offs. I've linked a similar off-the-shoulder top in chambray down below that would look perfect with white denim.
I've had my eye on a pair of pom-pom shoes for weeks now and couldn't wrap my head around these pom-pom flats (even though they're at least 40% off now) because they're definitely a trendy item and not a classic investment piece. Then I found my pom-pom heels I'm wearing for under $70 and am thrilled to pair them with my summer looks. Order one size up from your usual size… They run small; I ordered a half size up and needed a full size bigger. They also come in a white heel version, a nude block heel version, and a nude sandal version so no matter what your heel preference, you can rock this look.
This is one of my absolute favorite handbags in my closet. If you've been saving or are looking for a Chanel investment bag, I would highly recommend the Classic Flap Bag in red because it will never go out of style (this style came out in 1955) and the bright red color works as a pop of color all year round. It looks great with crisp white and blue in the summer and chic with jet black in the winter. I was able to find this pre-owned Chanel Classic Double Flap Bag in a gorgeous bright red online… It's the same size as mine (11-inch Jumbo) but in smooth lambskin, whereas mine is the textured "caviar leather". You can take an extra 25% off with code TAKE25OFF for a limited time. I also found this pre-owned Chanel Classic Double Flap Bag in a similar red color but a size larger (13-inch Maxi) and in patent leather.
Lastly, I wanted to tell you about the necklace I'm wearing by a new Denver jewelry brand called Liberti. The necklace I'm wearing from Liberti's <1% collection is for a great cause. According to the United Nations Refugee Agency, there are about 14.4 million refugees worldwide. Of this huge number, just less than one percent are processed and submitted for resettlement. Through its beautiful and dainty jewelry, Liberti is raising awareness for refugees and gives those in the United States jobs in hopes that they can be free to live the American Dream.